Rated

5

out of

5
 by
RockyOrganizes
Horizontal Storage
I'm the house husband. I make the house work. (And do the housework.) To this end, I try to keep my husband organized. He works best when he can see what he's working on (otherwise he forgets). And by spreading out onto any horizontal surface. The "Like-it Landscape Letter Tray Clear" keep things visible, provide extra horizontal surfaces - and keep things tidier than they would be otherwise. Thus saving my sanity and our marriage. ;)
January 8, 2017
Rated

5

out of

5
 by
Trudie
Organization Made Easy
Am so pleased with the clear trays. They are the right size and can hold more documents than I though. Ordered four and In fact am getting ready to order two more.
May 29, 2014
Rated

5

out of

5
 by
darbidoll
Best stacking tray out there
Most stacking trays tend to bend, crack, and tumble, but these are sturdy and awesome! Everyone is jealous of them at work because they are constantly trying to hoard the "good" trays as they break and I never have to worry. I stack TONS of paperwork in them and they stand up to the challenge. They look great and they're functional.
March 5, 2014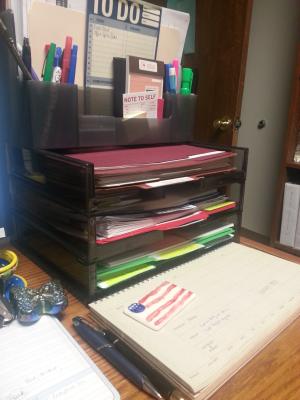 Rated

5

out of

5
 by
lindamarq
aesthetic and practical
Exactly what i was looking for. Organizes sheet music collection that spans chamber music of all categories as well as sonatas and solo works. looks great in bookshelves for music room. clean, appropriate size for published sheet music, stackable. perfect!
September 25, 2013
Rated

5

out of

5
 by
Stephie5832
Perfect!
I love this combined with the Large Desktop Station. I am not going to lie... I duplicated the 'work station' photo seen online to create mine. It is PERFECT!
March 18, 2013
Rated

5

out of

5
 by
EricaV
I like that these don't stick out alot on a desk, and provide easy access to papers. They also have notches in them so you can offset two by a little bit, so access to the bottom tray is even easier. I like that you could stack and many or as few as you need. I wish they weren't so expensive, or I'd have more!
February 18, 2013
Rated

5

out of

5
 by
WhitneyD
Great Tray
This tray worked perfectly to put on our bookshelf for work. We have some handouts and wanted a nice way to organize but still showcase them. They are perfect!
April 27, 2012
Rated

5

out of

5
 by
Verified Reviewer
Easy to see factor!
I love that I was able to create an easy to see inbox/outbox function with these trays!
April 4, 2012
Rated

5

out of

5
 by
Frankieslucy
Great product! Fits exactly where I wanted it to!!
April 1, 2012
Rated

5

out of

5
 by
ocean
Landscape letter tray review
This is a great product. I use it to collect all of the papers on my desk. When it gets full, then I know that I have to file them away in the right place. It keeps my desk organized, and it looks sleek bc of the color. I barely notice it...except when it's full!
March 19, 2012
Rated

5

out of

5
 by
Maxine35
Great near a window
My desk is near my window and I did not want to block the light or the view. Great solution - sturdy, good looking, sleek and expandable (I am going to buy one or two more trays to add to stack). Highly recommend.
February 28, 2012
Rated

5

out of

5
 by
FRJ432
Makes life easier
We use these letter trays in my office to organize all of letter and number tabs in our binding area. Without them, we are a disorganized mess! They save space and create a clean, easy to use workspace. They stack easily and don't slip, a great space saver as well.
February 28, 2012
Rated

5

out of

5
 by
liftbridgecards
Quality product
I was a bit wary ordering these online, as some plastic items feel flimsy and cheap. These trays are great quality, with rounded edges, and a nice feel to them. They work wonderfully with the other products in this range that I've tried. I use them in my craft room to organize my desk with a variety of supplies.
January 22, 2012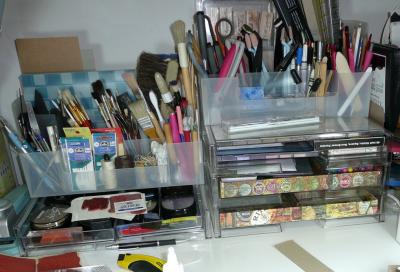 Rated

4

out of

5
 by
ciao
stylish but limited capacity
i was looking for side loading stacking acrylic letter trays & was very pleased to find these. they're a bit skimpy in size (height capacity inside the stacked tray is only 1.5") so they don't hold much, but they look great. i really have to compliment the container store for making the purchase so easy & quick - bought online & picked up at the store. took two minutes. wonderful service!
December 24, 2011
Rated

5

out of

5
 by
djtc
Great product!
I wanted a good, sturdy paper holder and this fills the bill plus more. It's very attractive and takes up less space than my old one. I'll probably be buying more.
March 27, 2011
Rated

5

out of

5
 by
3mom
ecomical and sturdy
does the job! like the clear color. also like that I can add/subtract the number I have as needed...
May 22, 2010
Rated

5

out of

5
 by
Nicole
Works great!
I love these - the smoke ones look great on the desk and you can collapse them, stacked into each other for easy storage if they're empty or you need a cleaner workspace. Definitely recommend.
March 5, 2010