Rated

4

out of

5
 by
Msdadawa
Good for keeping receipts and postcards. It would be even better if there are other colors than just black.
December 30, 2014
Rated

5

out of

5
 by
Antonia
Great boxes for keeping documents & course papers
I am a professor at a NE University. I use these sturdy storage boxes to keep my course materials, including articles and old course packets that I have not scanned yet. For each course, I have a box in my study at home. I also use these boxes for tax documents. They keep everything neat and organized, with their clear labels on both sides. My boxes are bright green and they add a touch if color to my study. Unfortunately, I have not seen these wonderful boxes lately in other colors, except for the slate or black. Perhaps the CS will make them again in colors?
April 27, 2013
Rated

5

out of

5
 by
pianochic11
Perfect for office supplies
I bought these to store printer paper + various office supplies, and they work great. Very sturdy and stackable, and they hold up to my 3 yr old getting into them!
March 18, 2013
Rated

5

out of

5
 by
GulfCoastReader
Best long-term storage boxes
I've kept income-tax documents in these boxes for many years. Some of my paperwork is legal length (14' pages) and these boxes are perfect. They're sturdy without being heavy, and they stack well. The label frame on both a side and an end makes them easy to tag and means I'm never guessing which box to pull when I need an archived document. I will re-order every year.
February 11, 2013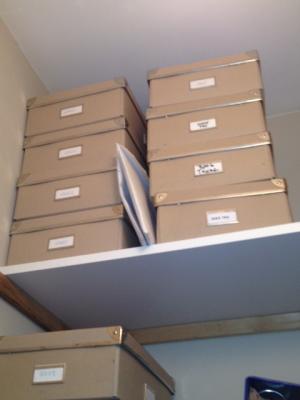 Rated

5

out of

5
 by
posh
Love these boxes
I have used these boxes for years -- and have just purchased more of them for my projects. They are sturdy, easy to assemble and perfect for organizing.
January 23, 2013
Rated

5

out of

5
 by
CatLover2012
GREAT BOX!
I assembled this in a few minutes and have stored takeout menus, aprons, and other items in it and it is stored in my microwave cart. This box seems very sturdy and there is a label area on the short side and one on the long side. Then, you can choose which way you want the label to show, depending on the orientation of how the box will be placed. It is a great box.
November 24, 2012
Rated

5

out of

5
 by
Cielle
I love these boxes
Sturdy, attractive, easy to assemble, easily stack on top of each other. Just what I wanted. I bought these boxes to organize items such as computer cords, headsets, computer accessories, office supplies and more. The items are in my office on an open shelf where they were unsightly, cluttered and subject to dust. Now they are tidy, protected and my shelves look great.
November 14, 2012
Rated

5

out of

5
 by
UsingContainers
Great Container
I am very happy with my snap-up box. This is the first time I have purchased such an item.
August 4, 2012
Rated

2

out of

5
 by
Hmmm
They smell bad!
I loved the look of the box, but mine really smelled bad.
June 13, 2012
Rated

5

out of

5
 by
GOrganize
Great Box
I have 2 of the larger tan ones and although cardboard, they still look nice and are sturdy. You can display them anywhere.
February 29, 2012
Rated

5

out of

5
 by
Mummy
Help With Organization!
I first purchased four Snap-Up Office Storage boxes many months ago, but like other chronically disorganized folks they just sat on my desk waiting for the "right" moment to fill. With the Holidays approaching, I was motivated to organize my office and got out the boxes and began using them to stash crafts and photos. After using the first four that I'd purchased, I ordered four more and just about have them filled too. I could not be happier with how they function and how they look. I have mingled them with books on the shelves that line the walls of our office and they look tremendous! They are worth every penny!!!
December 31, 2011
Rated

5

out of

5
 by
Lioness
Perfect for Neat Freaks
Love this product, once I filled it and put it on the shelf it changed the whole look of the area. Makes me OCD
March 30, 2011
Rated

5

out of

5
 by
Verified Reviewer
Snap-Up Office Storage Boxes - LOVE Them!
I'm doing some reorganization and ordered some of the small and large boxes. They're perfect! They came quickly. Were easy to assemble. I notice some reviews commented on an odor. I was lucky and did not notice that. Love the labels on two sides, too! I placed a second order for more boxes the same day I received my first order. I recommend these boxes!
February 15, 2011
Rated

5

out of

5
 by
nanktsc
A Great Purchase
I purchased 4 of the smaller snap up storage boxes as I make greeting cards and these boxes are the perfect size for the cards plus dividers with tabs. I searched a long time for the perfect size and the Container Store had them. They are very strudy and I like that they have a place for a label on one end and on one side so you can store your boxes in any direction and have the label showing. They are constructed very well and are made from recycled products which is important to me. I would definitely recommend these storage boxes and will probably be purchasing more in the future.
November 8, 2010
Rated

4

out of

5
 by
angie4
Snap-Up Office Storage Boxes
very sturdy after you snap them together. can be a little difficult to snap some pieces. reinforced metal corners yield a more durable box.
May 31, 2010
Rated

5

out of

5
 by
organizationnut
Great product!
Bought these in varying sizes and shapes for my home office and I love them! They are strong, practical, and they look great.
March 3, 2010
Rated

5

out of

5
 by
yoke
great quality
these boxes are simple to assemble, look great, and are much sturdier than i had anticipated. and they're made from recycled materials, how can you beat that?
March 3, 2010
Rated

5

out of

5
 by
venusmist
Great boxes!
We bought some of these at our local Container Store and I love them. Easy to snap together and they look great. I actually used a large one in my closet and it looks great. I plan on buying some more soon!
March 2, 2010
Rated

5

out of

5
 by
Kevin
Snap-Up Office Store Boxes
LOVE 'EM! They are GREAT!! And they come in a variety of sizes which is perfect.
February 23, 2010
Rated

2

out of

5
 by
Pigatron
looks good but smells bad
After I put the box together, I realized that the inside smells really bad, almost like sewage. Maybe because it's made from recycled materials, who knows. I'm afraid to put anything in it because I don't the contents to take on the bad smell. The box looks good though, and I still want to use it, so I'm going to let it air out and hopefully the smell will go away.
January 10, 2010