Rated

5

out of

5
 by
Miska
Awesome electronic cleaner
It was a gift for my boyfriend and he loved it! We saw it first on HGTV on the show DIY I Want That, and I thought it would make for a great little gift to put in with his bigger anniversary gift.
April 24, 2014
Rated

4

out of

5
 by
betbezej
works as advertised -
very good for reaching all those nooks & crannies in a keyboard. Have used on 3 (filthy) keyboards so far and still looks unused.
January 14, 2014
Rated

1

out of

5
 by
B2CA
I didn't see any difference after using product. Returned to store.
April 29, 2013
Rated

4

out of

5
 by
soma
Good for dust
This is good for dust or crumbs, but won't work on dirt or any discoloration as a result of use (wish I'd known that). One con is that it has a chemical smell that stuck around for a while. Not really what I was looking for, but it does the trick if you need it for particles, rather than grime.
April 9, 2013
Rated

5

out of

5
 by
effmoe
Yay!
I'm a mess. I eat, I put lotion on, I spill, I damage - despite my best intentions, I'm always dropping something on or around my laptop. Cyber Clean is gross - watching it pick up all of the messes I've made is not pretty - but effective. I've loved this stuff since I got some in my stocking a couple years ago. It helps even dorks like me look neat and clean.
April 5, 2013
Rated

4

out of

5
 by
MLLW
Satisfying Squish!
This product does exactly what it says it will. It cleans out all of the gunk. I've used this on several computers at home and work and it picks up all sorts of crumbs you never knew were there. Kind of gross actually, but very effective! ;-)
April 3, 2013
Rated

5

out of

5
 by
Sari720
Easter Stuffer
I always am making up Easter baskets for my family members because Easter is my favorite holiday. Usually, my dad's Easter basket is the toughest--he's such a techie that he has everything! On a whim (while in The Container Store for myself), I bought this for his basket. And, he loved it! He uses it to clean every electronic thing he has. And it's gotten to the point that the poor thing needs to be retired, and I'm thinking about buying some more for his Christmas stocking! I'd definitely recommend this as a small gift for the tech-savvy dad.
April 3, 2013
Rated

4

out of

5
 by
ChrissyL
Works great on uplugged or powered off keyboard. Works best on bigger crumbs and dust bunnies.
March 20, 2013
Rated

5

out of

5
 by
DeepInTheHeart
Love this stuff!
I don't usually buy specialty products like this, but this stuff does indeed work just like it promises. I'll continue to use this product indefinitely.
March 19, 2013
Rated

5

out of

5
 by
MacMac
This stuff works!
I originally purchased CyberClean with a high level of skepticism, but I have to admit that THIS STUFF WORKS! It is excellent fer getting junk out of keyboard, whether its a laptop or a cell phone.
March 2, 2013
Rated

2

out of

5
 by
jessica19
eh
i feel using a vacuum (with an small attachment) or a mini vac to be as effective.
February 28, 2013
Rated

1

out of

5
 by
texasgirlie
messed up my macbook
Taking this back. Used it on my MacBook keyboard, and it left behind marks that look like dirt but now don't come off. It also left the keyboard feeling wet and slimy. I was careful to read and follow the instructions. My white MacBook is not happy! Probably would not show on a color other than white, not sure. I'll just use my vaccuum like I used to.
January 8, 2013
Rated

3

out of

5
 by
mica44
Only Cleans Crumbs
Great job cleaning crumbs from nooks and crannies but doesn't actually clean skin oils, dirt smudges from the keyboard. Ingredients are strange so wear rubber gloves.
December 28, 2012
Rated

4

out of

5
 by
KatieK212
Great goo-catcher
I bought this as an impulse purchase in the store a year ago, to use on my laptop. My husband started borrowing it for his laptop, so I ordered more this year as stocking stuffers. It's good at capturing the visible pieces of lint and debris, but you do have to spend a couple minutes to work it into the nooks and crannies on a MacBook air keyboard before it starts to capture stuff. Don't use it for removing lint from a computer screen though, it leaves behind a residue that is hard to remove.
December 10, 2012
Rated

5

out of

5
 by
SigKap
Incredibly useful
I have used other cleaning products for keyboards and none of them have worked quite like this one. It doesn't dry up quickly and can be used over and over again and really gets the crumbs, dirt out of thekeyboard.
April 29, 2012
Rated

3

out of

5
 by
mandylianne
Dried out a little quickly :(
I purchased this for my husband as a stocking stuffer last Christmas. He has the full-size jar at home, and is constantly cleaning electronic stuff with it. Since he travels frequently (and seems to love this stuff), I purchased this little travel-sized one for him. He was really excited about it, but said he was disappointed that it dried out so quickly after he opened it.
April 27, 2012
Rated

5

out of

5
 by
QueenoClean
Cyber Clean is the bomb!!!
I had accumulated a good layer of dust and crumbs in my laptop keyboard, and despite my best efforts using aerosal sprays and feather dusters, the keyboard remained dirty until I picked up a jar of Cyber Clean. It is squishy and remains intact when you pull it out. All it takes is a few rolls over the keyboard and voila! - every single visible particle of dirt and dust is absorbed by the bright yellow squishy ball!! It took less than 10 seconds to get my entire keyboard clean! The product can be used over and over again and doesn't dry out - I highly recommend it.
April 10, 2012
Rated

5

out of

5
 by
katzm
Really worked
Cyber Clean is somewhat like silly putty, but really works to get the keys clean on my computer. Nothing else works well as it doesn't get into the small spaces between the keys. Two people in the store told me that it was a great product and it sure is!
March 25, 2012
Rated

4

out of

5
 by
Teaches490
Amazing Product
This is great on computer keyboard as well as phone pads. How did we ever live without it?
March 19, 2012
Rated

3

out of

5
 by
BBnJake
Okay Product
I would say that this is not really worth the time. Buy a can of compressed air. That is better.
March 19, 2012
Rated

4

out of

5
 by
MsCT
It works!
I am on my laptop much of the day, and, despite my best efforts, it gets dirty. I have tried other methods of cleaning the keyboard, but nothing worked as well as CyberClean. I was pleasantly surprised and immediately suggested it to friends and family members.
February 19, 2012
Rated

4

out of

5
 by
sakb
works well
this stuff works pretty well. can't be used for a deep clean, but great for a daily 'sweep' of crumbs and dust in my laptop.
February 16, 2012
Rated

5

out of

5
 by
LadyRae13
Effective Goo!
I am so happy that I got this silly little product. I thought that it would just be kind of fun to play around with, and that it really wouldn't clean that well. But it surprised me, and it does grab out a lot of gunk from the crevices. It also kind of helps with getting rid of the oils that accumulate from fingerprints and such. Have used on my laptop and my phone, and it works really well for both!
January 14, 2012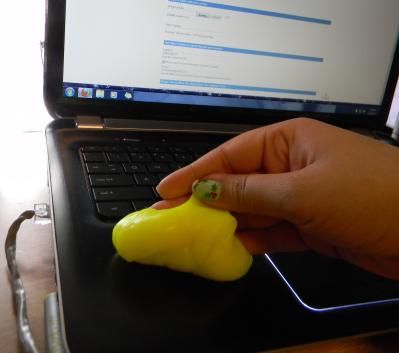 Rated

4

out of

5
 by
VikingGirl
Good Stuff!
Really like this cleaner. I use it on my keyboard and desk phone, and gave it as a Christmas gift to all my colleagues. Works great.
January 11, 2012
Rated

4

out of

5
 by
99toyboy
It Really Works
I was a little unsure when I purchased the item that it would work.I tried it and was amazed how easy it was to apply to my keyboard & how well it works.When done just remove & insert in the resealable package
January 8, 2012
Rated

5

out of

5
 by
AbbeyH
Best Ever
I bought this as a gift for my employees and they absolutely LOVED it. I have had other people asking me about it. Great item.
December 20, 2011
Rated

3

out of

5
 by
sswas
on fence still
need to practice use in car and on telephones etc worked on keyboard better than mini vac bought last xmas - always pulled too much power
December 12, 2011
Rated

5

out of

5
 by
LAGB
Love It
Very easy to use. Very little time needed to get the desired cleaning results!
November 29, 2011
Rated

1

out of

5
 by
Kashy
Don't bother
I fell for the hype, but you don't have to. This glob picks up some dust, no dirt, and it doesn't make a difference on the surface you try to clean. If you're trying to clean a keyboard, turn it upside down and shake it. It's now cleaner than this tool get it. Save your money, this is not worth it!
April 4, 2011
Rated

5

out of

5
 by
Angerona
This stuff really works!
I ordered this out of curiosity and I'm very glad I did. This stuff really works well to clean out all the dust and crumbs in my keyboards. IT looks a lot like the "slime" I had my students make when we studied polymers, but it leaves absolutely no traces of stickiness (or anything else) behind after use. Love it! I'll be ordering more.
March 5, 2011