Rated

5

out of

5
 by
LAlison
Exactly what I needed to keep my 6' Cord neat and protected from abuse/wear and tear.
November 19, 2016
Rated

5

out of

5
 by
SarahLC
Why use a rubberband?
I love this little guy. I got tired of rubber banding my USB cord and throwing it in my bag. I always lost it. This keeps it safe, protected, and easy to find. So glad I gave the cute turtle a try.
September 26, 2016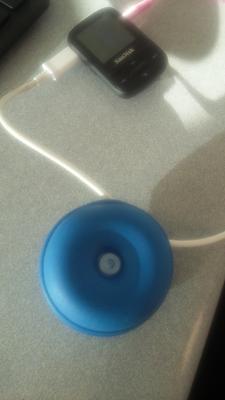 Rated

5

out of

5
 by
cheaton
Really enjoying these
I saw these cord winders on an organizing site and sought them out because these are so unique and different from other cord winders in style. Very fun to see an under desk area transform!
August 9, 2014
Rated

5

out of

5
 by
Stephs98
Keeps me organized
I have cables for over 6 different items to keep organized while I'm traveling. These are super easy to use and the colors are fun.
July 5, 2014
Rated

3

out of

5
 by
Lesa
Hmmmm ... Should have paid attention to the size
I bought the small turtle for my iphone earplugs - earpods - whatever they are called to keep the cable organized in my purse. The small turtle was only filled about a quarter of the way by the cable and apparently it's made so that both the plug and the ear pieces are to hang out the edge. This would be ideal to shorten the cord on something. My only regret is that I wish there was a smaller version ... It's a little bulky in my purse. I'm not sure how much I will use this in the long run.
June 22, 2014
Rated

5

out of

5
 by
purpleprincess
Life saver
My kitten has been chewing electrical cords. I bought a new automatic water fountain and need something to protect the electrical cord yet provide easy access to the cord for cleaning the water fountain. I look everywhere and finally found the Cable Turtle. Now my kitten and I are both happy.
May 4, 2014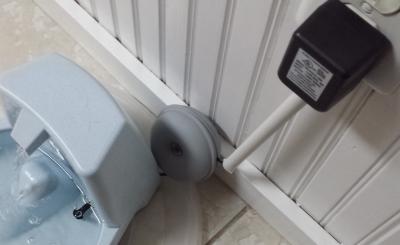 Rated

5

out of

5
 by
hrita56
Great purchase
These cable turtles make life so much easier when you can conceal excess cords. Gives area a neater look. Less cluttered.
April 24, 2014
Rated

5

out of

5
 by
HudsonGirl
Cute & Effective
Wild wires everywhere drive me crazy. These little guys put that problem to bed. Love them.
March 31, 2014
Rated

5

out of

5
 by
Dentaldiva
Love these things!
I have these in several colors and sizes to "tame" those wild cords and cables. Keeps the cords out of the way, in place and neat --- and I no longer trip over the excess length. What more could I ask for?
March 19, 2014
Rated

5

out of

5
 by
Bulldog
Cable Turtles are the BEST!
I recently ordered several cable turtles in the small and large sizes, and they work VERY well. I have two small ones taking up the slack in my mouse and webcam cables. One large turtle works for my USB hub cable, and another fits the cable for my PC's Xbox pad perfectly. This is the best way I've ever seen to manage excess cable slack, and I've ordered more turtles to tidy the cabling for the bedroom TV. Please continue to carry these!
February 6, 2014
Rated

5

out of

5
 by
LittleHelen
One of my favorite products
I own all 3 sizes of these cable turtles. I love them because they are so easy to use and are a quick fix for cable management. Also great for travel- makes taking charging cables in my carry on MUCH less frustrating!
January 28, 2014
Rated

4

out of

5
 by
BrooklynO
Holds my earbuds!
I use the small cable turtle to control my earbuds. No more tangled headphones in my purse! If you wrap them carefully, you can unreel only as much as you need.
April 26, 2013
Rated

4

out of

5
 by
ling
they are ok
They are cute but a little difficult to get all cable around sometimes.
April 16, 2013
Rated

5

out of

5
 by
ClevelandD
Cord Organization
Works great! Easy to use. Accomodates a wide variety of cords and helps them look great.
April 14, 2013
Rated

4

out of

5
 by
garrison
Nifty and cute
They get my cords under control. I hate tangled cords.
April 6, 2013
Rated

5

out of

5
 by
JDA66
I want more of these !
I LOVE these. I have 3 but want several more. I hate messy long and tangled cords on the counter or hanging off the wall and this solves that problem. I plan on purchasing more, especially some in the larger size.
April 4, 2013
Rated

5

out of

5
 by
chaostheorem
Great value for the money
I was looking for a solution to neatly store the excess cable from my headphones, but also keep the wire connected to my PC. Found this awesome product at the store! Really durable and easy to use. Just flip it inside out and wrap your cable, move the "half donut" openings to desired locations and you're done!
February 24, 2013
Rated

5

out of

5
 by
SurroundedByChaos
Great Product
I love Cable Turtles! I had been using binder clips to contain all of our wires until I discovered these gems. They are so much easier to use.
May 6, 2012
Rated

3

out of

5
 by
AndieT
Neat idea
Keeps cords wrapped - not a good purchase if you need to change the cord length, though. It is a good item to keep cords wound and out of sight. I used them in my office to get all the computer cords under control. Can fit several on the larger but only one cord on the smallest turtle.
May 1, 2012
Rated

5

out of

5
 by
AHan
Cute Cord turtle
Love this for taming the cords. So much neater than cable ties!
April 27, 2012
Rated

5

out of

5
 by
barrms04
Great purchase
I bought these in different colors for my different electronic cords. It wraps up great and you can unwrap as much as you want.
April 16, 2012
Rated

4

out of

5
 by
kaellis495
Very good product.
These allow me to wrap all those bathroom counter cords into one neat Turtle. Makes the counter so much less unsitely.
March 20, 2012
Rated

4

out of

5
 by
cimama
keeps cord in place
This did not work as well as I wanted for what I bought it for. i wanted to be able to easily wind and unwind. But this is perfect for shortening a cord to a certain length, or for less often used cords to wrap up entirely. I use it for my cell phone charger, to keep it at the perfect length with no excess. It was easy to wind and it keeps it that way in my basket. it doesn't tangle with the other cords in there. i am thinking of getting more for the other cords and we can even color code them - so it's easier to spot which is which.
March 19, 2012
Rated

5

out of

5
 by
KenT
small but mighty
It really is a small wonder...I just got another. Great for the gym and for my cell phone hands-free.
March 19, 2012
Rated

4

out of

5
 by
Organzo
Good product
Easy to use and neatens cables up easily. Wish you could select the color before buying, however. Also, the plastic is fairly hard and could be made a little more pliable for easier use.
February 29, 2012
Rated

4

out of

5
 by
Monki
Cleans up all those wires
I carry ipod buds and other wires with me to work, and these help them to not get tangled and also helps them take up less space! I will be buying more. The only downsize is they're pricey. I wish they came in a pack of multiples so they wouldn't be so expensive.
February 18, 2012
Rated

5

out of

5
 by
queenorganizer73
No More Tangled Cords
My husband mainly uses these around his desk for all of his computer wires and such, but there are so many places around the house to use them. Definitely meets all of our expectations.
February 16, 2012
Rated

4

out of

5
 by
ChloeBelle
Get rid of all those dangling cords.
The items have been so useful in our 5th wheel travel trailer, I used them to secure cords from lamps in living room and bedroom and to keep cords of kitchen appliances from hanging off counter. Space is limited so the cord wrap is great in bathroom; keeps my hair dryer cord from hanging down into sink while I am using it.
October 13, 2011
Rated

5

out of

5
 by
cincyshopper
Fantastic!!!
I am very pleased with this item. Meets every expectation. Helps control my earbud cords and I love it!!! What a great gadget!!!
July 29, 2011
Rated

5

out of

5
 by
Csbigfan
Great for earphones
Great idea. Keeps electronic cords and cables organized and protects earpieces on earphones. Slots for each end of the cord to connect to things and keep the slack hidden so it won't get twisted in any other cords.
February 15, 2011