Rated

5

out of

5
 by
Ferryshark
Great for work travel
I travel for work and often search for places to plug my equipment in. I can now leave my phone,iPad and computer power cords in this case and when I get to hotel or office I plug the power bar in and all my equipment and it is no longer an issue to charge everything!
May 6, 2012
Rated

5

out of

5
 by
SpaceBabe
Where have you been all my life?
This is the perfect solution to a long-standing problem. I have a variety of small appliances in the bathroom (electric toothbrushes, fan, etc.). I curled and clipped the cords, but they still looked like clutter. FINALLY, they are all contained (hidden!) along with the power strip, and the area is absolutely clean. I lost clutter and gained space since I can place some of the electrical items on top of the CableBox. It makes me smile every time I see it.
April 10, 2011
Rated

5

out of

5
 by
BDani
Just What I Needed
This product solved a problem for me in my office- not having enough outlets for all the things near my desk and keeping things from looking cluttered. The smaller size was perfect for my needs.
September 21, 2016
Rated

5

out of

5
 by
Emstreet
Tidier
Clean box which includes a small power strip - great for 4-6 electronic plug ins - more than that get the bigger box.
August 26, 2016
Rated

5

out of

5
 by
ceejayking
Minimizes Cord Clutter, Hoohray!
I recently adopted a kitten, which inspired me to finally contain the unsightly cords and power strip in my living room. This cable box with power strip does the job well and looks good too. I plan on buying another for my bedroom. While I placed mine on the floor, I think it would look just as good on a counter for a smart phone and tablet charging station.
October 6, 2014
Rated

4

out of

5
 by
Mysterybell
It's Fine
The cable box is the right color and size for my needs and has sufficient space for cords. It has nice lines and is unobtrusive. The only down-side is that the plug should from the power strip should be flat for a lower profile and allowing for more room behind objects like shelves or furniture. I simply traded the included version with my own flat-plug power strip.
July 20, 2014
Rated

4

out of

5
 by
liznyc22
clutter free
I used this for under my desk- and its perfect. hides all the cords and looks tidy/organized when you walk in and see it.
February 7, 2014
Rated

5

out of

5
 by
CAwomansis
Did the Job!
The cords in my bathroom for the Clarisonic and electric toothbrush were unsightly and I had to unplug and replug every time I used my blow dryer. This contained all the cords and I even put the two items I keep plugged in at all times on top of the unit for even less clutter.
August 23, 2013
Rated

4

out of

5
 by
PinataParty
Nice product but didn't work for me
I purchased this because I had 3 plugs that needed concealment. I figured this would be perfect. Unfortunately, one of my plugs is a brick-shaped plug, and it hangs out too far over the edge of the surge protector. If I plug it in closer (since I only have 3 plugs and there are 4 outlets), I can't fit the middle plug in because the brick is still in the way. I had to return it. I didn't get the larger size box because it is really big and kinda expensive for a plastic box. I recommend this only if all the things you need to plug in have standard plugs.
May 11, 2013
Rated

4

out of

5
 by
tomrawl
Worth the money
This does exactly what it says. Hides unattractive cables inside a neat, little white box. However, the power strip is grey. I wish it was white like the box...
April 18, 2013
Rated

5

out of

5
 by
LadyDavis
An organizer's dream
This product is awesome really made behind my computer desk look so much neater..
March 27, 2013
Rated

5

out of

5
 by
Verified Reviewer
FINALLY AN ANSWER TO MY CABLE WIRE MESS!
This is a great product, It fit all my cords ( ALOT!) and the surge protector easily. It is sturdy with a clean modern look. I am thrilled.
March 25, 2013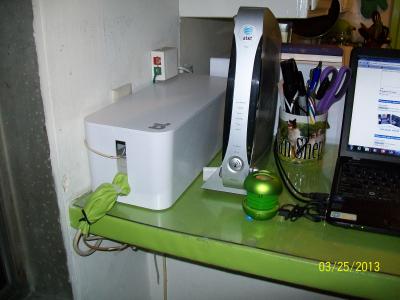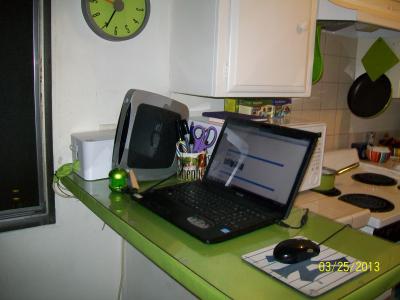 Rated

5

out of

5
 by
KayDee
Neat!
I did not really think I could stuff all my wires in there but voila! I did it! It was a squeeze, but did indeed, bundle up nicely.
March 19, 2013
Rated

4

out of

5
 by
p120
Great Product
I used the CableBox to clear the clutter of cables off my desk. Used with the CableDrop to keep temporary charging cables up top. Desk looks great now.
March 11, 2013
Rated

5

out of

5
 by
Dulcimerlady
Perfect Choice
My computer room is white, glass & silver so it was important to me to keep things simple and clean looking. This, along with the larger size (without the included power cord) are very attractive and answered all my cable storage needs. I have both an iMac and MacBook out so there are plenty of cables with external hard drive, etc. and these handled them all. What surprised me the most is how well made they are: sturdy, finished well, large open cord slots, snug fitting top, and rubber bars on the bottom to keep them in place. I'm using this size to house all my charging cords and usb to AC chargers for my phone, Kindle, gps, etc. This makes it convenient and I feed those cords through the open area on a lovely bamboo box where I sit everything that's charging. Perfect solution for what i needed and definitely NOT an 'electrical looking' item but, rather, more like an accessory. I'm completely satisfied and also used one of the larger black units for the rats nest of 'behind the tv' cable/cords. Because of how sleek these look, I was able to store that one right on a black glass tv stand and it looks great. I have both the incoming and outgoing cables running through the same slot so nothing shows when I store it on the shelf with everything feeding out of the back cable slot. No one would ever guess what it was holding. I really recommend this whole line of quality products.
March 6, 2013
Rated

4

out of

5
 by
Pippo
Tame the tangle!
Cords were everywhere in my living room. The lamp, the computer charger, the other lamp... 3 doesn't sound like much but when you add an extension cord and a million mile long computer cord, it makes a mess. Now everything is neatly wrapped up in a tidy white box, hidden underneath the side table. Thank you!!
March 3, 2013
Rated

5

out of

5
 by
Verified Reviewer
Hit the spot
Just as described. Keep organization easy with these guys. Can change the power strip out later down the road if needed. I own three currently...
April 28, 2012
Rated

4

out of

5
 by
organizer123
Great item to keep cords neat
Great item to keep cords neat and contained and minimize the dust, wish it did fit some larger plugs but overall a huge help in the cord craziness of the office
April 16, 2012
Rated

5

out of

5
 by
LJCoolJ
Neat & Organized
This product does exactly what it says it does. It hides a bunch of wires and awkward power strips so they are not all over the place. Has a convenient opening for both incoming and outgoing wires. The power strip it comes with is removable. The item is reasonably priced, and comes in an assortment of colors
April 6, 2012
Rated

5

out of

5
 by
DanielleB
Nifty and Neat
I picked this up because it looked interesting...but I was doubtful of how well it would work. Five minutes after setting it up, I was hooked! All of the cord clutter...GONE. An excellent value.
March 19, 2012
Rated

4

out of

5
 by
feathers
Great pick
This is working out really well for me as I travel by car to different hotels that never have enough power outlets in one spot. Now I don't have to search the room for the places I plugged in my phone, tablet, and pc. When I leave I just fold all of the cords back into the cable box and take off. One issue is that the power strip is a traditional one and my large power supplies overlap but I got three in there and am satisfied.
March 7, 2012
Rated

3

out of

5
 by
doteegal
essential babyproofing item
We have several of these around the house to prevent our son from getting to the extension cords. Works great. Didn't give it full stars because the power strip doesn't fit a lot of odd shaped plugs. Of 4 potential things to be plugged in we usually can only fit 2 because of the outlet placement on the power strip.
February 19, 2012
Rated

5

out of

5
 by
CableGuy
Clean and Easy
So to be frank, I bought this product WITHOUT knowing it also cam with the mini power strip. Huge bonus for me, haha. Literally, I bought it for the convenience of having one place to throw all of my cables and power cords. Over priced? Yes. Overpriced even with the power strip? Yes. Worth every penny? Yes. Why? It served it's purpose. I'm a neat freak and a video editor, I have a ton of external hard drives that I tried to hide cables from under my desk and it was a mess. Why other companies don't make simple boxes like this is beyond me. The Blue Lounge Mini looked so good I ordered another full sized CableBox (cheaper at Container than it is Blue Lounge's sit, other items the discount code I used was "bluecandy", 25% off). Love BL's products and bought more which I'll review. Love The Container Store, OCD in check. Side note, I bought a black CableBox Mini in store, apparently it's not available online. Also, if you have a store near you the store is worth the experience!
March 23, 2011