Rated

5

out of

5
 by
Stefanie61
Great for interior drawer organization
My vanity has three drawers and I needed a way to get my cosmetics organized and easy to find and use and these beautiful wood organizers fit perfectly in my drawers where I can separate my makeup items easily I highly recommend this product
February 1, 2015
Rated

5

out of

5
 by
Sidfate
helpful organizer!
This organizer looks great in my western desk. It is sturdy and definitely helped me get my desk organized and tidy. It fit perfectly in the short middle drawer that other organizers were too tall for.
August 31, 2014
Rated

5

out of

5
 by
sugarcatgrl
Fantastic find!
This bamboo tray is just wonderful! It fits in my vanity drawer and holds so much of so many different makeup items. It is a beautiful, well made bamboo item.
August 22, 2014
Rated

5

out of

5
 by
BadJill
Very nice
I bought these to organize a new bathroom drawer full of random makeup. I prefer the bamboo to plastic, since plastic seems to dull and look scratchy. I would be careful to not let these get wet. I had bamboo on the counter and it became warped from water. Also, the price is right!
April 17, 2014
Rated

5

out of

5
 by
DaveH
Bamboo is the best.....!
This tray is sturdy but tasteful in design and useful anywhere in the home, Kitchen, Bathroom, Bedroom, I use one to organize small items in the bathroom and it stands up the humidity without issues. I have different sizes that we use in the kitchen and bedroom; they make a good place to put your keys, change, etc. or pens, paperclips, flatware, etc.
April 15, 2014
Rated

5

out of

5
 by
Dianec
I Love These Boxes
This is my third purchase of these bamboo boxes. I have many in all sizes and shapes. They are sturdy, smooth, very lightweight, good-looking, perfectly sized, and go with everything, just perfect! I store essential oils in many of them, cosmetics in others, etc. I'm a container nut, and have never found any that I like as much as these!!
April 5, 2014
Rated

5

out of

5
 by
1GirlTwinBoys
Love these as drawer organizers.
These are so nice for my home office desk and also makeup drawers. Very versatile. Helps keep the drawers so neat and organized.
September 23, 2013
Rated

5

out of

5
 by
Beatrice59
Absolutely Perfect!
I needed organizers/dividers for a large drawer in my solid wood roll-top desk. I wanted something classy and elegant (not plastic) and did extensive searches in local stores and online. I was about to give up and finally ran across these. I measured my drawer carefully and purchased 3 large trays and 1 small tray, and they fit perfectly. They are high quality, sturdy, well made, and look beautiful in my desk. Most organizers are 2 1/2" deep, where these are 2" so fit perfectly in a desk drawer. Many organizers are designed for cutlery so had compartments sized for spoons, etc. These compartments fit office supplies well. If you want to organize writing instruments, consider an organizer designed for cutlery as these may not be ideal for that purpose. I considered ordering other brands/styles from other retailers until I read online reviews about poor workmanship. The Container Store organizers will last for decades.
May 17, 2013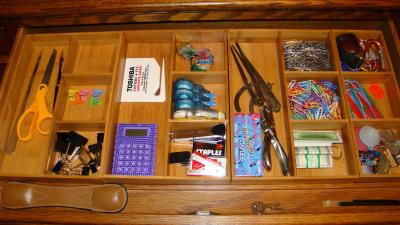 Rated

5

out of

5
 by
HeatherB
Junk Drawers not so junky
These drawer organizers are just what my house needed. With so many different sizes and shapes, they're perfect for just about any drawer, and they keep even your junkiest of junk drawers neat and tidy. You can even remove panels to fit things better. Love it!
March 19, 2012
Rated

5

out of

5
 by
purplepiano
roomy
I got this for the inside of my flip-top vanity table. It is well-built and sturdy.
January 11, 2012
Rated

5

out of

5
 by
Freemoose
Well made
I use two of the big trays to keep my personal items organized in my night stand. They are nicely made.
December 3, 2011
Rated

5

out of

5
 by
magcar
Great for drawer organization
I am trying to purge and organize our drawers. I used these in our bathroom drawer. I love them. I now have a home for ponytail holders, dental floss, etc.- they aren't just floating around the drawer. I plan to buy more and get different sizes!!
March 22, 2011
Rated

5

out of

5
 by
Wondergirl
Perfect
Just what I needed and wanted. I am using the trays to organize my belts. I can fit 1 or 2 belts (depending on the type) per segment. The trays are sturdy and compact. I would recommend them and purchase them again.
March 16, 2011
Rated

5

out of

5
 by
Vegasgrl21
Great for cosmetics
I am using these Bamboo trays in the drawers of my bathroom vanity. They are great for lipsticks, small jars, dental floss,etc.
February 18, 2011
Rated

5

out of

5
 by
whitney311
Good looking
These are great looking. They look expensive and fit my drawers perfectly. Just what I needed
February 2, 2011
Rated

5

out of

5
 by
pbjfamily
I love the fact that The Container Store is getting bamboo and other renewable/recycleable products. I'm trying to go "green" as I remodel and The Container Store is helping me do that. I also bought the covered bamboo container and the three drawer chest (great for clippers, files, tweezers etc.) :o)
October 25, 2010
Rated

5

out of

5
 by
BlueMonkey
Pretty and useful
Looks good and helps organize my mess. Fits like a glove in my vanity drawer.
August 31, 2010
Rated

5

out of

5
 by
AtlantaBill
Neat Drawer Dividers
I have several narrow drawers in my new home and these organizer trays fit perfectly.
May 26, 2010
Rated

5

out of

5
 by
cubbear
Drawer Organization
I bought these after I was having a hard time keeping my hair ties from falling onto the bottom drawer. This tray has helped me do just that :)
May 17, 2010
Rated

5

out of

5
 by
Capuozzo
Great look and wonderful functionality
Great to see products made of Bamboo. This material is easily renewable since it grows so fast. Makes me feel good that I'm not depleting our natural resources.
April 23, 2010
Rated

5

out of

5
 by
imsoorganizednow
Great Looking Catchall
I use it for hair ties, bobby pins and rings. Well made with clean and simple lines.
March 3, 2010
Rated

5

out of

5
 by
jadeheart
Good compartments and looks good!
I have one for inside my drawers and another as a catch all on my bathroom counter tops. They're great, light weight and look very nice.
January 22, 2010