Rated

5

out of

5
 by
LizLemon
Attractive Storage Option for Organized Files
These boxes are a fantastic alternative to buying a file cabinet. Hanging folders fit perfectly and everything is organized. They are attractive and highly functional. I bought 6 and they look great on my bookcase. Also they are easy to move around which is a plus. I would highly recommend this product.
April 25, 2014
Rated

5

out of

5
 by
DeeVa
Great for home office organization
I love these boxes. I work out of my home and these offer me the flexibility to organize my files into categories and then take the box with me to sit on my couch and work!! In addition, they look great with the Driftwood/Pewter Elfa systems that I installed in my entire home office :)
March 3, 2014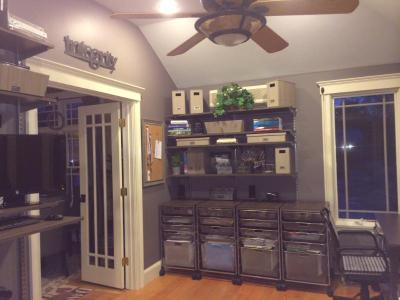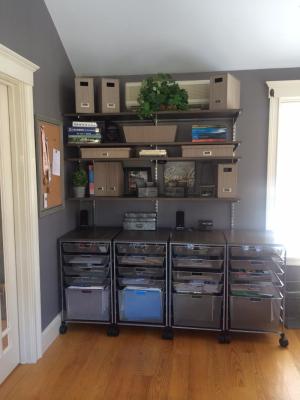 Rated

2

out of

5
 by
NeedsContainment
Looks great; doesn't work
Aesthetically, these are great--very classy, hide your papers and files right out in the open while looking decorative. Unfortunately, the hanging rods on the inside of the box are too close together and are not adjustable. The distance between them is exactly the width of the file itself (the card stock), rather than the metal hanger apparatus. They squeeze the sides of the file and the metal hangers extend past the rods. The box itself is the right size--the file hangers don't touch the sides of the box--it is only the rods that are in the wrong place. You can still put files in it, but they won't slide on the rods nicely. If they are full of papers, they will be hard to get in and out and will mess up the sides of the files/papers. If you care more about looks than function, and don't plan to access the files frequently, then you might not mind. After verifying more than one file box, and more than one brand of hanging file, the problem was consistent and I returned mine.
June 4, 2016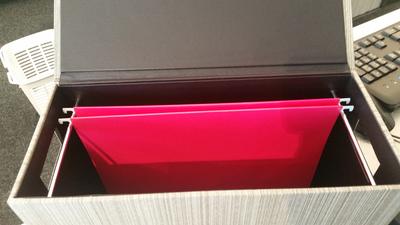 Rated

2

out of

5
 by
AstoriaMan
Slightly too narrow
The file is well constructed and stylish, but its interior width between the rails is, inexplicably, slightly too narrow for the hanging file folders. They sort of fit, but the metal in the hanging file folders ends up bowed out because of the ill fit. I'm amazed at this lack of "measure twice, cut once".
March 21, 2016
Rated

5

out of

5
 by
Hilltop
Stylish Files
These helped reduce clutter on my desktop and they look fantastic.
May 16, 2015
Rated

2

out of

5
 by
gatrjeny
More decorative than functional
It's a beautiful piece of desktop organization for filing. Unfortunately it's not meant to be filled with a lot. I recently moved and decided not to take my file cabinet, but instead buy a few of these and transport my files that way. Sure, you can blame it on the move, but half of them arrived with the metal rod broken off of the side of the file container (it's what the file folders hang from). Very disappointed, particularly since these are somewhat pricey - I expected more.
April 25, 2014
Rated

5

out of

5
 by
VWOH
Perfect!
We purchased 2 of these for organizing our music sheets we have downloaded. It fits on the shelf, close to the piano and filed for easy access.
April 13, 2014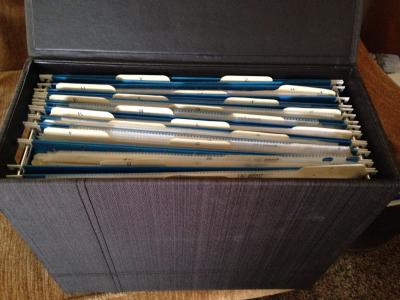 Rated

5

out of

5
 by
Debzdream
Attractive and Useful!
I brought my fabric swatches into the container store in an effort to match a few accessories that I intended to use in my bookcases. The Latte Parker Desktop File is beautiful and blended in with my designs. It is very sturdy and holds many files. I feel it will get many years of use. Love it!
April 5, 2014
Rated

5

out of

5
 by
jodialexa
Great product
This product is sturdy, functional, sleek and attractive. I'm very glad I purchased it!
April 3, 2014
Rated

5

out of

5
 by
rjkpt
Love these!
I previously purchased three of these desktop files that were slightly different: Bristol Desktop Files. Needed another one so I was a bit disappointed that the style had changed. I like this one better! The design cover is smoother so much easier to clean. I use these for work and home file storage. They're not too big so they don't get really heavy. I love the flip lid that doesn't get separated from the box and it keeps dust off the files. I've had the previous version over a year and use them regularly. I assume this one will work the same. They are very sturdy; I've had no issue with lots of use. Great product!
March 29, 2014
Rated

5

out of

5
 by
Brownie613
Great Space Saver
This was a great buy!! Well made construction, sleek business look, and great space saver. Goodbye ugly metal file cabinet!
February 19, 2014
Rated

3

out of

5
 by
kccooks
attractive but size doesn't work
It's attractive and sturdy, but it doesn't work with our elfa system. The file box extends over the shelf we wanted to put it on and ends up looking sloppy instead of neat and orderly. Online buyer beware: photos of this product on the website are deceiving and make it appear that these boxes will fit neatly on any elfa shelf. If you plan to put it on a larger shelf, you'll be fine. It will look great. But if, like us, you need it for seldom used papers and important documents and want to store it on an upper shelf out of the way, make sure you measure first.
January 30, 2014