Rated

2

out of

5
 by
Luv2org2
They've changed~
I bought four of these several years ago, and I love them. I decided to add to my collection and bought a couple more. These new ones are much less sturdy than they were previously. They look the same, but the sides are flimsier. They don't stack as nicely as they used to. I wound up returning the two that I bought, very disappointed.
June 14, 2015
Rated

5

out of

5
 by
Infinite838
Useful in the kitchen
Cute little basket holds our onions, garlic, shallots, and ginger as they do not need to be refrigerated when not in use - looks like a nice rustic-y addition to our kitchen and the soft lining prevents the items from getting bruised or knocked around - and easy to clean, too!
March 16, 2015
Rated

5

out of

5
 by
newmother
Worth the price
I purchased this basket to store necessities in our nursery and it is functional and looks gorgeous. I thought it was a bit pricey at first, but when I took it home I was extremely happy with my purchase. Definitely well worth the price, and you will not be disappointed! The basket is flexible and soft and you can place it length or width-wise. The quality is definitely there.
March 7, 2014
Rated

5

out of

5
 by
MommaC
These will make any neat freak happy!
Having just downsized to a house with a lot less storage space, I bought these baskets to organize items on the open bathroom shelves. They make the bathroom look a lot more attractive and more organized. They are most useful with bath towels, hand towels, face cloths, and packaged items. My bathroom now looks tres chic!
June 8, 2013
Rated

5

out of

5
 by
Minmin
Looks so chic
I love these for a couple of reasons. 1. the lining makes it easy to clean and 2. it makes the whatever room you place them in so much more chic. This is a must!
May 5, 2013
Rated

5

out of

5
 by
ENVP
Great Basket
I love this basket. It can be positioned by length or width. It is pliable and light. I think,I need a few more.
April 6, 2013
Rated

5

out of

5
 by
Coramdeo540
Beautiful Basket
I love this basket!! It is very rich looking. Good Value for the price and I plan to buy more someday, I like the size that fits in many locations and space.
March 20, 2013
Rated

5

out of

5
 by
Haymore
Great under the sink...
We used these under the bathroom sink in an open air space used for towels. Now we have these on the shelf holding the towels like decorative functional drawers. I really like them and the material and stitching are holding up well.
March 19, 2013
Rated

5

out of

5
 by
GeorgiaAtl
Great all around storage
The quality is top-notch and the size is perfect to fit in between other storage. The height is just high enough to conceal items, but open enough so you can see what is inside.
March 18, 2013
Rated

5

out of

5
 by
MamaOrganizer
Great Nursery Basket!
We bought these baskets to go in the nursery. We wanted something that would hold baby clothes neatly, which helps us save TONS of time on folding or hanging baby laundry. These baskets are just the ticket, and they look so nice, too! The structure of the baskets is a bit flexible which is great because we store these in his chest of drawers, and it makes taking baskets in and out easy if we want to do that. We also store little baby buggy toys and receiving blankets in them and keep these baskets in his closet. Uniformity of the baskets throughout the space makes organizing fun and stylish in the nursery, and they will be great as he grows, too!
March 17, 2013
Rated

5

out of

5
 by
TRex
Great diaper storage
Soft and flexible so you can cram it into whatever shelf you have but durable, no stray bits falling out of it after 3 years of use even with two small children pulling on them. I use 6 of them in 2 changing tables and they keep my cloth and disposable diapers neat and tidy. Can use them later for keeping loose items on bookshelves. Have survived two moves without a hitch. I love them.
February 25, 2013
Rated

5

out of

5
 by
basketdecase
Makatie Basket Case
Love these - perfect size, color and weave. Elegant yet understated. Would and did buy them againg!
February 23, 2013
Rated

4

out of

5
 by
PracticalGal
Nice Basket, Not Quite "It"
These are lovely baskets, nice tight weave, rich color, lining is well made. The reason I gave four stars instead of five, is I found this basket to be too "floppy" or soft for what I needed. I had intended for three of these to line up in the kitchen at the end of an island to hold onions, fruit etc. Unfortunately, these are not sturdy enough to handle heavy items. They would be perfect if they had a metal frame inside them. Without a sturdy frame, these just flop and flub around when you pick them up. I may keep one for my bedroom to hold misc items. Container Store, please make these with metal frames. Thanks.
December 18, 2011
Rated

4

out of

5
 by
GMarie
Perfect pantry basket
This basket works perfectly in my new, custom pantry closet. The space is limited (only 10 inch deep shelves) so I needed something with a little "give" and this works great. I'm using it for potatoes and onion storage. And it looks expensive!
November 29, 2011
Rated

5

out of

5
 by
NJane
Unconventional Use
I use this basket as a valet in our kitchen. My husband insists on leaving his personal items in the kitchen since it is closest to the back door, so I needed something that would act like a valet without looking like one. This basket works perfectly and looks very nice.
January 19, 2011
Rated

4

out of

5
 by
Quickfeet
Classy Organizer-Storage Baskets
Nice classy baskets to store things in a visible area, and still look attractive. Good depth and size. Only negative is if placed on a wood shelve, you need to be careful not to scratch the shelving as there is no protection on the bottom of the baskets for this.
January 16, 2011
Rated

5

out of

5
 by
skirk94
Durable and Functional and Beautiful
This is my bread basket. I needed a smaller bread box and could never find one for my store bought bread. I don't like the plastic commercial wrappers so this lovely basket holds the bread and keeps the wrapper out of site. It fits nicely over my microwave and I'm stunned at the durability. I have a small child who pulls things from the counter and this basket is not exempt from the treatment. It has survived 3 years without a single distress point. Love the colors and the liner comes out to get a nice wash. LOVE IT and I will get more. Keep in mind the smaller baskets are more rigid than the larger ones.
September 3, 2010
Rated

5

out of

5
 by
IngridU
Nice product a most have
Using these basket all over the boat as a catch all. They look great and work so well for me.
July 19, 2010
Rated

5

out of

5
 by
SallyR
Beautiful Baskets
These look beautiful in the closet as purse storage. Gorgeous!!!!!
May 18, 2010
Rated

5

out of

5
 by
sunshinegal
Keeps Recipe Magazines Organized!
My recipe book shelves were always a mess: magazines and small recipe books constantly falling over and getting lost amongst the larger books. I found these great looking baskets and use one to house these items. It looks organized and pretty on the shelf! I added felt to the bottom of the basket so I wouldn't scratch my shelves as I pull it off the shelf. Since then, I've purchased another basket to hold all of the bread/bagel/english muffins that were stacked on the counter.
May 18, 2010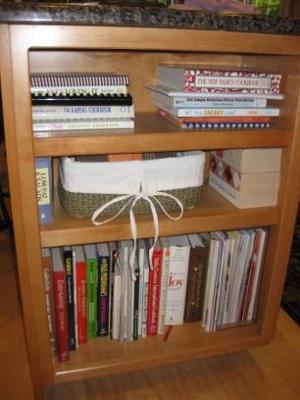 Rated

5

out of

5
 by
Quiltergirl
Great for fat quarters
These baskets fit perfectly into the shelves I use to store my fabric. My folded fat quarters stack perfectly in the small basket.
May 17, 2010
Rated

3

out of

5
 by
cupcake
Pretty Storage
I have open cabinets (cabinets without doors) in my kitchen and I hate it! It looks cluttered! These are great! They keep the clutter to a minimum and look pretty in my kitchen!
April 1, 2010
Rated

5

out of

5
 by
OrganizingMania
Beautiful
This basket is handy and good looking. Highly recommend and l love that it has canvas inside so I can wash it regularly!!!
March 2, 2010