Rated

5

out of

5
 by
Angie914
2 bin recycler
I purchased this bin for myself a few years ago. I have a small apartment and so it fits great in my small kitchen. Its easy to clean, just wipe down with a clorox wipe and it still looks as good as the day I bought it. I use the top bin for garbage and the bottom for recyclables. The top bin fits your standard plastic grocery bags so no need to purchase expensive garbage bags. And since it fits regular plastic bags, you have to empty the garbage a little more frequently, which is great, because you don't get the stinky garbage smell of a large trash can.I recently purchased another one for my mom, because she was sick of her stainless steel garbage can always looking messy and it was not easy to clean. She loves this garbage can too. I highly recommend. Its a great and durable product.
May 4, 2014
Rated

5

out of

5
 by
Handy09
Recycle bin?
I purchased this RECYCLE bin to use in my BBQ area. I filled both bins with different BBQ pellets for my grill and smoker! It works great! I need to get one more now for the other flavor of pellets I keep on hand! The unit saves so much space in my BBQ patio and looks good too! I'm actually thinking there may be uses for this in my garage!
January 13, 2014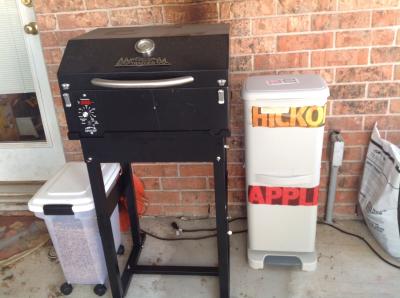 Rated

5

out of

5
 by
OrganizedInTheCity
Great space saver
Like the others, I purchased this to clean up the eyesore of having two bags of trash and recyclables in the kitchen. I live in a 400 sq ft apartment, and every foot of floor space is precious, so it's great that this can uses the vertical space. I even got questions about it on public transportation when I was bringing it home! The bottom can fits brown paper bags perfectly, so I can collect my recyclables in them and recycle the entire package. The top bin fits grocery bags (though hooks would be useful for this). It's the perfect size for one or two people.
September 24, 2011
Rated

5

out of

5
 by
LCBR
Great addition to our mudroom
It is perfect for our mudroom. With a detached garage it helps us keep organized and cuts down on trips to the garage, especially in the snow. Great compact size and easy to empty. I have shopped at the Container Store since its beginning in Dallas and have always had good results.
January 26, 2017
Rated

5

out of

5
 by
Paige31
Space Saving Recycling
It came fully assembled and fits perfectly in my small kitchen. So much better looking than using grocery bags.
December 9, 2016
Rated

3

out of

5
 by
HappilyClutterFree
Slim profile
I purchased this for a family member who recycles all things paper. The slim profile is perfect. Two bins that can be separated is very convenient. Size/design of cans makes it tough to find a bag that works well and still looks neat. Only in house for a week so will have to see how it stands up to repeated use. Would not suggest this item if you plan to use for bulky items.
December 30, 2015
Rated

5

out of

5
 by
njmomo
Perfect for Small Space
I have been searching for something to organize our recycling in our small eat in kitchen. Perfect !
November 1, 2015
Rated

5

out of

5
 by
BabsArts
Great Solution to Recycling Issue
I tried several other ways to separate my recyclables. Most just took up too much space. This is the perfect (double) can to separate out different materials. I have one right now that has the money-back cans and bottles on the top and plastics on the bottom. Now I'm going to order another for paper recycling and use the top for regular trash. Yes, frequent emptying is necessary but that just keeps things tidy. I've had no trouble with the mechanism or the quality of the plastic.
May 23, 2015
Rated

2

out of

5
 by
BigMyke
Great idea for a product
However, the physical reality aint there for useability. Bought it to accommodate my aching back (I don't have to bend to open it). Too bad the top pops off almost every time we use it. The hook and lever tolerances are laughable. If a better engineered one was for sale I'd gladly pay extra.
April 11, 2015
Rated

5

out of

5
 by
klonberger
Best for small houses
I love this! We are a family of 6 and it works perfectly to use the top for trash and the bottom for recycling...we just empty it daily. I love the way it goes together too...makes it really easy to clean also. The only down side that the plastic isn't super thick so the bottom trash bin has cracked and the latch on the top that make it open with the foot pedal no longer works..but the price is low, not a big deal to replace it.
March 16, 2015
Rated

5

out of

5
 by
tgreen1188
My recycling bin
I love it, along with appearance of it and the ease of use. When I first purchased it, I was wondering if my kids would use it or break it. So far they are liking it as I'm to, and the structure of it seems to be pretty solid. My 15 year old loves the fact that it is separated like it is so that she does not have to go out the the big recycling trash can as much, I love this feature as well. Thank you Container Store for this product. LOVE IT......!!!
April 18, 2014
Rated

5

out of

5
 by
em12345
Perfect for a small kitchen
I use the top for garbage and the bottom for recycling. I love that both are removable with handles. The foot print is small but the height and pedal is great for use while cooking. I am a little concerned with the brittleness of the plastic. (Some of the units at the store had broken parts in the back portion) but the one does not have issues.
April 9, 2014
Rated

5

out of

5
 by
WishIWasOrganized
Perfect
This basket is small, it's true. But it is the perfect size to put in our kitchen to collect the recycling, which we then move to our larger bins out side. Excellent and clever design allows for easy filling and emptying. I'm buying a second for the upstairs!
March 24, 2014
Rated

4

out of

5
 by
SantaCruzer88
Awesome Compact and Affordable
I have one of these in my small apartment kitchen; have purchased one for my sister who has a teeny apartment in NYC; and have purchased one for my parents home as well. They are awesome and so much more affordable than other models. I use it for trash and recycling, because I am fortunate enough to live in an area that allows you to mix your recycling. However it would be equally as useful if you need to separate your recycling. There are 2 bins and then also hooks to hang bags off the sides of the unit of for cans or the like. Super slim and well designed. Other than the fact that it is plastic (can't get 100% behind something plastic), I can't recommend it enough!
February 8, 2014
Rated

2

out of

5
 by
JohnWayne
too SMALL
this product is a good idea, but it is way to SMALL. If it came in a bigger size it would be great. but with my house hold, the two small bids for recycling was filled up within 2 days. It is 40 gals, but each is only 20 gallons. So if you have a big family or really into recycling this is way to small.
October 14, 2013
Rated

4

out of

5
 by
jbram
Solid
We needed a compact solution to recycling in our kitchen, so when I found this at tCS, I was thrilled. We have had this for about 2 weeks and so far it's been great. The only drawback is the plastic 'pushers' at the back. Whenever we take the bins out to the outdoor (larger) recycling bins, they almost always fall out and it's a litle frustrating having to keep placing them back where they belong. I'm a little concerned that they might end up getting lost.
June 22, 2013
Rated

5

out of

5
 by
kmwood
2-Bin Recylcler is a Win!
My aunt got a new dog this year and keeping her (the dog) out of the recycling bag has been an ongoing problem. I found the 2-bin Recycler appealing because it closes completely and saves space by stacking. The size of the bins are large enough to contain a few days worth of items, but still small enough to not be cumbersome or awkward to empty. I used the Go Shop! Click and Pickup! service and was pleased to find my order was waiting for me, even though I arrived 45 minutes earlier than my scheduled pick up time. I took it home and put it to use and it has been a big hit! No more finding semi-chewed, recycled goods strewn throughout the house. I thank you and my aunt thanks you, even if the dog doesn't!
June 5, 2013
Rated

5

out of

5
 by
Mimio
One of my best purchases ever
I love it. Before I had 2 shopping bags hanging on the back of a chair, now my kitchen looks put together & my recycles are out of site in a nice looking container. I show the bins to everyone that comes to my house. love it love it love it.
June 2, 2013
Rated

5

out of

5
 by
capaye2000
Keeps my recyclables organized
It doesn't take up too much space and it helps me stay organized. I like that the top and bottom containers can detach and be carried to the recycling center.
April 28, 2013
Rated

5

out of

5
 by
Chitrilady
Small footprint.
The containers are slender, So it can fit into a tiny kitchen like mine. I found it does hold a good volume of material.
April 27, 2013
Rated

5

out of

5
 by
alittlelikegrandma
totally functional
We have a small veritcal location for our trash and recyclables. this works great. we are not required to sort our recycleables, so we use a trash bag in the top portion for everyday trash, the lid keeps smell at bay. then we toss our recycles in the bottom. the handles make it easy to take them to our garage bins.
April 20, 2013
Rated

4

out of

5
 by
dianeh
perfect for small spacces!
Purchased this unit yesterday and we love it already! It has a small footprint and is perfect for a 1-3 person household. Easy to use and easy to clean. Looks good in the kitchen and is unobtrusive. Highly recommend.
April 8, 2013
Rated

5

out of

5
 by
SoccerMom1529
Love It!
I love this little guy! I live in a condo where space is tight, but also in a city where recycling is encouraged. The Recycler is very compact, and fits perfectly inside my hall closet, but also holds more than I expected. The bins pop out easily when it's time to empty them, and the handles make them very easy to carry. Perfect for small-space living!
April 2, 2013
Rated

5

out of

5
 by
Verified Reviewer
Excellent Bins
These bins are just the right size. They hold a tall kitchen garbage bag with plenty of room to tie a knot when they are full. (Too big for the small bathroom bin bags.)
March 31, 2013
Rated

5

out of

5
 by
Allisoussi
Love, love, love this product!
This seemingly simple product cured our recycling woes. We had used a cadre of make-do items to capture our plastic and paper recycling and it always left a mess at the kitchen door and was unwieldy to periodically take out to the larger bins. This item not only cleared up the ugliness of the previous 'solution' but it such a great design, that we actually enjoy taking the recycling out now. Everything works as advertised, the top pops off easily (even completely full) and the bottom tips out for removal and reassembles painlessly each time. Kudos to the designers - best $40 spent in awhile!
March 18, 2013
Rated

5

out of

5
 by
stcathy42
Best Purchase Ever
This trash can/recycler is affordable, the perfect size for an apt, convenient to use, and quiet!
March 18, 2013
Rated

5

out of

5
 by
jpolk
As close to perfect as you'll find
A wonderful small-space solution for your trash and recycling needs. My family uses two - one upstairs and one down to collect our trash and recycling in the smallest footprint we could find. We've been looking for something like this for years. Well done.
March 18, 2013
Rated

5

out of

5
 by
MandiC76
Awesome for a small kitchen
This product has probably been one of the best investments for our small apartment. We're able to store both our cans/bottles and paper recycling using a very small amount of precious floor space. Highly recommended!
March 18, 2013
Rated

4

out of

5
 by
firefly6970
four star
love the compactness of the recycle-able bin. the stacking of two containers works perfect in our home. the clamps on the side need to be a little more sturdy. customer care center was EXCELLENT.
March 7, 2013
Rated

4

out of

5
 by
buckaroo
Great item
This recycle bin is the perfect size for my small kitchen area. It sits neatly, close to the wall and is very convenient for my recyclables. It will fit supermarket bags, so no need to purchase special kitchen bags.
January 17, 2013