Rated

5

out of

5
 by
Will274
Great For Drink Mixes
I bought these to store my Starbucks Refreshers drink mix pouches and they work perfectly!
December 29, 2015
Rated

5

out of

5
 by
Myrmecologist
Great Containers and Service
I purchased a number of the stackable rectangle container products, and received around 30 of them this afternoon. The packaging was superb, but unfortunately two of them arrived damaged. I contacted customer service, and they replied very quickly and already have a replacement ready to ship. The customer service of The Container Store, coupled with the great quality of these containers, has ensured that I will purchase from TCS again and likely this same product as well. Highly recommended!
September 2, 2015
Rated

5

out of

5
 by
BJinDallas
Perfect for Essential Oils
I have a large collection of Essential Oils that I like to keep displayed for my use. I had looked on many websites and specialty stores online for a couple of years. After an online chat with The Container Store, I went to the store in search of an acrylic small box that I could stand the oils up inside single file that would also be stackable to conserve counter space. I wanted a lid to keep them dust free. (Dust sticks to the oil on the bottles.) Then one of the sales clerk came to help me and we found the "Shallow Narrow Stackables." They are perfect!!! I can easily move them around to clean my vanity area, sort them alphabetically for easier locating a specific bottle, and travel with them. This is the perfect little box for storing small bottles, especially for display.
May 4, 2014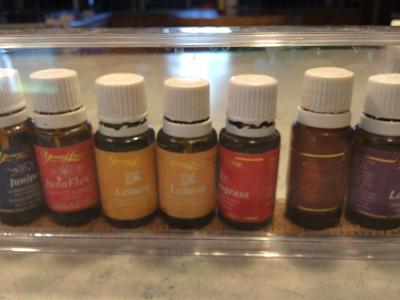 Rated

5

out of

5
 by
Hapa
Perfect for small decorations
I use the small clear stacking boxes to store various kinds of incense for my altar. They work get and keep the space underneath the space clutter free. Plus, they stack and do not release the scents. Just right! I plan to get the taller ones for my bathroom.
May 2, 2014
Rated

5

out of

5
 by
JuliaFromNYC
Like a lot
The nice crystal clear straight sided and multi-sized boxes seem really nice. I only got one at first, to store a supply of different nail polish bottles, but I like it so much I'm going to look through my closet to see what else I might be able to transfer to different size stacking boxes and thus both conserve space and make it easier to see what I have. Also because they are stacking, I"m thinking maybe it would make it easier to pick up a few at a time when I have to bring stuff down from top shelves.
April 21, 2014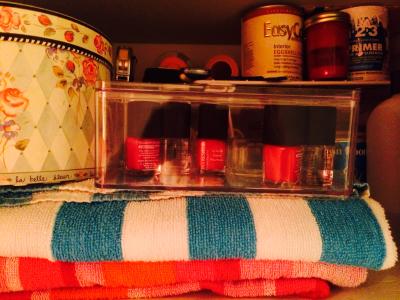 Rated

4

out of

5
 by
MontessoriTeacher
A better choice
I purchaced these boxes to use in a Montessori classroom to hold the Nienhuis parts of speech material rather than spend the $600 on their colored wooden boxes. They have been a great choice for the work and have held up well. The boxes are a bit long for the work, but it was my only option.
December 14, 2013
Rated

5

out of

5
 by
containedgirl
Great for dominos!
I have quite a few sets of dominos that have passed thru at least 3 generations. The boxes were all torn up so I went to container store (as I usually do to find an unusual item). Saw these boxes, brought one home. The dominos FIT in these perfectly. I have been back again and again and the dominos look really nice in the clear boxes. Thanks Container Store. You think out of the box.
November 27, 2013
Rated

5

out of

5
 by
BetsyR
Greatest Organizational Tool Ever
So far, this is my favorite purchase of all from the Container Store. I have numerous checking accounts - business and personal - to keep up with. I photocopy the information off of a check and cut to fit the end of the box. Once taped to the box, I put all checks and the check book for each account in one of the boxes. In another box, I put the deposit slips and do the same thing.......cut and tape the deposit slip information to fit the end of the box. So when you open my cabinet, you can see each checking account in their own box and the deposit slips for those checking accounts in another box right next to it. They stack and fit perfectly. THE BEST PURCHASE EVER!
April 26, 2013
Rated

5

out of

5
 by
gldngrl
Safe Space Saver!
These containers are convenient and, most importantly, safe (BPA-free) for storing baby essentials like pacifiers and spoons.
April 19, 2013
Rated

4

out of

5
 by
jillrk
great for artists
this is great, just as it is shown above. I can think of a million other uses as well. great product
April 16, 2013
Rated

5

out of

5
 by
ContainerExpert
Good For Food
These work well as a makeshift lunchbox! I put a sandwich in one and fruit in the other, then put a rubberband around it to take to work. Good for simply storing supplies, also.
April 7, 2013
Rated

5

out of

5
 by
UKShaz
Junk drawer tamed!
My husband thought I was a bit crazy using birthday money to buy a bunch of these containers for our kitchen junk drawer, but the sanity it has bought was worth it. I have these containers organized around the battery organizer (stocking stuffer for my hubby a year earlier). I have one for marker pens, one with dividers for the kids birthday candles and those silly plastic palm tress they insist on putting on their parents birthday cakes. Another has envelops, and then there's night light candles. Everything has its place and nothing slides around or gets stuck so you can't open the drawer. I was able to buy different sizes so I had no 'dead' space. Love these containers.
March 18, 2013
Rated

5

out of

5
 by
ViennaMom
Pinewood Derby Car Storage
I discovered these while searching for a way to put our son's Pinewood Derby cars on display. One car fits perfectly inside each rectangle -- and then we can stack them on his shelf. All the cars are neatly displayed.
May 1, 2012
Rated

4

out of

5
 by
Minimalist
An artist's friend
Just as the current picture shows, I use these boxes to store art supplies. They are perfect for keeping dust from charcoal and graphite away from your other materials and supplies. I highly recommend.
April 30, 2012
Rated

5

out of

5
 by
betsyz
handy boxes for home and office
I'm a corporate event planner and love these boxes! I use them to transport name badges and other event supplies to venues. They stack and the lids snap on tightly. They come in lots of sizes - I use two different sizes and have found lots of uses for them. I found them in the food storage area of the local store but they are definitely handy for non-food uses.
April 27, 2012
Rated

4

out of

5
 by
Drmrs
Space Saver
I also use these to store craft items. They save a ton of space and look very neat stacked on the shelf. I do wish they came in more sizes...
March 23, 2012
Rated

5

out of

5
 by
CraftyPerson
Great storage box
This box is perfect for storing craft items. Its very flexible in terms of how you can use it.
March 13, 2012