Rated

5

out of

5
 by
Lsquared
Fashion meets Functionality
I recently moved into a studio apartment and wanted a fashionable way to store all my "stuff". Plastic bins are so ugly - this Bold Box gave me the functionality, fashion element, plus the stacking factor I so desperately needed. Have bought this pattern, plus the solid white and black to mix and match. I love how they have really brought together my new space!
March 7, 2013
Rated

5

out of

5
 by
CSLady
Great Storage Piece
I'm sure this would be good for clothes storage, but I actually bought it to store the various games and pieces for our Wii. It's the perfect size and is attractive enough to leave out on a shelf. I like the understated graphic pattern.
April 17, 2012
Rated

5

out of

5
 by
trollerboy
A Proper Box
The large Milano Bigso Box is a terrific box, and has all of the features that one would expect from a box, including 90 degree angled corners, a rigid bottom, and a lid that fits snugly, yet not too tight. Add in to that some additional features such as a swing-bar handle and a card (with holder) to label the box, and you have a terrific box. Only your imagination will limit your usage of this box. I use them to house such diverse elements as hockey helmet parts, old baseball caps, and cross country ski waxing equipment. Talk about variety! I'm sure that other customers have even wilder stories about what they house in their large Milano Bigso Boxes. I recommend this box to anyone that has sufficient shelf space.
October 17, 2016
Rated

5

out of

5
 by
ForestPark
Practically Perfect
Bought 3, then another 5 because I liked them so much. Very sturdy, attractive, easy to put together and great for my needs (for items I need to get to twice a year at most, that are stored up high). Not meant for heavy items. Tried the Extra Large Storage Bag Grey first - very disappointed.
July 8, 2016
Rated

2

out of

5
 by
2K9s
GRAPHIC MILANO BOX
The color did not work well for the color scheme in our ELFA Wood Decor and platinum closet. The boxes were heavier than anticipated. We bought 10 and returned them for the simple big gray storage boxes which weighed a tad less and COLOR WISE WORK BETTER with the other boxes purchased (leaf hat boxes).
February 18, 2016
Rated

4

out of

5
 by
MrsMarshall
Storage
These are great sturdy boxes that I am using to store some office type things in our closet. I love the pattern that is offered along with the size options. These will look great in my new closet and offer lots of options as to what to store in them.
July 28, 2015
Rated

5

out of

5
 by
dogears
Milano Storage Boxes
These boxes are great. The strength of the material and the beauty of the pattern makes up for the fact that they are a little pricey! I'll be buying more of these. I'm using them, by the way, to store a very large CD and DVD collection. Store isn't the best description; I use the collection every day.
September 5, 2014
Rated

5

out of

5
 by
DannieT
I expensive purses are happy!
I have some high end handbags. I didnt want to keep them in their boxes which were bulky and taking up room. I bought this to keep all of my bags in to protect them. It works well and it sits up in the top of my closet for easy access.
July 15, 2014
Rated

2

out of

5
 by
SalesLuvr
Not Heavy Duty
Usually I love Container Store products, but this was a disappointment. I purchased a large size box to hold office supplies. According to the website description, it's made of "heavy fiberboard," not lightweight cardboard, but this is not true. In fact, the cardboard is about the thickness and durability of cheap shoebox cardboard; it's very flexible and thin. I was surprised they would bother putting metal adornments onto something so non-durable. I wouldn't dare put office supplies in this box and try to lift and move it with the handles. Instead, I put very light cotton sheets in it for storage, and plan to try not to move it at all. Even then, it sagged on the bottom when I lifted it. Like others have mentioned, the sections don't fit together properly, leaving large holes on the corners. I used duct tape on the inside to hold it together better. I gave this box 2 stars only because it does have a large capacity, it looks nice after being taped up inside, and it's recyclable. I decided not to go to the trouble of returning it, and make do with it as is. However, I won't purchase any more of these (which I had planned to do), nor will I recommend them. It's possible the small boxes may suit their purpose better, since they are meant to hold smaller items, but the big box should be made of stronger material. If you need a strong white box, I suggest their "Our Best Box" instead; it's not as pretty, but is very sturdy.
April 29, 2014
Rated

4

out of

5
 by
Hebeshebewebe
Short, Sturdy and to the Point
I got this box to hold a large, unruly pile of extra magazines. It does that job well. It's fairly straight forward to put together, and is reasonably sturdy. The material is no substitute for a plastic bin, but it's sturdy enough to hold heavy, awkward things as long as you are not moving them around a lot.
April 24, 2014
Rated

5

out of

5
 by
PropertyMgr
Great decorative box
Pretty, well built, sturdy box for all my recipes, decorative on kitchen counter.
April 13, 2014
Rated

4

out of

5
 by
JenniferSeattle
Look nice, but not that sturdy
These look nice in our office, but they are not that sturdy. They are like a plastic cardboard material. I don't know if we would buy more.
March 25, 2014
Rated

4

out of

5
 by
Verified Reviewer
Memory Box
It was bought as a gift. Wished I could've found sturdier construction with similar material but serves it's purpose well so far.
March 17, 2014
Rated

5

out of

5
 by
ModaMentore
My go-to storage solution
As a professional organizer I am always in need of great storage solutions. I use these boxes in just about every closet that I do. I love them... and so do my clients! They are durable and beautiful. I only wish they came in more colors/prints/patterns.
February 13, 2014
Rated

4

out of

5
 by
Smiley68
Excellent
It makes my office look professional. I'm able to keep my files in place.
December 6, 2013
Rated

5

out of

5
 by
Dutchie
Storage boxes
I LOVE THESE BOXES!! My closet is the MOST ORGANIZED it has ever been in the last 12 years!!! SO EASY to put together one of your kids could do them!!! I am going to be getting some more because have another closet to organize! THANKS Denmark for putting some quality into products!
November 21, 2013
Rated

5

out of

5
 by
Fussy
Very practical
I love my boxes. I bought 3 small ones and 1 bold box. I intend to buy more. They are very clean looking and look great in my closet.
November 8, 2013
Rated

4

out of

5
 by
Nomrah
cleaning the closet
Because I didn't succeed in getting rid of everything I had in storage I was left with a pile of old cardboard boxes full of goodies to cram into a closet. These storage boxes were big enough to hold whole boxes that didn't have to be sorted again. The closet looks very organized now. Only I know what chaos lies within.
September 10, 2013
Rated

5

out of

5
 by
Skillz
Awesome Storage
Best way to hold all of my things in my closet. Not only does it help organize most of my clothes but also my other belongings that need to be out of the way.
April 30, 2013
Rated

5

out of

5
 by
BigTex
beautiful product
These boxes are lovely, and work well for storing documents as well as shirts.
April 24, 2013
Rated

5

out of

5
 by
Muffin2
Looks sharp!
We purchased 8 blue boxes and I love them. Let me say at first I was thinking it would take a lot of time to put the handles on but its simple. It adds such a nice look to the boxes. They are very sturdy and hold a lot of items. I am getting organized and loving it. I would highly recommend this company and there items. Fast delivery a plus!!!
April 22, 2013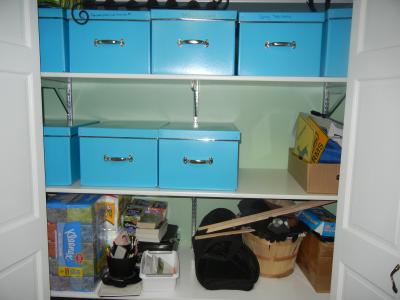 Rated

5

out of

5
 by
whosgreen
deco storage box
although this is officially a 'shirt box' we used it for storing my son's art supplies and school supplies on a dining room shelf. It's sturdy and decorative so its not an eye sore when people are over
April 8, 2013
Rated

3

out of

5
 by
stephaniesnm
Ok
I was pleased with the size of these boxes for sure but was disappointed in the material. Also not easy to put together by yourself. I am happy with the end result but thought maybe it could be a bit more sturdier.
March 26, 2013
Rated

5

out of

5
 by
MissM25
Quality Cute Storage
Love these boxes - cute pattern and very spacious. Got them in a couple different sizes for storage in my closet and it makes it look so put-together. Would definitely recommend!
March 25, 2013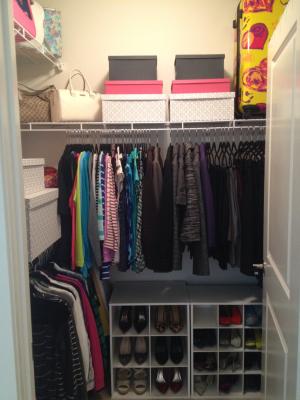 Rated

5

out of

5
 by
Nhgramma
Versatile!
I use two of these to keep my desk looking tidy but having easy access to all those little notes with to dos on them. And things I have set aside to read. Stylish storage
March 18, 2013
Rated

5

out of

5
 by
JTK118
Great Storage
This was the perfect size and color combination to go where I wanted it to hold lots of things. It is subtle with a great pattern.
March 5, 2013
Rated

5

out of

5
 by
Me12345
Love it!
I always get these for my work that I get to take home from school after each quarter. I have used these ever since I was in pre-school. Definitely recommend this! Super high quality, pretty easy to assemble, great design.
January 12, 2013
Rated

2

out of

5
 by
ag95keri
Not up to Container Store standards
I have purchased MANY items from The Container Store over the years, including similar storage boxes. I have always been very satisfied with the quality and have come to have high expectations from The Container Store because I've had such great experience in the past. Unfortunately these boxes fall far short of those expectations. It requires some assembly, but on most of the boxes, the holes don't always line up properly to insert the screws, and the bottom doesn't come together all the way, leaving holes in the corners. Also the lid is way too tight on all 5 of the boxes I purchased, making it difficult to put on and remove. For this reason, I don't think the boxes will last very long. I decided to keep them simply because I need boxes this size, and it was too much trouble to return them and search for more boxes. However, I cannot recommend them.
December 29, 2012
Rated

5

out of

5
 by
MiamiMaverick
Milano Graphic Shirt Box
These boxes are just the right size (height/width) to store things other than shirts. I'm using them to store keepsake letters. They are also very attractive and sturdy. If you are looking for a storage solution try one of these boxes out.
October 31, 2012
Rated

5

out of

5
 by
JinRockville
Great pattern, well built
I was looking for a box to hold memorabilia to organize, and this fit the bill. I will eventually use this to file away old birthday cards and such in a organized manner. The pattern is beautiful, and looks great on a bookshelf.
May 3, 2012