Rated

5

out of

5
 by
dani1023
Creative Solution
I did not use this product for it's intended use. I used 2 of these to put into an ottoman to hold my shoes. The foam pouches were perfect to protect my more expensive shoes. It worked perfectly and I did no have to spend over 300 dollars to buy the one I saw online. Please check out pic attached.
June 2, 2014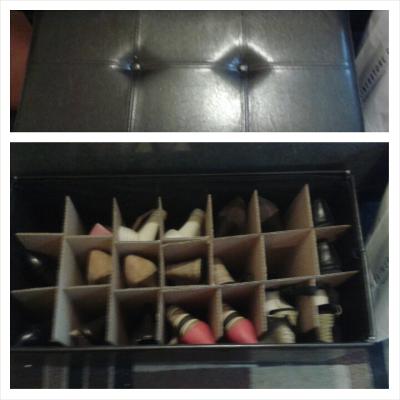 Rated

5

out of

5
 by
CarolinaGirl7
Fast and convenient
We are staging our house in preparation for selling, and with two small kids, I don't have a lot of spare time. I was hopeful and a little skeptical when I saw this kit, but decided to give it a shot. I'm so glad I did. Very quick and easy to use--the dividers go together quickly, the glasses go in the pouches, the pouches go in the compartments, and voila. Something that would have taken me half an hour (or more) to get done was accomplished in less than half that time. Everything from our really tall toasting flutes from our wedding to our big fat red wine goblets nestled snugly inside. Very happy with it.
April 14, 2014
Rated

5

out of

5
 by
Chandler
More than glasses
I was moving my extensive wine collection and found this to be a great help. It fits most bottles.
March 5, 2012
Rated

1

out of

5
 by
Charlie24
Half of what you need
Caution: What you see is NOT what you get. As noted in the written description, does not include the shown box, which you will need to buy separately. Not a good value given all you get is dividers and some padding. Very disappointed in The Container Store with this product and misleading image.
July 6, 2014
Rated

3

out of

5
 by
Jubow
Needs more options
I bought the storage boxes and inserts to store collectible bar glassware from Finland. Glasses were six sets of 8 in various sizes from cordial to double old fashions. The insert was advertised as accommodating 24 glasses or 12 stemmed glasses. There were only 12 compartments and no method or option of halting the height. I opted to use the 12 inserts to wrap glasses on bottom and had to wrap others in paper and carefully set on top of glasses on bottom. Then I stuffed around with newspaper. Would have been better if you had provided a second optional insert to split box to accommodate the 24 glasses as advertised. Was compact and did work, but could have been easier to accomplish with additional insert.
June 11, 2014
Rated

1

out of

5
 by
tennispro
deceiving
the information on the box looks like 24 glass storage purpose. it is actually 12 glass storage. the box information is miss leading. I feel for the price it should hold 24 glasses. I think it is not a good value. I think the product is overpriced by 4.50.
May 27, 2014
Rated

4

out of

5
 by
ckoupon
great use
Bought this item as well for my move with the box. As many glass items were of different sizes I was able to pack more than I thought I would. I was able to cut padding in half, wrap my mugs, and pack one mug on top of the other. Moved 2 times as I kept this product just in case I would need it again. Long move from NY to AZ with no breaking. However, I did add newspaper in any spots that did not seem secure enough. Would defiantly buy again... that is if I did not save it again for a possible 3rd move!!!
May 4, 2014
Rated

2

out of

5
 by
Hmrtraveler
Deceptive Package Label
The package label says in large letters near the top that the set includes 24 (foam) pouches and cardboard dividers. However, when I opened it, there were only 12 foam pouches. Then I noticed at the bottom of the label, in a fainters font, an outline of the pouch with the number 12 next to it. I'm not sure why the label says 2 different things - someone didn't proof it very well. I returned the kit as I wanted to store 24 coffee and tea cups and was going to stack 2 in each of the 12 openings created by the dividers. I purchased the "Kitchen Kit" instead, which actually comes with 24 pouches (in 3 different sizes). The only difference is the dividers create 9 openings instead of 12, but 3 of those openings are double sized, so I was able to still fit 24 coffee and tea cups in it with no problem. I think the Kitchen Kit is a much better value for what you get. If all you want to do is store 12 pieces of stem wear, then the Glass Storage Kit will be fine, but don't believe the label.
April 14, 2014
Rated

4

out of

5
 by
alicefg
Gets the job done
Cheap, easy way to store glasses in the attic and you don't have to worry about the box getting dirty!
April 14, 2014
Rated

3

out of

5
 by
HCL10
Box not included!!!
Like other reviewers, I didn't notice the "box not included" information. Since I bought it through in-store pick up I didn't notice until I got home and had to return to the store the next day to buy the box. Also the package reads "24 foam inserts" in one spot and "12 foam inserts" in another. Very confusing since I started wrapping everything assuming there would be 24. Frankly, I bought this set thinking it would be cheaper than the corrugated 12 slot box but it's not when you have to buy the moving box separately. If you're moving and buying bubble wrap anyway this isn't worth it. As it is, I used 2 of them in my move and nothing got hurt so the actual product is good quality.
April 6, 2014
Rated

5

out of

5
 by
PCCK339
Life Saver During a Cross Country Move!
These storage kits were amazing! They allowed the glasses to take up minimal room, they also padded them perfectly and made packing so fast! Anyone that has ever packed dishes know how tedious it can be, but with these it was a breeze. We used the glass storage kit for wine glasses, coffee cups and everyday glasses and in a cross country move from MN to central FL NOTHING got broken! I was amazed and relieved! I would buy these again in a heartbeat if I were moving and highly recommend them to everyone I meet!
May 10, 2013
Rated

5

out of

5
 by
rpkn2131
Perfect for traveling
I purchased this as a housewarming gift for my friend. She travel often so I thought she'd appreciate a safe way to bring her glasses to events that she hosts.
February 21, 2013
Rated

3

out of

5
 by
Reps
Puzzling purchase
I thought I was buying a glass storage kit. What I received was the inner packing, but no outer box. It is sold separately. I would have preferred buying the whole thing together. Now I have to go back and get the box too.
November 24, 2011
Rated

4

out of

5
 by
cbee424
Helpful for Packing
The glass storage kit was helpful for packing wine glasses and small breakables. The foam pouches make the kit especially valuable.
April 19, 2010
Rated

4

out of

5
 by
fran
Make sure you get the boxes
Be sure and get the boxes that go with the kit. It is only a kit not a complete container.
March 4, 2010