Rated

4

out of

5
 by
uniquefootprints
School Counselor Organizing
I love the container and how tall it is, but I wish it was 6 inches long. I bought it to organize all of my bulletin board boarders and they are a little longer than the box. However if I rolled them they still fit. This will keep them much safer than the cardboard box they were in. I might order another to put the rest in.
April 2, 2016
Rated

5

out of

5
 by
Jonesy2
Not just for gift wrap
After hearing about these from a friend, I've used these to store collectible action figures. They're just the right size, and stackable without being too heavy.
February 29, 2016
Rated

5

out of

5
 by
sherilou
Great product
This is a really good product, clear plastic allows you to see what you have. It is long enough to hold the longer rolls of wrapping paper.
February 13, 2016
Rated

5

out of

5
 by
Nelljustahug
Okay
This product holds regular size wrapping paper,and the product is very sturdy and top fits on it without any problems.
January 9, 2016
Rated

5

out of

5
 by
PatsyG
Perfect container for wrapping paper and bags etc. I love it !!!! I love it so much that I bought 2 of them !!
December 23, 2015
Rated

5

out of

5
 by
SenoraBragg
WOW! So nice!
This container is PERFECT for all the Christmas wrapping paper I have! Because it's so large, I can even put ribbon in it. I can move my new "wrapping station" from room to room!
November 20, 2014
Rated

2

out of

5
 by
Lisaw
Length is short
I purchased two containers bc I have about 20 rolls of wrapping paper to store. Only about 9 rolls fit into these containers bc of the length- the others are about 8 inches too long.
May 20, 2014
Rated

4

out of

5
 by
JNHK
Clear Gift Wrap Box
I have a tendency to buy gift wrap every time it is on sale, so I have a bunch of rolls stocked up. This box is perfect for storing your standard length rolls. However, the long rolls will not fit. Although, the product information states that the box can fit 28 rolls, I find I can only fit about 15 rolls, granted my rolls may be a little thicker than the usual. Overall, I like these boxes, and prefer them over the vertical standing boxes for gift wrap storage.
May 4, 2014
Rated

4

out of

5
 by
DixieC93
28 rolls?
This is a great product that fit in confined spaces and they stack well. However there is no way that it can fit 28 rolls like it says on the description, with that said it does fit a good amount of rolls (about 15) and it fits more rolls when you use the container store's gift wrap over other type of gift wrap. I own two of these boxes one I use for gift wrap rolls and the other for gift boxes, gift bags, ribbons, tissue paper, etc. it does fit surprisingly a lot.
May 4, 2014
Rated

5

out of

5
 by
SaucyLikeA1
Wrapping made easy
This container fits all my extra wrapping paper rolls neatly with extra room for ribbon/tape/etc. I hated that I could never find a good place to keep my wrapping paper without its getting damaged. Now it is all put away for next year without worry.
April 25, 2014
Rated

5

out of

5
 by
OrganizedWife
Great Storage for Small Rolls
I purchased this container for my wrapping paper along with the 2 small ribbon boxes that match the container. I loved how the container fit perfectly long wise on the shelves in my closet. I was a little disappointed some of my long rolls of christmas paper didn't fit but I should have looked at their size before I bought the container. I will definitely be altering my purchasing patterns to make sure all my new wrapping paper will fit this container!
April 8, 2014
Rated

5

out of

5
 by
Beak
Gift wrap box
Love it! I store all my Christmas ornaments in it so I can store them under a bed. It's perfect!
March 23, 2014
Rated

4

out of

5
 by
ScubaChick
Good solid construction
This is great for storing gift wrap and bows, however, the longer rolls do not fit in it.
January 18, 2014
Rated

5

out of

5
 by
marlinda96
Perfect Size for me
This was just what I was looking for. I always have left over wrapping paper and was tired of it getting ripped while being stored in a closet without any protection. This container holds ALOT of rolled wrapping paper. I have 11 rolls in there now and I think I could put at least 5 more in this container. It fits fine in my closet... in upright position, and it would also fit under my bed if need be.
January 12, 2014
Rated

5

out of

5
 by
Westervelt
I bought this container to solve a problem I had finding storage for my outdoor decorations. Now I can find seasonal decorations easily. In addition they don't get destroyed in storage
December 15, 2013
Rated

4

out of

5
 by
gingerale113
Gift wrap Box
Nice size - large enough to hold rolls of wrapping paper, tissue paper, gift bags, tape and scissors.
May 6, 2013
Rated

5

out of

5
 by
janiemc
Awesome!
Holds all my rolls of wrapping paper, yet isn't too big to store away. I like that it's all see-through, too!
April 28, 2013
Rated

4

out of

5
 by
emm112
Great :)
It's nice being able to know where all my gift wrap is at. I actually have the Christmas one with the red cover.
April 24, 2013
Rated

4

out of

5
 by
alynsey
Perfect for Holiday Wrapping Storage
So, I have a gift wrap organizer that I LOVE (also from The Container Store)...but it was becoming a hassel to have both holiday and non-holiday wrapping supplies in one bin. This "Clear Gift Wrap Box" is smaller than my regular organizer, but it works perfectly because, I didn't have THAT much holiday wrapping. It holds about 8 rolls of paper (not the extended rolls) and then two mini containers and a "shoe box" container (all from The Container Store) for ribbon and tag organizing. I would recommend this organizer for anyone looking for either a supplemental organizer or who has a small amount of wrapping supplies.
April 24, 2013
Rated

4

out of

5
 by
Verified Reviewer
Useful!
A great solution for gift wrap. Nice that you can stand up or lay flat.
March 10, 2013
Rated

3

out of

5
 by
sdbrauer
Smaller Than Expected
The tote description says it can hold up to 28 rolls of gift wrap, but I was only able to get 14 (6 jumbo and 8 regular sized) rolls to fit. Other than that, the box is sturdy and the lid fits fine.
March 9, 2013
Rated

4

out of

5
 by
ktemp
Pretty neat
I bought this container because I needed a place to store all of the wrapping paper I got on clearance after Christmas. Little did I know it comes with a little section on top for tags, tape, scissors etc. I also bought the matching bow and ribbon holder that fits right in. I love how well it has organized my wrapping supplies. The only downside is that it's only long enough for standard paper and the paper I had was six inches longer than the box. I cut the roll down to fit the container and all is well but what a pain. Overall this is a great container but make sure your paper is the right size for the box.
February 19, 2013
Rated

5

out of

5
 by
Kellers
So handy!
Perfect size for the closet and the gift wrap tubes. I love that it is clear because you can see what you have without opening it up!
February 18, 2013
Rated

5

out of

5
 by
Numberoneorganizer
Perfect fit!!
I have purchased several of these bins. They fit perfectly on our closet shelves and they DO NOT hang over the edge! This bin is listed for gift wrap but I use if for several other things as well. I have one in each of my kids' closets to store photos and things they make at school. I have two that I use for ribbons and gift wrap items. They are GREAT!
April 26, 2012
Rated

5

out of

5
 by
Rivs
Fits Right Under Bed
The container fits right under my bed, it holds more than just the wrapping paper, it also comes with the smaller containers that you can switch in and out to customize your space. I have switched in two bigger containers to be put inside, to hold my ribbon, and gift wrapping supplies (ie: tape, scissors, etc.). It makes my room look less cluttered. I really like it. Its good for college students. As you can see I like gift wrapping a lot. I want to be the next Martha Stewart.
March 21, 2012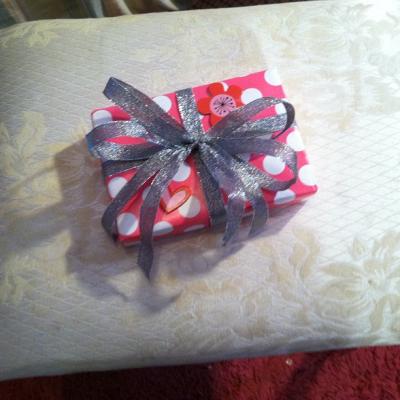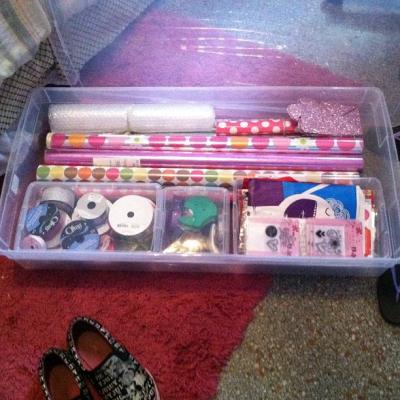 Rated

4

out of

5
 by
AmyD
It fits great under the bed and stores more they just wrapping paper. I put gift bags and tissue paper in there as well, and now everything is in one spot.
March 15, 2012
Rated

4

out of

5
 by
kmetcalf
perfect!
This is the perfect container for wrapping paper! It holds several rolls, bows, ribbon, anything you might need. The only thing I would change is the length- it isn't quite long enough to hold large rolls of paper. Other than that it is perfect, so happy with my purchase!
November 16, 2011
Rated

4

out of

5
 by
ktalnyc
(almost) wrapped up in perfection
Bought this product as gift wrap etc. storage for under my bed---the cloth ones are great but a bit of a dust magnet. I like this box but i wish it was designed a little differently so that i could store and organize more than just gift wrap rolls (which is why the cloth versions of these gift wrap storage accessories are great) but it's still does the job OK.
February 26, 2011
Rated

5

out of

5
 by
Jiffer
Just the right width for closet shelves!
I had another wrapping paper box, but it was so wide that it hung over the closet shelf, threatening to fall off and hit somebody. I replaced it with this one, which fits the shelf perfectly. I also bought a second box like this to keep bubble wrap in. The second box fits securely on top of the first.
February 21, 2011
Rated

4

out of

5
 by
DougS
Works as expected
These work as expected, though I wish the lid clamped on a bit more tightly. Still a perfectly serviceable product.
February 15, 2011