Rated

4

out of

5
 by
andirey
Handy little guy, but not amazing
First of all, how ironic for this to have come packaged in that evil plastic packaging! Once I did get the package open with the good ole box cutter, I tested it on a few things, and it does what it's supposed to. It doesn't work well on thicker materials, like cardboard, but I don't think it's meant to. The only difference for me with this versus said box cutter, is that this can be used like an x-acto knife for paper items, which I have had on my list to purchase anyway. Honestly, I'm not that impressed, but again, it does what it's supposed to.
May 3, 2014
Rated

5

out of

5
 by
CGYNG
Best 5$ spent!
This little guy is really the best 5$ I've spent. I HATE getting into plastic packages and this makes it so simple. I unfortunately lost mine during a move cross country, the first thing I picked up when I stopped into the Container Store was the iSlice. Now it's securely fastened to my refrigerator door, right where it belongs.
April 14, 2014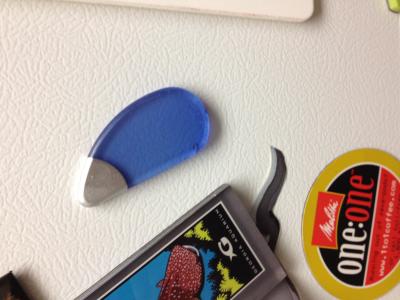 Rated

5

out of

5
 by
cinsimons
Awesome!
I don't know how this little thing works, but it does, it small, works as a magnet on your refrigerator and truely does cut through those hard plastic packaging like a razor blade, yet, when you touch the tip, it is smooth.
April 7, 2014
Rated

5

out of

5
 by
planjl
cutting tool
great tool. a bit smaller than i expected it to be.
March 11, 2014
Rated

5

out of

5
 by
Tibby55
Great Little Tool
I love the iSlice cutting tool. I use it to open packages, cut the address section off of catalogs and magazines before recycling, and clipping coupons. I've given several as gifts and they are always very well received. Love that it has a magnet so that it is easy to find when I need it.
May 4, 2013
Rated

5

out of

5
 by
rubyrijl
Don't know how but it works!
This is a great little gadget. Love that it hangs out on my fridge (magnetized). Don't even know where the blade is exactly - cuz it would be pretty hard to cut yourself - but it cuts open the toughest of those frustrating hard plastic cases with ease. And it doesn't cut so deep that it would cut the product inside,either. If only somehow they could combined it with an envelope opener and a bottle opener!
April 10, 2013
Rated

4

out of

5
 by
aowride
convenient
There have been a couple times I haven't been able to cut through plastic. But for the most part it is convenient. It hangs on my fridge which means no digging for it in a drawer. My favorite use is for unwrapping the plastic cover on CD's.
March 31, 2013
Rated

5

out of

5
 by
k9lvr217
Very handy tool!
This cutting tool is very handy for slicing open stubborn CD/DVD packaging, tape, or even vacu-seal packs.
March 18, 2013
Rated

5

out of

5
 by
ScottieMom
World's Best Gadget
This little cutter should have been invented the same time plastic "Clamshell" packaging was. It's the ONLY way I've ever found to open a CD, flashlight, wall hangers or anything encased in plastic without calling anger management. With the ISlice Magnetic Cutter Tool, it takes only two swipes across the packaging and it's done! I wouldn't trade for it. Plus, being magnetic, I can't lose it...it sticks onto the measuring tape in my junk drawer and is always available when I need it. Good job!
March 18, 2013
Rated

5

out of

5
 by
Scroober
Best coupon cutting tool
I must have 6 different tools for cutting coupons, but with the arthritis in my hands this is the only cutting tool I now use. I can cut two sheets of computer generated coupons at once with nice clean edges and little pressure yet can't cut myself i the process. Being small and compact, I can keep one in my purse to cut coupons from in-store flyers. Highly recommend the ISlice to everyone!
February 18, 2013
Rated

5

out of

5
 by
TCSJunkie
Great opener
With all the toys that come in impossible to open plastic these days, when I saw this I had to buy it. It works wonderfully. Definitely keep in mind though that it will scratch surfaces, so be careful what you open/cut things on.
January 7, 2013
Rated

5

out of

5
 by
MKDH
Magnetic cutting tool
I made a big mistake and did not buy one for myself. The tiny ceramic cutter slices through tough packing tape and wispy thin gift wrap. It is harmless in the hands of children.
December 30, 2012
Rated

4

out of

5
 by
jopritch
Cuts well, but should be done on a cutting surface
This cuts well, but if using for coupons or envelopes, it needs to be used on a surface that is stronger than ceramic. (For example, if you drug it across a Formica counter, it would scratch it.)
April 27, 2012
Rated

4

out of

5
 by
lb213
super handy
This is a great little tool for cutting through both tough plastic packaging and thin paper (magazines, wrapping paper). In an effort to thin out my stacks and stacks of magazines, I've been using this little guy to cut and save just the things I need-- recipes, gift ideas, etc. It does seem to have dulled slightly with time; I wish I had gotten one for tough projects and a separate one for thin paper for a sharp, precise cut.
March 20, 2012
Rated

5

out of

5
 by
MegP
Incredible
I've always struggled with the hard plastic clamshell packages, for fear of losing a finger or damaging the enclosed product. This nifty little gadget makes short, safe work of the packages and has a multitude of other uses as well.
December 15, 2011
Rated

5

out of

5
 by
Kasue
Great little tool
This simple little tool does an easy job of slicing open that difficult clamshell plastic packaging. It works well on CDs and boxes, too. It isn't sharp to the touch, so it's safe around children. It really does make a great little stocking stuffer!
November 5, 2011
Rated

5

out of

5
 by
Tangs
Going back for more!
After years of wrestling with ridiculous packaging, this gadget has saved us"
October 29, 2011
Rated

5

out of

5
 by
Maoo
the perfect cure for clamshell packaging dread!
I could not be more pleased with the effectiveness of this little gadget! Definitely in my top ten for stocking stuffers this year, including a couple more in my stocking !
October 14, 2011
Rated

5

out of

5
 by
DCMom
Great for opening boxes
Of course it is great for plastic, but it is also the BEST tool for opening taped boxes.
May 23, 2011
Rated

5

out of

5
 by
Ollie76
Great Tool
This little tool is great to open any product sealed in that hard molded plastic. Before when I had to open items I usually ended up with a really bad paper/ plastic cut and dulled my scissors. Now with a few slices I can get into those impossible packages easily. I have also used it to cut out articles or pages from magazines. Now I have one in the car and have used it to slice open packing boxes for recycling. I never know when it will come in handy.
February 15, 2011
Rated

4

out of

5
 by
asklge
This product works well and as it is advertized to do.
February 15, 2011
Rated

4

out of

5
 by
coffeemom
Great for small/medium cutting
Use this at work to break down boxes and open mail. It works easily and without too much pressure. I like that it is magnetic and can attach to a file cabinet. Not sure what the longevity of this item might be since it does show some wear near the blade. I used to open a clam shell package and it worked well. And that alone was worth the money!
February 15, 2011
Rated

5

out of

5
 by
AngelaZ
Most Amazing Mouse
When my husband first saw me using this thing around the holidays, he scoffed (as usual) and mumbled something about another stupid gadget...1 week later, after opening 'clamshell' plastic packaging, numerous kids' toys (which are wrapped up like Fort Knox) and several postal boxes he is a believer! Honestly, this thing is fantastic and we have it stuck to our fridge and feel fine asking our 3-year-old to grab it because it won't cut him! I'm thinking about buying a second one to have on the second floor just so that I never ever have to wrangle the packaging off of another ----- (fill in the blank) Amazing little mouse cutter thing. Everyone should buy at least one.
February 15, 2011
Rated

5

out of

5
 by
Wawa
great little tool
very useful in opening hard-to-open hard plastic packaging and not having to worry about kids accidentally get a hold of this and hurting themselves. highly recommended.
February 15, 2011
Rated

4

out of

5
 by
SquareBear
I Love This Little Guy!
Works exactly as claimed. (Maybe a little too well⿦) I use this for all kinds of things, but mostly as a letter opener. If i'm not careful, however, it will score the letter inside the envelope too. So I always have to try and get in that little space above where the documents are and the edge of the envelope.
January 24, 2011
Rated

4

out of

5
 by
Mom7
Handy Little Tool
I was skeptical when I received the iSlice as a gift, but it has turned out to be a handy tool. It really does work better than scissors at cutting through hard plastic packaging. It's not hard to use. It cuts deeper than expected, so it's not so good for think plastic, such as the wrappers on CDs (it will scratch the plastic case). Also, it WILL cut your skin and draw blood, so don't try to try slicing your arm (as my husband did trying to prove it wouldn't cut you). Safer than scissors, but don't let children use it--it's surprisingly sharp.
January 20, 2011
Rated

5

out of

5
 by
Wamp
Excellent product
This device does all it claims. Very easy to open those plastic packages that everything comes in nowadays.
December 19, 2010
Rated

5

out of

5
 by
love
great doohickey
Love this tool. It really does cut through the tough plastic packaging, had my doubts about that claim. Wish I had ordered more to give out as stocking stuffers.
December 17, 2010
Rated

5

out of

5
 by
Spcycwgrl
NIFTY
I like the functionality and safety of this little gadget. It does what it says it will!
September 29, 2010
Rated

5

out of

5
 by
speedie
Great Gadget!
I have a red one and it (unfortunately) disappears on the black sides of our new stainless fridge. I put a foil sticker on both sides, problem solved! Now it's easy to find on the fridge; magnetic surface is great!
June 1, 2010