Rated

5

out of

5
 by
Katie7777
Very Handy
I purchased this rack to take with us to WDW for my daughter's wedding. My daughter and I put it together in a jiffy. It was very sturdy and held all the bridesmaids dresses, my dress, my daughter-in-law's suit, the father of the bride's suit, etc. When the steamers came to the room to press the wedding attire, they were extremely impressed with this rack, and used it while steaming each garment. The rack came in so handy for a hotel room. When we got ready to leave, it was very easy to take the rack apart and bring it home. Love it! Well worth every penny.
August 16, 2015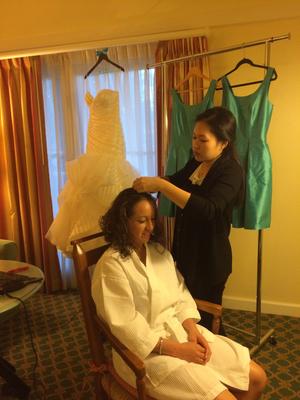 Rated

5

out of

5
 by
Colemen
Nice rack!
I love this rack. Its small enough to not over power my room, but big enough and roomy enough to fit all of my dresses on the top and all of my blouses and sweaters on the bottom. I have 50+ dresses. I even put storage boxes on the bottom since it has 2 parallel poles nicely spaced to allow that! I have hats and scarves and bags hanging from the sides that extend away from the rack. Sturdy and easy to build and definitely good for someone on a budget! (Sorry about the poor quality of the picture. My camera isn't good and my room is in the process of renovation!)
April 2, 2014
Rated

5

out of

5
 by
Toddy
Thought It Would Be Flimsy for $59
But it is extremely sturdy and I so happy to see how well it held all of my clothes. I would definitely recommend this rack.
March 18, 2014
Rated

1

out of

5
 by
mahanclt
avoid!
We loved this, until it collapsed. With a normal load and no triggering event, the base just bent. The rack fell over and nearly broke other beloved possessions. We were using this as a temporary closet while rebuilding after severe storm damage. This just added insult to injury!
July 18, 2016
Rated

3

out of

5
 by
NoHoneyDos
Disappointed but easy to assemble
We bought two racks to store clothes in preparation for our Elfa Closet Installation. This rack does not hold much weight and as others said buckles or twists. I took it back and exchanged it for another one just to make sure the first wasn't flawed. I didn't load it as fully but the description should include a maximum weight as one of their other garment racks does.
February 14, 2016
Rated

1

out of

5
 by
Pris46
Don't buy this.
This product was the perfect size. I put it together and put my clothes on it. When I tried to move it a few inches the rack collapsed and bent in two places on the same side. One of the wheels folded sideways and the bar that the wheels are attached to at the pont where it meets the upright bent. It is not salvageable. This is a bad product.
July 6, 2015
Rated

1

out of

5
 by
rileyann
Disaster
2 days after this addition to my walk in closet, the whole thing collapsed! The bars weren't full. Mostly had t shirts & blouses hung on them; nothing heavy. Bent where vertical bars attach to the base.
January 2, 2015
Rated

5

out of

5
 by
ChuckJ
Great Purchase
This product is well made and can handle all the clothes I want to put on it easily. Easy to assemble also
January 1, 2015
Rated

2

out of

5
 by
tcsfan10x
Unfortunately dissatisfied...
Needed a double hang rack for tops & pants and am used to the Intermetro. This product I found to be inferior in strength as weight of garments caused rack to buckle and collapse.
December 24, 2014
Rated

1

out of

5
 by
Nanuski
Unusable
Where the wheels connect to the rack is weak. It cannot hold any weight. Tried rolling the rack & the wheels collapsed (tube bent that holds wheels). Probably good for 2 garments on top rack & 2 garments on bottom rack.....if that!
September 4, 2014
Rated

4

out of

5
 by
abitaremy
serves it's purpose
I've just started using this for garage sale baby clothes. It wasn't as heavy duty as I thought it would be when I put it together but it works fine and does what it says it will.
June 10, 2014
Rated

5

out of

5
 by
Karelex
Finally!
This is the best garment rack for limited floor space or for condensing all the hangables. I LOVE it because it's sturdy and practical. It's not as wide as most garment racks but ultimately has more hanging space...adds to the sturdiness. A breeze to put together using screws and Allen wrench included.
June 10, 2014
Rated

5

out of

5
 by
cc24
great purchase
I needed to have something in my basement to put my seasonal clothes. This garment rack holds a lot, I also used bottom rack to put plastic containers too. Easy to assemble..
June 9, 2014
Rated

1

out of

5
 by
charleygirl
Doesn't roll well on Carpet
The double rack doesn't roll well on Carpet. The Wheels bent and i have to return. the single rack rolls well and the large clothiing storage rolls well.
May 28, 2014
Rated

4

out of

5
 by
AinChicago
Great grment rack; great footprint
I bought this initially and ended up swapping it out for another version of the garment rack. I liked that this one was double hang, had small footprint and was easy to put together. What I didn't prefer was that it was just too tall. If I had higher ceilings, lived in a larger space and could store it away easier (without taking it apart), I would have kept this one. It really is nice and the price is great.
April 12, 2014
Rated

5

out of

5
 by
flossnu2
Great purchase!
Bought this to store my husbands hunting clothes on in the garage. Very study and plenty of room for all of his things.
March 3, 2014
Rated

5

out of

5
 by
Soveryorganized
Excellent sturdy rack
I have tried several of these rolling garment racks and this one was easy to assemble,very sturdy even when fully loaded with clothes and a laundry basket full zip tied to the base!
March 1, 2014
Rated

5

out of

5
 by
AlexContainerLover
Best Clothing Rack EVER
Doesn't take up too much space and it's very strong and durable. So glad I bought this!
February 13, 2014
Rated

5

out of

5
 by
RC05
Best Purchase
I have recently purchased 3 garment racks (not at container store). This has to be by far the best one. Super sturdy.
December 13, 2013
Rated

5

out of

5
 by
AverageGuy
Great Garment Rack
Very good garment rack. Easy to set up and it's very sturdy. I would recommend this.
October 21, 2013
Rated

5

out of

5
 by
JAWK
Great for Baby clothes!!!!
This product is great to store baby clothes, and to use as a drying rack in a laundry room.
July 10, 2013
Rated

5

out of

5
 by
FunGirl
Perfect size
I purchased this rack to fit in a narrower space. Love it. Holds a lot of items! sturdy, sturdy, sturdy.
July 3, 2013
Rated

5

out of

5
 by
kimesth
useful
We moved to a smaller apt in nyc with minimal closet space, used this to hang all our winter coats. Not amazingly sturdy, but does the job.
April 11, 2013
Rated

5

out of

5
 by
Jess12
Easy to assemble, sturdy, lots of storage
I had lots of help when I went into the store and I was even happier when assembling this was so easy. I assembled it by myself and it took probably 10 minutes. I definitely recommend this product. Also, it has tons of storage for hanging clothes.
March 25, 2013
Rated

5

out of

5
 by
silvermaple
Garage Sale Necessity
This is perfect for displaying clothing for garage sales. It's easy to assemble, although it does helps to have another person assist when adjusting the height. Carefully open the box so you can save it for storage later. Unit folds flat and will slide under a bed when not in use.
March 18, 2013
Rated

5

out of

5
 by
MarCgirl
Awesome!
Love it! It's very sturdy, assembly was a breeze and it looks awesome in our spare bedroom my boyfriend and I decided to make into a walk in closet.
March 4, 2013
Rated

5

out of

5
 by
MEJVA
Great Garment Rack
Lots of space for clothes but does not take up too much space in the room. Excellent for hanging clothes to dry after laundering
February 28, 2013