Rated

5

out of

5
 by
Sfclean12
Does everything!
I purchased these bags to put in my two closets to help eliminate odors, toxins, moisture and mold. I had just moved into my new apartment in San Francisico and being in an older building with allergies, I wanted something to help with smells and potential mold. Not only did these clear out all smells residing in the closets- there was no fake fragrance scent lingering and it smelled clean. The fact they last two years is amazing and this is such a fabulous product! Highly recommend
November 2, 2015
Rated

5

out of

5
 by
BonnieKay
Excellent No Smell for odor control!
I have these in all my plastic containers, dresser drawers and closets. All of the smell is Gone. These products do not mask odor, as they have NO scent, they remove it. No more musty and old Smells! Worth every penny! They come in different sizes and I like the long ones that can also be used for shoes!
January 8, 2017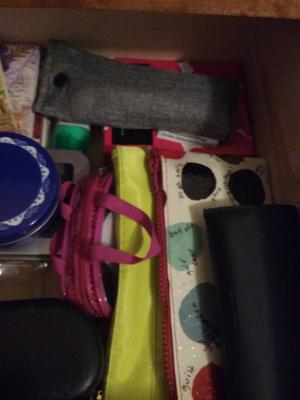 Rated

5

out of

5
 by
judgepax
Large for MINI Cooper + wet swimsuits
Re-purchasing cause works exceptionally for controlling the mildew smell from wet swimsuits in my MINI Cooper. Has lasted 3+ years in TX.
May 9, 2016
Rated

5

out of

5
 by
SallyRide
Wonderful!
Very pleased with this product. I can smell the difference in less than a day. Thanks!
April 6, 2016
Rated

5

out of

5
 by
Gvillegirl
The only product that has worked
I live in an older home in Florida, and nothing could get the slight smell out of my closet until I purchased these. One bag REALLY helped freshen up my closet, and keeps my clothes smelling great. I also use one for my small bathroom and love it.
March 26, 2016
Rated

5

out of

5
 by
Vandals316
Awesome Product
Placed one medium bag in my closet and after one day there is a noticeable difference. My closet no longer has the stale scent it did when I moved in a month ago. These bags will be a repeat purchase for me.
November 11, 2014
Rated

4

out of

5
 by
HalfFullJulie
Reduced Smell
We had to keep chicks in a pen in our living room until their age & the weather allowed them to go outdoors. The stench became horrible. Setting the larger charcoal bag near their pen made a noticeable difference in odor reduction, but didn't eliminate it. I have not bought other products like this for odor removal, so the 4 stars is a best guess at what it deserves. It looks better than any other odor removing items I've seen.
May 2, 2014
Rated

4

out of

5
 by
JenZ
Good product for Small Smelly Spots
Use this in my pet area. It is a small utility room where kitty sleeps, and it is so much fresher now with this product.
March 19, 2014
Rated

5

out of

5
 by
etch1985
Completely cleans stale/nasty spaces
This incredibly small package completely cleaned the air in my 13 year old, very lived in Honda Civic. No more old carry out or dirty work out clothes odors! Also worked wonders in our shoe closet! Very reasonably priced, too.
December 26, 2013
Rated

3

out of

5
 by
dancingshoppingcart
Bamboo Charcoal Bags
Fragrance free, non-toxic, safe, odor, pollutant remover from enclosed areas. It's in the closet waiting for it to work it's wonders. 2 weeks ago bought it.
July 31, 2013
Rated

5

out of

5
 by
crewmom
These bags are magic!
Fantastic product! The odd odor in our basement area went away overnight. I used one in each bedroom and one in the living room...tucked them in a corner and like magic the air was fresh the next morning. These are worth every penny!
July 3, 2013
Rated

5

out of

5
 by
JANJ
Awesome Product
A friend recommended this product and I was amazingly surprised this product absorb the odors from a recent flood.
June 6, 2013
Rated

5

out of

5
 by
JJohn
MOSO Great
From great minds perhaps great ideas? I bought a small basil plant and put into my closet...next morning closet smelled like basil. Took out plant, closet aired out, and at night put it back with a MOSO NATURAL AIR PURIFYING BAG. The next morning almost zero basil smell...the MOSO worked. In addition, you can refesh in sunlight, and when its expired in some two years the bamboo charcoal can be used as fertilizer...good product on many levels.
May 4, 2013
Rated

4

out of

5
 by
ChecklistMaker
Cat Zone
I bought several of these in various sizes. My main prompter was litterbox odor. We have one in a hall outside of a small bathroom. My son always griped about the smell no matter how clean I tried to keep the litterbox. Since putting this bag in the small bathroom - no more complaints. Somehow it really neutralizes the odor. I have a few in other places just to keep things fresh and from what I can tell they work fine.
May 3, 2013
Rated

5

out of

5
 by
SheenaD
No longer skeptical
This is a very effective, non-chemical deodorizer. I have pets and I live in a very old house in humid Florida, so even when my house and car are clean, they can smell a little dank or stale. I avoid as many chemicals as possible, so, while I was skeptical, I figured this could be a great product if it worked. And it did. I bought a little one for my car and 2 large ones for my 1200 square foot home, and within 2 days the air in both was noticeable fresher and not smelly at all. Amazing. I returned and bought one for my boyfriend's car. I "recharge" them in the sun and they are still working 6 months later. Totally fresh air without fragrance cover ups or chemical cleaners.
May 3, 2013
Rated

5

out of

5
 by
mcscanary
Moso Bags Oh So Great!
I had bought several of these large moso bags to combat the smells at home and work. They not only work very well, but require very little maintenance. Just place in the sun for 1 hour a month to refresh them. They are also lightweight so very easy to transport them anywhere. I love them very much.
April 26, 2013
Rated

5

out of

5
 by
ImpromptuLaundry
Works as described
I bought two of these, a large and a small. The large sits on my desk at work, helping to lessen perfume smells, and in general, fresh up stale air. I find it takes the edge off of perfumey creams and scents that co-workers use. At home, the small bag has been living by my bed. My bedroom is next to my kitchen, and I think the Moso bag really has lessened the kitchen smells that waft into my bedroom. I intended this bag originally for my closet, so I think I'll go back and get another one or two for that purpose. I think this is a definite buy, particularly at the sale price.
April 20, 2013
Rated

5

out of

5
 by
falco242
Great Odor Eliminator!
We had to keep our litter boxes in a closet near the bedroom, and that's never fun. But with 2 of these bags hanging near them, the smell was definitely tamed down! The little holes on the corner of the bag really do come in handy and you could hang these little guys anywhere. And the cloth bag is a nice quality too.
April 18, 2013
Rated

5

out of

5
 by
TCSJunkie
A must have product
The Moso Bamboo Charcoal bags are amazing! I was sceptical at how well they would work but figured I'd give them a try. I am very impressed at how effective they are at neutralizing even the toughest odors. I put one in the laundry room where we keep the cat's litter box and within a week I noticed an improvement. It's now week three and there is no longer the lingering litter box smell. The one I put in the bedroom has also made a tremendous difference with both odors and allergens.
January 3, 2013
Rated

5

out of

5
 by
Debra2012
Moso Bags really make a difference!
I purchased one of the bags for our walk in closet; dirty laundry is also kept there. It works great and on the day I set it outside in the sunshine for an hour or two, I've noticed quite a difference when walking in the closet. Once I put the bag back to do it's thing, everything smells clean and fresh again. I hang mine on a clothes hanger. I need to buy another one for the kitchen.
March 27, 2012
Rated

5

out of

5
 by
Michelle78
Great air neutralizer!!!!
The moso bamboo charcoal bag is great!!! My dog likes to hang out in the downstairs living room. Even tho he's very clean, the room starts to take on a "doggy" smell. The directions on the moso bag say it takes about a month to completely neutralizer odors but i noticed results after about 3 or 4 days. I would much rather use this than keep spraying febreeze and lighting candles. I will be getting 2 more...one for the kitchen and one for my husband's dirty laundry basket.
March 26, 2012
Rated

4

out of

5
 by
Chrysanthemum
Working so far
At the time of this review, I've only had this product in place for a week. Hung by a string, it's placed inside a garment hang bag. I have noticed the unwanted odor isn't as strong when compared to not having it. So far, it seems to work. I'll leave it there for another week or so.
March 24, 2012
Rated

5

out of

5
 by
DMcWeim
Awesome Product!
Purchased for the dog's room and my office, since she hangs out in both and they had started to smell a bit 'doggy'. After two days, both rooms now smell clean and fresh again. Only regret is that I didn't purchase more. Will have to go back and get at least one more for my SUV.
March 21, 2012
Rated

5

out of

5
 by
Ahillswifey83
A Noticeable Difference
I purchased this for our master bedroom. With a husband, two little dogs and a newborn on the way our room gets a stale smell to it. I have noticed that since placing the large charcoal bag in our room under the dresser that the stale odor is gone. I have only been using it for a week or so, but so far I am impressed with this natural eco friendly air filter.
February 10, 2012