Rated

5

out of

5
 by
Wilson1
Best idea yet
I have purchased this item with extra shelving and it made a big difference in how my closet looks. I am much more organized and can find things easily. I would most definitely be making another purchase from the container store again.
March 30, 2014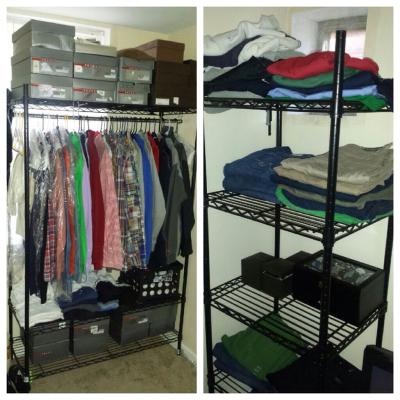 Rated

5

out of

5
 by
Bksnake
Exactly what I wanted
I bought this product to use in my storage unit as extra closet space for seasonal clothing. The rack is very high quality and just as described on website Easily put together by two , yet possible to do it alone. This product is "industrial strength" and will hold up over time. No need to worry about overloading as it will hold 500#. I was so pleased with the purchase, I immediately ordered a second one. First one came with no instructions but we figured it out without much effort. Second had full instruction sheet and I assembled it alone. If you are looking for quality, do not bother looking at others. This one is absolutely worth the money
February 11, 2014
Rated

5

out of

5
 by
abo4
Why waste time anywhere else
I have researched less expensive garment racks both t the container store and elsewhere and was never satisfied. Tipping was always an issue with other models and brands. Don't settle for less because it is a waste of money. Save a little bit longer and get what will do the job best. I am convinced. Next time I will just to walk into The Container Store when I need to contain something, organize something or find the best gadget, tool or even idea for my home, office and crafts. thanks for your wonderful product.
April 15, 2013
Rated

5

out of

5
 by
Kyle1100
BEST Garment Rack!
After spending many evenings online researching sturdy home garment racks I finally made the decision to try the Metro. It was worth every penny! Super easy to assemble and very sturdy you can roll it from one room to another easily over carpet or hard surfaces even thresholds and it does not sway at all. I am currently using my as off season clothes storage and love the room it has freed up in my closet. Highly recommend this purchase if you are looking for a clothes rack that is sturdy and will hold it's weight. Especially like the top and bottom shelves for shoes or purchases, or storage bags. As far as a cover goes I use drycleaning plastic cut the long way and it does a super good job so far.
January 23, 2013
Rated

5

out of

5
 by
ComebackKid
Sturdy, attractive and a breeze to assemble
It took me literally 10 minutes to put this garment rack together. It looks great in my room with the canvas cover. I love how the bottom shelf is adjustable (before full assembly), which allowed me to have it a few inches off the floor so I can leave room beneath for shoes. Nice product.
October 9, 2012
Rated

5

out of

5
 by
MTinNYC
Excellent garment rack and closet storage solution
Living in NYC with a long, small closet, this commercial grade garment rack is a lifesaver. It was extremely easy to assemble (no tools required), is durable, and easy to roll in and out of my closet on a daily basis. It stores a lot of clothes I use on a daily basis (I use the "Real Simple" stackable hangers to get even more space) and has saved my closet from useless to organized and amazing.
March 19, 2012
Rated

5

out of

5
 by
Gertrude
awesome!
I love this rolling garment rack. Top shelf is an added bonus!
March 1, 2012
Rated

5

out of

5
 by
Closetstuffer
Excellent, sturdy, easy to assemble
This is a very sturdy and stable system and is very easy to assemble. I was shown how to assemble it by a very helpful salesman in the store and got it together in about 10 minutes with no trouble. It is much sturdier than the "Commercial Garment" rack and I love the wheels. I customized it and like the fact that it is easy to add a basket in place of a shelf (on the bottom for purses or boots) and even have baskets added to the basket (on the front or side) for gloves or scarves. I was happy to find a solution to the problem of a very deep (58 inch) closet that was also narrow (27 inches) and had no light. I just wheel this out, can see everything in daylight, and don't have to climb over one rod of clothing to see the one behind it. Perfect!
November 10, 2010
Rated

5

out of

5
 by
hangingoutinoakpark
Just what the doctor ordered
I purchased this item to store tablecloths at our church. It is sturdy enough to hold the weight of 36 banquet-sized cloths hung on comforter/blanket hangers, (2 cloths per hanger), also purchased at Container Store. Assembly was quick and easy; the instructions were clear and no tools were needed. Fully loaded it rolled and maneuvered easily. Perfect solution to my need. I used the "Click and Pick-Up" service and was very pleased. My order was complete and ready when I arrived. Can't beat the Container Store for excellent products and friendly, helpful sales staff!
November 3, 2010
Rated

5

out of

5
 by
InformedShopper
All the info you'll need to make your decision...
Since I always get as much information as I can on items before I buy them, and compare their pros and cons, I thought I would share the information I gathered with you. This review compares the Metro and InterMetro Mobile Garment Racks to help make it easier to choose between them. I inquired about both products through Customer Service at The Container Store for exact specifications, and also found that they come with a guarantee in case they don⿿t support the weight you store on them. Here are the differences: Price: The Metro garment rack costs more because it is commercial grade - the steel is a thicker gauge than the InterMetro. The InterMetro is designed for residential use, but Customer Service stated that it is still a sturdy choice. Customization: The InterMetro has 3 choices of finish for the frame ⿿ Silver, Black and White. Both racks provide a chrome plated hanging rod (no matter what finish you choose), and the option to adjust and add shelves. Weight Limits: Neither racks provide support weight limits for the hanging rod, only the shelves. The Metro can support 800 pounds on each shelf, and the InterMetro can support 500 pounds on each shelf. Size: The size of the Metro is 18 in deep x 36 in long x 66 9/16 in high. The size of the InterMetro is 18 in deep x 48 in long x 77 1/2 in high. Basically, the InterMetro provides a foot (12 inches) of extra hanging space, and about 10 inches of additional height. I⿿m choosing the InterMetro since it is guaranteed, I need the extra hanging space, and I⿿m 5⿿ 2⿝ (62 inches tall) so my items are not that long. I hope this helps make your decision easier!
September 19, 2010
Rated

5

out of

5
 by
alindquist
Exactly What I Wanted
The Metro Commercial Garment Rack was everything I was looking for and more. It fits into our apartment perfectly, making up for our lack of closet space. I plan to purchase the canvas cover soon to complete it. It looks nice and frees up a lot of space. Our purchase experience was excellent. In fact, I ordered it online two hours before I picked it up. I called beforehand to make sure it would be available and the Container Store staff member was incredibly helpful, assuring me I could pick it up even earlier than the time suggested on the website. I waited less than twenty minutes for him to bring it out to me at the store. Overall, I could not be happier.
May 30, 2010
Rated

5

out of

5
 by
loulou
sturdy & efficient
It's worth the price. The frame does not shake nor bend in any way. Very practical!
May 18, 2010
Rated

5

out of

5
 by
brick
excellant garment rack!!!!
did a lot of research to find the perfect garment rack and this one fit the bill.I needed one for a small space,why the smaller model cost more than the larger versions is a mystery to me but it is definitely quality.I especially like the wheels which are large and sturdy ,they make moving the rack a breeze.The top and bottom shelves are also of a good weight,so no problem there.The only knock that I have is the instruction are very minimal,my husband had to go online to find a similar product so that he could put it together,but it was not very hard to do.Overall I am very pleased with this rack and would not hesitate to buy again.
March 4, 2010