Rated

5

out of

5
 by
teacherfellow
elfa closet organizer systems are the BEST!!!!!
My bedroom isn't very big so I went shopping at a Container store one weekend to see how I could better organize my closet to store all my clothes and accessories. I was blown away at all the neat elfa closet designs that seemed to be EXACTLY what I was looking for!! We removed the mirrored sliding doors off my fairly deep closet and painted the inside of the closet to match the rest of my bedroom. I then found some long beautiful silk drapes to hang in the opening of the closet and in my bedroom window.As you can see from the photos the system I chose fit perfectly in the space and I LOVED how organized my closet looks now!! In between the closet system in the middle I moved my beautiful distressed desk in to use to put on my make-up which works perfect and gave me a spot out in the bedroom to add me a nice jewelry cabinet. We had a electrician come in and add track lightening up in the ceiling and electrical outlets along the back wall for me to plug in my make-up mirror and hair utensils. I LOVE my transformed closet and plan to add more elfa systems in the future to some of our other closets!! :))
March 20, 2015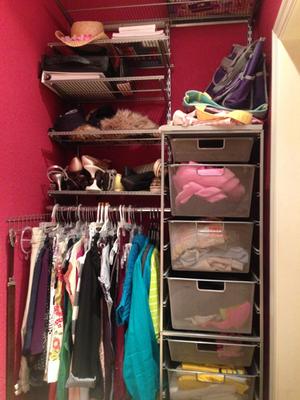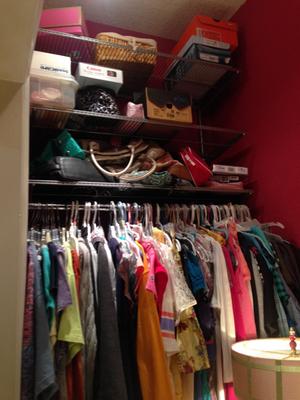 Rated

5

out of

5
 by
JCGRL
Practically Perfect!
After more than a decade with a guest room closet that was way under-utilized and yet somehow still stuffed to overflowing, decided to turn it into part-gallery and part dressier clothes/shoes storage. With the help of an in-store Elfa designer, we came up with a multi-purpose configuration -- part display, part storage -- that matched my decor (platinum and birch). When you open the doors, Mary Poppins and a very old bear are the centerpiece (without taking up too much room). Even with that "display" area, there is more than 20" of long hanging space, 2 huge (still empty) drawers and tons of extra shoe storage! The pull-out shoe-rack holds so many shoes! PURE GENIUS! Lots of room to grow! The top racks (with some purging yet to go) hold a tremendous amount of memorabilia like yearbooks, photo albums, binders, etc. This closet is like one-stop, in-house shopping when getting dressed for an event -- dresses, shoes, and accessories all right in one place!
May 4, 2014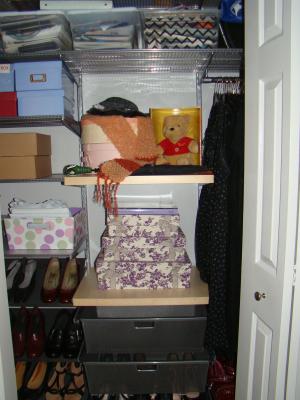 Rated

5

out of

5
 by
SteveInPDX
After so long FINALLY a usable closet
We recently completely removed a very old reach in closet in the master bedroom, leaving a lovely but empty shell of a closet. After having estimates done for a new closet system we decided we could not afford many thousands of dollars to create a usable closet. Then we were watching The Property Brothers on HGTV one evening and they created a very nice and inexpensive closet using using products from The Container Store. We looked online and discovered a store just minutes from us. We went in and found so many products it was difficult to decide where to start. A very helpful designer came up with a design just for us, in a matter of minutes, and the cost was less than $500 AND we could install it ourselves. One evening later we had a lovely and completely functional closet. We have been back to The Container Store a few times to pick up a few more odds and ends. This was a real find!
April 5, 2013
Rated

5

out of

5
 by
Liney
Excellent solution for son's small room
We needed to make better use of our son's TINY bedroom. With the bed, there was only room for either a dresser OR a desk. We really needed the desk. This closet organizer replaced his dresser. The amount of space is unreal, and everything is so well put together. We had the installation, too, and the installer could not have been any better. Now we're planning on a closet organizer for our master bedroom and daughter's bedroom, too!
April 2, 2013
Rated

5

out of

5
 by
Steffanie
Elfa Closet System
Most versatile closet system ever! Hanging space, drawers, shelves, hooks and my favorite: the pants hanger. Every closet in my house has an Elfa system. We designed and saved each one in the store with the help of an expert designer. The system is easy to install, only a slight learning curve on the first one. I love my closets and how organized they are.
March 29, 2013
Rated

5

out of

5
 by
Jayme
6yr olds sons closet
I purchased this closet system for my 6 year old sons room. I love the flexibility it provided me with being able to add a double-hang and numerous shelves and drawers. His closet is now free of clutter and items are at levels that he can reach. What a difference!
March 29, 2013
Rated

5

out of

5
 by
Allisonjia
Love this!
This is a great product! I'm getting MUCH better use out of my closet now. I love that it's modular and I can change up components as my needs change. I would buy this again in a second. The drawers were a little difficult at first, but I figured it out.
March 13, 2013
Rated

5

out of

5
 by
SuePM
Great product and affordability
After researching several closet system options, I decided upon the Elfa platinum for my reachin closets in the MBR. We live in a 1920's house so closets are challenging. We had one of the CS design specialists help us with the layout and it worked beatifully - so much more space. But also worth mentioning that a year later, our space needs changed and I was easily able to move a couple of things around and add to more drawers so I love the flexibility of it. Closet systems are pricey but during the annual 30% off event, this proved to be well worth the value - highly recommend. And I have to mention their superior customer service which is just so hard to find these days.
February 26, 2013
Rated

5

out of

5
 by
NatyV
Stylist and a perfect solution for organization!
My husband's closset wood hanger came down so we decided togo to the container store to get help with the designer team. They were great and at the end of the day we ended up buying a dolution for my clossett as well. We love our new clossett, it does not only give all the space as you needed since it is done around your necesities but also it is stylish and everything is displayed beautifuly in front on you, not to mention the great quality. Thanks Elfa team.
May 6, 2012
Rated

5

out of

5
 by
tbabichuk
Amazing
This product made such a HUGE difference in my small closet! Fairly easy to install, and you are even able to reconfigure your shelves / bars etc. Great item!
April 27, 2012
Rated

5

out of

5
 by
Wendyz
Incredible Closet
We installed the Elfa closet system in our small bedroom closet. It helped us to maximize the use of every inch. It has stood up very well and looks great. The baskets allow airflow to keep the clothes smelling fresh. I would definitely install it again.
April 27, 2012
Rated

5

out of

5
 by
VTmom
Excellent Product
We installed two Elfa closets in the Platinum finish. We had them designed using a phone consultation, as we had a few odd measurements, etc. The phone desingners we worked with were excellent and know every aspect of the product inside and out. We even had some old Elfa parts we wated to reuse, and they worked those parts into the design, yet had the system figure out how to just charge us for the new parts we were buying. Excellent customer service. The installation was straightforward if you are the least bit handy. We had to use anchors into plaster walls, and a few wood screws where we hit studs. My husband hung the initial rail, then left to do other things. I had the closet up and running in about 45 minutes after that for the first one, and 20 minutes for the second one (learning curve). Only tricky part was where two shelves had to rest on one bracket. Took me 10 minutes or so to figure that one out the first time. Excellent product, and worth the extra $ over the big-box brands if you are looking for a high-end product. We have used the big-box brands in some less important closets where the final finish and look were less important. We did save money there, but the look isn't even close to the look of the Elfa closets. Enjoy!
April 27, 2012
Rated

4

out of

5
 by
OrganizingGurl
Great Closet System
Sturdy,durable, closet system. Well worth the cost
April 17, 2012
Rated

4

out of

5
 by
montrl
small reach in
Designed on line, arrived in days, quick and easy installation My home was built in the early 1940s with plaster walls and very small closets, this unit makes the most of a very small space.
March 25, 2012
Rated

5

out of

5
 by
Etown50
2 great closets
When my wife and I moved into our new place the set up in the closets was horrible. I am 6' 3'' and have always had my clothes hang down onto the lower closet rods. Our designer took that into account, as well as my wife's massive shoe collection when she designed our closets. She was able to design around other items that I need to have on the closet floor. The materials were delivered and installed with in the week. Everything was done professionally and my wife said that it was one of the best birthday presents that she has ever gotten.
March 20, 2012
Rated

5

out of

5
 by
kellykp57
great choice
easy installation and infinite flexibility for future changes.
March 12, 2012
Rated

5

out of

5
 by
RandyandKevin
A great investment
All I can say is we've just made the most out of our 2 small closets. This is a great product line.
January 7, 2012
Rated

2

out of

5
 by
DougB
Lacks Sturdiness
Years ago we purchased similiarly designed uprights and brackets ( that attached to the wall with screws). We used melamine shelves. IMO this is much more solid than the 'top track mount' Also the wire shelves and clothes bars have little substance. Once you get the whole thing together, it is more rigid, but nothing like mounting the tracks to the wall and using real shelving. I think it's expensive for what you get. I'm glad it was just a downstairs closet.
December 7, 2011
Rated

4

out of

5
 by
Melinf
Closet Space!
The alpha closet system is amazing!!! We can't believe how much closet space we now have, and it looks beautiful. I will always use the Alpha system on my closets!
February 15, 2011
Rated

5

out of

5
 by
maxorganizer
Search No More!
This is the absolute BEST shelving system, ever!! I have purchased and assembled MANY different types of shelving systems over the years. I was never more impressed with a system than I am with this one. Ordering a custom designed system was a breeze; your website did all of the "figuring" once I submitted basic information. All materials arrived in excellent condition, the directions were straight forward and the easiest step by step directions I have ever attempted to follow. Assembly does NOT require elaborate tools or additional trips to pick extra items up at the hardware store. The system, once installed, is compact, attractive and space efficient. I only wish I had found this system BEFORE I used a far inferior one in two of my closets......now I will have the expense and added hassle of removing the other system so that I can replace all of my closets with this product. Absolutely phenomenal!
February 15, 2011
Rated

5

out of

5
 by
closetbliss
Very Satisfied
I planned my closet on line with little effort using the pre defined closet configurations. I requested help by the custom planners who promtly called me at my designated time, They made modifictions, I purchased and picked up the selection at the local store by calling ahead for the pick up. The whole process was effortless and easy. The install was also effortless. The only thing I wanted was to get the platinum with walnut, but the walnut comes in predetermined lengths and they would not fit the space. Perhaps at some future date this can change an more options will be offered. Overall I am very happy. Have completed 4 closets projects using efla!
February 14, 2011
Rated

5

out of

5
 by
Mamatiger
You won't regret buying Elfa!
I use Elfa in my personal clothes closet and I smile every time I look at it. Choosing what to wear is a snap because I can see everything. It was a cinch to design my own closet arrangement myself. I appreciate Elfa's flexibility so much that I've also purchased components to create a wall-shelving unit in my home office, another shelving unit in my teen daughter's room, and a gift-wrap cart. Taking advantage of Elfa's yearly sale makes it affordable.
February 5, 2011
Rated

5

out of

5
 by
Simple7
Amazing Closet Transformation!
After reading all the rave reviews and having a strong desire to be more clutter free, with a clear view of my many fashions and handbags! I saw the system advertised in Real Simple magazine and was sold. I took a leap wanting to transform my closets in my 1940's bulit home. WOW! I have MORE SPACE, my vintage closet now looks chic as if it were in a newer model home. ....need I and others say more...just get the system NOW, you know you want it. Free yourself and your held hostage clothes from cramped, clutter space. First..... purge your closet of clothing/shoes you haven't worn in more than two years! P.S. Intall was easy by my handyman!
June 29, 2010
Rated

5

out of

5
 by
JenSanDiego
Great closet
One of the Elfa designers helped me create a closet for my newborn twins. They turned a completely unusable reach-in closet into a fantastic closet that is now used by my boy/girl twins. We LOVE it!
May 17, 2010
Rated

5

out of

5
 by
Janet
What to do when you dont have a closet
I enlisted the help of an Elfa deisgner and came up with an ideal set up for my current need of not having an storage closet for my downstairs. I was able to fit in stylish appearance with pratical effectiveness to organize needs. It looks fabulous. I dont know how I would have stored any of these everyday needs unless I put it all in the basement which was not practical. I love my Elfa.
May 1, 2010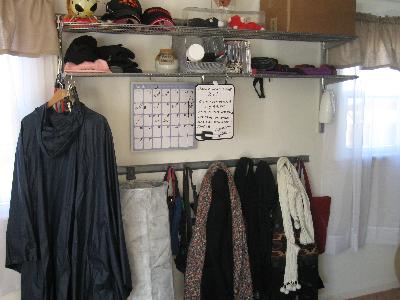 Rated

5

out of

5
 by
shorty
incredible space stretcher
We designed a closet system for my daughter's closet. It is an extremely small closet and she is horribly unorganized. Elfa gives you amazing options and really allows you to maximize even the smallest of spaces. THANKS ELFA!!!
March 3, 2010
Rated

5

out of

5
 by
erp2010
Love my Closet
I had already tried a 'custom closet' solution and discovered that it was too bulky and not very flexible at all. So when the Elfa sale came along I decided to try one more time. The closet is perfect! The designer who helped me got it right the first time - I haven't changed it at all because it works perfectly. My closet is staying organized and clean-despite my husbands valiant efforts! :) I did paint my closet before hand which gives it that 'finished' look. Wish I could have more chic clothes to put in the closet!
March 3, 2010