Rated

5

out of

5
 by
FamilyDoctor
Best shower organizer EVER
I bought this 18 months ago for our rented home. The installation was so easy, and it's never budged since. It holds all our myriad bottles of stuff, hangs our razors off the side, and has 2 sturdy large hooks at the top for our loofah, brushes, whatever. It is worth it's price, and you will never regret it. You need this product, don't even look at anything else.
November 22, 2015
Rated

5

out of

5
 by
marionb
simplehuman tension pole shower caddy
I picked up this pole a couple of years ago for my guest bathroom and it has been outstanding. My guests have plenty of space for all of their shower items and can hang cloths and puffs easily as well. Seems to be rock solid and has never slipped of moved once.
March 21, 2015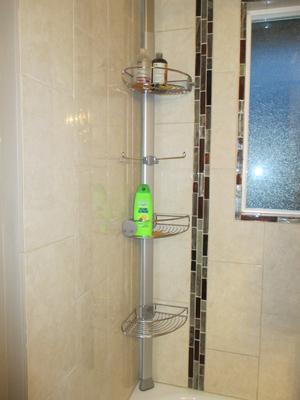 Rated

5

out of

5
 by
Cindysays
Quality--Finally
The simple human Stainless Steel Tension Pole Shower Caddy is well worth the cost. I have tried many and each time they rusted or were not sturdy enough for my large hair product containers. This one still looks new after a year and I have no reason that will ever change. It is nice looking, extremely heavy duty and is rust-proof! Thank you for finally making a product that will last!
March 10, 2013
Rated

5

out of

5
 by
MMMD
Perfect for my needs
This caddy was easy to set up, has plenty of shelves for my items, and looks great. Have had it for less than a month but no rust issues.
January 22, 2017
Rated

3

out of

5
 by
JEvan
Sturdy, but rusts
Product is very sturdy and well configured, compared to similar shower caddies; however, it began rusting after three months. Started first with the soap dish, and then the remainder crates, and eventually the joints on the poles. Customer service was kind enough to issue a refund, but it's a bit disappointing it rusted so soon.
January 8, 2017
Rated

5

out of

5
 by
AAWinATL
3 years & counting - NO rust!
We have now had this tower for over 3 years, and the main reason I picked it is that people raved about the lack of rust. I can confirm this to be true! I have been through plenty of "rust-proof" shower organizers that did get rusty, so I am very happy with this product. Yes, it is a little more expensive, but you are getting a quality product that will last you a long time!
December 16, 2016
Rated

5

out of

5
 by
Pyewacket
Great product
This is a well built sturdy unit. Easy to put together, even for me. lots of storage features, hooks, places to put containers upside down to dispense contents easily, etc. Glad I chose this option, have used for a month.
February 16, 2016
Rated

5

out of

5
 by
LBinMN
So far I love it!
I wish I would have purchased this 15 years ago when we moved into our house as I've spent easily this much on those shower caddies that hang from the shower head but have tossed them all one by one after they would rust within a year or two (not to mention they never held all the items we use for bathing and showering). This pole caddy is a MUCH better alternative as it is not located under the constant spray and drip of water but instead I placed it at the end of our tub between the top edge of the tub and the ceiling where it would mostly stay dry. So far my kids and I love it! I read other reviews and made sure the order of my baskets seemed logical before locking them in and filling with supplies. It's super easy to install and feels very sturdy once in place. I wish we had 2 razor hooks instead of one razor hook and one toothbrush hook but that is a minor issue compared to the overall awesomeness of this item. Our whole tub area looks better/cleaner now because the caddy over the shower head used to create a mildew issue on the surrounding tile which is now not an issue!
December 7, 2015
Rated

5

out of

5
 by
snook
Excellent Product
This product is worth what it costs. It is sturdy, attractive and easy to install. I believe this is the best extension poll shower caddy available.
June 6, 2015
Rated

5

out of

5
 by
malu2door
Practical & pleasing to look at
This caddy is easy to assemble with adjustable shelves. I had some worries that since it works with a tension pole, that it would constantly be slipping out of place, but I've had it up for months now & it hasn't given me any problems. If anything it works better than shower caddies that fit over the shower head, which I used to have. That caddy would slip out of place occasionally and send all my stuff falling over. I also worried that it wouldn't look good (it is brushed nickle with grey rubber footing), but it just seems to work.
April 25, 2014
Rated

5

out of

5
 by
Stefany
Awesome Organization Purchase
This was a great alternative to the normal racks that go over the shower head. Easier to reach for shampoo, soap, etc. We installed it in the back corner of the tub and it looks very sleek and not cluttered. Holds the weight with no problem.
April 7, 2014
Rated

5

out of

5
 by
Bmo1
Why did I wait so long?
The simplehuman Stainless Steel Tension Pole Shower Caddy is certainly one of the best purchases that I have made in awhile. Although, it seemed at bit pricey for a shower caddy, it has been worth every penny. There are so many storage places that are move-able depending on your personal needs. Large shampoo/conditioners fit easily and wet washcloth's even have a place. There are also little hooks for loofah sponges (if that's your thing) to hang from. The best part is that it is guaranteed five years for NO Rust! That in itself is fantastic! It looks great in a walk in shower or a traditional bathtub. It makes the tub look clean and organized.
April 6, 2014
Rated

5

out of

5
 by
Jayeno
Super Shower Caddy
I have had this Caddy for over two years. It holds absolutely everything. It is true the pole is rust-proof. The BASKETS, HOWEVER ARE NOT. One must clean them regularly, which shouldn't be a problem, since it's in your bathroom and I'm assuming you wash your bathroom regularly. This is just my opinion, kids.
March 16, 2014
Rated

4

out of

5
 by
Laya
Sturdy; creates lots of space
This is the first tension shower caddy I've had, but I decided to go with this one based on the positive reviews and the negative reviews I've seen of other caddies. It works on the ledge of our bath in a rental with very high ceilings and so far seems to be holding up very well. It does seem bowed a bit, even with the proper extensions for our ceiling height, but the slight curve in the pole hasn't seemed to affect its sturdiness at all. We don't have tons of bath products, but I was sick of them falling off of the bath ledge, and this makes a big difference.
February 23, 2014
Rated

5

out of

5
 by
scars
Very Nice Shower Caddy
We've only had it for a little over a week, and it's very nice. It fits with our stainless steel shower tower, and the stainless steel baskets are ample. I love the hooks for hanging items, and the adjustable towel racks (and that there are two of them!). Also, love the rubber-tipped ends so that they don't scratch or leave a stain like the metal ones we had before. My only criticism is that it was rather difficult to put together--the directions weren't very specific. Otherwise, I love that it won't rust.
October 8, 2013
Rated

5

out of

5
 by
puppymom
couldn't be happier
I used to keep our bottles of shampoo, soap, razor, etc., on a stool in the walk-in shower...because of the sloped floor things would fall off frequently. This caddy saved the day! No more sliding shower stuff, everything is within reach and it's rustproof! Well-made (nice aluminum parts!) with adjustable baskets (3!), holders for washcloths and other extra shower supplies; a little expensive, but it provided perfect organization
August 17, 2013
Rated

5

out of

5
 by
AVOSF
Perfect
We just moved into a total 1950s modern, yet untouched, unfortunately, home complete with a shoe box shower stall in the master suite. The Simple Human Tension Pole Shower Caddy rod was a smidge too short with just one of the extensions added. Given the small size of the room and the small size of the shower stall, I had to jam the rod UP from the bottom, as opposed to down from the top while installing with the second pole extension. Looks fabulous and worked like a charm. Now, I step away from all the box chaos from moving into a nice, small, organized shower stall....ahhhhhh...I just don't look at the ugly tile... HINT: I wished I had added the razor holder shelf last (the highest) for safety reasons in case kids came into our shower. Unfortunately, I added it first, down near the bottom. I COULD just take it all apart and reposition but, given the small room for movement in our bathroom, I'm leaving it.
July 11, 2013
Rated

5

out of

5
 by
Grands
great product for shower lovers
I loved mine so much I bought one for my grand-daughter., and what teenager doesn't like to look pretty.
May 9, 2013
Rated

5

out of

5
 by
clwall
great for shower stall
This product is great for a shower stall that doesn't have any storage caddies built-in. Easily install or remove, and adjusts height for different stalls.
May 4, 2013
Rated

5

out of

5
 by
Smithers
2 years going strong
We've had this for two years now and it's showing no signs of wear. Great system requires no drilling or damaging walls, so good for renters. Transforms the bathtub area.
April 28, 2013
Rated

5

out of

5
 by
mnyc123
LOVE
This is by far the best shower storage item I have ever seen. It's very sturdy and can adjust to fit your space perfectly, and the three shelves are roomy and can hold tons of stuff. Perfect for roommates/living-together couples who might benefit from each having an assigned shelf to avoid fighting over shower real estate. :) One piece of advice: think carefully about what order to arrange the shelves in, because it's a pain to try to change it after the fact. For example, I put the soap holder shelf on the top, but later wished I'd put it on the bottom so the wet soap didn't drip onto the items below.
April 27, 2013
Rated

4

out of

5
 by
runnermama
Great rack...sturdy and dependable
I tried three other racks for our shower. They others were poor quality and didn't hold much. This one is very pricey compared to others, but I figured I would not need to by another one for years. plenty of storage space. I also like the option to configure the shelves in any way, and love the extra towel holder. Excellent construction. My only request would be to have better hooks for our razors. They don't fit .
April 26, 2013
Rated

5

out of

5
 by
nancyczar
Wonderful product
I purchased this for our shower stall about a year ago and absolutely love it. There is plenty of space for all our products and it still looks brand new, We have had no rust issues or anything. I love the shelf with the little holes to hold bottles upside down when there is very little product left. I'm so glad I found this product.
April 2, 2013
Rated

5

out of

5
 by
runnervu
Great Product
I have bought many bath organizers, this one doesnt rust and was easy to place in the bathroom. Love Container Store, first time was new york city, fell in love with store and products.
March 28, 2013
Rated

4

out of

5
 by
dkindavis
Nice and Sturdy
I like this shower caddy. Seems rust proof and lots of room for larger items. Have it in a pool bathroom and the extra hooks are nice for hanging swim suit suits. The shelves are a bit difficult to adjust, but that is a one time thing.
March 18, 2013
Rated

5

out of

5
 by
dallas101
GREAT product - no rust & easy clean-up
This is the best cieling to floor pole based shower caddy I have used. It is easy to install, has no signs of rust after 1 year and is very easy to clean-up.
March 18, 2013
Rated

5

out of

5
 by
grandmatoots
Well worth the money
I had purchased several shower caddies that rusted within months. After doing searches on customer reviews, I purchased this shower caddy in May of 2012. It has been great. It is very sturdy, nice looking and hasn't developed any areas that look like they are going to rust. It is well worth the money if you consider buying something cheaper will have to be replaced from time to time. I would certainly purchase this item again and recommend it to someone frustrated with their current shower caddy.
March 18, 2013
Rated

5

out of

5
 by
OrganizerByPassion
Sturdy with lots of space
I received this as a wedding gift and it is a fantastic product! It is very sturdy, looks great, and has lots of space to hold products. I have very long hair, and this easily holds 2-3 of the large shampoo bottles in just one of the little containers. We don't have a large shower, so this space saver is a god-send. Additionally, it has all of these nice little hooks and holders for razors and loofas, so everything is organized and dries nicely so it doesn't get all smelly and moldy.
March 18, 2013
Rated

5

out of

5
 by
SKGK
Love this!
We bought this almost a year ago and I have to say that it doesn't beat any other method! Totally worth the cost!
March 18, 2013
Rated

5

out of

5
 by
KarenMastro
Has Not Rusted
I have had this caddie in my shower for 2 years now. It is still in perfect condition. Zero rust. There is also lots of space to put all your soaps, razors, etc. I high recommend this caddie. Its worth every penny
March 18, 2013