Rated

5

out of

5
 by
Chameli
Just love it
After reading the reviews I did not know if it would work. But this caddy went beyond my expectations. I recently remodeled my kitchen and have a humongous industrial SS sink. Since the sink is undermount I thought I would place the caddy on the granite and it will stay put. But I had merely placed it to determine the exact location and the suction cups stuck like glue all by themselves. In fact it took an effort to pry it off to wash the caddy and peel off the paper jacket. I placed it back and again the suction cups stuck like glue and show no signs of falling off. I think the reason it falls off certain sinks may be because most sinks have rounded bowls and the sides are not straight therefore the suction does not work. My industrial sink has 90 degree straight sides therefore they work. The caddy looks beautiful, upscale, and not only keeps the counter clean but also adds beauty to the sink area. Thank you, Container Store!
August 5, 2016
Rated

5

out of

5
 by
BrooklynLady23
Perfection!!
After I broke my clear plastic sponge/brush caddy, I went to the Containerstore to replace it. Low & behold, they no longer carried it. I found the other clear sink caddies to look a little cheesy. I liked the simple human caddy and decided to check the reviews online before I purchased. After reading the reviews, I was a little hesitant since some said that the suction cups don't hold. Well, after receiving my POP rewards, I decided to purchase the simple human caddy since it wouldn't cost me anything. When I got home, I realized the caddy wouldn't fit my sink because of the bar-I was so disappointed, but before I gave up, I realized I could remove the bar. So I did and perfection!!!! The suction cups have held this caddy for a month now without falling down!! I highly recommend this purchase and you can remove the bar if it inhibits your use of the caddy.
August 1, 2015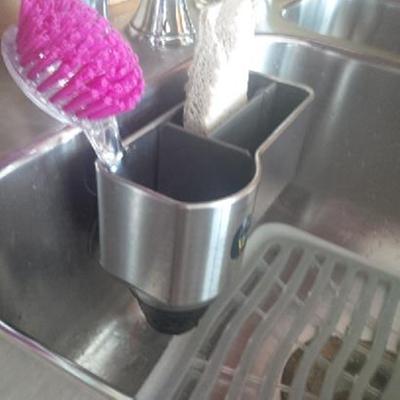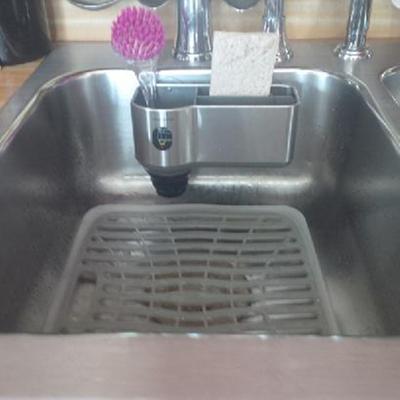 Rated

1

out of

5
 by
cygnet
Caddy
Would not stay adhered to sink. Tried several times. Metal bars rest on top of sink divider, do not bend over it. Returned item.
January 20, 2017
Rated

2

out of

5
 by
Downtown79
Looks promising but falls short
I am not completely satisfied with this product. It has suction cups on the back that helps hold it on to the sink. The bar displayed in the picture is just used as a resting piece not really the thing that holds it on. I would get the suction cups wet and then it would hold on for a bit to my stainless steel sink but within minutes later you would hear the caddy falling into the sink as the suction cups gave way. A friend has told me to try wiping the suction cups with alcohol first before sticking it on but I have yet to try it. I am not sold on this product. It is also a bit bulky and bigger than what the picture looks like. I am still debating on whether to return this product before my return time runs out.
April 14, 2016
Rated

4

out of

5
 by
kitchenqueen01
Keeping my kitchen sink organized
I am happy to have something that holds a sponge, pot scrubber and brush or two. Wish it were larger to hold more items I use regularly in the kitchen clean-up process. The bar across the top is great and keeps the suction cups in place.
November 3, 2014
Rated

2

out of

5
 by
misskrisha
Works -- As long as you don't rely on the suction
I purchased this for my stainless double sink in the kitchen, and the suction cups only work for a short time before the whole kit and caboodle comes sliding down. The arm that comes with it is its only saving grace. I have it positioned so that the arm is under my microwave. Now, when the suction cups fail, I have gravity to back me up, but it's not really what I had in mind.
July 1, 2014
Rated

3

out of

5
 by
Bullittla
Neat, but not so much for my sink
I think this would work much better with a stainless or porcelain sink. It doesn't stick very well to my granite sink. I love the organization, though. So much that I keep using it anyway, and just stick it back on!
March 31, 2014
Rated

4

out of

5
 by
Grateful
Love It
I purchased this to help clean up our sink area. I love that it has a spot to hold a brush as well as the metal bar to assist in keeping it in place. I do wish the suction cups worked a little better but with four suction cups AND the metal bar, it has stayed in place without a problem.
April 28, 2013
Rated

1

out of

5
 by
Majesty
Sink Caddy Fail
When I saw this item in the store, I thought that it would be the perfect solution to organizing my sponges and dish wand. Unfortunately, the suction cups would not stick to my stainless steel sink. Also, the metal bar was not enough assistance to keep the caddy secure. I tried and tried to make it work without any success. I had to return it.
March 25, 2013
Rated

5

out of

5
 by
WiscoJackie
Brilliant!
This thing rocks. The brush holder is brilliant. All of the on-top-of-the-counter holders made the brushes hit the window sill, which was driving us crazy because we just paid a lot for new cherry window frames. The hook thingy has a clear rubberized coating that keeps it from slipping off (we have it hanging from the back of the sink, not the center like in the photo). Highly recommended for granite counters and undermount sinks!
March 18, 2013
Rated

5

out of

5
 by
gluey
Nice caddy
I purchased this to get my brushes and sponges off of my dish rack or back of my sink and it does just that. The strong suction cups keep it in place and it has holes at the bottom of the rack for draining and drying.
October 16, 2012
Rated

5

out of

5
 by
NadiaThinks
Perfect solution for regular sink items
This was the perfect solution for the sponge and brush that I use daily but do not want just idly sitting in my sink. Blends in perfectly with my stainless steel sink as well.
May 5, 2012
Rated

5

out of

5
 by
Slrd
Great Purchase!
Love this sink caddy! We now have more space on our countertops!
April 4, 2012
Rated

4

out of

5
 by
iamhankiam
Helpful organizer
Solid product that is helpful to organize the sink area. As others have mentioned, the suction cups did not work well at first. Simply wetting them before applying to our stainless steel sink keeps it securely attached.
April 2, 2012
Rated

4

out of

5
 by
mamasan2
Good but not great
I really wanted to give it 3.5 stars... It took some time to get it to stick on my metal sink (*wet the suction cups) but when I finally did it has stayed put for the past month only falling down once though I have placed it where it won't get bumped too much. It is aesthetically pleasing and holds a lot of stuff de-cluttering my sink area but I agree with others the suction could use some improving but still it s the best product of its kind I have found so I am happy enough with it and would recommend it and as I said it looks good and holds a lot.
March 20, 2012
Rated

5

out of

5
 by
ModernMom
Keeps counters free of clutter!
This is probably one of the best kitchen storage products I've purchased. I hook this right over the ledge of the granite. It holds all of my supplies without cluttering the counter space. I actually remove the dividers so I can fit a full size bottle of dish soap or hand soap. The full size Seventh Generation dish soap bottle and Bath & Body works hand soaps fit perfectly. On the left side I can fit a dish brush, bottle brush and a sponge perfectly.
February 17, 2012
Rated

1

out of

5
 by
Red618
Doesn't Meet Expectations
I initially had trouble getting this item to stick to the sink. For a while it did though and I thought my problem was solved. However, it's now fallen off every time I've tried to re-suction it back on and it just won't stay. This product doesn't live up to it's name, which is unfortunate because it's really nice looking for what it is. I was very disappointed.
October 28, 2011
Rated

1

out of

5
 by
NewKitchnMom
Didn't Work
It looked like what we needed in our new kitchen, but it doesn't stay -- it's not working. We'll probably put it under the sink.
September 27, 2011
Rated

2

out of

5
 by
shandy23
Beautiful product that does not work
I loved the look and feel of this product but no matter what I did it would not stick to the sink. I thought it funny that for the 20th time I am trying to get it stick while looking at the box with words that say "Will not fall off" emblazened across it. They could have solved the problem if they would have made the metal bar drop over the sink vs resting on top of it. I returned the caddy after 3 days of it continually falling off
June 18, 2010
Rated

2

out of

5
 by
Trying2GetOrganized
Didn't work on my stainless steel sink
I have a stainless steel sink. I mounted it and about 5 minutes later it fell off. I tried a few more times but after it fell off for about the fourth time in less than an hour, I decided it wasn't going to work on my stainless steel sink. Bummer because it was exactly what I was looking for. Unfortunately, the suction cups just wouldn't stay suctioned to my sink.
June 14, 2010
Rated

5

out of

5
 by
SIEMPERFI
SUCH A PROBLEM SOLVER !!
This is such an amazing addition from simplehuman! It fits over most sinks and holds a sponge and brush or wine cleaner effectively, and it is simply flawless !
May 7, 2010