Rated

5

out of

5
 by
Pommes
Great Item
These were easy to install, slide out close to 100% and look great. Note that this 14" and the 20" slide out all the way. The 9" slides out about 75%.
October 28, 2013
Rated

5

out of

5
 by
Colliemo
Love Love Love this! Great purchase
Having an 80 year old house can cause some storage issues. Our bathroom closet was DEEP. Two shelves were used for towels with the others used for toiletries. We could never reach the hair gel without moving the mouthwash etc., and things were always falling over. This shelf worked magic! All our toiletries are easy to find, reach and inventory. Absolutely love it! Made things so much easier! Installation slightly confusing until I realized you need to remove bottom plastic liner to install then snap it back in. Would highly recommend!
February 17, 2012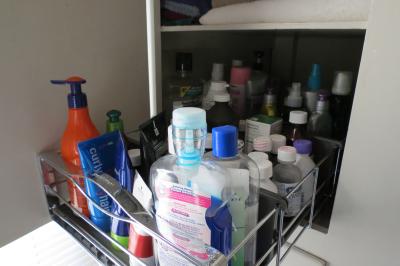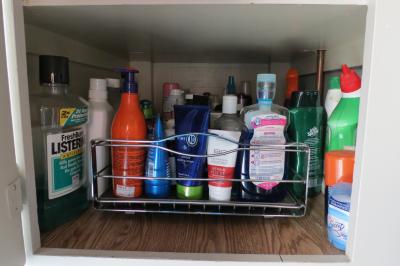 Rated

5

out of

5
 by
ImContained
No More Blending Down to Look
These are an excellent addition to your kitchen or bathroom! Don't you just hate it when you cleaning solution leaks and you get a big mess under your cabinet? Wouldn't it be nice if you could just take out the bottom of the cabinet and stick it in the sink? Well this is almost like doing that. With the removable plastic liner when you do have those unfortunate accidents you can take out the plastic liner and wash it, so easily. Also the removable tray is excellent for holding the stoppers to your sink or dish brushes that can sometimes be unsightly. Just remove it while you are doing the dishes and put it back under the sink when you are not. Problem solved! Also reaching for the cleaner in the very back has never been easier when you can move the very back to the front of the cabinet. I highly recommend this product!
January 16, 2010
Rated

5

out of

5
 by
Omahacondo
Great Quality and Value
I installed six of these pull-outs (various sizes) in our condo. Excellent quality, easy install, and great value. I had several pullouts custom made and installed when we moved in to the condo a few years ago and the cost per drawer was nearly $200. These look better at a fraction of that price.
December 12, 2016
Rated

5

out of

5
 by
Fregerston
Great Value and Utility
These are perfect for older cabinets. They mount from the bottom, relatively easy to install, the base removes for easy cleaning, the base has a lip to help prevent spilling, and it pulls out nearly the full length of the unit. The bamboo organizers come with an installation template to help ensure the unit is straight. This is the only thing I would add to improve this product.
February 23, 2016
Rated

5

out of

5
 by
DaisyG
Great quality!
I have purchased several of these pull-out organizers. They are very well made and glide smoothly. No more items lost in the back of the cupboard!
April 25, 2014
Rated

5

out of

5
 by
jreedmommy
awesome
I bought this for under my sink organization in the kitchen and it works better then I imagined! Good construction as well.
March 10, 2014
Rated

4

out of

5
 by
SteffD
Great Purchase
I recently moved into a new apartment that had very deep pantry shelves. I had a hard time seeing anything in the back and had to keep taking everything out to get to food in the back. Although these pull out shelves are a bit expensive they are definitely worth it. I can now easily see what's in my pantry and access all of my food. I'm super happy with my purchase I've since purchased two more of these shelves. The only reason I didn't give them 5 stars is because I had a little trouble installing them. As a bonus they are also very quiet they don't make any noise when you roll them in and out of the shelf. Its a great investment if you need some top quality pull out shelves.
March 5, 2014
Rated

5

out of

5
 by
javajen
worth the price
I bought this for my Mom, who had actually asked for a cheaper version of the pull-out cabinet. After a year it still works incredibly well. She stores canned goods and other things on it. It rolls out very smoothly and she loves it. Bought her another one this year.
December 27, 2013
Rated

5

out of

5
 by
trombachops
Quality
The Simplehuman 14" pull-out cabin organizer was the perfect answer for our new bathroom vanity's main storage area. Good, heavy duty construction and great idea of using the adjustable dividers to help organize extra bathroom tissue and toiletries. Plenty of clearance for the sink plumbing and glides very smoothly. A winner!
August 27, 2013
Rated

5

out of

5
 by
Verified Reviewer
Great purchse
The drawer slides so easily. Great for under the sink storage! Very well made and would recommend it to anyone!
July 22, 2013
Rated

4

out of

5
 by
Reggy
Very Nice Looking
This item has very sturdy and fairly smooth glides. It also looks very shnazzy with it's chrome frame and thick handle in the front. It installs fairly easy but if you have a framed cabinet, you will need to prop up the glides about 1/4" from the floor of the cabinet in order for the glides to clear the cabinet frame when they slide out from the cabinet. I used long paint mixing sticks. They work perfectly and you can't even see them once the roll-out is installed. If you have Frameless cabinets, you will not have this issue. I also think the dividers are a bit tricky to secure to the frame of the roll-out. They are a bit wobbly. I know they are not supposed to be that way, but I just could not get them into place to stay put. Overall, I still think it's a very nice product. This is also a good value in my opinion.
July 1, 2013
Rated

5

out of

5
 by
MadchenB
Great addition to our vintage cabinets
We (easily) installed several of these in the vintage cabinets in our kitchen. We were renovating our kitchen but reusing our great old cabinets. These simplehuman drawers were easy to installed, look good, and hold a lot. They roll in and out easily and we like they have some adjustability inside to fit what we keep in them better.
May 1, 2013
Rated

5

out of

5
 by
jfmiami
Like custom made
This is a great product. It is easy to install, strong and substantial. Able to hold and smoothly move heavy objects (pots, canned goods) so that you get the benefit and access to deep in your cabinet. this is an excellent product.
March 6, 2013
Rated

4

out of

5
 by
puyallup
Great product - easy to install
It is a great product. Easy to install, a pop out tray and good quality commercial glides. Perfect for a bathroom, not good in a kitchen because the basket is a bit flimsy.
February 28, 2013
Rated

3

out of

5
 by
pmckb
satisfactory
I am a 56 year old woman and after spending an hour and a half installing one simplehuman pull out cabinet organizer I would like to say that the installation instructions are very deceptive. It is not as easy as "screw it in". If you buy these and intend on installing them yourself be sure to drill holes for the screws and use some good screws. The ones that come in the kit can not stand up to even moderate pressure on the head. 3 out of the 4 screws' heads stripped so badly that the screwdriver could no longer bite. And make sure you have enough room to be able to reach the back screws with the pull-out in place because it does not come off.
November 7, 2012
Rated

5

out of

5
 by
mkwilliams
Great Organization for Lids
I have looked for something that would go in a lower cabinet that I could organize lids to my storage containers. This is AWESOME. I put it on the top shelf of a bottom cabinet and use the separate dividers to hold different size lids. Now there is no more lids falling all over the place when you are looking for that specific one. I use this with the Chrome roll out drawers for larger items. Lower cabinets are so organized it's great!
April 27, 2012
Rated

5

out of

5
 by
Hutchi
Easy to install
We purchased four for our pantry shelves and now my canned goods are easy to find and are finally organized. Our shelves are adjustable (not fixed) so my husband had to figure out a way to keep the pull out drawer from tipping the shelf forward when it is pulled out. Otherwise, it was very easy to install. I am really happy with this purchase!
April 24, 2012
Rated

5

out of

5
 by
Michaela
Very nicely made, attractive and useful
I debated among several types of drawer organization. Since I've always enjoyed simplehuman products, I decided to try this one. I'm very happy with it. Easy to install (4 screws) and has 2 dividers that can be placed in several spots if you want to separate items. It's now much easier to find stuff in my kitchen cabinets!
April 18, 2012
Rated

5

out of

5
 by
shelleyscorner
No More Dodging Lids for Me!
I can't believe I've been catching & dodging plastic food containers for so long! These drawers were simple to install, look great and makes finding things in my cabinet so much easier! The mechanism is high quality and doesn't eat up much room in the cabinet. I've had others that take up so much space that they are not worth installing. Simple Human has a great design!
August 22, 2011
Rated

5

out of

5
 by
marep
Love it!
I added this to my kitchen cabinet under the sink and it is terrific. Everything stays organized in place and things don't get knocked over when I reach for something. I loved it so much I added one under the sink in my bathroom vanity. Great product!
August 17, 2011
Rated

5

out of

5
 by
gritsnchitlins
Love it!
This was super easy to install (mostly because I watched someone else do it). They work great and we have really maximized our storage space. My advice to you is buy these ASAP and have someone else install them for you as it makes the whole process completely stress free.
June 4, 2011
Rated

5

out of

5
 by
gilssm
Easy to install/great craftmanship
I bought several of these rollout shelves and I use them in the bathroom and the kitchen. My cabinets are very well organized now. I used to search for items, knocking over things, items falling out, but now I can just roll the items out with ease. The best part is I didn't have to ask my husband to install them, because I did it myself!
February 1, 2011
Rated

5

out of

5
 by
mirakat
great
great product. very smooth pull out/in and feels very steady. the drawer comes all the way out; no need to reach in. that's a very nice feature as I placed this under the sink in the bathroom.
April 25, 2010
Rated

3

out of

5
 by
clutterchallenged
A good under-cabinet solution
This is a well-made under-cabinet "pull-out" solution. I originally tried a two-tiered version that was supposed to fit under kitchen plumbing, but it did not work in my under-sink cabinet. I use the plastic sliding bin for sponges and other small cleaning items; use the larger space for disinfectant wipes, stainless steel cleaners, empty containers we use to collect grease, etc. I like being able to pull out the "drawer" to access items--this definitely makes the under-sink area more useful and easily accessible. However, I wish a two-tiered system had worked, since that would be a more efficient use of space.
March 3, 2010