Rated

5

out of

5
 by
Star04
LOVE IT!
No regrets. Great storage for extra clothes in the basement (perfect for swapping out seasonal clothes).
May 23, 2014
Rated

5

out of

5
 by
nikki626
Sturdy and looks great!!
I bought this rack because the house my husband and I just purchased doesn't have any closets and we needed a place to keep winter coats. Since we had quite a few we also needed a rack that was great quality. We needed a commerical grade rack. When I found this rack and saw the price I had to buy it. All the coats we needed to store fit perfectly and since it is made from metal the bar isn't dipping or sagging and it is high enought so that nothing touches the ground. We will probably buy another!!LOVE THIS!!
September 20, 2012
Rated

5

out of

5
 by
RSB99
If you can use this rack, don't hesitate!
This rack fit my need perfectly. It's sturdy, not too big, and folds nicely so that it can be stashed in the back of my closet. The sale price of $49 made it a great buy, compared to renting daily as I had investigated. Like so many things at Container Store it's a necessity you didn't know you needed!
August 6, 2011
Rated

5

out of

5
 by
ProfessorB
Satisfied Customer
For years I've avoided sorely needed reorganization of the catch-all (and only) closet in my tiny one room apartment. This clothes rack provided the inspiration I required to get the job done lickety-split! The term "assembly" is too daunting to describe the minimal amount of time and effort it took to get the unit up and operational. Although they are not necessary right now in my set up, it is nice to know that the caster brakes and storage clamps are on board and ready for use whenever they might be needed. This clothes rack amounts to customer satisfaction on wheels!
January 29, 2017
Rated

5

out of

5
 by
pamster
finally, something easy! and sturdy.
I have a bad habit of taking clean clothes out of the dryer, putting them in a laundry basket, then leaving them in the garage, next to the W/D where they remain, unfolded and not on hangers. To solve the 'hang it up' part of my ongoing clutter problem, I bought this clothes rack, and I love it! I set it up in 1 minute and 41 seconds. I know because I timed myself. (I timed it because whenever I buy something, it comes in a dozen pieces, includes no tools, screws that don't fit in the holes, etc.) Instead of being annoyed, I was ecstatic! The total time invested was 5-6 minutes and that included opening the box, assembling 3 pieces* (so simple), rolling it into my garage by the dryer, then carrying the box to the recycle pile! *I chose to skip the installation of the 2 clamps on the bottom rungs so I could rest my laundry baskets there, so in actuality there are 5 pieces. I've already used the rack to hang up a few damp shirts and dress pants that I didn't want to dry all the way, and it does the trick. It's sturdy. The wheels roll smoothly. It's better than I imagined. And I never say that, about anything!
January 19, 2017
Rated

5

out of

5
 by
shaizamaiza
Exactly what I needed
I bought two of these racks and am set to buy a third. They are so useful and versatile. I ordered them online and went to pick them up in the store. The store associates were super helpful, walking all my packages to the car and then helping fit everything inside. I was worried my car wouldn't be big enough (I drive a Honda Civic) but the racks come packaged in flat white boxes so they fit perfectly standing on their side in the backseat. When I got them home, I prepared myself for the possibility that it would take hours to assemble them, but nope, literally no assembly required. They just unfold and click into place. The only time I needed a screwdriver was to screw in the little holding clasps on the bottom--the top rod can fold down and be clasped there when you want to fold the rack flat and not use it anymore. These racks are a dream if you're like me and closet space is limited.
January 2, 2017
Rated

5

out of

5
 by
OrganizedGirl17
Perfect for Pop-Up Shows
With this being so light weight and easy to set up, it is perfect for traveling pop-up boutiques. Love!
December 5, 2016
Rated

5

out of

5
 by
Bronx51
Easy Setup
We received the two racks and set them up in less than 20 minutes. The delivery took a week and we had no problems with the order or shipping. Great job Container Store!
October 3, 2016
Rated

5

out of

5
 by
scrapnbird
Sturdy and so useful
My daughter uses this as her wardrobe in her apartment. It is loaded with clothes and holds them beautifully. The pull out ends can sag a bit if loaded with heavy coats, but the main part of the rack holds them fine. Very easy to set up! Took about three minutes. I am getting one for our home too, to store out of season clothes and to organize closets.
September 25, 2016
Rated

5

out of

5
 by
Needie
Recommended to friend
I personally have two of these racks. As a result of my recommendation, my friend asked me to purchase two for her when I visited my sister. ( we have no local store). The container store is one of my favorite shopping spots! I not only use for clothes but have been known to use for my hanging baskets during winter storage!
August 1, 2016
Rated

5

out of

5
 by
Griffith4
Excellent and easy
This folding rack couldn't have been easier to put together and sturdy!! Last fall I had purchase a garmet rack from another store and besides taking two of us to follow the directions to put it together it was so unstable. This one I would reccomend in a second!!!
May 27, 2016
Rated

5

out of

5
 by
GeeGeeGarcia
Folding Cmmercial Garment Rack
I LOVE this product!! I have a total of four racks now. they are easy to fold and transfer.
May 19, 2016
Rated

5

out of

5
 by
lovetogamble365
Wonderful for Organizing!
In a move to organize my closet I needed a portable wardrobe to organize certain things like blouses, etc. I found that four mid-size bins can sit on the bottom racks and frees that much room out immediately. It is sturdy and well balanced, The top rack extends out on the two ends - perfect for holding purses, scarves, etc. I am pleased with the purchase and you can't beat the price. I love your store!
December 17, 2015
Rated

5

out of

5
 by
RockstarSailor
So Many Uses
I had this in my home for seasonal closet switch outs, guests, drying rack and many other uses throughout the house. It folds up so easily and stores completely flat. We now use these as coat racks at work with the ability to provide a rack near the entrance of an event, move it away to be hidden during the event and then line it up near the door as they are leaving.
November 18, 2015
Rated

4

out of

5
 by
Lind1
missing one thing
this rack is great except for one thing. I was very surprised that none of the wheels had a brake. I have wood floors & it rolls almost too easily. I will have to wedge something in a wheel to make it stay still. CS should consider a re-design.
September 8, 2015
Rated

5

out of

5
 by
LovesGoldens
Totally worth it!
Bought this primarily to aid with the switching out of the season's clothes from our small closets and to have on hand when a closet might need to be temporarily emptied. Works perfectly and I keep finding other uses for it. It hasn't quite been a year since I bought it and it performs as well (and looks as good) as the day I bought it. Folded it's easy for anyone to carry up and down stairs, yet it's very sturdy.
July 24, 2015
Rated

5

out of

5
 by
tnmom64
Great product
I purchased this for my daughters dorm room. Easy to roll clothes on this in and out of rooms. Folds up easily and very sturdy
July 24, 2015
Rated

5

out of

5
 by
Fiberlady
Clothing Rack
It handles it all! Whether for off season storage or guest coats, this is the one.
July 18, 2015
Rated

5

out of

5
 by
Gadgeteer
Best little extra garment rack ever!
Very easy to put together and quite sturdy. I was delighted to see that my expectations were fulfilled. I have it in my guest room, but can easily move it to any other room. I have been praising this garment rack to all who will listen. I can't think of why anyone would not be completely satisfied with this.
July 18, 2015
Rated

5

out of

5
 by
Vanegrl
Much needed extra storage
Small closet, so this really gave me more storage space. also, compact :)
June 23, 2015
Rated

5

out of

5
 by
Kermit63
Exactly what I needed!
We recently moved to our basement for a remodel of our master bedroom and bath. This garment rack was perfect for expanding our limited space for hanging clothes. Even better, after our remodeling is complete it folds up and will nicely fit under the bed until we need it again. Great purchase and great quality
June 7, 2015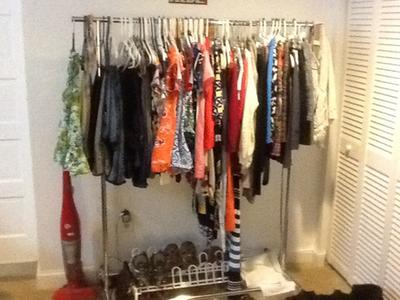 Rated

2

out of

5
 by
yoshimi
Convenient
We bought this for easy storage space for guest coats. It's nice that it folds for storage, and it's reasonably stable for coats when snapped into place. It's just a little unstable.
April 7, 2015
Rated

5

out of

5
 by
Muffintop
Great Garment Rack
Very pleased with this item! I bought this so we have a place to hang everyone's coat for a party. It was very easy to assemble and is very well made.
February 2, 2015
Rated

5

out of

5
 by
saref
Perfecto!
I have online etsy stores and am just now breaking into the pop up market business...this rack is perfect! Holds lots of merchandise and folds up quick and easy. Sturdy but lightweight and easy to transport!
December 5, 2014
Rated

5

out of

5
 by
BRsMom
LOVE, LOVE, LOVE IT!!!
I don't know which I like better --- the quality and sturdiness OR the fact that it folds up!! I used it to organize my Mom's closet and instead of throwing clothes on the bed, I hung them, sorted them and then folded it up and put it in the backseat of my car. WOW! Other racks I have bought before have broken and are in the County landfill but this one will last indefinately! I wish I had known about it sooner for garage sales! I highly recommend this! You won't be disappointed.
November 13, 2014
Rated

5

out of

5
 by
mbt83
This rack is awesome!
Ok, so I have a bit of a shopping problem....and I love clothes. So my clothes do not all fit in my closet. I purchased 2 of these racks at the insistence of my husband. Wow. Im glad I did! First of all, they are already put together. You just pull the sides up and ta-da, your done. Snaps into place. No tools no fuss. Second, these are seriously heavy duty. Heavy coats, tons of jeans, no problem. Very sturdy...Im not worried at all about the weight of the clothing on the rack. And best of all, the height is totally adjustable!!! You can make them short for shirts or coats....or raise it up high for skirts and dresses! I seriously love them! I will likely be purchasing more as I doubt my shopping addiction is going anywhere. Oh also would be perfect for someone wanting to rotate their wardrobe based off the season.
November 5, 2014
Rated

5

out of

5
 by
Buckets66
Well Worth the Money!
Well worth the money! Perfect for home or sales! Solid and can be rolled around with sturdy wheels. I bought plastic clamps to put on wheels if needed. Don't waste time and money shopping elsewhere! This is perfect! Great to hang clothing on when cleaning out your closet or even storing winter/summer clothes. Easily folds to store when not in use.
September 15, 2014
Rated

5

out of

5
 by
Nanuski
Sturdy
Easy to assembly. Sturdy - the way the wheels attach to the frame make it capable of holding a heavy load. Collapsible for storage a plus.
September 4, 2014
Rated

5

out of

5
 by
annon12345
better than most
I have owned this for around 10 or 12 years now. The only problem I have had is that one of the clips that holds (when it is folded flat) one of the pieces that hold the folded down bar in place. It has broken off (if you look at the photo along the horizontal bars at the bottom you will see these small things sticking up - those are what holds the vertical sides in place when you fold it and one of them has broken off). Other than that the thing is pretty bomb proof. You do need to be careful when you roll it when you have it loaded down though - I have tipped it over before when rolling it loaded. It does not do bumps in sidewalks well (garage sale and also over the lip into the kitchen from the dinning room), be careful when turning corners and hold on to the vertical sides when you move it. Rolls OK on rugs too.
August 29, 2014
Rated

5

out of

5
 by
AnnieX
Great product
If you are looking for a garment rack, look no further. It's sturdy and holds a lot of clothes without tipping over. The foldable feature is a huge plus for storage when not in use. You just have to step on the button at the base to have the sides collapse. Don't try using your finger. It's too hard. Highly recommend it.
August 24, 2014