Rated

5

out of

5
 by
kjsm
perfect for pantry
I reorganized my pantry and these were perfect for the hard to reach corners, I bought 5 and am very happy, they hold a lot of weight, olive oil bottle, grape seed oil and a couple of smaller bottles of oil, the other has all our collection of honeys, and another has jams and jellies. perfect !!!!
January 25, 2017
Rated

5

out of

5
 by
Lisa324
Ideal for my needs!
I am a professional organizer who redid her spices and oils cabinet I bought 2 of these for the space above my microwave that houses my oils and vinegars for cooking. Ideal for my needs, it holds it all and I thought it might be too heavy for it to spin but it works great even with all the heavy items on it! I would highly recommend this product to my clients.
November 22, 2015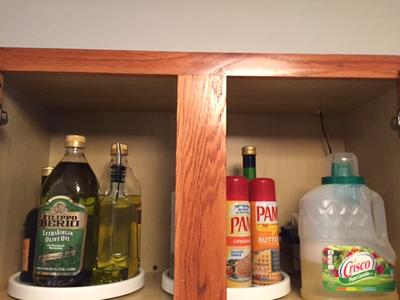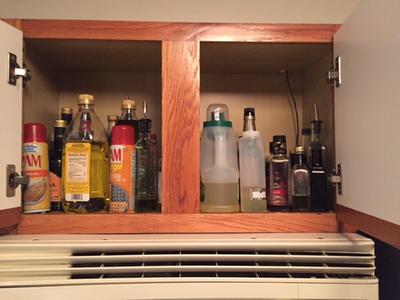 Rated

5

out of

5
 by
Tiny
making life easier
This turntable make life easier. I put some on high cupboard shelves, so I don't have difficulty retrieving items on those shelves. Who wouldn't want to make life a little easier!
April 7, 2015
Rated

5

out of

5
 by
Bizeediva
Perfect for my space!
I was going to purchase a spice organizer online but decided to go into the store--I'm glad I did. It fits perfectly in the space I wanted to use, all my spices fit, and the price was right! I love the non-slip surface... my spices don't fall over when I turn it. Great product!
January 16, 2015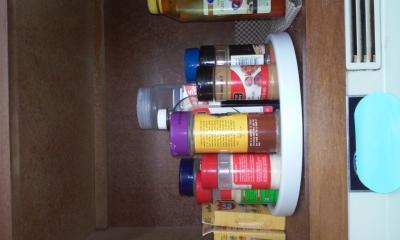 Rated

5

out of

5
 by
lulu4
fabulous
Easy to use in any pantry and so practical to see everything and they stay on
January 2, 2015
Rated

5

out of

5
 by
secti
Quality Product
Priced appropriately, functions perfectly. Recommended.
August 31, 2014
Rated

4

out of

5
 by
Inskii
Love it!
It is what it is. Very useful in the pantry for small jars of spices and sauces
July 17, 2014
Rated

5

out of

5
 by
disorgbusy
Fits perfectly
I bought two of these and they fit perfectly side by side in my cabinet. Best way to organize spices.
April 26, 2014
Rated

5

out of

5
 by
Chiselwink
Efficient Space Saver!
With little room in my cupboards, I had all of my oils and vinegars clumped up in one corner. I had to shuffle everything around to grab what I was looking for. This lovely contraption takes up as much or less space as before but makes everything accessible! Doesn't stick, spins smoothly, and the rubber bottom ensures that the bottles don't go slipping and sliding around. A no-brainer!
April 13, 2014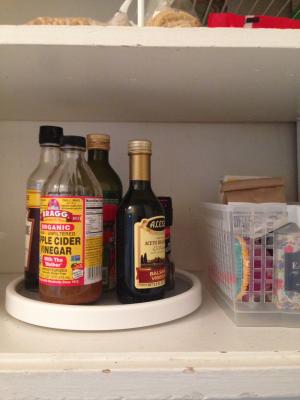 Rated

5

out of

5
 by
Haley123
Great for short people!
On a good day I am 5'1" so typically everything in the back of my cabinets is unreachable without a foot stool. I purchased one of these my last trip to the store and plan to get more! It is the perfect size for my narrow uppers. It holds a lot, cleans up well and turns smoothly. For the price it is a great buy!
April 9, 2014
Rated

4

out of

5
 by
SpaceSaver17
Works great, but........
I purchased several of these and they work great. Once you load them up with a little weight, the spin smoothly and effortlessly. I compared these to the stainless steel turntable in the store and decided on these. The advantage of the stainless steel is that the turntable is slightly larger and the raised edge is narrower than the plastic one creating slightly more surface area on the turntable. The difference in area is small, but the difference in price is much larger. So, if you are extremely cramped for space, go with the stainless steel. Personally, I would buy the plastic style again for myself. They get the job done for a lot less money.
April 8, 2014
Rated

4

out of

5
 by
ProfessorChick
Spicy Little Spinner
This turntable puts my spices in reach and in sight. I no longer have to reach over and worry about tipping bottles or unloading the cabinet to see spices in the back. Two spinners and a small basket organized my spice shelf.
March 31, 2014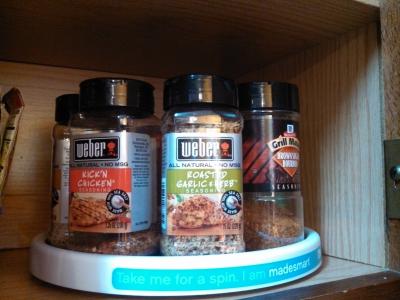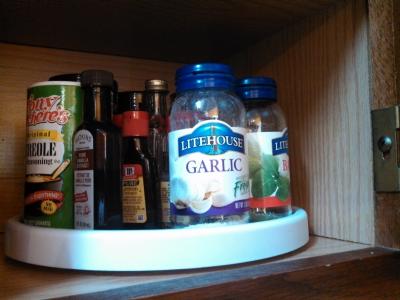 Rated

5

out of

5
 by
Brecola46
Pantry Organizer
These Turntables are great! I used them in my pantry. They help keep my vinegar & oils organized, accessible & highly visible.
February 27, 2014
Rated

5

out of

5
 by
Bklein
Effective turntable
In the store, I wasn't quite sure if this turntable would do the trick because it wouldn't turn smoothly, but once I took it home and put my most used condiments, it worked perfectly. It makes picking up the salt, pepper, oil, etc so convenient-especially when you only have one clean hand available.
September 26, 2013
Rated

3

out of

5
 by
TCoop
Not as expected
It doesn't turn easily. I assumed it would be like the 2-tier spice rack.
September 2, 2013
Rated

5

out of

5
 by
chocolategirl
Easy Access to Corner Cupboards
I bought four of these to use in an upper kitchen corner cupboard where I store various oils, vinegars, and condiments. I have gone from having to stand on a chair to access the back of the cupboard to simply spinning the turntable to quickly and easily reach what I need. It makes me happy every time I get something from that cupboard.
July 9, 2013
Rated

5

out of

5
 by
twinkletoes1
single turntable
I have two of them they work perfectly,thought they would be a little bigger, but they serve there purpose fine
June 20, 2013
Rated

5

out of

5
 by
MrsBee
LOVE these turntables!
LOVE these!! they spin easily, but the non slip base keeps my vinegar and oil bottles stable, they no longer tumble into a pile!!
May 6, 2013
Rated

5

out of

5
 by
organizinggirl
Small kitchen, more organized!
I have six of these turntables in my kitchen. I use a double decker one for medications in a high cabinet, two in my cabinets for spices and condiments, and two in my refrigerator to have better access to small containers of food!
April 2, 2013
Rated

3

out of

5
 by
Kissthecook
Smaller than I thought but still nice. Like the non-slip surface.
March 26, 2013
Rated

5

out of

5
 by
KimfromSF
Great for bathroom!
We use this in our bathroom closet, great for vitamins and misc bottles. Use this and you'll never again wonder what meds you have or don't have!
March 18, 2013
Rated

4

out of

5
 by
Leesy
Worth 3x the price
I use this in my fridge for my smaller jars. You know that corner of that one shelf that you have to empty everything to get to the back? Yeah, this will fix that.
February 16, 2013
Rated

4

out of

5
 by
TheMaven
not perfect but really good
I have probably 4 different types of lazy susans in my house. This is my favorite. It is currently used in a bathroom cabinet. The no-skid surface keeps little bottles from sliding around or tipping over. It is easy to clean and dust. The turning mechanism does hitch from time to time, which is annoying. But, most of my other lazy susans do the same thing. If I keep the weight balanced, it doesn't seem to happen.
November 13, 2012
Rated

2

out of

5
 by
MountainHomemaker
Not So Great
This fits well into a small cabinet and does help keep all contents at hand, but I have others made by another brand that work MUCH better. This one does not spin easily. If I had nothing to compare it to, I would probably be satisfied.
July 16, 2012
Rated

3

out of

5
 by
HappyLady7
They were OK. Does not turn without weight
I bought two of these. These were just ok - an average turntable. In order for the turntable to turn you must store heavier items on it (e.g. jars). It doesn't turn well/at all without any weight placed on it. It was also my fault for not considering how small it was going to be. I wish I'd have bought a larger size. I didn't factor this into my rating because the size is clearly listed on the website. They are lined with some kind of rubber like material. That is nice. It may prevent items from sliding around.
May 3, 2012
Rated

5

out of

5
 by
nonnajo
Love this item
I put this in my spice cabient & put all my bottles on turntable......it makes it so much neater & easier to find what I need.
April 27, 2012
Rated

5

out of

5
 by
tripletsplusanother
Single Turntable Love!
I have 3 of these in my refrigerator. Love it! I keep my pickles etc, on one, and "dairy" on another (cottage, sour cream, etc). Great for keeping "like" things together, and from preventing a sticky mess in the fridge!
April 27, 2012
Rated

5

out of

5
 by
Brendie05
Great Buy!
I bought this turntable to organize my vitamins. This makes it easy to find any vitamin jar that I need and keeps my cabinet neat.
April 10, 2012
Rated

4

out of

5
 by
lovethebeach16
Wish it was bigger
I should have really taken measurements of my cabinet before purchasing this. It fits, but after putting spices on it, it makes it difficult to turn because its the exact width. I think I'll find another use for this and purchase something else for this need.
April 5, 2012
Rated

4

out of

5
 by
njtinb
Good turn table for fridge!
I use this to keep my most used condiments in the fridge so they don't spill and are easy to get to. Works great!
March 29, 2012