Rated

5

out of

5
 by
ForestPark
double your closet space
Double Hang Closet Rod: You can double your closet space - enough said.
July 8, 2016
Rated

5

out of

5
 by
MontanaGirl
Solved our Problem!
Bargain and brilliant design. So simple and so functional. Our hall closet is in the doorway. We live in Montana so we are a four season active family. Our daughter isn't tall enough yet to reach the closet rod so jackets ended up on the floor. It was a wreck. I searched and searched and when I found this I was elated. It's amazing what a great product can do to solve storage dilemmas and organize a space.
December 1, 2015
Rated

5

out of

5
 by
newcollmom
Dorm Room Must
Purchased this product for extra hanging space in my daughter's dorm room. It works great.
August 28, 2014
Rated

5

out of

5
 by
Loveretirement
Double hanging closet rod
I love this rod. I needed a better way to hang my pants. This helps to hang only my pants so I can match pants with tops.
June 26, 2014
Rated

5

out of

5
 by
Theophilus
An essential and ingenious product!
This is my second Double Hang Closet. Rod, but the first one still works. I just needed more space to hang clothes. For ten dollars, this product is a perfect solution to hang children's clothes at a height where they can reach them, if your closet has only a high rod. It works perfectly and I love it!
April 14, 2014
Rated

2

out of

5
 by
Sacaku
3 Months Then Snap!
I purchased this item earlier this year in early January. Just found it snapped in my closet, the bar itself is made up of smaller glued/inset pieces making it weaker. Bar was also rather wobbly (before it broke). I admit I did put quite a bit of items (thus weight) on the rod and it managed to last this long so not bad I guess. Still was hoping it would last a bit longer. Will definitely be looking for a different solution for my tiny closet space. For ten bucks I suppose you get what you pay for.
March 29, 2014
Rated

5

out of

5
 by
ABartine
The perfect size!
Granted we made bought these for our children...with high hopes they could start hanging up their own laundry and what do you know it worked! The solid wood bar and metal rod are sturdy whereas the connecting joints are a bit wobbly. We felt it was worth the price and works for our needs.
February 28, 2014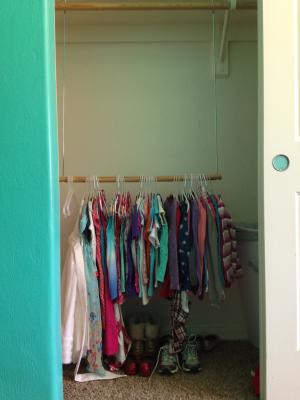 Rated

5

out of

5
 by
nedster
Love it for my granddaughter
The double hang closet rod is perfect for my granddaughter's closet as she has so many clothes and it works perfectly in her closet.
February 13, 2014
Rated

5

out of

5
 by
Pintora
Turns my tiny closet into a moderate one
The Elfa system is not currently in my budget, but I am so excited that this little device gives me some of the same benefits! I hang blouses and jackets on the top level, and pants and skirts on the lower level. With the cost of a meal at Chipotle, I have doubled my closet space! Note: the height and width of this double-hang rod cannot be adjusted. It worked great for my closet, but I suggest you take good measurements to determine if this will fit your needs. If you need a different height or width, the store also carries an Umbra adjustable double-hang rod.
January 12, 2014
Rated

5

out of

5
 by
DICMikeG
Really helped out with a space crunch
Just downsized to a smaller apartment with a much smaller closet and, rather than have to buy more closet shelving and hanging rods, I was hoping to find an easier/less-expensive solution. This was it! Very easy to install and easily held another 25-30 shirts, freeing up the space I needed. I was concerned about the strength of the hangers and the rod, but once I opened the box and saw the quality of the construction, my fears were allayed. Nice job, Container Store.
November 5, 2013
Rated

5

out of

5
 by
Decorator4446
Great Item, modified to make it adjustable.
This is exactly what I was looking for, except for baby clothes it is just a little too long and close to the floor. I just added several (25 each side) hex nuts onto the metal rods before I put on the wooden closet rod and voila, 6 inches shorter. I can now remove or add as many as needed to make it longer or shorter. Any sort of bead or object that is able to be threaded on will work, possibly something more decorative or paint the hex nuts. Mine aren't really visible, so I just left as is. I will also paint the rod white to match the rod in the closet.
September 8, 2013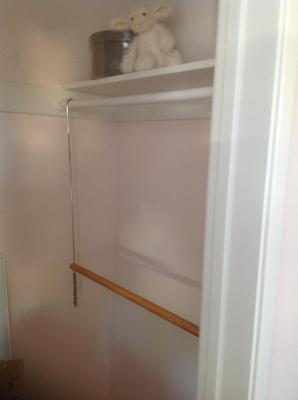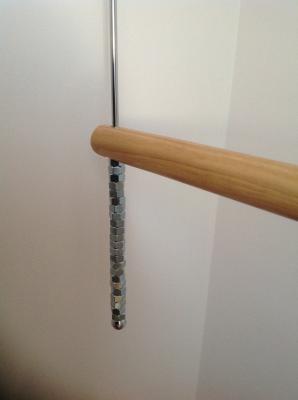 Rated

4

out of

5
 by
sewist
Good choice
I went to purchase another kind of this item on sale. Saw this one at an even better price. I am happy with the choice. It's sturdy and looks organized in my small closet. I have my slacks hung on it under my blouse and tops.
August 31, 2013
Rated

1

out of

5
 by
ArtistaRaquel
not for clothes horses
I bought 3 of these and 2 of them cracked in half within a few months. I stopped using the third to prevent another mess of wrinkled clothes and bought the Dublet by Umbra version instead. (That one is great and far more sleek looking than this one, btw) The substantial wooden dowel is actually joined just with glue and a zig-zag cut to fit the 2 pieces together in the middle. I'm sure I had more weight on this than intended, but why not just use a solid piece of wood? They would still be working great if that were the case.
July 3, 2013
Rated

5

out of

5
 by
Mitchell
Great Product
The Hanger is simple, rigid and works great! It hangs just below my shirts, which is a great height.
May 31, 2013
Rated

4

out of

5
 by
mrswoowoo
it gives me so much extra room in my closet
THE rod is so easy to use and it makes so much extra space in my closet.I love it
May 3, 2013
Rated

5

out of

5
 by
Em23
Great for dorm room!
This made fitting all my clothes into my dorm possible! I was amazed at how it really maximized the space. I never thought i would fit all my shirts and pants in the tiny closet but with this I was able to. It also makes everything look really neat and organized, which is good because that was another fear of mine. With such a small amount of space I was convinced it would not look organized but with the double hang closet rod, it really did. I not only reccomend this to people entering a college dorm but also to anyone in need of more closet space! Great product and super cool.
April 6, 2013
Rated

5

out of

5
 by
rg14
such a great solution to make the most out of your closet space without having to spend a ton. sturdier than expected and double my closet space! very pleased!!
April 3, 2013
Rated

5

out of

5
 by
AustinMOMof2
Great For Baby's Closet
Our closets aren't big. So when we were expecting our first child I had to find something to maximize the space. It was the perfect solution. Baby clothes are small anyways. I loved it so much I had to get another for our second child. My 2 year old is at the age were she wants to help dress herself. She is able to reach her clothes on the bottom rod and that makes her happy. :) I am happy with my purchase and can't wait to use them for years to come.
March 19, 2013
Rated

1

out of

5
 by
TallJolie
not so happy
Not a good purchase for tall folks, I'm a 5'9" female. My shirt bottoms and sleeves hang on the new rod which will wrinkle them. This product is best for the petite person or a child.
November 23, 2012
Rated

5

out of

5
 by
Pham
great purchase
Bought 3, my daughter & I love them...added needed space to our ---closet
September 27, 2012
Rated

5

out of

5
 by
Parsipany
Works great!
Great for my 2 toddlers that share a closet in an older home. Sturdy and easy to install.
June 14, 2012
Rated

5

out of

5
 by
Peachtree
amazingly effecient
This is the BEST product for small closets in older homes! It created double the space and is very sturdy! Would recommend it to anyone!
April 30, 2012
Rated

5

out of

5
 by
Lisrey
An excellent buy!!
I purchased two of these. One for hubby's closet and one for my sons'. The extra bar was just the perfect height to hang their pants/jeans. Now their closets are not so cluttered. And these were a great buy for the price!
April 27, 2012
Rated

5

out of

5
 by
Jennifertotwotikes
Doubled my space
This doubled the space in my closet for the kids at a price of $20 total for two rods. Now I can keep their current seasons clothes down where they can reach them and out of season clothes up high. Wonderful product!
April 27, 2012
Rated

5

out of

5
 by
csnew
Great little addition to my daughter's close! Very useful.
April 12, 2012
Rated

5

out of

5
 by
NiceShark
Gave me more needed room in a small closet.
I do not have a very large closet and mine was stuffed. I bought the double hang closet rod and began using it right away. It is great for shirts. It has created more room so my shirts are not as squished and wrinkled. I will probably go get another one for pants also.
March 23, 2012
Rated

5

out of

5
 by
ntb1121
Double Hang Closet Rod
This is one of the best purchases I have made. Using the double hang closet rod has doubled my closet space. I liked my purchase so much that I bought two more.
March 19, 2012
Rated

5

out of

5
 by
CPD01
Excellent Product
The double hang closet rod is easy to assemble and sturdy! Made the rod space in my close way more functional!
March 19, 2012
Rated

5

out of

5
 by
Jersey0307
Doubled my closet capacity!
This product was a life saver for my small city apartment. Its super easy to assemble with only three pieces and has given me a ton more options to hang my clothes rather than stuff them in dressers or under the bed. I went back and purchased another!
March 10, 2012
Rated

5

out of

5
 by
Grammielove
Love my extra closet space.
I may only have six or seven dresses, skirts and slacks but my closest was full of blouse's, tops, and jackets that I never had enough room for... My problem has been corrected now thanks to the Double Hang Closet Rod.. There is now plenty of room and no need to have to re-iron because they were so packed in.. Last but not least is the superb quality of this closet rod.. Nothing but the best for all my blouse's and top's... I began 2012 organized and on top of things.. thanks to your amazing product...
February 21, 2012