Rated

5

out of

5
 by
iamsuzyq
Wonderful Invention
Just a note to Container Queen: These couplers are not made to fit every bottle opening "out there." They fit most lotions and shampoos, stuff that most people like to transfer. Even works for ketchup and other condiments. Also, when transferring any liquid (especially thick ones) from one source to another will cause a vacuum that has to be broken in order for everything to flow smoothly - just lightly tap top bottle or unscrew a bit and things will start flowing again. Common sense also tells you there can be a balance issue going on as well. I've been known to balance mine in a sink just in case of toppling when I have a large bottle on top emptying into a smaller one. I've never had to wait 24 hours for a bottle to empty what little bit was left. Hope this review helps another person decide. I've had my couplers for years now.
April 19, 2016
Rated

5

out of

5
 by
sesatx
What do you have to lose??
Get this product if you think you might even have a remote need for it. I buy huge shampoo and conditioner bottles which are cheaper per ounce, and refill smaller bottles to keep in the shower and for travel. This is one of those why-doesn't-this-exist-oh-wait-it-does! items that you just can't beat!
September 17, 2016
Rated

5

out of

5
 by
Beautifile
More handy than you'd think
These couplers for practically every combination of bottle & make sure you get everything possible out of your products. They are well made so I never anticipate buying more, which makes them well worth buying.
June 7, 2016
Rated

2

out of

5
 by
ContainerQueen
Don't fit anything
Got these to keep in our bathroom and sadly, they never fit anything! IF one part fits, the other doesn't so I end up trying to balance the bottles with my fingers around the neck. (And I assure you, this doesn't work!) plus, to fully empty the upper bottle you need little air or they create a suction. So IF both parts fit (only happened once or twice) the upper bottle won't fully empty even over 24 hours. We ended up tossing these in the recycle bin.
April 11, 2016
Rated

5

out of

5
 by
AmberF
Great Idea!
This is much easier than trying to balance one bottle on top of another, even with a funnel!
March 15, 2016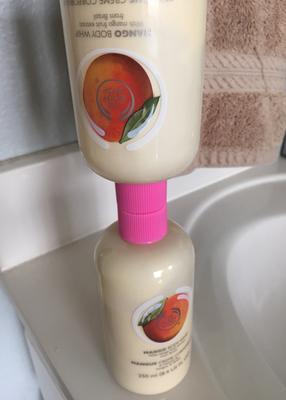 Rated

5

out of

5
 by
Bunky01
Lotion Saver Bottle Couplers
I bought one before and use it to fill travel size bottles and almost empty bottles into new one. Works great. I bought several and will put in Christmas stockings. Very handy item.
February 7, 2016
Rated

4

out of

5
 by
Mishka
Almost perfect
The couplers are wonderful - except there needs to be smaller ones: smaller even than the one included. Perhaps a set of smaller sizes?
December 21, 2015
Rated

5

out of

5
 by
Shoegirl99
Awesome!
This is the best $3.99 I've ever spent on my husband. He absolutely LOVED this stocking stuffer! I'm notorious for not finishing a bottle of shampoo before I want to try a new one, and he uses all my old leftovers by transferring them into his bottle. This is such a handy item and a must have for anyone who hates to waste! Highly recommend!
December 16, 2015
Rated

5

out of

5
 by
bwood1117
Where have you been my whole life??
Seriously, where has this product been my whole life? My husband and I absolutely LOVE this!! I can't even begin to imagine how much product the two of us have thrown out through the years because we couldn't get it out of the bottom of the bottle. But not anymore! The couplers literally allow every last bit of product to drain from one bottle into the other. Its AWESOME!
August 11, 2015
Rated

5

out of

5
 by
Moksha
Good way to get those last drops......
These bottle couplers work with no mess or fuss. They do the job of draining the last remnants of a product into what ever other container you may choose. This is a good investment in saving a fair amount of time and shampoo, lotion etc. without having to stand there and hold one bottle over the other, or having it topple over. Highly recommend.
June 22, 2015
Rated

5

out of

5
 by
jayjay16
A great little product
I wasn't so sure that these would work, as I couldn't understand how lotion can flow out if air cannot flow in. But somehow it does --- and the couplers worked exactly as advertised.
June 9, 2015
Rated

5

out of

5
 by
Martitravels
Great item!
I have always tried balancing bottle on top of bottle to make sure I get all the product out of the almost empty bottle. Sure beats getting home and finding a bottle on the floor.
January 20, 2015
Rated

5

out of

5
 by
girlonthego
Why did I wait so long?!
As a traveller and overall consumer like everyone. This is a must have. Easy to get all the product without having to stand holding the bottle upside down for minutes. Simple yet brilliant!
December 16, 2014
Rated

5

out of

5
 by
nuttyorganizer
PERRRRRRRRRRFECT!
These are a life saver - I have always wanted to get the last drop from my lotions, shampoos, etc. but couldn't make the bottles stand up correctly. These took care of that problem. LOVE THEM!!
December 1, 2014
Rated

5

out of

5
 by
janicek
where have you been?!
Wish I had long time ago. Best product ever!! Additional sizes welcome
November 20, 2014
Rated

5

out of

5
 by
geargeek
Much Improved!
Adding the large to small (or small to large) adapter greatly improved this product. It's so simple and works GREAT. What has surprised me is that the container industry seems to have standard screw top sizes so this works on most anything I've run across.
November 7, 2014
Rated

5

out of

5
 by
CiCi5
Lotion Saver Bottle Couplers
It's a simple and inexpensive solution for a common task. It's another one of those inventions where I think, "Now why didn't I think of that!"
October 6, 2014
Rated

5

out of

5
 by
SouthwestDweller
Terrific gadget!
I love this! No more balancing bottles on top of each other. These work so much better than any method I have come up with.
July 27, 2014
Rated

5

out of

5
 by
alishaba
Really Great Item! I highly recommend them!
These were recommended by my hairstylist. They save a lot of product from being thrown away. I actually use to cut the used bottles open to get the last of the product out, now I just attach the bottles with these Lotion Saver Bottle Couplers and walk away and let them drain. Drains every last bit of product into the new bottle. I can see many uses for these couplers. You can even couple a small bottle to a big bottle.
July 6, 2014
Rated

5

out of

5
 by
andirey
Saves extra product (and thus money!)
No more wasting the extra lotion I can't get out of the bottle! Well, in theory. So far I've only used it once for Aveeno lotion. Aveeno is not extremely thick, but on the thicker side than some other lotions. I kept mine connected for almost 24 hours and the lotion in the top bottle seemed to just gather at the opening and didn't fully transfer into the bottom bottle. I reconnected them, did some shaking and slight banging, and that helped, but unfortunately I wasn't able to transfer as much into the new bottle as I had hoped. I read some other reviews that said they had no problems with thicker products, so maybe it was a fluke? I still think the item is a handy little tool, and I hope my next use will go better.
May 8, 2014
Rated

5

out of

5
 by
apasionada
smart
the product works. I bought it to transfer lotion from my regular sized bottle to travel size bottles and its perfect.
April 21, 2014
Rated

5

out of

5
 by
mojol
Love these!
Someone had recommended this item to me. I used this to get the last half of some Wen conditioner (which is quite thick) into a newer bottle and it worked like a charm. I used the small-to-small coupler. What a clever, practical item. I bought some extras and will give them out to friends.
December 9, 2013
Rated

5

out of

5
 by
Gramma2
Pleasantly Surprised!
Used this product for the first time this morning with two bottles of shampoo. It was so handy being able to walk away and not worry about shampoo everywhere from the top bottle falling over. Definitely will tell friends about how it works as described.
November 21, 2013
Rated

4

out of

5
 by
mb74
Just What I Was Looking For
Have used it several times already. Makes eking out the end of one bottle into another easy. Would like to see a size larger, however, as it doesn't fit the Neutrogena rainbath bath gel bottles - still have to balance those atop each other. Otherwise, lotions and liquid soaps connect easily. Washes and stores well.
November 8, 2013
Rated

5

out of

5
 by
rivernorthgirl
Love These!
No more lotion or shampoo wasted. No more standing around shaking bottles. No more funnels. Can easily transfer product from the less expensive large volume container to a container that fits more easily in the shower rack.
October 20, 2013
Rated

5

out of

5
 by
NeedALocalCS
The Thing I Wish I'd Invented
This little set is just exactly what I needed to get the last of the shampoo/lotion from the old bottle into the new bottle. I wish I had invented this! I ordered extras for stocking stuffers.
October 9, 2013
Rated

5

out of

5
 by
maddigirlsgigi
Great little tool!
Finally! An easier way to transfer product from one container to another without wasting anything. Love these!
May 4, 2013
Rated

5

out of

5
 by
kt35
Such a simple idea!
I am very pleased with this little gizmo. This coupler allows me to transfer that last little bit of lotion or liquid soap to the new bottle without waste, mess, or hassle.
April 28, 2013
Rated

5

out of

5
 by
Faulkner
using every drop of product
I would always want to use products until they were completely empty and I would attempt to secure them so that one would empty into the other. I finally found a couple pieces of plastic at the Container Store that accomplished what I have been attempting to do for years. The product is called LOTION SAVER (bottle couplers). For a very small price you are able to save alot of product.
April 27, 2013
Rated

5

out of

5
 by
JaxSavvyShopper
Money Saver!
I use these to get the last drop of conditioner out of the bottom ot the bottle. I combine two bottles each time I get to the end of the bottle and then after a few times have a new bottle of conditioner to use! Same thing for my favorite lotion, etc. All those thicker formulas that are difficult to get out of the bottom of the bottle!
April 6, 2013