Rated

5

out of

5
 by
Kathlene102
Organization: we're there!
These containers brought nice clean organization to my closet. And the bonus is that I can see what is in the container!
September 1, 2016
Rated

5

out of

5
 by
ReeAction
Love These
I love these stackable boxes with the drop-front, see-through front panels. I have bought them for my daughter to organize her closet shelves.
March 19, 2016
Rated

5

out of

5
 by
LynnMarch
Expensive, but worth it!
I bought these after having quite a bit of moth damage to my sweaters one year. These keep them protected and dust-free. They are sturdy enough to stack. You can see your sweaters and access them really easily with the "drop down" front flap. They are great.
January 11, 2016
Rated

5

out of

5
 by
Wulfey
Love these!
I had a custom closet designer come to my home and give me a bid of $4,000 to do my closet. Instead, I opted to buy several of these sweater boxes, the plastic drop front shoe boxes and the huggable hangers, and I couldn't be happier. I now have a place for everything and can see my folded items and shoes easily without having to rummage through drawers or boxes. My closet looks great and I saved a ton of money!
October 27, 2015
Rated

5

out of

5
 by
Kirstygirl
Elegant and Efficient
These are fabulous, I now have a wall of them and they are stunning, easy to use and easy to MOVE - if you change address every couple of years great way to keep items on display but also neatly packed.
October 13, 2015
Rated

4

out of

5
 by
snunyc
One more step to closet joy
These are really sturdy and sophisticated looking additions to my reach-in closet, helping me to make order out of chaos. I'm taking off one star only because each box holds less than I though it would. They are perfect for thinner sweaters and cardis, but they're too small for some of my thicker, longer sweaters. I wish I could fit a bit more in each box. Having said that, they are the best solution I've seen for the price and take up relatively little room in my closet for the amount they do hold. I have five of them stacked and they're stable even though they don't interlock in any way. Thinking about buying a few more to help organize my linen closet. The drop-front is simply genius.
July 4, 2015
Rated

5

out of

5
 by
mitra5
Excellent
I have purchase10 of these sweater boxes. They are beautiful and make my closet look really organized and cleaned up! They're also very good quality. I love the see-through windows.
January 27, 2015
Rated

5

out of

5
 by
bonneesprit
Well Made
Box four boxes, and plan to acquire more. Boxes are strong and well made. A quality product.
September 11, 2014
Rated

5

out of

5
 by
Agwat
Scarf Selection
I used 3 of these "sweater" bins for storage of my winter scarves and pashminas. I have an armoire in the bedroom that was originally used for a television, but serves as extra storage for my bed linens on the top shelf, and where the TV was, is where I put these sweater boxes, and in the drawers are other winter accessories such as hats, gloves, ski wear, etc. It's a perfect place because I can easily see the color of wrap I wish to wear and I can keep them all very well protected with a couple moth sachets.
September 3, 2014
Rated

5

out of

5
 by
TheOrganizer93455
Perfect
These were a great addition to my closet. They hold just about anything and they look great doing it.
August 15, 2014
Rated

5

out of

5
 by
IchBinG
Closet organization with style!
I have a walk-in closet that you have to walk through to reach the bathroom. It has always bothered me that my clothes on the shelves were invariably slumped over stacks for all the world to see. Not anymore! Now my shelves are a clean presentation of stylish boxes with my clothes neatly folded to maximize the space within. I can fit 16 tshirts in 2 stacks in each box or 4-5 pairs of jeans. Now I have extra room for more boxes to house my shorts and miscellaneous garments.
July 21, 2014
Rated

5

out of

5
 by
mrg2013
Very Convenient
These boxes were exactly what I need to organize my closet. I might even buy more when I get my closet completely organized.
May 27, 2014
Rated

2

out of

5
 by
wanderme
ideally it would work
Ideally this would work. however you need many of them and if your sweaters are not the same size it is hard to store together. No color choices and the light color may fade/ get dirty easily. love how it is drop front, you can stack them and be organized. you will need many of them and they are expensive.
May 1, 2014

Rated

5

out of

5
 by
SonjaDOM
Great for storing smaller handbags
I have used this size to store smaller handbags. You can get a lot of bags lying flat in this container. Love it!
April 19, 2014
Rated

5

out of

5
 by
EmmaLou
Not just for Sweaters!
I purchased 8 of these drop lid boxes, not for sweaters, but for purses! Perfect! The boxes keep them visible, and dust free. This worked out great for my closet, because I did not want to give up any hanger space that most other purse storage requires.
April 7, 2014
Rated

4

out of

5
 by
CrampedintheCity
Purse storage
I've purchased a couple of these and stacked them (tall) for purse storage. Very functional, but at $30 a pop, it will unfortunately be a bit before I purchase more.
April 3, 2014
Rated

5

out of

5
 by
LJJones
Beautiful and perfect!
I am going through a major decluttering and my closet was the worst. The cats pass through my closet to my bathroom (where their litter boxes are), and I had litter dust over everything! I cleaned all the clothes and hangers and then got rid of clothes I didn't like or were too big ('lost a lot of weight). These sweater boxes are larger than I needed; I was so happy! I have one for long-sleeved sweaters and one for short-sleeved sweaters. The boxes stay closed, no dust gets in them, and they look mighty classy on the shelf in my HUGE walk-in closet. I wish I needed more; they're so pretty!
March 7, 2014
Rated

5

out of

5
 by
iongirl
Good Solid Purchase
I am using them to organize table cloths and linens that don't fit in my kitchen drawer and must be stored elsewhere. They are of solid construction and hold quite a few items. I was worried that I would need a third, but I haven't filled the two of them yet.
February 9, 2014
Rated

5

out of

5
 by
cw53
Perfect
Just what you would imagine if you imagined the perfect sweater box. The box is sturdy, the drop front works effortlessly. The fabric is attached flawlessly. They stack without sagging. Best purchase I have made in years.
February 8, 2014
Rated

5

out of

5
 by
rhysjm
Fantastic
The boxes are very well made. You can see your sweaters and it held more sweaters than I thought. I am going to buy a few more and re do my entire closet.
December 29, 2013
Rated

4

out of

5
 by
Ohharriet
Good but could be better
I have similar smaller drop front sweater storage boxes and I thought I would be getting the same but bigger. What's different here is that there is no inner block of cedar to enable you to keep sweaters in a mothproof environment. Listen up Container Store this is a simple change to your design. Other than that, they serve the purpose for which they were intended.
December 29, 2013
Rated

5

out of

5
 by
Jagirl
Wonderful Addition
I had originally bought this for my sweaters, but realized that it is also great for my Vera Bradley tote bags. This is a wonderful addition to my closet!
December 27, 2013
Rated

5

out of

5
 by
igiveup
Perfect Way to Store Sweaters
Wonderful for storing sweaters, especially since I can actually see which sweaters are in each box. I have two closets -- one for clothes I'm wearing now and one for out-of-season clothes. With these boxes, I can easily move my sweaters from one closet to the other at the end of a season without having to refold and box them as I did when I simply stacked the sweaters on shelves in my in-season closet. The composition of the boxes is much better for the sweaters than the plastic boxes I used previously for storage. I'll be buying more!
October 31, 2013
Rated

5

out of

5
 by
PaulaPittsburgh
Elegant & Affordable!
These are perfect for displaying and protecting my high end, shoulder bags. Bought one to try and as soon as it was delivered I ordered 4 more!
October 24, 2013
Rated

5

out of

5
 by
CarolynL
The drop-front is great!
Excellent, well constructed boxes. The drop-front feature is great, because I don't have to move the box to open it. A row of these boxes in my closet acts as a de facto shelf upon which I can place additional items. The sweater box is just right for storing my hats. All in all, these boxes make the most of limited closet space.
October 18, 2013
Rated

5

out of

5
 by
EmmasMom
Great Quality!
What a great storage unit for my purses! Makes my closet look great - and easy to see. Received timely.
August 18, 2013
Rated

5

out of

5
 by
KPeoria
FINALLY FOUND SOLUTION TO BOOT STORAGE
I am thrilled that I found a solution to my boot problem!! I have several long pairs of boots that I have been tripping over (literally) I had a long wish list for the perfect boot storage: - visible, but not in the way - dust-free - access one pair without moving several other pairs - nice-looking I have been researching possible solutions for a long time and I finally found something that works!! Not only is it functional, but it also looks fantastic! I can fit 2 long boots in each (I used the largest box) I also am using this solution to store less frequently worn shoes. I can fit 4 of them in the largest size. The boxes are so deep I can place one shoe in the back and the other in front of it with a slight overlap so I can see one of each shoe clearly.
August 11, 2013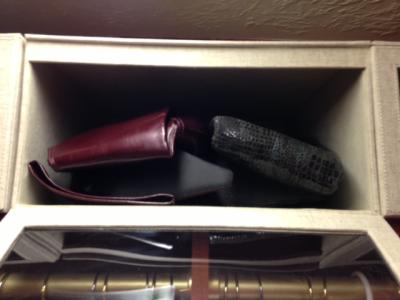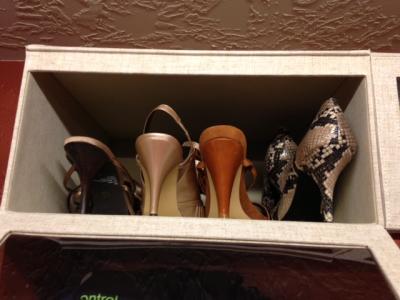 Rated

5

out of

5
 by
Clean
I feel so organized
These drop front boxes are not only a stylish way to organize the closet, but they are very well made and sturdy. They are big enough to hold 3-4 pairs of women's jeans. I have 10 and they hold everything from jeans to t-shirts. I love the way they look!!
August 8, 2013
Rated

5

out of

5
 by
DeeC
Great tool!
I needed something for the master bedroom closet that looks nice and would help keep me and my husband organized. I also needed to be able to easily access my clothes. The sweater boxes and shirt boxes are fantastic and extremely functional.
July 23, 2013
Rated

5

out of

5
 by
Eyesay
Versitile Storage
I too am using these storage boxes to store handbags & handbag accessories. My closet is air conditioned and I prefer my items to be enclosed to eliminate dust. These boxes suit my purpose to a T.
July 17, 2013