Rated

5

out of

5
 by
MegSi
Best Toy Storage We've Had!
I purchased 2 of these containers to store some of my 4-year-old son's toys. Up until now, his toys were supposed to be stored in open-bins, but they were always spilling out, creating a huge mess. I used one of these containers to store all of his super heroes and another one to store all of his cars and trucks. The play area looks so much more organized and open! I have ordered 1 more large container and 3 medium for storing all his other toys!
December 3, 2014
Rated

5

out of

5
 by
Dianaz
Love these drawers!
These are the best stackable drawers I have ever used. I bought three to start the stack and plan on buying at least four more to add to this stack. The drawers glide easily when opened and closed and are slightly tinted so you can see the outlines of the items inside but you cannot see "too much." So the drawers are great for an office or main room where you want to identify the items inside but you do not want clients/guests to see all the contents. They would also be good for toys, fitness equipment, or paperwork. And since they come in different sizes you can organize nicely to fit your needs.
April 4, 2014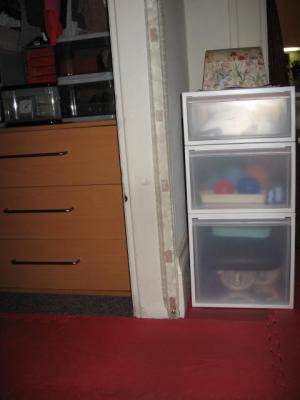 Rated

5

out of

5
 by
KCOinCA
Fastastic organization system!
Love these stackable drawers. They look very clean and neat in our play room. We have been using it for Lego storage and organization. My kids love these! It's so much easier for them to find pieces now. Also love that you can pull the drawers almost all the way out, but they will still stay in the frame (it will just dangle there, but I feel it's very secure). Or, you can give the drawer a firm tug and it will come all the way out (i.e. so you can put the drawer on the floor for even easier access). Overall, very well built and sturdy. Again, they just look so clean and tidy!
January 18, 2017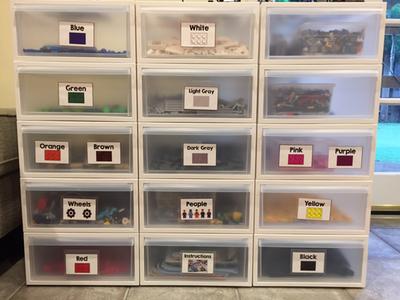 Rated

5

out of

5
 by
OrganisationAddict
From madness to order, finally!
I procrastinated for an entire year before finally getting these. They are pricey and I wanted to be sure of what I was getting myself into. They've turned out to be the best purchase I've made and I'm trying to reign in the desire to cover every nook and cranny of storage space with them. I use them mainly for storing sewing supplies and excess garments. The range of sizes and the depth is perfect for almost everything. I especially love the semi-opaque look of the drawers; allowing you to identify what's inside but not giving it all away. They are also perfectly modular, fitting together for a seamless, ordered look that is very pleasant. I have a stack five big drawers high with casters and there is perfect stability. The casters are very effective; able to move five moderately heavy drawers about even on carpet. I'd advise moving from the lowest drawer to avoid toppling over or taking off the tops of the drawers and snapping them together so that they are more snug. The only con I would have is heavy items will easily overpower the drawers. Otherwise VERY happy with my new organised space!
January 8, 2017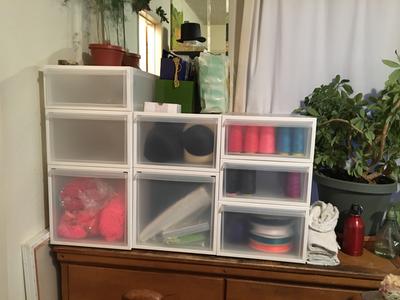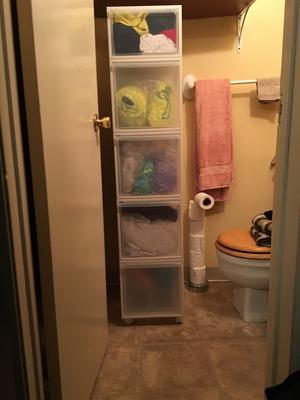 Rated

4

out of

5
 by
Studentin
Good purchase
I've bought several of these drawers over the past two months for my closet. They are sturdy and well-made. My only complaint is that the drawers don't have runners underneath each drawer so when you open them, they sag downwards towards the floor.
September 17, 2016
Rated

5

out of

5
 by
KitG
Narrow frame maximizes drawer space
I bought two of these to put in a deep kitchen cabinet so I could easily reach things in the back. I'm so happy with my purchase! Unlike other plastic drawers, these have a very narrow frame so the drawer itself is only 1/2" smaller on each side than the overall dimensions. The frame is solid so when you open the drawer all the way, the back of the drawer doesn't pop up and dislodge the top which happens with some drawers where the frame comes apart. I'll be buying more of these to use all over the house.
September 2, 2016
Rated

5

out of

5
 by
LindaSil
Great space saver
I bought this to fit under my husbands desk. It is much deeper than other plastic drawers so more useful. With rollers, one medium on top of one large fits perfectly under the desk and we can move the whole thing easily for cleaning the floor. Very handy
August 22, 2016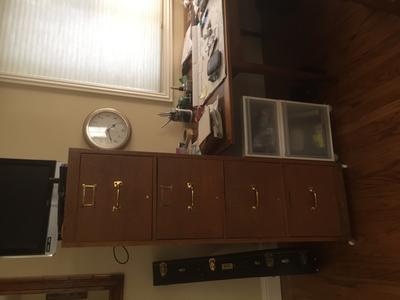 Rated

5

out of

5
 by
Gema
Perfect Solution
The combination of one small and two medium drawers gave me the exact height (24in with casters) which fits under the desk table. I chose Like-It Smoke drawers which are semi translucent, and the set looks like a part of my dark-colored desk. I am ordering another set and a second set with two small and one large with casters. I am very pleased to have found the desk organizing solution which is functional and looks good.
August 7, 2016
Rated

5

out of

5
 by
Rena
It was as expected.
As usual I was very happy with the stackable storage containers which I have previously purchased.
June 5, 2016
Rated

5

out of

5
 by
YmaR
Love this storage system!
These are wonderful simple designed drawers. They operate very smoothly and are very stable and solidly built!
February 3, 2016
Rated

5

out of

5
 by
Signalgal
Great Product!
These stacking drawers were the perfect solution to art supplies. The nice thing is that they come in different heights and you can always remove one drawer if you are just using what is in that one. Love the wheels because I can roll it from room to room. I like that no dust or dirt gets in the drawers as they are enclosed.
December 11, 2015
Rated

5

out of

5
 by
careybee
Well made
We recently downsized and I'm always looking for ways to improve our storage capacity. These drawers have really helped with that, plus they are well made and sturdy; they slide easily and stack well. What more could you want?! We put a few in the master closest and also the laundry and the garage is next! Highly recommend!
December 2, 2015
Rated

2

out of

5
 by
BuyinBoxes
Size lies
The dimensions posted on the website and in the store are, at least for the Medium Like-It drawer, incorrect. The stated size is 12 1/2" x 20 1/2" x 8". The item is, in fact, 8 3/8" high. This is partly accounted for by the base, which facilitates stacking, but not entirely. I purchased a couple of these to fit in a very specific space. When the height was compounded over multiple items, they ended up being far too tall to fit. I will be returning them and looking for a different solution. The drawers look like they'd work well, assuming you don't need them to fit somewhere specific for, as the write-up says, a "totally customized solution."
July 24, 2015
Rated

5

out of

5
 by
Itch
Great buy
Exactly what I needed for my everyday work. Stacked 5 drawers and have all my art tools at my side and can just roll the whole thing away in one shot. Saves loads of clean up time afterwards.
July 14, 2015
Rated

5

out of

5
 by
Ecila
Worth Every Penny
These boxes stack easily, are roomy and sturdy. Add the casters and they can be moved easily. Wonderful!
July 10, 2015
Rated

5

out of

5
 by
ilovenyc
much better quality than other cheap versions
Finally i have perfect drawers to store and organize my sewing fabrics. I love the fact the drawers are clean shape (not shaped with indented front & sides like others) and white translucent white helps me to see what's inside. My husband got the same (different size drawers) to organize his computer cables, parts, and his tools that used to be in big plastic crates. Now his stuff and my stuff sit side by side and look so organized. They are more expensive but the quality is no comparison and much superior than other cheaply made drawers.
July 9, 2015
Rated

5

out of

5
 by
GrannyOma
Love the Like-It(s)
These stackers are great as a substitute dresser in my closet.
May 13, 2015
Rated

5

out of

5
 by
meezerma
great for the sewing room
This was the greatest purchase along with the casters to use to store all my embroidery and serger/coverstitch threads.
March 2, 2015
Rated

5

out of

5
 by
MrsKing
Great storage
I bought size medium and large for a linen closet. I Stacked them and filled the closet. I store blankets and sheet sets. They are impossible to stack without these drawers. I love how I can get to the set I need without having to pull them all out! Exactly what my closet needed!
October 4, 2014
Rated

5

out of

5
 by
texasblessed
Best storage drawers out there!
I love these drawers! They are a more pricey than other plastic drawers I've had in the past but they are so worth it. They are very sturdy and they stack so well that I never have to worry about them sliding off of each other. The drawers come in larger sizes than than most plastic drawer units which I love because I don't have to cram stuff in there to make it close. The drawers glide effortlessly. The translucent fronts make it easy even for kids to see what is in them. I've had a stack of 7 of these for about 2 years now and I rave about them every chance I get.
July 28, 2014
Rated

5

out of

5
 by
MRB34
under sink storage
2 of these drawers stacked was the perfect size for under my bathroom sink. The drawers are tall enough for product bottles and keeps all my "stuff" corraled in one place! I know its an odd place to use this product, but it works!!
April 25, 2014
Rated

5

out of

5
 by
Containernerd
Sturdy, good quality container
I liked that it was stackable with the appropriate amount of ridges. The ability to mix and match yet still remain cohesive was a home run for me. These containers are being used by my boyfriend's lego collection (and he has a lot) and it has been able to contain heavy weight easily.
April 15, 2014
Rated

4

out of

5
 by
FuriousLemur
Great for boots!
The small stacking box is perfect for under the bed to store my knee high boots! Took them to a store to find the right fit :) it's the only plastic drawer I could find to fit tall boots. Now they are safe and sound and easily accessible .
February 18, 2014
Rated

5

out of

5
 by
oboelover
Perfect Storage for a Dorm Room!
This unit works as a great small side table next to my bed in my college dorm room and it also has lots of storage that is easy to get too! I love it and would recommend this three drawer set to anyone heading especially those who are heading off to college!
October 21, 2013
Rated

5

out of

5
 by
Symshop
Hey, it's a drawer.
Nicest set of plastic drawers I've ever had. They really hold stuff.
September 22, 2013
Rated

4

out of

5
 by
Verified Reviewer
Not perfect but darn good!
I bought these drawers thinking they would hold scrapbook paper and 6x12 sticker sheets... Alas, the dimensions are outside dimensions, and there is a LOT more plastic and spacing involved than with other, less expensive plastic drawers. Thus, the INSIDE dimensions are smaller than I expected. Inside Width and Length of all drawers: 10 11/16" by 19 3/16" Inside Height of Small: 4 5/8" Inside Height of Med: 6 11/16" Inside Height of Tall: 10 5/8" Hope this helps someone else. I feel stupid for not checking this before ordering. :/ That said, these are extremely durable, look very nice, roll easily and the drawers glide out as though on wheels. It's a very, very nice product!!
September 15, 2013
Rated

5

out of

5
 by
bc4homestx
stackable interelocking drawers
Ordered in smoke color........very pleased.........nice quality.
August 18, 2013
Rated

5

out of

5
 by
felinelady
fantastic. Hard to keep townhouse neat.this great
A-one closet and bath regret not finding sooner. cleans up big areas for me and my cats plus easy now to find things
August 16, 2013
Rated

5

out of

5
 by
Momtocanda
Sturdy
Bought for playdoh storage. Large pieces fit perfectly in the bottom. Large enough to hold all items. Easy for my kids to open and close.
August 6, 2013
Rated

5

out of

5
 by
Priceconsciousgrl
Great Product
I love the drawers, they glide very easily when you are opening them. Very slender so they fit in the small space I need them. The color is very nice, and dark enough that items inside cannot be viewed. The price even on sale, is still very steep, that is the only down fall. I am not sure how long the drawers will last that remains to be seen, only because it is very thin plastic. Time will tell, but I do like them alot for now. If only the Container Store would let you use coupons on sale items, then I would shop there more often.
July 31, 2013