Rated

5

out of

5
 by
TXnCutie82
functional
this is just like what you'd see in a hotel. I was tired of wedging an ironing board next to the washer and wall and iron cords never wrapped well around itself. This helps keep everything together, and the cord is easily wrapped and placed int he cubby.
December 7, 2015
Rated

1

out of

5
 by
Dave16a
Doesn't fit irons
I'm very disappointed with this product because it doesn't fit my iron. They should have a disclaimer on the box that this only works with small irons as I see another poster suggested. Admittedly I didn't think to ask about this in the store, or check the reviews first. If you do purchase this holder, test it with your iron first. I didn't. And now I have three holes in my wall. I thought about purchasing another iron that would fit. I had thought about upgrading my Black & Decker iron to a Rowenta or something similar anyway. But seeing the answers and other posts here and looking at other irons, I don't think any of the irons I'm looking at will fit. And I don't want to downgrade irons. So I'm stuck with an iron holder that doesn't hold my iron.
November 22, 2015
Rated

3

out of

5
 by
NOVA0223
needs better quality anchors
The hangar itself seems to be okay, but the anchors provided have no lips so when I applied the tiniest pressure turning the screws, the anchors fell through the drywall and behind the wall. I now have to go buy sturdier anchors and start over. Haven't been able to use the hangar thus far.
June 20, 2015
Rated

5

out of

5
 by
amp0809
Just what I was looking for!
Nothing fancy, but holds the iron and ironing board in one place.
May 12, 2015
Rated

5

out of

5
 by
teacherfellow
Best product for my utility room!
If your looking for a product to organize your iron and ironing board then this is the product for you!! Was easy to hang up and gets your ironing board off the floor!
March 19, 2015
Rated

3

out of

5
 by
jlthill
Disappointed: didn't fit my iron
This appears to be a sturdy well made iron organizer, however it did not fit my Hamilton Beach iron. I really liked how it was heat resistant, which was the main reason for purchasing. I measured my iron before I purchased with its widest point being 5 inches. But the iron organizer tapers down, measuring 4 1/8 inches between the winged side panels. The container store lists these as its measurements: 5-1/2"w x 4-1/2"d x 16" h. This iron organizer will only fit a very small iron. The container store should post measurements for each section of this organizer as it is not the straight measurements they list, especially with the significant tapering down to hold the iron in.
June 17, 2014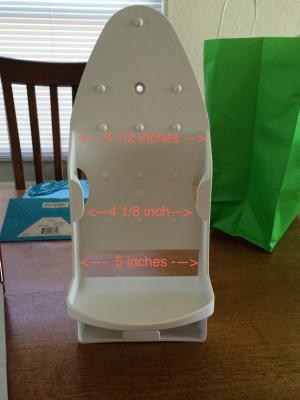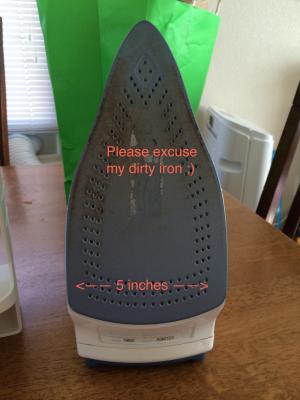 Rated

5

out of

5
 by
WMKa
Great ironing storage
Very sturdy and secure. Holds the iron and the board very well.
April 25, 2014
Rated

5

out of

5
 by
AndreaF
An age old standby
These have been around forever and are perfect the way they are. I have an ironing board that folds into a laundry room drawer. But, when reorganizing, I needed to come up with a good place for the iron. So, I hung this is the back of my 5' tall cleaning cabinet. I used the hooks to hang the bag of vacuuming attachments, since I didn't need it for the ironing board.
April 6, 2014
Rated

5

out of

5
 by
Extraspect
Finally--a sensible way to store iron and board
A great way to keep it all in one place and so easy to access.
March 27, 2014
Rated

5

out of

5
 by
desiree7802
This product is great, you can put a warm iron in it with no problem.
March 24, 2014
Rated

5

out of

5
 by
Grandmaof4
Great Idea
This keeps everything in one place and takes up very little space on the wall.
February 9, 2014
Rated

1

out of

5
 by
Sunnyfox
Too small
I bought this hoping to have a central location for all my pressing needs ;-/ but the darn thing is too narrow! My Rowena iron would not fit and so I'll have to return it. There should be a disclaimer on it saying it's only for small irons.
February 5, 2014
Rated

5

out of

5
 by
Cookie2
Perfect fit
This was just what I was looking for and I was so glad my iron fit inside this one. I do wish the part for holding the wire was a little wider. It was a bit of a tight fit and someone with arthritis might have difficulty managing this aspect. Remember to put the hook on before drilling.
January 28, 2014
Rated

5

out of

5
 by
NewHome
Needed a quick solution
I bought this for our new home and it works great!! Be sure to screw this into a stud behind the wall otherwise, I don't know that it would hold a heavy ironing board. Also - our ironing board has curved "feet" and it fits just fine.
May 21, 2013
Rated

4

out of

5
 by
NeatNTidyMakesMeHappy
Doesn't fit larger irons
I was really excited about this iron organizer until I got it home. My iron was too big to fit. Was happy with the ease of return, though. Just make sure you know your iron's size before buying!
April 26, 2013
Rated

4

out of

5
 by
ID2013
Iron/board holder
Great price, great way to organize a laundry room. Hardware included is not so good.
April 15, 2013
Rated

4

out of

5
 by
NAZY
Great use of space.
This product is a great way to maximize your space for convenience or because your lacking storage space. If you're like me and prefer to have all your laundry items in one area, then installing this item to the door or wall of the laundry room allows you to do so. One of my clients had their washer and dryer in a guest room and no storage, so I installed this item on the door the guest room closet.
March 18, 2013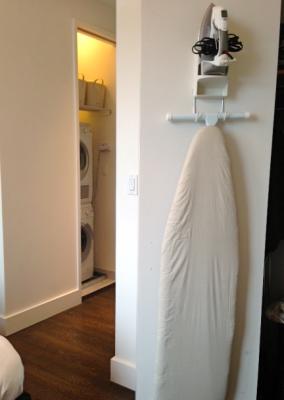 Rated

5

out of

5
 by
freeagg
Great Iron/Ironing Board organizer!
I purchased this product yesterday and immediately installed it. Loved that it was not an over-the-door type of hanger. As one reviewer mentioned on this product, the screws that were included were a little short for the "stud mount" but overall I love the product. It gets the job done and is not too pricey!
March 18, 2013
Rated

5

out of

5
 by
Cecile
Iron Efficiency
The item was shipped quickly and was sturdy and easy to put up. Just make sure that your ironing board coverings are not TOO thick b/c then the ironing board doesn't hang up properly. I solved this by peeling off one of the many unnecessary layers on my ironing board.
March 2, 2013
Rated

4

out of

5
 by
Stonehedge
Great product but hardware in inadequate
I really like the product once it's installed. However, the molly's and screws provided did not hold. I replaced them with higher grade hardware and that worked. Also, the metal prong is wide...I had to bend it in order to use it with my ironing board.
February 25, 2013
Rated

4

out of

5
 by
pirategal
Good for inside closet
We have this hanging inside a guest bedroom closet and it's now perfectly out of the way. Winding the cord can be tedious at times, but that would be true with any of these types of racks. Love having it out of the way, yet easy to retrieve when needed.
February 17, 2013
Rated

4

out of

5
 by
crazyaboutorganizingIN
good solution for tight spaces
Our laundry room is a tight space, so this was a great solution. Worth the money.
December 22, 2012