Rated

4

out of

5
 by
ElfafFan
Assembly Instructions
This is sturdy, cute and a good size. However, there are no instructions for assembling it. Here's how: Unhook the velcro on the corners to remove the frame. Insert a rod in the channel on the outside corner of the bag. Insert the top of the rod in the corner of the frame. Attach the frame to the bag with velcro. Repeat on the other 3 corners.
January 21, 2017
Rated

5

out of

5
 by
ilny
Box Clothesline
This is a very sturdy hamper. I love that i can close a mesh on the top of the hamper. The patterns are pretty and the size of this hamper is perfect for me because it does not take up to much space in my closet while still being functional.
September 14, 2014
Rated

5

out of

5
 by
MysusieQ
Laundry Box
This is so cute. I love it. I plan on purchasing another one for the other bedroom-bathroom.
April 25, 2014
Rated

3

out of

5
 by
Renee235
good, but not great
These are sturdy laundry bag/boxes made of some kind of vinyl-like material with a nylony outside. Putting them together was okay, but I got splinters from the fiber glass rods that you have to insert. The BIG problem is that these bags are not breathable or washable. Thus, after one week, my husband has already put stinky damp clothing in the bags and they're already smelling bad.
March 31, 2014
Rated

5

out of

5
 by
PittieLuvr
Perfect size
Two fit perfectly behind the door in my laundry room - one for whites and one for darks.
March 24, 2014
Rated

5

out of

5
 by
TraciW
This was the perfect size that I was looking for in the space that I had!
March 24, 2014
Rated

4

out of

5
 by
KatieH
Very attractive, sophisticated looking
I recently bought the Reisenthel houndstooth design and it looks GREAT! This was a replacement for a very basic, white plastic laundry hamper in my college-aged son's room, and it looks so much better. Our only problem was putting it together; there were no instructions, and it turned out to be really easy once we finally figured it out. Otherwise it would be rated 5 stars.
February 21, 2014
Rated

4

out of

5
 by
PBMAC
Good Product
i have limited space for laundry hampers. I lined up three of these for light, dark, and towels to be laundered. It works perfectly and looks nice. Good value for the price
November 7, 2013
Rated

5

out of

5
 by
UNCBelle
Great buy!
I bought 3 of these to fit in a tight space under dresses in my tiny shared closet. I actually did volume calculations at the store and these had the greatest volume with the smallest footprint. They hold a TON! They are well-made and cute too! To me the gray is more of a slate blue.
August 15, 2013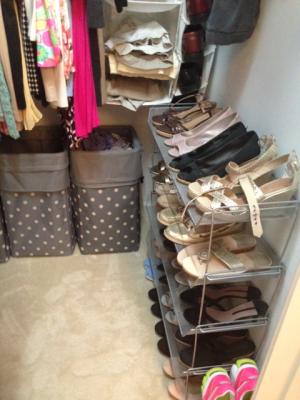 Rated

4

out of

5
 by
gatsby
Simple laundry hamper
This hamper is light and well sized. Great for sorting. The only issue I have is I could use a handle on the side to help carry it.
April 7, 2013
Rated

5

out of

5
 by
ClevelandRocks
Love this!
I bought this hamper months ago when it was on sale and the quality is just as great as when I first purchased it. The size is great and the pattern is adorable! Thinking about buying another one..
April 5, 2013
Rated

4

out of

5
 by
StenoRPR
Durable!
This is exactly the right height to fit underneath my makeup/sink station in my bedroom. It fits right under the area where a chair would go. I wish the interior bag, however, removed. Instead, I have to dump it into another laundry basket to sort it for washing. Also, there's no directions on how to put it together at all. Luckily, it was easy, but the rods that hold up the actual basket are a bit flimsy when putting it together. Use care or you'll bend them and you basket will be warped.
March 28, 2013
Rated

5

out of

5
 by
dmkb1996
Sturdy little hamper
I bought this for my daughters room. It is realy sturdy,but portable if I need to carry it to basement for laundry. It is also space saving. It does not take up much room at all. I would recommend this product for a kids or teenagers room.
March 25, 2013
Rated

5

out of

5
 by
Lojill
Perfect Hamper
It is the perfect size that I have been looking for and us super cute with the polka dots. It will be getting lots of use,
February 1, 2013
Rated

5

out of

5
 by
ksqgirl
Functional and decorative
I purchased this hamper for my son's nursery, and it fits in there perfectly! I was a bit befuddled by the framing rods and had to put in a call to customer support. I was very pleased with the representative I talked to, especially because she didn't laugh when we figured out how simple the assembly actually was. I would totally recommend this product and the service I received :)
December 29, 2012
Rated

1

out of

5
 by
abc123er
Horrible!
This product arrived and has been really frustrating. I don't know if it was supposed to come with directions for assembly (mine didn't), but it has been impossible to assemble. I have the fabric bag and four metal rods, but there is no place to put them. I think something must have been left out. My roommate and my brother both tried to figure this out, too, with no success. I'll have to return it. :-(
August 22, 2012
Rated

5

out of

5
 by
Minimalist
Super Cute & Compact
This is a great hamper with a small footprint, but an adequate height. I have lived in several small spaces and have had no problem finding room for this hamper in my closet. The vibrant colors/patterns also make your closet more pleasant.
April 30, 2012
Rated

5

out of

5
 by
kay8love
Sturdy, Cute and Great Price!
My husband and I bought this hamper (in gray with dots) for our baby's nursery and are so pleased with it. It is very reasonably priced and very sturdy. Compared to some other similar products from high-end baby stores, it is half the price and better quality. It is also very light weight so even when full it's easy to move to the laundry room if needed.
March 6, 2012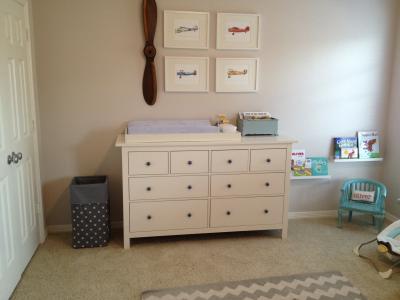 Rated

4

out of

5
 by
Sheilah
Pretty solution for small spaces
The laundry box is small enough to fit behind the door and pretty enough to be left in the open. It looks good and is functional - and you can't beat the price.
November 26, 2011
Rated

5

out of

5
 by
LaurieN
A sheek looking hamper
I purchased the brown Laundry Hamper to match the decor in my bedroom. (The CS needs to make it available in more colors for my other rooms) It's so non-traditional and so much serves the purpose for tossing in my dressy work clothes. I can just grab the entire hamper and carry it out to the laundry room.
August 27, 2011
Rated

5

out of

5
 by
TamaRama
Stylish, gets the job done.
I bought 3 of these to sort my laundry into. They work great, easy to assemble and I love the look of them. I hate the ones with frames on the outside.
May 19, 2011
Rated

5

out of

5
 by
Csbigfan
Love it!
Very sturdy, great designs, and doesn't take up too much floor space. Easy to move and clean.
February 15, 2011
Rated

4

out of

5
 by
yukihiro
Good with some minor quality issues...
I've been looking for a while for a black laundry bin, and this was perfect! It's a good size for a single person's laundry, easy to carry with the drawstring, and a it looks a little more stylish than normal plastic laundry bins and those cheap foldable "college" mesh bins. It would have been 5/5 stars if it didn't have some quality issues. Two of the poles that support the bin on each corner didn't quite fit into the holes that they connect to. I had to really shove it in, and even then it's not all the way in. Also, the poles should be angled down at a 90 degree angle, but it bends in slightly (bad soldering). When put together the bin looks fine, but you can tell the parts don't fit perfectly together. Other than that, the price was reasonable and it was pretty much exactly what I was looking for. 4/5 stars from me.
January 30, 2011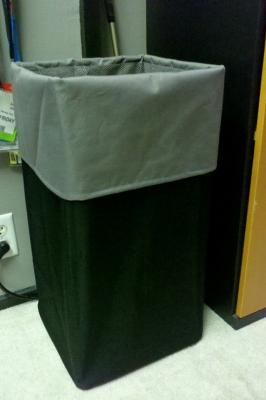 Rated

4

out of

5
 by
copyboy
durable and good looking
It's hard to find a durable hamper that doesn't look industrial. This one's sturdy and well designed.
January 17, 2011
Rated

5

out of

5
 by
snowflake
I love thses laundry bags. I bought some for my husband and I and our 2 month old. They are perfect for our daughters clothes. They are lightweight and you can take the frame out and throw it in the wash. They are also easy to assemble!
January 12, 2011
Rated

5

out of

5
 by
blue300shop
Excellent box
I bought 4 of these, in all 3 colors for our laundry. I like that they are compact, and lightweight. I wish the liner was removable, but I put my own laundry bag in it to be able to just take it out. I use one for colors, white, childrens, and dry cleaning. They're great and look very nice.
July 19, 2010
Rated

4

out of

5
 by
Danja47
Small!
Very cute, but small...It looks much bigger in the picture. The coller is brown and beige (coffee w/cream)...
July 9, 2010
Rated

4

out of

5
 by
ATDC
Almost Perfect
I have four of these for sorting laundry and they work really well. The only trick is that you have to get the poles to the very very bottom of the channel otherwise the Velcro won't go all the way around to secure it. If you buy one, you'll understand.
June 9, 2010
Rated

5

out of

5
 by
BayCustomer
a bit uneven at the bottom and wobbles if set on a solid floor, but otherwise sturdy with durable fabric and strong stitching.
May 27, 2010
Rated

4

out of

5
 by
Careliz02
Very Nice
Very sturdy and durable. I love the size, I bought two and they fit perfectly in the corner. The drawstring closure does not serve a purpose in my opinion, it just gets in the way.
May 17, 2010