Rated

5

out of

5
 by
Rhumba
Perfect for Bad Backs, Cat Owners, or the Thrifty!
This product is FANTASTIC!!! I bought two and am THRILLED with them!!! They take all the back strain out of laundry and are practically indestructible. It is just about the only hamper on the market that a cat with claws is completely disinterested in scratching -- and its price point is FABULOUS. The wheels are really sturdy, work lockstep with each other, and stand up to wear and tear. I never would have expected to actually love a purchase as mundane as a hamper, but this one just solved ALL my hamper issues -- and for a pittance. They have made taking my laundry down to the laundry room a total cinch and have removed unwanted conflict from my relationship with my cat, who found my old hamper irresistible as a scratching post, despite her official scratching posts. No other hamper on the market -- at any price -- could please me more.
September 27, 2016
Rated

5

out of

5
 by
cruizen4u
Laundry Day--Endless Possibilities!
Picture this: Remembering it is the day we all dread, LAUNDRY DAY!!! Bad enough that you have to collect all your containers that you use for the clothes, etc. then drag it to the washer, wherever that may be. It is a nails on the chalkboard event. Now picture this: A wheeled container with a lid and handle that is so light-weight that you practically glide to the washer. Whether you are washing at home or at the Laundromat. The slim line hamper takes up less room and the wheels and handle make it one less laborious task. The stores I frequented no longer carried these hampers. I was heartbroken because I fell in love with them. When I finally found them I ordered two. My 80 year old mother asked me where I got them from. I let her use one of mine. She was so happy because she can easily walk with her cane AND wheel the hamper to the laundryroom! Of course I will be ordering a replacement but I just want to say thank you so much Container Store!
October 5, 2013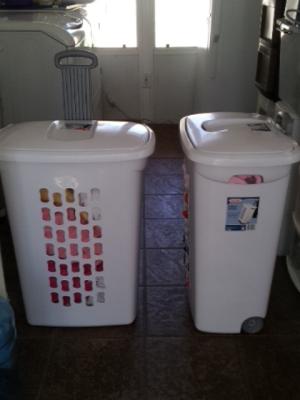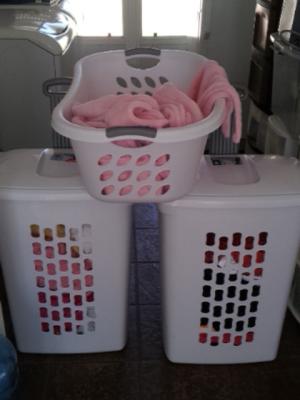 Rated

5

out of

5
 by
Runningmama
Love this hamper
I find the hamper sturdy enough for my laundry. I removed the lid since I like a place to throw my dirty clothes in and no need for a cover, then wheel to my laundry room. I'm tall (5'10") and the handle is a good height for me.
January 25, 2017
Rated

5

out of

5
 by
stand2
Just What I Needed
This laundry hamper is perfect for transporting laundry to the washer. It is sturdy yet lightweight and rolls easily. I'm so glad I found it.
May 27, 2016
Rated

5

out of

5
 by
Joss
Pretty great !
Bought this because I was tired of having a small square hamper . Love how big this is and the fact that it has wheels is great no more having to carry heavy baskets :) will be getting another one in the future
March 18, 2016
Rated

5

out of

5
 by
maggieky
great purchase
I order 2 of them and they are great,,now I do not have to lift heavy baskets up and down,,the wheels work great and they are deep and hold a lot of laundry,,yes I would recommend these to anyone who likes to make it easy at laundry time.
February 14, 2016
Rated

5

out of

5
 by
nurse73
really like this hamper
The hamper is sturdy but light and the wheels are great not having to carry a hamper.
January 31, 2016
Rated

5

out of

5
 by
Merryone
Works well
A little larger than I expected but it's great for allowing air to get to the laundry and keeping cocker spaniels away from the laundry. I also like wheeling the laundry around instead of carrying my old heavy hamper or just carrying an armload of laundry about the house and potentially dropping it along the way.
January 31, 2015
Rated

3

out of

5
 by
TheLadyL
Nice. Fits easily into small spaces.
The design is nice. If you have a limited amount of spaces in an apartment it is the perfect design.
July 20, 2014
Rated

5

out of

5
 by
MagnoliaTheWild
Great!
I moved into a new apartment complex and my unit doesn't have a washer/dryer so I am going to have to haul my clothes to the "laundry center" to wash them. I refuse to do that without a hamper with wheels, and of course The Container Store had exactly what I wanted.
June 16, 2014
Rated

5

out of

5
 by
joynyc
love this hamper
this is so convenient to use. i just fill it with dirty clothes and take it to the laundry place and wash the clothes. Perfect size for me for two week laundry.
June 9, 2014
Rated

5

out of

5
 by
CathleenI
Great Product
This is exactly what I wanted. A light weight yet sturdy non-cloth hamper, with wheels so that I can easily get my laundry down the hall to the laundry room in my condo.I cannot use a cloth hamper due to allergies to dust mites. The size is perfect for a week's load of laundry for two adults.
May 4, 2014
Rated

5

out of

5
 by
LPlo
Best hamper ever!
I love, love, love this hamper. It's very sturdy, and easy to wheel down to the laundry room in my apartment building. No more lifting bulky and heavy laundry baskets!
April 25, 2014
Rated

5

out of

5
 by
sherfarr
Excellent of Physically Challenged People
I bought for my husband, who is mobility challenged. He loves it because it is so easy to use. He doesn't have to depend on someone else (ME!) to do his laundry.
April 25, 2014
Rated

5

out of

5
 by
Tamara534
Really makes laundry alot easier!
This hamper makes laundry so much easier!! Since I have a bad back not having to lift the hamper to move it around makes it so much better! It hold sooo much laundry and is easy to wheel around! THANK YOU!
April 25, 2014
Rated

5

out of

5
 by
Stymie
You NEED one!
One of my favorite purchases from the Container Store. This laundry hamper is sturdy and holds at least 2 large loads of clothes and bed linens. Love the retractable handle, and wheels make it so handy for apartment living, especially where you need to travel down to a shared laundry room. I think it is perfect. What more could you ask for unless you'd like it in colors? Not a bad idea!
April 25, 2014
Rated

5

out of

5
 by
cstar172
Exceeded Expectations
These hampers are atttractive and well-made - not flimsy at all. I bought 2 of these for my boyfriend to haul to the laundramat, and he loves them. They are sturdy and durable. He is 6-ft talls and says that the handle height is perfect. I'm glad I bought these!
April 19, 2014
Rated

5

out of

5
 by
Storcher
nice wheels
I love that this hamper has wheels. Easy to roll right to the washing machine. Very nice!
April 18, 2014
Rated

5

out of

5
 by
spats119
This hamper has made transporting laundry from my little NYC apartment down to the basement laundry facility so much easier! No more strain on my back from trying to lug around a heavy hamper!
April 2, 2014
Rated

5

out of

5
 by
qweenb
Perfect Hamper
Our household uses many occupational therapy aids and this hamper is perfect for this household. It is light, easy to manage and moves easily over carpet or vinyl flooring. I would Highly recommend this product.
March 21, 2014
Rated

5

out of

5
 by
AurorasMommy
Great Laundry Basket
We purchased this about a month ago and it has been fantastic. The durable wheels make it possible for my three yr old to move from place to place, which has helped her learn to follow instructions and actually be able to carry them out. The lid keeps all the clothes inside when she rolls it around. It is large enough to hold an entire load of laundry but small enough that is can be easily moved.
February 25, 2014
Rated

5

out of

5
 by
itwasntme
Great for College Dorm
This was one of our best purchases for our son's transition to dorm life. The laundry is several buildings away from his dorm. This hamper is big enough that he does not need to do laundry every week, but does not take up a lot of space in his small dorm. When he is ready to do laundry, it is easy to transport due to the wheels and the retractable handle.
February 15, 2014
Rated

4

out of

5
 by
Dantheman
Lifesaver
This is a terrific product. It holds more than you think - at least 2 loads in my case - and the wheels and retractable handle are very convenient. It looks nice in my bathroom and doesn't take up too much space. They should make this in a few different colors and sizes. I wouldn't mind it being even bigger. I would also be interested in a higher end version that is built more sturdy including the wheels. but, hey, it's just laundry. Also, it's light weight and easy to carry.
December 18, 2013
Rated

5

out of

5
 by
Mari1958
Fantastic buy for Dorm
This was a great buy. I live on campus, and needed something easily transportable to the laundry room. I've gotten lots of compliments on it. It's nice and big so I don't have to take multiple trips. I love this.
November 24, 2013
Rated

5

out of

5
 by
csbaker
Excellent quality and amazing price.
I saw other products like this for 3x the price. Was amazed to find that this product was the same as the others. Very pleased!
November 23, 2013
Rated

5

out of

5
 by
LittleCharlie
Best hamper we own
I purchased this hamper last year for other family members. It is so convenient and easy to use - just wheel it to the laundry room, no lifting needed. It is compact, holds plenty of clothes and so now I bought one for myself. I don't know why I waited so long to buy one for myself.
October 31, 2013
Rated

5

out of

5
 by
notsoorganized1
It works
Great laundry basket. Makes moving my laundry to the garage so much easier. The handle goes down so the door to the washing mashine doesn't hit it. Makes things easier.
October 11, 2013
Rated

5

out of

5
 by
TeacherLo77
Great product
Saw an older lady with one & I searched online until I found it. I am so pleased, I already bought one for a friend & she is happy with hers as well.
October 8, 2013
Rated

5

out of

5
 by
Maristmom
Great for College
I have 2 daughters in college and they LOVE this hamper. Don't waste your money on those collapsible ones which you have to replace every year if not more often.
September 22, 2013
Rated

5

out of

5
 by
Wood
Very Pleased with this Hamper
I ordered this hamper on wheels for my mom who had just moved into a high rise apt complex for seniors. The laundry room of the complex is on the 1st floor - she is on the 4th. I worried about her carrying a basket full of clothes plus her soap so knew something on wheels was needed. I went online and dd a search and found this. She received it last week and is thrilled. She has used it twice and has called to thank me each time. She said it rolls great, holds a lot, and is easy to use. I would highly recommend this product. Thanks so much.
September 2, 2013