Rated

5

out of

5
 by
Really
Easy to install and works great
I have purchsed many different organizers but this one was easy to install and works great, Able to put it behind my garage entry and it does not block the door from opening. The price was great and it works even better a must have for the organized person.
February 17, 2012
Rated

5

out of

5
 by
Caddie
Excellent Product
This handles all kinds of handles securely because they can go between the loops or through the loops. I've moved three times since finding this product and this is the third one I've bought .
December 13, 2011
Rated

1

out of

5
 by
RomaGirl
Fails the test of time
When I first set it up I was pleased, but it didn't last long. The individual holders quickly stretch out so that each time you remove one item, all the rest fall out.
March 29, 2016
Rated

2

out of

5
 by
Amyable
Tension issues: be prepared to catch falling items
I have had this holder for quite a few years and have put up with it but am shopping for a new one. Basically there are a bunch of loops and you hold your items based on the overall tension between the loops. This works well when there is just the right number/thickness of handles. However when you have too many or too few items, removing one item frees up space/lessens tension on the rack and other items tend to fall off...Conversely, pushing something into an open slot increases tension and can cause something else to pop off. I have adapted and have been prepared to catch something when getting or putting away my items, but it is irritating and would be particularly frustrating if this rack was mounted where things could fall out of reach -- say by a washer or shelving rack in the garage. Look for a better option or be prepared to fend off falling mops!
March 10, 2015
Rated

4

out of

5
 by
td255
Works well!
First of all, this clearly states on the package that it does NOT contain screws. I have a jar full at home and had two that worked. I like that it's small. I only have a broom and a mop and they both fit perfectly. I like the design. It's clever and works well so far.
August 7, 2014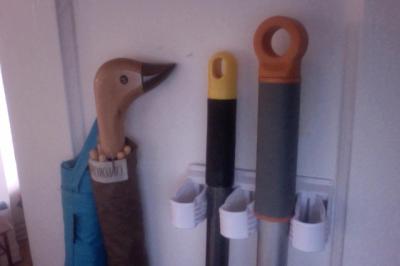 Rated

1

out of

5
 by
tnshopgirl
Terrible
Terrible- doesn't fit a standard broom or mop! It also does not contain screws which it states. Don't waste your money!
August 27, 2013
Rated

5

out of

5
 by
Babygrlsmom
Great space saver
This product does exactly what its supposed to do. Save space! I love it
March 21, 2013
Rated

4

out of

5
 by
Leppid
Easy To Install
This product is a must have for help with organization. Easy to install, but does not come with screws. )-:
March 18, 2013
Rated

5

out of

5
 by
Dynha
Utility Holder Organizer
Fantastic. Looks Nice and Neat I have bought shelves, drawers sets.. All awe very easy to install. I always get very good compliments on my purchases with The Container Store.
February 25, 2013
Rated

1

out of

5
 by
wtwt
Does not work
I purchased this product after reading the other positive reviews but I can tell you this product did not hold any of my mops or brooms. I have a handful of different ones and every single one slipped out of the clip. Not sure if I got a bad one, but I would certainly not recommend it.
November 30, 2012
Rated

4

out of

5
 by
Motz
Handy; quick
Holds most light-weight brooms, mops, dust pan and hand brushes quite well, except very slender Swifter. Keeps broom/mop bottoms off the floor, out of the way. Handy in my utility room.
April 27, 2012
Rated

5

out of

5
 by
bev57
Great Purchase
Installed in my pantry. Easy to use. Enough space to store my broom and more.
April 11, 2012
Rated

3

out of

5
 by
nslnswetie
Easy to install works okay
I had soemthing similar to this before and it worked well. This was easy to install, but some of my heavier items, like the Swiffer Mop, fall off time and time again. Holds brooms, regular mops, and other medium weight things well. Used an ancor to hang in drywall without a problem. Easy and inexpensive way to keep all my cleaning supplies in one place and off the floor.
March 9, 2012
Rated

3

out of

5
 by
BlueWavesDesigns
Quick push in... But better make it count!
This is fine for what it is intended to do, but I wish I had shopped in store rather than online for this product and tried the different ones out. I bought this for a narrow space beside my washer and have to feed the broom/mops down beside the washer, then pop the stick in the holder. Because of the angle, and the awkwardness of how I stand reaching over the washer, and the lack of leverage, I find I have a difficult time pushing the stick firmly enough into the grip.... and I think it's seated then it spits the broom/mop back down on me when I least expect it! This one would probably have been better in the garage in my opinion. Lot's of choices in the store I could have chosen - and I think trying before buying would have clued me into the issue.
August 10, 2010
Rated

3

out of

5
 by
stacey22
perfect for light use
although one of the pieces was broken when I received the item, it worked pretty well for brooms, mops, and telescope dusters.
March 6, 2010
Rated

1

out of

5
 by
ckl25
Terrible--don't buy
This will hold your mop or broom for 30 seconds before shooting it across the room. Even if you play with the tension, it can't hold the average broom.
February 14, 2010