Rated

1

out of

5
 by
Cerith
Poor design
The holes and spaces are too small. Even my small broom was too large to fit in the holder. I'm stuck with an expensive set of hooks.
January 25, 2016
Rated

5

out of

5
 by
Mallori
This Utility Holder Rocks!
I have been looking for something to help me organize my cleaning tools that would fit in a tight space. This Grook Utility Holder is perfect! There are three different ways you can choose to hold each tool. The included template made it easy to install. Now all of my mops, brooms, dusters, dustpans, etc. are all neatly in one place!
December 31, 2015

Rated

1

out of

5
 by
SarahH
DO NOT USE THEIR INSTALLATION INSTRUCTIONS
I can't even use this product because the template they provide on the back of their packaging is an inch too short in width. Now I also have drywall screws stuck in my wall. Awesome.
August 2, 2015
Rated

2

out of

5
 by
CTCB
Ignore the template!
Instead of using my trusty "stick a pen through the holes to mark the spots on the wall" method, I chose to use the handy template they included. Don't use it!!! The template is about a half inch short, so I now have two extra, large holes in my wall. Thankfully, I had extra space and the holder covers them, but I am really unhappy about it. Having it secured solves the other problem - one of the ends kept coming off before mounting it - but I'm not happy about the quality.
June 15, 2015
Rated

3

out of

5
 by
polycat33
Caution! DON'T USE TEMPLATE!!
This item "conveniently" comes with a template, and instructions tell you to hold it up to the wall, ensure it's level, tape it, and hammer through the four x's to mark the spots to drill. DON'T!!!!! The holes aren't correct in either direction. They're too far apart from each other, and they're too close together across the width of the item. Don't make the mistake I did and put four 1/4" holes in your wall WITH ANCHORS that are in the wrong place. I don't know why I trusted it without checking. But I don't know why the include it if it's wrong. How have they not gotten a million complaints?
May 15, 2015
Rated

4

out of

5
 by
CatsMeow
Not Disappointed.
It is sturdy. It is easy to use. It is made well. It is attractive.
April 24, 2015
Rated

4

out of

5
 by
sweepeez
Almost perfect
I installed this rack along the back of a shallow broom closet to keep mops, brooms and dustpans off the bottom of the cabinet. It's study, versatile and holds a lot. My one quibble is that the rubber hooks are not sturdy enough to hold anything except dusters, aprons or anything very lightweight. I used them to hold a metal dustpan and they permanently bent downward. Otherwise, the unit is great.
March 10, 2015
Rated

5

out of

5
 by
Vicci
Excellent product
Excellent product. I owned two and bought 3 more recently; really love them.
February 14, 2015
Rated

5

out of

5
 by
Wsfld
Very Versatile
Found this product to be very versatile- could pop a mop between sections, thread broom handle up through hole and hang dust pan on the hook. Keeps everything nicely in one place. Only complaint was when I got the product there were no screw to hang it up. The section of the packaging that held the screws was torn so they must have fallen out. Given that I ordered on-line for pick-up I would have hoped whoever pulled the produce would have noticed and replaced with one that had the hardware. Thankfully we had the necessary screws on hand at home.
January 14, 2015
Rated

1

out of

5
 by
Ponchy
Not Much Use After All
This utility holder is poorly made and does not accommodate heavier tools.
September 25, 2014
Rated

5

out of

5
 by
ABanana
Great Product!
Awesome buy for the price! Super sturdy compared to others offered at other stores that are more expensive. I also love how there are three different options to hang stuff. Easy to install and does not take up a lot of room.
July 8, 2014
Rated

5

out of

5
 by
BWise
Love It!
This was part of my laundry room/pantry makeover. I hung this on the back of the door using shorter screws and it worked. It replaces all the small hooks I had that would rattle if I closed the door. It is stronger, more sturdy than I had imagined, 95% rattle noise reduction. Love the hook feature, it is the best of form and function.
May 20, 2014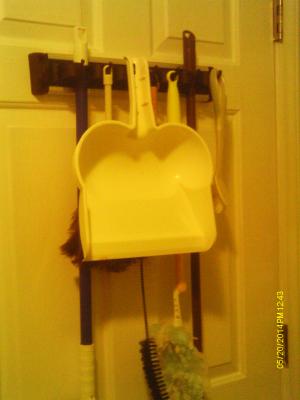 Rated

5

out of

5
 by
GoodWitchPA
Fantastic holder
Installs easily, holds lots and keeps everything tidy. I can finally find everything!
May 4, 2014
Rated

4

out of

5
 by
peanut14
Great Organization
Work great to store cleaning tools. Great price and function.
April 28, 2014
Rated

5

out of

5
 by
Naturelina
Grookâ¿¢ Utility Holders
Great product. Very good for removing household items from the floor. Good alternative for a broom closet.
April 15, 2014
Rated

4

out of

5
 by
BadDingus
Grook utility holder
I was looking for a good quality broom holder and didn't like the ones at the hardware store. This is just what I was looking for, and I like having both the broom handle slots and the hooks for things like dust pans.
April 1, 2014
Rated

5

out of

5
 by
MelRoot
The coolest ever!
I got these cool Grook Utility holders for my laundry room closet. I will no longer have to fight with broom and mop handles that fall on me when I try to get something out of that 'too small' closet! Thanks to these Grooks (I got two) housekeeping is less of a headache! And I mean that literally!
March 31, 2014
Rated

3

out of

5
 by
quiltdance
Quality Problem - defective parts received
This was my very first purchase at The Container Store, and unfortunately the product I received contained defective parts. The old plastic style wall anchors that came with the Grook Holder were defective. I have used this type of anchor many times, but these just did not function properly. There are much better options for wall anchors, and it would be nice if The Container Store provided a better wall anchor for the Grook Holder. The good news is that the service department was very helpful. I was happy to find that The Container Store stands by their products. Regarding the Grook Holder itself, I found the hooks to be the most useful part of the holder. The other hanging methods were not easy to use.
March 29, 2014
Rated

5

out of

5
 by
SPdallas
Great closet organizer
Easy to install, holds quite a lot of brooms, mops, etc. Closet looks so much better now.
March 27, 2014
Rated

5

out of

5
 by
desiree7802
Great product, would recommend this product, works well in my garage.
March 24, 2014
Rated

5

out of

5
 by
ToniaC
Best Purchase Ever
We LOVE this utility holder! We had all of our brooms and mops leaning up against the wall and it just looked messy. Our utility room now looks so organized is free of clutter! Installation was fairly easy.
March 18, 2014
Rated

5

out of

5
 by
shopgirlCA
Adios Floor Clutter
As I tripped over the mop for the 8th time that day, it became increasingly apparent that we needed a way to organize our cleaning products that were literally littering the garage floor right by the door. This utility holder has done just that! Easy to install and with such a basic concept for use, it is absolutely any user friendly.
March 12, 2014
Rated

4

out of

5
 by
DeannaD
Love Grook. Need Another!
The Grook is great because it allows storage of a variety of handled tools in a variety of ways: through the loops, between loops, or on the hooks. It's easy to mount to the wall and is attractive for its purpose. I hope to install another Grook this summer. If you mount your Grook in the garage and if you live where the weather turns very cold, you will discover the one drawback to Grook. When the temperature drops, the rubber loops are no longer pliable and it becomes difficult to add or remove tools within or between loops. The Grook might not be the best choice for snow shovel storage.
February 12, 2014
Rated

5

out of

5
 by
Bklein
Organizing heaven
I am so glad I got this utility holder. Super easy to install with the template that came included, very sturdy, and makes our laundry room look so much more organized now that brooms and mops are not everywhere. Highly recommend.
January 30, 2014
Rated

5

out of

5
 by
KristenR
Organized Cleaning Items
This utility holder is durable and keeps my broom, mop, deck brush, etc. off the floor. It took me less than five minutes to install. I mounted mine behind the door to my laundry room. Not only are these cleaning items not taking up precious floor or closet space, its a good feeling to have things organized -even where no guests look!
November 27, 2013
Rated

4

out of

5
 by
FrequentShopperTX
Great space saver!
This thing is awesome for saving space and getting organized! Love it! But even with about 10 slots on it, you can only hold about 5 items, depending how big the handles are on the items. And make sure you test all your items on it before you mount it! Have someone help hold the sides in as you do it as they like to slide out when its not mounted. Get the really large one if you have alot of items!
October 20, 2013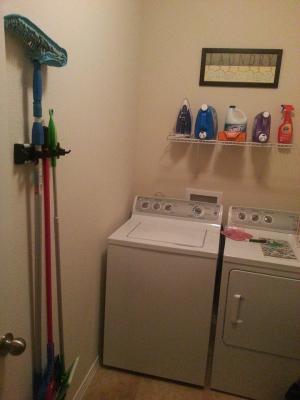 Rated

5

out of

5
 by
MELCAM0110
These things hold on and don't let go!
I have bought 2 of these (had to leave one in an apartment). But they are very sturdy and can accommodate lots of things that you don't want taking up space.
September 16, 2013
Rated

5

out of

5
 by
Marihun
High Quality
The utility holder was just as durable as it looked online. Easy to install and holds everything you could need it to. Hooks on the outside hold an awkward duster, the broom and mop slide between the hooks and the dust pan fits into the hooks perfectly. Aprons hang on the side and we need nothing else for keeping our utility closet tidy.
September 10, 2013
Rated

5

out of

5
 by
Bohlester
Sturdy, nifty little thang
Love this utility holder. It's much more sturdy than some of the ones I have seen at hardware stores and the size is perfect for a sidewall. I can get all the basic stuff I need up on it without having a bunch of excess unused wall space. Def recommend!
September 4, 2013
Rated

5

out of

5
 by
Gmoney
Great Organizer!
Great Organizer! Exactly what I needed to oraganize all my cleaning tools.
August 12, 2013