Rated

5

out of

5
 by
Jenniebstylist
Love it! The hamper is very functional with the easily removed lid, and the hole in the top so my kids don't have to go the extra distance to open anything...lol the laundry actually makes it in. The hole isn't very big (about 4 inches across) so you do have to make sure to push the items down into the hamper, but so far so good.the lid also has an extended inner ring to keep it locked on. The construction is great. Nice grey color. Made with a durable weave and material. It's a classy hamper! Very happy!
July 14, 2016
Rated

5

out of

5
 by
OrganizedMLady
Perfect for baby's room
We bought this hamper for the baby's room. It fits perfectly next to the changing table and matches the grey furniture. Love that it has a lid with a small opening to cover the clothing so it looks nice and tidy. The lid does not slip off, it sort of clicks into place. Overall I think it was a great purchase.
January 9, 2017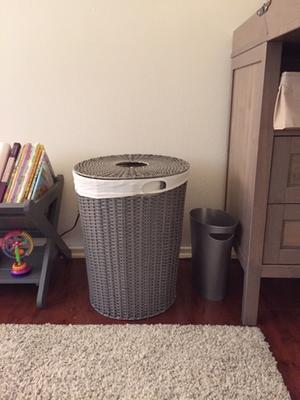 Rated

5

out of

5
 by
JennyH
Love it!
Very nice! Very lightweight but very sturdy. Looks great. Fits in small space yet holds a lot of dirty laundry.
September 22, 2016
Rated

3

out of

5
 by
Leni
Weaving comes undone
The weaving on this has come out and it's only a week old. I will exchange for another one.
November 7, 2015
Rated

4

out of

5
 by
TheCatladyLV
Great baskets
Bought a set of 3--like them well enough. Although, over time, the basket weave may come loose. It's already happening on one basket and I've had it a month.
October 24, 2015
Rated

5

out of

5
 by
JGracey
Perfect!!
This was exactly what I was looking for- perfect size and great construction. I love the liner and top- zero complaints!
July 14, 2015
Rated

4

out of

5
 by
Meredith11
Great Hamper!
I bought this hamper to match the grey in my bedspread and I love it!! The only concern is the quality of the wicker - it seems to be coming apart a little on the lid because it's taken on and off so frequently. Hopefully it holds up for a while, though, because it's a great hamper!
July 6, 2015
Rated

2

out of

5
 by
Newfangled
Not the Quality I Expected
Unfortunately I needed to order this sight unseen. My initial impressions were that these are a bit larger than I anticipated. I did see the measurements but the overall presence is big (not a bad thing necessarily). I ordered 2 so that I could separate colors and whites. More disappointing is that the weave seemed to be loose in a few places in the corners. Buying in the store you could be selective if they had a number of them to choose from. The lid doesn't come on and off as easily as I hoped (perhaps a design with a flip top would have been a better choice for me). Overall they are attractive, but for this price I hoped for better quality.
February 3, 2015
Rated

4

out of

5
 by
ElaineTCS
Loving it a year later!
Who knew I could like a hamper this much! Lightweight but sturdy, and love the breathable natural materials that let the dirty laundry get too sealed off. The liner fits really tight but is easily removed so that I only have to carry the canvas bag up to do laundry. The only minor thing is that the liner bag is starting to tear along the seam, I wish they sold additional liner bags separately. Besides the tear, the hamper looks brand new!
November 1, 2014
Rated

3

out of

5
 by
Ros10011
Not very happy
It looks great, but it doesn't last long. Pick something else!
May 1, 2014
Rated

5

out of

5
 by
mandeeshak
Loved it enough to buy 2!
I loved my first Montauk Round Hamper so much, that I sent my mother-in-law-to-be back to get a second one! It's sturdy, pretty and perfectly functional.
April 25, 2014
Rated

5

out of

5
 by
HappyWife
Love love love
I love our new hamper it goes great with our new linens in the bathroom and it keeps my husbands dirty clothes off our bathroom floor!!
April 25, 2014
Rated

5

out of

5
 by
Reenee
alternate use
I bought 2 of these rectangular hampers as storage containers in a very small closet in a small apartment. They are a perfect fit, sturdy, look good, and don't take up as much floor space as other containers.
April 2, 2014
Rated

5

out of

5
 by
AngieB36
Amazing Hamper
What an amazing hamper. Not only does it look good, it feels good to the touch. The material is amazing and goes perfectly in my newly painted gray bedroom. You can't go wrong. And very sturdy
March 31, 2014
Rated

5

out of

5
 by
psaghetti
It Works
My dog for some reason was pulling my dirty clothes out of my open hamper. This hamper is a great size and fits in the same spot I had the old hamper in. The lid securely fastens on and the dog can not get it off but it is easy for me remove.
March 26, 2014
Rated

5

out of

5
 by
Cindy38025
Good Buy
I'm really enjoying my hamper. It is very sturdy. Especially, since I have bought a much much cheaper one that just fell apart. This was a good buy for my money. I guess its true "You get what you pay for"
March 10, 2014
Rated

4

out of

5
 by
milliesmall
Laundry hamper container
Even though this hamper is rather large, it meets the purpose of holding a large amount of laundry. Its look fits perfect in a beach home and it is protected by a liner. I like the fact that the opening at the top is large and allows the air to circulate in the hamper, thus, reducing the smell that can linger with dirt or sweat with soiled laundry.
May 19, 2013