Rated

5

out of

5
 by
Jmunny
Heaven Sent
I love these!! I've had them for almost 2 years now and they're still in great condition. I originally bought another brand from other stores and they usually fall apart by the third use or never stay closed during the wash. But these bags are huge enough and roomy. And the zipper! They stay closed in the wash and zips easily and smoothly. I originally started with one and was so pleased after a few washes that I bought a second bag. I'm actually planning to buy two more for other delicate clothing items other than just for my hand washable delicates.
January 16, 2017
Rated

5

out of

5
 by
Cindymecindy
Huge. Has 7" Gussets
This bag is huge, at 18" long and 15.5" wide....but even better, and what you don't see in the picture....is that both long ends have 7" wide gussets, making it expand for holding at least two sweaters or numerous smaller items. The material is micro mesh, which is so much nicer than the old large-hole mesh of yesteryear that your bra hooks would get caught in. This bag is actually very much like the 'Black Micro Mesh Wash Bag' that is sold here as well. The only real difference is that the gussets are larger on the white bag, and the zipper on the white bag has a placket that completely covers it to keep it from snagging or opening. Both are extremely well made, and inexpensive. Everyone should buy one of each for their dark and light washables.
February 16, 2016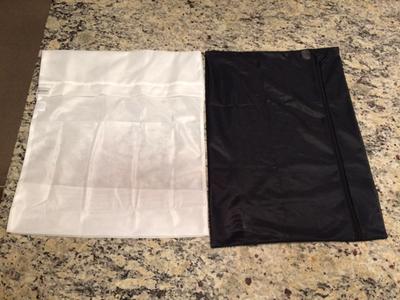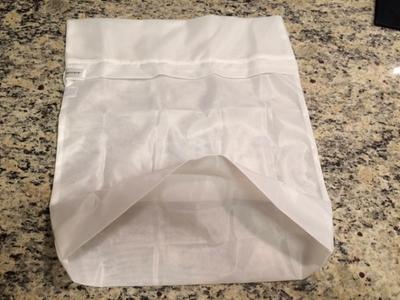 Rated

5

out of

5
 by
Hadley
Best washables bag ever
This is an awesome washables bag. I love it. It is roomy enough for lingerie or bathing suits. The zipper end is tucked. Zipper does not open during wash and does not snag other items. It is such a good buy that I got 2.
June 13, 2011
Rated

5

out of

5
 by
MadMax
Best ever
I bought these to replace my missing washable bags. The material is more mesh like. The bag is of a high quality. I can see these will be lasting me.
April 25, 2015
Rated

5

out of

5
 by
msneat1
Correct size for my hamper
It was just the right size. The bag is made well with the zipper hidden to avoid snags. Love it!
April 16, 2014
Rated

5

out of

5
 by
Lipstick
Fine Washable Bag
This is a great size for sweaters and blouses. I use this all the time.
March 25, 2014
Rated

5

out of

5
 by
JanaNana
Love these bags
These bags are a great size. I bought one for myself, and now I monogram them for gifts for new moms for all the tiny baby items that can get lost in the washer. I also monogram them for bridal showers for all the pretty delicate fine washable items that brides receive. They make great gifts for everyone! Very well made with a covered zipper.
December 27, 2013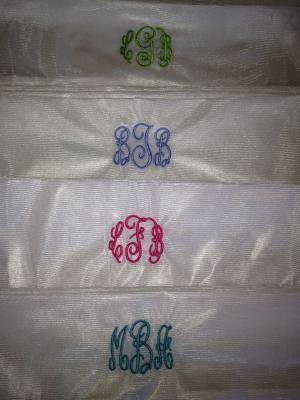 Rated

5

out of

5
 by
jellic
nice design
Much bigger than I expected and worked just as described!
March 31, 2013
Rated

1

out of

5
 by
BWTart
Worst Product from Tide
I used this bag once and when I was ready for use #2 the zipper broke. The flap on the bag is very cumbersome and makes it difficult to close the bag. I'm going to return this item ASAP.
March 26, 2013
Rated

5

out of

5
 by
HoosierGirl
Have 3 of these now
I use this product so much I picked up a third one this weekend. I use them for larger items too like cami's, sweaters, etc. I like that it doesn't have larger holes like most garment bags.
February 18, 2013
Rated

1

out of

5
 by
EDMH
Lousy Laundry Bag
This bag come to find out is not made by TIDE but One Care Company with Tide brand on it. Do not purchase this bag it has poor craftsmanship, and poor zippers. The seams come out, and the zipper fails to work. All after 4 washings. Tide won't do a thing about it, and refers you to the other company who could care less that their bags are below sub par. You will regret purchasing this. Read the reviews on Tide.com. You will see that 1 out of 4 or 5 gets a good review, and the rest are complaining about the same things that I am.
December 4, 2012
Rated

2

out of

5
 by
dancecheertumblemom
Disappointed
I thought, and still think this is a great idea. My bra hooks were always getting stuck in other mesh bags, and this seems to work. Unfortunately, bag was not sewn properly, and a seam was partially open a time of purchase.Not worth returning, will try to repair.
March 20, 2012
Rated

5

out of

5
 by
Elgee
Gets rid of laundry aggravation
Have used this bag since it was branded with "All" detergent label instead of "Tide". Wonderful for delicates - bra hooks don't catch on them. I also use it to contain net bath sponges, regular kitchen sponges, baby sox, and any other small items that can get lost in the machine. The bag can go into the dryer if its contents are 'dryable'. I also pack one in my suitcase to store my dirty delicates till I get home. Great timesaver! TIP: After 4 years steady use, the zipper pull tab broke. I can close the bag without the pull tab and now open the bag with a toothpick I keep on the detergent shelf. Insert it in the zipper tab slot and then pull to open the bag.
March 19, 2012
Rated

5

out of

5
 by
Violet56
Great lingerie bag!
The small mesh and covered zipper do a great job keeping the bag closed in an agitator top-loader, and don't let hooks rip the fabric either.
March 4, 2012
Rated

5

out of

5
 by
jellybeans
very nice
this laundry bag is nice and roomy and works well. Glad I purchased it.
December 31, 2011
Rated

5

out of

5
 by
Elii
Get some before they raise the price!
This is by far the best washing bag I have ever run across, and it comes at a stunningly good price. It is extremely well-constructed. I will never again buy a different bag.
September 15, 2011
Rated

5

out of

5
 by
girliegirl
GREAT !!!
I do not do laundry w/o these wonderful bags. ALL my underwear, & delicate clothing items are washed only inside these individual bags. These bags go with me when I travel. ;~) P.S.....I also have the bra bags & the small sock bags, along w/the larger bags for washing sweaters, or pants or dresses.
April 10, 2011
Rated

5

out of

5
 by
mystory
Should have bought one long ago
This is a great bag! It's large and easy to access. I use them because I was tired of smaller items being "lost" in the wash (like socks!). It's also great for other delicate articles, not to mentions sweaters.
February 14, 2011
Rated

5

out of

5
 by
melissw1981
Does exactly as it says! It's a large enough size to put a thin sweater into.
May 23, 2010
Rated

5

out of

5
 by
kiwitech
Best lingerie bags ever made
I had been looking for these bags since woolite stopped making them avaiable. Your bras and fine washables are completely safe and never ever snag you hooks. Best of all they are very reasonable to buy and last a very long time.
April 29, 2010