Rated

5

out of

5
 by
pdb13
Laundry Sorted!
I bought two of these so that I could sort my dirty laundry into loads. When something would usually be thrown into one hamper, I now toss it into the bag that is just for that type of clothing. This stand keeps the bags upright and neatly organized. Now when it's time to do laundry, I don't have piles all over the bathroom.
March 12, 2016
Rated

1

out of

5
 by
MissMercy
Great Idea... bad in practice
I bought this for my dorm room and within a single semester it is already falling apart. The bars no longer stay connected and end up separating when I move the bags at all. Clips are super inconvenient and easy to lose.
January 21, 2016
Rated

1

out of

5
 by
Juliee
Throwing it out
It worked for a bit and looked nice. I bought it because it seemed convenient, but the clip system to attach the bag to the metal was actually insanely inconvenient. In addition, I eventually lost the majority of the clips from them either falling off because of the weight or falling off (& to somewhere unseen) when I removed the bag.
January 4, 2016
Rated

3

out of

5
 by
taureview
Decent Quality & Utility
Assembles easily and seems relatively sturdy. Purchased 2 of these to fit our lower cabinet pull-outs. They fit perfectly as expected since we had the pull-outs sized to hold these hampers. We did however forget about the additional thickness of the clips that hold the bags on. After trimming the vertical rods by 1/2" and de-burring the cut end everything is fine.
August 15, 2015
Rated

2

out of

5
 by
Vivthetraveler
Prefer 2 single hampers
The hamper builds easily and seems sturdy. However, the bags do not hang as nicely as in the single hamper. There is no bar in between the two bags therefore they attach oddly. Will return to purchase two single ones instead.
July 29, 2015
Rated

5

out of

5
 by
Jinmanva
Just what I was looking for
This laundry stand proved to be exactly what I was looking for to use in my laundry room. It's a great size - I've paired with the double stand so that I can have 5 color-coded bags (to help my younger children sort their own laundry) and it fit great in the size available. The stands were easy to assemble and quite sturdy once all together (they'll seem very wobbly part way through), and the bags clipped on with no problems.
July 14, 2014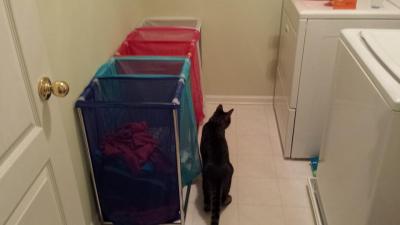 Rated

4

out of

5
 by
MegSi
Great for Sorting!
Bought this for my son's room - the mesh bags help him remember how to sort his clothes since he can see like-colored clothing inside. Very sturdy and well made. Only problem is getting the laundry bag clamps off - we were hoping to be able to take the dirty clothes straight to the laundry room in the bag, but my husband and I have broken a couple clamps from needing to use too much force...
April 25, 2014
Rated

5

out of

5
 by
RunningMom
Sanity Saver
This laundry bag stand holding two bags of laundry (we chose black and white for dark and white loads) is a sanity saver. The 38-year-old and 7-year-old boys in the house enjoy sorting their clothes into it and it makes doing laundry easier because you just unsnap the bag you want and take it. Whoever is doing laundry (me), doesn't have to do the extra sorting step.
April 16, 2013
Rated

3

out of

5
 by
shelley86
it works but could be better
it is a pain to remove and put the clips back on the bags all of the time. fits in tiny spaces but holds alot.
April 1, 2013
Rated

4

out of

5
 by
maddel
Perfect laundry organizer
We had our last laundry hampers for 15 years and I was not sure we would find the same thing. These are made of chrome instead of the PVC and seem sturdier than the last set. I use one for dirty clothes and the other for items to the drycleaner
March 18, 2013
Rated

5

out of

5
 by
jhawkfan
Love this laundry bag stand. Exactly what I was looking for for my new apartment. Perfect for keeping lights and darks separate.
March 10, 2013
Rated

4

out of

5
 by
EllenS
Lasts for Years!
I bought this hamper when I went to college in 2005 and I still use it today! The two laundry bags mean you don't have to dig into your laundry to separate your whites & darks. Being able to take the laundry bag off of the stand also saved me from digging and was great when using shared laundry rooms in college. I have since bought a couple of replacement mesh bags since they get snagged and ripped after time but those are a cheap alternative to having to purchase a whole new hamper. One of the apartments that I lived in had a smoker above me and luckily I was able to wash the bags as well as my laundry (just make sure not to put it in the dryer - it will ruin the plastic tightener!).
February 18, 2013
Rated

4

out of

5
 by
caramia29
nice product, tough to put together
I bought this laundry bag stand for our bedroom to sort our light and dark laundry. The metal stand took more than 20 minutes to put together, but worth the finished product.
July 31, 2012
Rated

4

out of

5
 by
orcachick2005
Good hamper
I'm turning into an organizational nerd! I blame college- I never used to care much about keeping my space clean until I went to college and had a fresh start, and now I can't stand living in clutter anymore. The collapsible hamper I've had since college was starting to fall apart after years of hauling far too much laundry down to the laundry room, so I took a trip to my favorite store in the world and found this. It fits perfectly behind my closet door. I guess the only downside is the assembly- some of the joints have to literally be hammered together, while others slip apart now and then. Still, this greatly simplifies the task of sorting my laundry, and I find it surprisingly sturdy. A few other reviewers have complained that the laundry bags sag and come off when filled with laundry, but I have not had this problem. As long as you have bags that reach to the floor, they don't become too heavy and slip off. I bought two of the nylon mesh laundry bags offered through the store and they're perfect.
May 2, 2012
Rated

3

out of

5
 by
KPainter
Not a hamper
I love the dimensions of this laundry bag stand but I tried to use it as a hamper and the mesh bags just don't stand up to a lot of laundry. The clips get weighted down and spring off the stand -- especially if clothing gets hung up on the stretch of bags across the middle.
March 19, 2012
Rated

4

out of

5
 by
Jori
good product
The price is a bit high for what the product is, but the product itself is good. Some people said that it wouldn't stay assembled, but if you follow the directions and use a rubber hammer you should have no problems. It fits nicely under the counter in our laundry room and looks much better than a plastic hamper!
March 19, 2012
Rated

5

out of

5
 by
Beachmom01
Durable and Great for sorting clothes
I bought this two years ago and it is still in perfect condition. I bought bags in white and another color that matched my bathroom, this way we could easily sort white vs. color clothing for laundry purposes. The bags are very durable too. I wash them along with the dirtly clothes and I haven't had yet to replace them.
March 19, 2012
Rated

3

out of

5
 by
kellyk
Works fine - though pricey
The stand and bags work fine - great shape for my closet and easy to assemble. However, my stomach dropped a little when I pulled the pieces out of the box and realized I'd paid so much for a hamper.
February 14, 2011
Rated

5

out of

5
 by
Adamku
Good stuff
I don't know how I ever lived without this hamper. It is such a joy to not have to "dig" through dirty laundry anymore to separate the whites from the darks!
April 22, 2010
Rated

1

out of

5
 by
Dove
terribly flimsy
It was impossible to keep the frame from disassembling itself.
March 20, 2010