Rated

2

out of

5
 by
FishLips
Mesh Bag Zipper
zipper has opened up a few times - the concept is good, though, and the shape works as well as it dries quickly afterward, but I do wish it was better quality
March 21, 2015
Rated

4

out of

5
 by
RunsWithScissors
Almost Perfect
I love the concept of this bra bag, and it would be a wonderful thing except that it is just barely big enough for me to fit my DDD cup bras inside. Sometimes I have to kind of squish the cups a little, or slightly angle the bras for them to fit, which to me, defeats the purpose of using it. If I had smaller bras, I would absolutely love this, but as it stands now, it needs to be a little larger for me to love it. I wouldn't recommend this if you wear any larger than a D cup, but if you have D cup or smaller, you'll be glad you bought it. It has come unzipped once or twice in the wash, so you might want to put it inside of a mesh bag as well just to be sure.
January 10, 2014
Rated

5

out of

5
 by
Comanchegurl
I have used this for 5 years
I bought this to was my bras, but I have used it for baby socks & hair ties. That way they get cleaned & stay together. My bra size have ranged from b to bigger (as a mom) & while I squeezed them in to the bag they came out clean.
April 26, 2013
Rated

4

out of

5
 by
Ursula
So much better than hand washing
This is a great product that saves time and eliminates the hassel of hand washing bras. The bras keep their shape very well. My only complaint is that the compartment could be a bit bigger. The bag holds one padded C-cup well, but if a second one is put in in the additional compartment, it is hard to zip up.
March 18, 2013
Rated

5

out of

5
 by
HoosierGirl
This is great!
This product keeps bras from getting tangled around other clothing in the wash & keeps their shape. I'm not a fan of hand washing & this allows me to wash them without ruining them.
February 18, 2013
Rated

4

out of

5
 by
amrous
We went HMMMMMMM
We were not sure how to use this bag in the begining and was very confused still am I think. It does well with underwire bras and I was pleased with that. This bag was bought for my teenager (13) and she loves it, now that we figured out how it works. Better instructions with the extra material fold out lining would have helped a lot.
October 31, 2012
Rated

1

out of

5
 by
sjrr
Very unsatisfied
There should be some kind of warning on the packaging about bra sizes. My bras are not THAT big (only a B-cup) and they all 'fit'. The biggest problem I have is that they are still very wet after everything else in the dryer is dry. They are crammed in the small spaces and since they don't get dry, I'm not very confident that they ever really get very clean. Bummer.
June 25, 2012
Rated

1

out of

5
 by
Jude75248
let the buyer beware
This bra bag looks like a great idea, and it would be if it had a better zipper. To my dismay, after using it less than 2 months, the zipper broke, or rather, it began to open up on it's own every time I used the bra bag, with the result that the bras don't stay inside. Also, even when the zipper worked, somehow lint found it's way inside the bra bag and would cling to my bras afterward. There's got to be something better out there.
June 21, 2012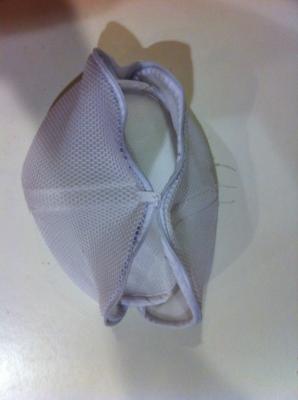 Rated

1

out of

5
 by
xnikkiheart
Big Breast Problems
I bought this because I was going away to college and knew the washers there were going to be a lot more harsh on clothes than the one I have at home. However, I wear C-D sized bras and any that were lined, padded, or had underwire would not fit into this bag. I might think about buying this bag again if they had a larger size that would fit the larger sized bras. However, until that happens, I'm not happy with this at all.
June 16, 2012
Rated

5

out of

5
 by
Verified Reviewer
Love this!
I came across this item while browsing the store in S.F. for my very first visit to a Container Store. I knew I had to have it. The price was JUST right, too. I bought two, and bought my mother one as well. Let's just say I came back online to buy more. I LOVE THESE! I use it for bras, and it's incredibly useful for bikinis, as well. So beats handwashing. My bras fit inside, and I'm a DD or sometimes DDD, so that's not an issue for me. I've used them about 20 times each and they're as good as new. I can't remember life before this product!
June 2, 2012
Rated

1

out of

5
 by
tigerlily10
Keep size in mind
I was so excited when I came across this product in the store. However, they should include something on the packaging about sizing. When I tried to use this, I discovered that my bra would not fit in the bag.
April 28, 2012
Rated

4

out of

5
 by
Shur
Works Great but...
I love this and think it's a great way to wash your bras. That being said, mine started to rip at the seams after a few washes. That was sad, but it's only $4 so... I will probably just replace it.
April 27, 2012
Rated

5

out of

5
 by
Daisy6
It's perfect!
I don't have to worry about ruining my bras in the wash anymore! They'll never get tangled again! I love how this thing has 2 compartments so I can wash 2 bras at once.
April 17, 2012
Rated

5

out of

5
 by
Deebo
How did I live w/o this?
Great lingerie wash bag, fits 1+ bras on each side (YMMV). No holes for bra closures to snag or twist. Zipper stays closed because the end slips under a sewn tag and stays put. Not suitable for well-endowed women who wear underwires, unless you compressed the underwire to fit the bag's diameter.
April 6, 2012
Rated

3

out of

5
 by
Michel1
OK for some things
this is a bra wash bag but doesn't have quite enough support not to let bras get squished. The better bra washers are those bra-baby's which are similar to Container stores baseball cap washers (a plastic support arrangement). I guess it depends on whether you are washing padded bras or not. This wash bag is still good for lingerie and pantyhose etc.
March 22, 2012
Rated

5

out of

5
 by
JAMc
LOVE This!
I have several of these bra bra washing bags! So easy to launder my bras and never damage an underwire again! I just hang my bras to dry when the load is done!
March 20, 2012
Rated

5

out of

5
 by
Superpotta
Hand washing begone!
I was so tired of hand washing the 10 bras I had bought from Victoria's Secret that I was too afraid to put in the washers. Bought this, popped the bras in it, washed it just fine and no hassle for me. Perfect. Another reason The Container Store is the best store ever!
March 19, 2012
Rated

5

out of

5
 by
Amylu
Love these!
Bras are never tangled, never hooked to gym shorts and best yet, never a bent wire.
March 19, 2012
Rated

4

out of

5
 by
Elgee
Not good for C/D cup or larger underwire bras
I would recommend this to smalIer-breasted friends only. Bought 2 of these and had to pass them along to a friend because they are just too small for my usual D cup underwire bra. Nice design as stated by the other reviewers - just needs to be larger for well-endowed women.
March 19, 2012
Rated

5

out of

5
 by
jessicag20
Love it!
Perfects way to protect your bras and underwear from tangling with other clothes.
March 19, 2012
Rated

5

out of

5
 by
SunshineState
It Works Great!
This bag has worked much better than loose-mesh type bags I've owned. Zippers stay closed and are partly covered by little "Tide" tags, so they don't snag on anything else in the wash. Very well-made.
March 17, 2012
Rated

5

out of

5
 by
Jakebabe
Excellent for bras AND panties
I had always used the tide laundry bag for my bras and panties but this Tide bra wash bag is excellent.The bra hooks dont get stuck in the mesh and the bras don't get twisted.Much better protection for panties too!Also the zipper doesnt stick.
March 3, 2012
Rated

5

out of

5
 by
muggle
a great purchase
This bag is great! I have only used it a few times, but so far it has done its job. There are 2 compartments allowing you to wash multiple delicates. The bra hooks do not get caught on the mesh. It is very good quality..I think it will last a long time!
February 21, 2012
Rated

5

out of

5
 by
divergirl
Love this!
This is the second bra bag I've had. It protects my clothes from the hooks, and my bras from being beat up. I don't know what I'll do if they stop making them!
February 5, 2012
Rated

5

out of

5
 by
GrosseGirl
Great Purchase
This is a great product for washing tights, hose and bras. What a great idea! I washed hose in one side and a bra in the other. You can't do that with a regular bag.
December 22, 2011
Rated

5

out of

5
 by
IowaLady
No more tangled laundry
I used these for the first time this weekend and I no longer have legs of jeans, etc. tangled in my bra straps! Works really great, easy to use, and a great buy! The quality is also great and hooks can't get stuck in the mesh.
December 19, 2011
Rated

5

out of

5
 by
purplebunny
Good so far ;)
I've used it once since I got it, and it didn't seem to be a problem at all. I like how you could hide the zippers under the Tide tag, so that it does not come apart during the spinning. I also like how things don't get caught on it.
September 6, 2011
Rated

5

out of

5
 by
Pcpp
Very protective
Washing nice lingere requires special care, and this bag does the trick! It is made to protect those delicate items (not just bras.) It is quite a relief to be able to launder my 'undies' in the machine with no worries!
July 26, 2011
Rated

5

out of

5
 by
Hadley
Perfect purchase
This is a wonderful perfect bra bag. No more worry about bra hooks hooking onto other items. There are 2 separate compartments, the zipper end is tucked so it does not open or snag. This is the best product. I bought one for myself and one for my daughter.
June 13, 2011
Rated

5

out of

5
 by
crr9933
great
Just what I wanted. Keeps my bras in great condition. I even ordered one for my sister.
June 6, 2011