Rated

4

out of

5
 by
FriscoChick
Beautiful! (and practical)
These containers are NOT your normal plastic bins. I needed something for our family room to store kids crafts in and these fit the bill perfectly. Apparently they are also food safe although we definitely have no need for this much food! ** be warned that the lid is not a tight sealed fit ** so if you are looking for something with that snap when you close it, this is NOT it. BUT...i didn't need that and I love them! :)
June 4, 2014
Rated

5

out of

5
 by
Ayecee
A must-have!
I bought two of these in the cream color. They didn't look too sturdy at first glance, but after storing all of our car cleaning supplies in one, I found that it supported the weight quite well. The handles are very sturdy (they aren't flexible, whereas the actual bin is) and it allows me to have a good grip while transporting these bins. As of now, one is holding all of our car cleaning supplies (interior wipes, cleaning sprays, air freshener sprays, and etc) & the other one is holding a few life jackets (since summer is over & we haven't been kayaking). I'm going to order more of these bins in the near future. They are a must-have!!
December 15, 2013
Rated

5

out of

5
 by
Stonehedge
Love these stylish storage bins
Love these so much, I have now purchased 6 of them. The material is kind of like a cross between rubber and silicone....they are sturdy but also "give" a bit so you can squeeze them into place. The large ones fit very nicely in the bottom of the commercial garment racks - I use this previously "lost" space for storing hangers, the numerous tote bags I own, and casual shoes that I just can't be bothered with using shoe rack space for.
February 25, 2013
Rated

5

out of

5
 by
CarlyB
Great for my mudroom cubbies!
(Click on the picture to see the actual mudroom) I have been searching high and low, buying and returning bins that will fit just perfectly in my cubbies. My young kids are too small to hang everything on hooks so I wanted to provide an easier place for them to dump their things with my house still looking nice. Perfect solution!
January 16, 2017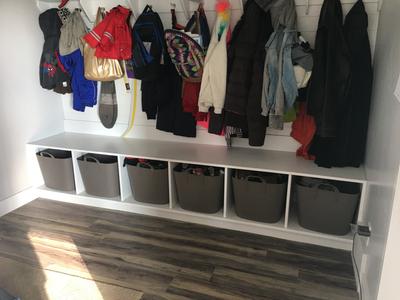 Rated

5

out of

5
 by
Mingo8myshoe
LOVE LOVE LOVE THESE!!!!
With a very skinny laundry room set up, I was limited on the amount of space I would have to be able to sort my laundry. These fit perfectly on a bakers rack
December 15, 2016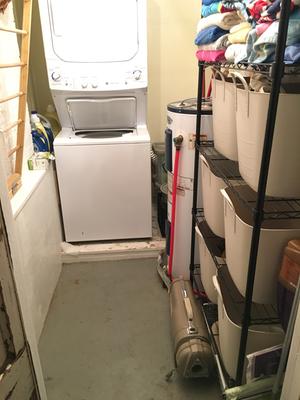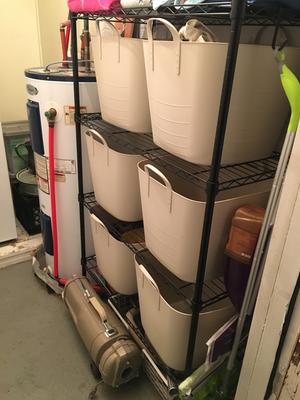 Rated

1

out of

5
 by
Stel
Wasn't what I expected
These bins were expensive - we purchased 6 for our sun room and you have to pay for each bin and then pay an extra $5 for each lid! We expected the lids to fit well- hoping they would fit snug or snap on for an air tight fit. They just lay on top of the bin- cheaply made. Air & dust can get in them. Our baby can easily pull the lids off. They are not air tight as shown in the picture. So, for what we paid, they are way over priced. I'm sorry I bought them and plan to look into the return policy , but we have had them over a month now and maybe it's too late to return them. I could have paid half of what I spent on something better.
October 13, 2016
Rated

5

out of

5
 by
mellyann
Perfect for my classroom
I use this bin to store 32 clipboards for my classroom. It's deep enough that they are all lower than the edges. It still fits them when they are put away less than neatly.
August 27, 2016
Rated

5

out of

5
 by
EdHusky
Better than any other laundry basket
I have used these for a few years as laundry baskets. They are flexible, keep their shape and never dry out and crack or break like traditional laundry baskets. They are also earlier to use and carry than traditional ones. They can be used for other things, toys, wet items, etc, but are perfect. I highly recommend these. I have purchased more of these for other uses.
June 10, 2015
Rated

5

out of

5
 by
GillScot
Does the job
I first saw these last year and instantly thought how handy they would be in the garden so I bought the large one to use as a container for potting compost. It holds a lot but the best thing is that it is very light weight so even full of potting compost I can haul it round the garden (I have a lot of large pottery planters that cannot be moved). The lid keeps the compost dry as long as you take the time to make sure it sits securely on all four sides. The fact that it is very flexible works for me when I lift it in and out of the wagon. I am planning to buy more to use for storage in my potting shed
May 17, 2015
Rated

5

out of

5
 by
Ribert
Good for a recycle bin
This is a replacement for our recycle bin. It works well with good handles. we will see how long it lasts.
May 23, 2014
Rated

4

out of

5
 by
LilShopper
Very Sturdy Bin
We use this as a recycling bin since the handles make it easy to carry in and out of the house. I do wish the lid securely fit on the bin (it kind of just rests on it) but other than that it's been good so far
April 25, 2014
Rated

5

out of

5
 by
Mickeline
Useful and durable
These bins are great for storage when you want something that will expand. As the description states, they are sturdy, stackable and waterproof. There is no awkwardness in lifting them due to the side handles. Best of all, you can wipe them clean very easily.
April 7, 2014
Rated

5

out of

5
 by
Fayeac
Great garage storage
I love these containers!!!! I'm using them in the garage for toys, pool stuff, gardening tools, ect. and they work awesome!! They are incredibly sturdy and I really like the color!
April 5, 2014
Rated

5

out of

5
 by
Ankylo
Neat & tidy
Attractive container in which to "hide" loose clothing and other loose items before guests come over. Very easy to handle and move around.
March 14, 2014
Rated

5

out of

5
 by
AvonLady05
Perfect
I love this product for my two young boys. They have managed to break other types of storage containers (wood, plastic, etc). These bins are durable, stackable, and come in different sizes. The smaller sizes are great for my business products.
June 29, 2013
Rated

5

out of

5
 by
MamaZap
Great storage product
I am loving these new storage bins. They are great for storing our kids' toys. Large, sturdy, extra durable...but not too rigid that they will crack or break even when the kids are playing inside of them! Great product.
March 18, 2013
Rated

5

out of

5
 by
Nomad19
Great for recycling glass bottles!!
I found this product to be very useful for recycling glass bottles. I can fill it up, carry it to my car and then into the place with the recycling machine with no mess and no hassle. Afterwards I can easily rinse it out and start to collect the bottles again. Before I had to fill up garbage bags and then double bag the bottles, which inevitably still leaked in my car. Now this is not a problem anymore.
February 22, 2013
Rated

5

out of

5
 by
Peppershape
Not the advertised use.
Though this is sold as be a storage bin, it works perfectly as our under-sink recycling bin. The handles make it easier to take out and the clay color is much nicer than the traditional "recycle blue". I'm considering a small one for under the bathroom sink to recycle the beauty and hygiene product packaging.
February 17, 2013