Rated

5

out of

5
 by
CynthiaV
Just what I needed. Thank you for having this item.
February 28, 2014
Rated

4

out of

5
 by
massey
Perfect cake shipping
Used the paint can to ship a cake to New York City. It was an unusual thing to ship and this was the perfect unusual container to ship it in. She could also just carry it home with the handle. It worked like perfection.
February 14, 2014
Rated

2

out of

5
 by
KTeacher2
very insubstantial
I bought these because I saw them in the ad and thought that they were very attractive. When I went to purchase them, I found that the plastic was VERY thin, they type that you find in shirt collar stays. Before I got up to the counter, to pay, one had partially broken. I bought the other two in my basket and when I got home, found it very difficult to pry the lids off as the plastic was so thin, it seemed as though they might break. Although they look cool, they are very flimsy and will not stand up to any type of heavy usage.
November 21, 2013
Rated

2

out of

5
 by
heidiPORTRAIT
not impressed
cute container but it fell apart before I got it to the person I was gifting it to... the lid fits in a metal ring but the ring is suppose to stay the whole thing popped off and would not stay on ...had to super glue.
October 9, 2013
Rated

5

out of

5
 by
Nieceerenee
Love these!
The Large Clear Paint Can is such a cute product! It makes giving a birthday gift to my daughter's teenage friends so much cuter than a gift bag. We put movie tickets in with some of her favorite things and some candy and added a ribbon & bow. Her friend loved it!
May 4, 2013
Rated

5

out of

5
 by
familytopicks
Gifting
With teacher's appreciation, mother's day and father's day - this is a perfect contained to fill with some fun, amazing gifts for upcoming celebrations..giving our thanks to our teacher's this year by filling this up with some treats, gift cards and then encouragement. The best part, the teachers can use the containers for various projects they have during the year! Great clear through advantage! Love it!!
April 30, 2013
Rated

5

out of

5
 by
Papermaker
Love love for the price
Yes they may be a little flimsy but for the price this is a crafters' joy. can decorate with tacky glue, fill for baby showers, birthdays, holidays, any occasion! also like themeing to the color of lid. still rate 5 - inexpensive way for me to make unique gifts!
April 26, 2013
Rated

5

out of

5
 by
CAMO
Clear paint cans with colored lids add fun to a childs room. It can store crayons, hair bows, die-cast race cars, etc. Organized and neatly shelved.
April 26, 2013
Rated

5

out of

5
 by
dancingdolphins
Love this can
Love this can - I use it as a tip jar, with the handle can be hung up or just sit on the table... people can see the money and know what its for! Be careful about dropping it with things around it or in it, it can break, but mine has lasted for a year with carting it from place to place!
April 26, 2013
Rated

5

out of

5
 by
HeatherY
Awesome Kids Bank!
I love this for my kids money holder. They can see how much they are saving and it's a cute style for the home. I added a cute 'my stache' sticker.
March 18, 2013
Rated

3

out of

5
 by
PLA4
Flimsy
It's really cool looking container and a great idea but the clear plastic is very flimsy. I actually ended up putting crazy glue around the edges of the can so that the top part wouldn't keep coming off when I opened it. It would be a better product and I would have bought more if the clear plastic was not as unstable/flimsy as it is. Good idea, poor execution.
March 18, 2013
Rated

4

out of

5
 by
CraftyG
Cutie Can
These cans are perfect for the babyshower gifts I create. I fill them with hair ornaments for a girl or socks for a boy and decorate them with craft paints, buttons, and bows for girls and craft paintings of cars, trucks, and frogs for boys and personalize them with the baby's name. I also do a special effect on the lids. I have received rave reviews from parents. They make for both a practical and a cute gift and always earn the giver compliments from the reciever.
March 13, 2013
Rated

1

out of

5
 by
EventPlanning
Extremely Flimsy
This product is very cute and looks exactly as shown in the photo (if not better in person). I was almost fooled into keeping them if it wasn't for the fact that I took the lid off and it went from a round container to an oblong container. (The plastic is that flimsy.) The lid is the only thing helping the canister keep its round shape. And trying to get the lid back on? Way more trouble than it's worth. If you are going to put something inside to seal and stay...might be okay...but I wouldn't use it to store anything that you need to take out often (and i wouldn't use it without the lid).
January 3, 2013
Rated

5

out of

5
 by
LisaLou
Fun way to give a present....
My siblings & I gave our parents the "gift" of our labor to do some painting at their house. We used this paint can to wrap a gift card to cover the cost of the paint and included a note saying we'd be doing the work. It was such a cute gift - and they LOVED it!
April 28, 2012
Rated

5

out of

5
 by
corourke
Fun Container for Party Favors!
What fun containers to use for party favors or giveaways at meetings! I inserted a piece of paper with our logo inside the container (facing out) and filled the container with colorful candy and toys. Our meeting attendees loved the gift!
April 27, 2012
Rated

5

out of

5
 by
mimikagirl
Love these items to put more delicate gift items or ornaments in!
March 19, 2012
Rated

5

out of

5
 by
StarvingArtist
Attention Design Students
This is the perfect container for your Paint Bucket Projects. So versatile & reusable. Good luck on those grades!
March 3, 2012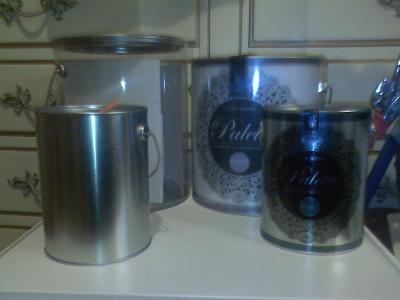 Rated

4

out of

5
 by
messymom1
used for a great teacher gift.
We picked it up for a teacher gift and filled it with all of those desk supplies they need for day in day out work.
February 28, 2012
Rated

5

out of

5
 by
Mubbs
Great Christmas cookie storage
I had a sudden arrival of fall mice in my baking supplies this year and used up all my metal containers to store my supplies so they couldn't eat into them... alas Christmas is coming and nothing to store cookies in... arrival of these wonderful see through container have been a godsend. and inexpensive
November 26, 2011
Rated

5

out of

5
 by
jj474
Large clear paint can
Great item! I can think of 100 uses for this. I plan to use it at a baby shower to package cookies for favors. It's well made, colorful and very useful. The price is great too!
August 14, 2011
Rated

1

out of

5
 by
dejae
The picture looked good
Don't waste your money! Flimsy not a solid container. You will spend more time trying to "fix this item than use it.
June 24, 2011