Rated

5

out of

5
 by
OrganizingInMO
Great Storage Solution
Before I purchased the SpiceStack, my spice bottles were squeezed into a small space. It was an ordeal to find a spice that was not located in the front row. Bottles that were stacked always falling over and out of the cupboard when the door was opened. With this organizing system the space has been maximized and the spices are easy to locate and access. I purchased the 24 and 12-bottle system. Both fit easily into my cabinet. I love them and would highly recommend to others!
March 28, 2014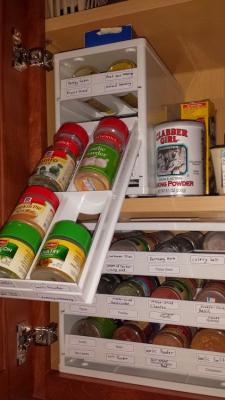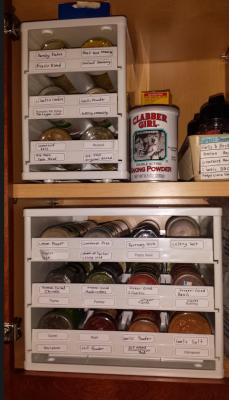 Rated

5

out of

5
 by
BannaJones
Saved my cupboard!
I love this product. My spice shelf was a mess and I was always so irritated when I was cooking. I love to be organized but I didn't know how to do it with the small amount of space I had allotted for spices. This product fit perfectly and now everything has a place and is in it's place. No more frustration!
April 5, 2013
Rated

5

out of

5
 by
mencinkai
Great for organizing spices. I had previously bought the larger stack and now I bought the smaller one so be able to fit all my spices. I like that this is customizable since many spices I use are not in standard spice sets.
December 8, 2016
Rated

5

out of

5
 by
blackie
the best product
this spie rack is the best one you could buy. it is so easy to see all the spices at a glance and easy to use. would recommend it to everyone.
August 8, 2016
Rated

3

out of

5
 by
jokrgirl
Loved them at first.....
When I first bought these (I got two of the larger size), I just loved them. Most of my spices fit into the compartments and they were organized. However, after years of daily usage, the "drawers" would come all the way off the slides. The result would be that all the jars from that drawer would end up falling onto my counter. Because of this, a few spice bottles broke and a couple lids cracked. This happened with both of the Spice Stack organizers that I had. Bummer. I couldn't figure out how to fix this problem, so I ended up getting rid of the units.
June 8, 2015
Rated

5

out of

5
 by
nelehbrit
Safe and Tidy Kitchen Herbs and Spices
I really love this item, and had been searching for this exact item for very long time. The large version fits perfectly into my new kitchen cabinets. I have received numerous complements on this Spice container, and my boyfriend is happy the cupboard is finally organized.
March 16, 2015
Rated

5

out of

5
 by
spooknrun
Can finally find my spices!
I'm tired of digging through my spice cabinet, trying to find the right spice, and always knocking jars over! This thing has been amazing! Even though it's kind of bulky, I have found it's saving space in my cabinet! I liked it so much I ended up purchasing a 30-jar Spice Stack to continue my organizing!!
February 12, 2015
Rated

5

out of

5
 by
joltster
Spice Stack
This spice stack is really handy and keeps my spices organized in a way that it is easy to find them.I had other spice racks, but after remodeling my kitchen, I got rid of one because it didn't really do the job anymore.
December 9, 2014
Rated

5

out of

5
 by
jcandi
Love the Spice Stacks
This is a wonderful way to organize spices. Easy to use and easy to locate the right spice without digging through shelves and drawers
August 18, 2014
Rated

5

out of

5
 by
MomBruce
Spice Stacks Great!
We have two of the Spice Stacks and my husband really like them. It so easy to see what spices you need by just pulling the drawer out and down. They are built well with rubber feet on the bottom to keep them from moving. I would highly recommend this product!
July 14, 2014
Rated

5

out of

5
 by
Loopy5k
Geat Item
We use this for medicines. It is so handy in the morning to use this instead of getting all bottles out, knocking some over in the process, and having them fall out of the cabinet.
June 20, 2014
Rated

3

out of

5
 by
Afw2002
Bulky
It's great to organize all my spices but it doesn't fit the odd shaped bottles, it would be better if you can adjust the holding parts. It's just very bulky and didn't fit in my cupboard... Too bad
May 13, 2014
Rated

5

out of

5
 by
SShark
Great for kitchen
Have a small kitchen , spice bottles kept falling onto counter when open cabinet doors. This product is great! Fit perfectly ! Keeps them organized and no more falling. Makes cooking more enjoyable. I would recommend this product to any friend or family member.
May 3, 2014
Rated

4

out of

5
 by
shelly7
spice stacks
great product, keeps all spices in one spot! now I have uncluttered cabinets
April 29, 2014
Rated

5

out of

5
 by
Deborah76
Streamlined Storage
The smaller size fit perfectly in the cabinets on either side of my range hood. They have made finding the right spice so easy! I love it!
April 28, 2014
Rated

3

out of

5
 by
Indydi
NOT a space-saver!
This item is fine for organizing spices, but it does not save space. If you look at the footprint of the larger unit, you can fit at least 25 spice bottles in the same space, with room to spare. Not only that, if your pantry shelves are deep and you put this up front, you essentially lose the storage space behind it. Last but not least, it looks really cheap. You could never keep it out on your kitchen counter. At this price, it should be somewhat decorative and not look like you bought it at the dollar store. All that said, I would still recommend it for anyone wanting to organize spices, who had a closet in which to hide it. I'm going to return mine and go for the racks that attach to the door.
April 26, 2014
Rated

5

out of

5
 by
KEBONE
Love this spice rack!
I love this mostly because my spices are up high and I can put the tray out and down to see all the spices. It has been a huge space saver as well as a great organizer!
April 25, 2014
Rated

5

out of

5
 by
PSUFdSci87
Awesome Spice Storage
This is an awesome way to store spices. I bought two - one for spices and one for baking stuff (like colored sugars, sprinkles, etc...). They fit great on the shelf in my cabinet near my stove. No more knocking over bottles and jars when reaching for my spices.
April 25, 2014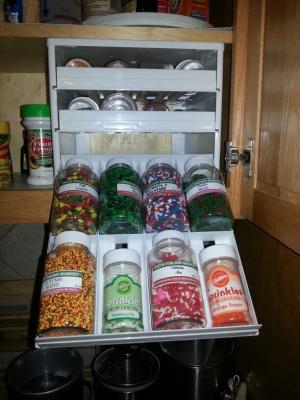 Rated

4

out of

5
 by
Cloop
Does the job
This product was too big to fit in my cabinet, but fits ok on the counter top. It holds some of the larger spice jars, but not the really large ones. I wish they had the silver / black at the container store, but I had to settle for the white ones, which work the same, but not as pretty since they are sitting on the counter tops. Really wanted one for my medicine bottles as well, but don't want those on the counter. Just make sure you measure before you buy. Otherwise the product does exactly what it should.
April 25, 2014
Rated

5

out of

5
 by
BeardedJames
All that was hoped for
After struggling with multiple turntables on a cabinet shelf for spice storage for several years, we decided to find a better way to organize our large assortment of spice bottles. A combination of two of the large stacks and one small one measured out to just fit onto the cabinet shelf and had the capacity to hold all our spice bottles. It seemed as if the stacks provided some latitude as to the bottle size, too. We have not been disappointed. All of our spice bottles are now stored in the stacks, including some relatively large ones, and finding what we want is a breeze. We're so glad we found the Container Store and these SpiceStacks.
April 25, 2014
Rated

5

out of

5
 by
eviweb
No Harm in Organizing your "Spice Mess"
Tried on of the spice stacks that was on sale....I will be going back to get another one until all my "mess" is organized!:-).....Gotta have it!:-)
April 22, 2014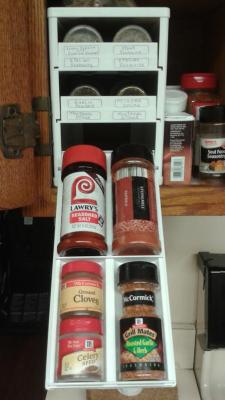 Rated

5

out of

5
 by
jimemc
excellent for organization
easy access to my spices. wonderful for my new apartment with limited space.
April 22, 2014
Rated

5

out of

5
 by
Oycerm53
Great storage
These are great for storing spices! Easy access and good visibility. No moe digging through a shelf looking for the right spice
April 21, 2014
Rated

5

out of

5
 by
BettyO
Another Great Purchase
My husband doubted me but the Spice Stack held 99.9% of my spices .Not only that, I can now pull out a "shelf" and need exactly what I need. I definitely will not miss spice bottles falling to the floor during my search.
April 18, 2014
Rated

5

out of

5
 by
Teli
Perfect Spice Organizer
This was the perfect purchase. I was looking for a spice rack that would organize all of my favorite spices and this one did the trick! I was also very happy to get the pre-printed labels...Awesome bonus. I would definitely recommend this product for all kitchens.
April 18, 2014
Rated

5

out of

5
 by
Cmm4
Now have in home and camper!
These are great for the organizer in all of us! A must for clean cupboards and easier cooking.
April 16, 2014
Rated

5

out of

5
 by
Biggler6
Holds my spices
I needed a spice rack that was compact enough to fit in my pantry, but large enough to hold the larger glass Penzy's spice bottles. This meets both requirements. It is stable and good use of space.
April 14, 2014
Rated

5

out of

5
 by
concernedcitizen
Spice Rack
I have many spices and this rack was very convenient to find spices as I cook and bake due to the ability to tip each drawer down as you open up the drawer. It is very accessible and easy to use. Great product!
April 11, 2014
Rated

5

out of

5
 by
EHL13
Great for medication
We purchased this to organize vitamins and meds that are kept in our kitchen cabinet for easy access in the morning. Each person has their own drawer. It is shown as spice rack but works wonderfully for this alternative use.
April 11, 2014
Rated

4

out of

5
 by
Nitrokng
Much easier to find my spices.
I decided to change from spices in a drawer to a 24-count SpiceStack. So much better! I can find everything much more easily and I don't have to write the name on the caps anymore.
April 10, 2014