Rated

5

out of

5
 by
speechteach
Best Purchase EVER!!
I first bought these originally to organize my hall linen closets outside the bathroom (soaps, medicines, first aid, makeup etc). Everything looked great. Instead of having to hunt through the shelf to find the cough syrup you just pull out the drawer and get the bottle and then put the drawer back. I had a few containers left over and went to my clothes closet. They were the PERFECT size for all the socks. Three of the wide ones and one narrow fit on one shelf. My closet looks like it came out of a showroom. I am buying more!!
April 20, 2015
Rated

5

out of

5
 by
Wildrose
Great for DVDs and CDs!
I was looking specifically for a bin that I could slide into a cabinet like a drawer that would hold CDs, DVDs, and Blu-rays. The wider Binz are a PERFECT size with no wasted space on the edges, front and back since the the sides are straight. The very clear plastic makes it easy to read the titles right through the bin.
March 22, 2015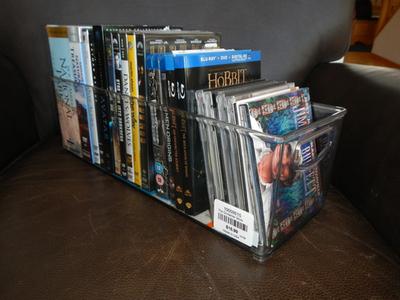 Rated

5

out of

5
 by
Clutterholic
Great for organizing
If you are like me, you have cabinets that you've crammed full of cleaning supplies, toiletries and junk for years. One look at these before and after photos will show you how easily your cabinet can be organized in just 15 minutes using these deep binz. They are a terrific way to manage cabinet space.
October 6, 2013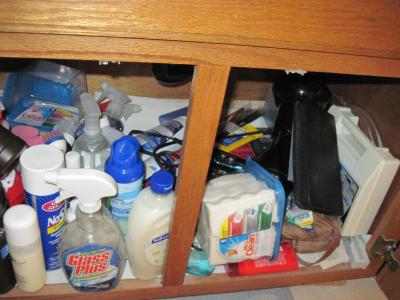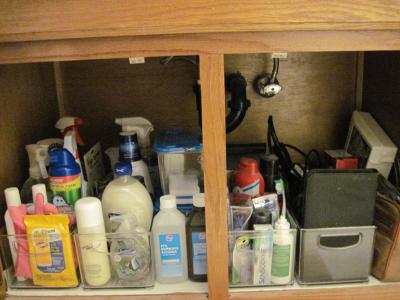 Rated

5

out of

5
 by
calla49
Great organizer.
Heavy duty and well made. Great for frig organization.
August 29, 2016
Rated

5

out of

5
 by
Mysterywoman
Great quality!
I'm very happy with this purchase and all the other purchases. I'm redoing my house and have gotten some really good pieces which have helped a great deal!
August 13, 2016
Rated

5

out of

5
 by
MidwestNani
Love It
These storage Binz are excellent! They can be used in the pantry or refrigerator. My pantry is so organized now. You can do so many different things with these. You can fill with canned goods, noodles or sort by groups. I absolutely love these!!!
February 16, 2016
Rated

5

out of

5
 by
Nickname1
For the Bedroom!
I purchased both bin sizes to organize my dresser drawers: socks, underwear, and bras are now separated beautifully. I used 1 narrow bin and 4 larger bins per drawer. The fit of these 5 bins per dresser drawer was perfect!
December 24, 2015
Rated

5

out of

5
 by
momsaysmoo
Moms, this is great for milk storage bags
I bought two of these to store breastmilk storage bags in the freezer. They work really well so far. The one that is 6" in width is perfect. Initially I bought the one 4" in width and that was too narrow. It helps keep things organized in the freezer, instead of having milk storage bags everywhere.
December 11, 2015
Rated

4

out of

5
 by
Barlaz
Neat pantry
Really de cluttered my pantry. Easy to see. I like the the bins but the labels on the end are awful. They left a sticky residue after multiple attempts to remove it. All other stickers removed easily.
June 2, 2015
Rated

5

out of

5
 by
Patri
Deep drawer binz
Awesome! The deep bin is perfect for some rather large cooking utensils and fortunately I have a drawer deep enough to accommodate them. Huge difference in organizing my drawer.
March 2, 2015
Rated

5

out of

5
 by
NWOhiomom
sanity saver
I bought one of these to store my extra boxes of kitchen storage, freezer, and sandwich bags. I store them under my kitchen sink and it is so easy to grab the container when I need to replace something. No knocking over boxes when I'm looking for a particular item..
February 16, 2015
Rated

5

out of

5
 by
creative
Great fit
Perfect for organizing my jumbled mess in my stocking drawer. 'because I have a leg condition I need to wear a variety of stocking compressions and need to keep them separated and organized, This did the trick. the most important part however is to measure the drawer correctly , so you can get the right pieces to fit in.
August 9, 2014
Rated

5

out of

5
 by
AmySB
Totally love
I only got one of these but I'm going back for more... These work so well. My pantry is very deep so this is great for organizing all our snacks. I also purchase chalkboard tags to put on the front of the binz so no more searching for items..
July 8, 2014
Rated

5

out of

5
 by
Palmtreeny
Sturdy clear storage
I have an expansive tea collection that I store on a pullout drawer. This item is useful for my storage and I can stack them. I like the fact that I can easily see the tea boxes. Also, I use one for loose packets of tea.
July 8, 2014
Rated

5

out of

5
 by
almslp
Great Bin(z)
I love these sturdy Linus Deep Drawer Binz. They're perfect for the linen closet, where I keep them to organize medications and first aid items. Easy to remove and search for what you need in a timely manner. I just wish they were a little cheaper so I wouldn't feel guilty about filling my closet with them.
April 28, 2014
Rated

5

out of

5
 by
StefS13
Organizer's Dream
These bins can be used to organize just about anything! I use them on one of our kitchen shelves to organize all of our beverage supplies (teas, hot chocolate, straws, etc.). They're prefect and keep everything nice and tidy! My mom uses her in her refrigerator, as well, storing all of her frequently used condiments in one bin so that they just have to pull the bin out anything they're making sandwiches. Genius!
April 28, 2014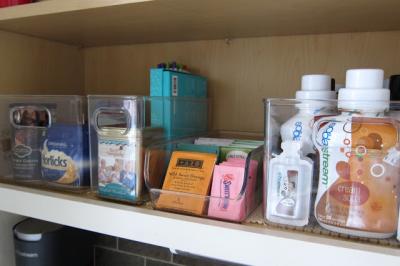 Rated

5

out of

5
 by
SomeLikeItOrganized
Perfect for so many things
LOVE this drawer bin! As a Professional Organizer, I use it for my client's kitchen drawers, cabinets, laundry room shelves or drawers,etc. The depth is so perfect and it's very sturdy. I like using it for cleaning supplies, plastic flatware, food pantry items, cloth supplies or pet treats.
April 18, 2014
Rated

5

out of

5
 by
happystacker
love these!
These organizing bins are awesome! The smaller ones are perfect for bags of beans or pasta boxes. The clear plastic is sturdy and easy to clean. They are a little expensive but heck, I just doubled the space in my pantry closet by capturing all that vertical space I used to be waisting.
March 25, 2014
Rated

4

out of

5
 by
Aurora13
Cutting board organizer
I purchased one of these bins in the narrower size. Instead of using it in a drawer, I am using it in a kitchen cabinet to hold cutting boards. The container is deep enough to store the boards neatly along the side of the cabinet without them falling over.
February 27, 2014
Rated

5

out of

5
 by
queenofelfa
Great in pantry in combination with elfa shelving!
These bins make my 16" and 20" elfa shelves more useable and use of space more efficient. I have adjusted the efla shelves so heights that accommodate these bins and get use of more space both vertically and by depth. I no longer forget about food that is in the back of the shelf. It also helps me to organize items in the pantry, and my husband puts things back where they belong, because there's only the one spot for it to go in! I wish they were less expensive so I could afford more of them.
February 26, 2014
Rated

5

out of

5
 by
AlexandraA
Fantastic efficiency
I decided to organize my mother´s closets, drawers and refrigerator to minimize effort on her part with respect to viewing, reaching for and cleaning anything she needed. The Linus Deep Drawer Binz allowed me to arrange a variety of products (cleaning supplies, personal items, clothing, office supplies, bathroom supplies, food) in all of these. I was fascinated (as was she) with how beautifully organized and practical these spaces resulted with the use of the bins. Thank you!
February 24, 2014
Rated

5

out of

5
 by
Compute
Great Product
I am very pleased with this purchase, it has made my storage situation a visual pleasure.
February 21, 2014
Rated

5

out of

5
 by
Scuzie
Need more
I purchased three of these and wish I had purchased two more. Two fit perfectly side by side in my pantry drawers. I use them to organize bulk spices, pasta, jars of condiments, jams and honey as well as baking ingredients. Now I want some to organize my vinegars and oils. They are sturdy and make it so easy to find what you need. I can see what I am getting low on at a glance. They're perfect.
December 30, 2013
Rated

5

out of

5
 by
Rouvi
Awesome for the bath
I have deep, dark wooden bathroom cabinets and invariably things kept getting shoved to the back of the cabinet, making them hard if not impossible to find. With these deep bins, I can line up similar items like cleaning supplies and extra toiletries and easily pull out the bin to find what I need without getting on my hands and knees rummaging with a flashlight like I used to do.
September 23, 2013
Rated

5

out of

5
 by
pria
Fantastic organizers!
I cook a LOT and I love the deep drawer bins for organizing my fridge & pantry! The narrower bins are the perfect size to organize mason jars in a single file, so I use them in the cupboards and fill mason jars with soups, sauces, and dressings and they keep everything neat and tidy. I love that they are see through, because sometimes I'll tuck spice packets or something in there, and it's easy to see what I want.
April 26, 2013
Rated

5

out of

5
 by
Solomobk
These Bins are GREAT!
I used these bins to organize my pantry and love them!
April 15, 2013
Rated

5

out of

5
 by
condoliving
Deep drawer binz
I just purchased 2 deep drawer bind for my deep cabinets in the kitchen. Now I don't have to pull everything out to find 1 item. It's great! They also stack if you want. Out of all the items I got, this is my far my favorite.
April 14, 2013
Rated

5

out of

5
 by
Ledfog
perfect for keeping all my food storage containers organized and easily accessible.
April 11, 2013
Rated

5

out of

5
 by
DMersmann
Great product
I am so happy with this purchase. Normally these things do not work out well for me. Not only do they look great in the refrigerator but they hold even more than I thought and I now have space for another one which I intend to purchase shortly. :-D
April 11, 2013
Rated

5

out of

5
 by
Rock
At Last, No More Packats on the Floor!!!
My husband loves packets of condiments--mustard, soy sauce, catsup, etc. He also loves hot sauces of all types, as well as packets of almonds, raisins, etc. Every time the fridge was opened, a packet would fall to the floor. In my last attempt at organization and sanity, I purchased three of the Fridge Binz and "the angels sang!!!" All the packets stay lined up in the binz, the condiments not only were properly corralled but were even easy to locate. The fridge was neat and easy to clean--I didn't have to pick up all the various packets to remove them to clean the shelves. I love organization and love the Container Store. These binz worked out perfectly for me and my "Condiment King!"
April 3, 2013