Rated

5

out of

5
 by
outdoorsy88
Love that it's adjustable
I got this after trying the wood organizer also sold by the Container Store and realizing that I needed differently-sized slots for my pan covers. The adjustability is great, and I like the rubber feet on the bottom. Very happy with this product!
March 23, 2015
Rated

5

out of

5
 by
KayLeo
Chrome Cookware Organizer to the rescue!
I keep my pots and pans in my cabinets and, prior to owning the Chrome Cookware Organizer, they were a total mess. I kept my cookware stacked to maximize space, but this made it difficult to get out certain pieces if they weren't near the top. It looked so disorganized! Not to mention the fact that stacking my cookware probably wasn't the best thing to do for the cookware themselves because stacking can lead to nicks and scratches on the cooking surfaces. The Chrome Cookware Organizer saved my sanity and completely transformed my cabinets. My cookware are safely separated from each other and each individual piece is much easier to take out and put back in. I absolutely love this purchase and love how affordable it is. I most definitely recommend this to everyone!
May 25, 2014
Rated

5

out of

5
 by
212BookandCook
Finally - Strong, Adaptable, Attractive!!
But, enough about me! Finally a pot, pan, rack, and pot lid organizer that is strong enough to hold cast iron skillets! Adaptable in sizing to accommodate skinny racks and deep fry pans! Attractive enough to be on top of a counter, if need be. AND designed with spacing partitions shaped to hold pot lids by their knobs/handles!!! No more clutter or clatter when I now can reach and find what I want! Finally!!
February 26, 2013
Rated

3

out of

5
 by
MWhite1
I had planned to us this standing up but I guess you have to have cheap, lightweight cookware for that to work, one small pot caused this to tip over. Fortunately I am able to use this horizontally for my most used pots and pans and I can keep the others stored in the back of my cabinet and in my "pantry".
January 22, 2017
Rated

5

out of

5
 by
Uugoddess
Very helpful
Had to make a big corner cabinet more functional. This song really helped
January 11, 2017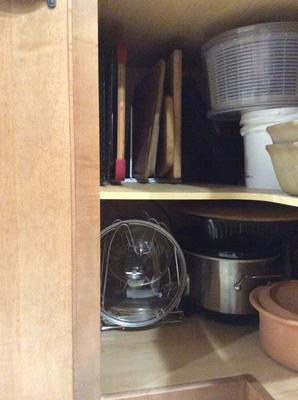 Rated

5

out of

5
 by
KKnarr
Helps make storing bakeware easy
We were able to use the organder to utilize a cabinet that is an award size. Makes it much easier to access baking sheets.
January 8, 2017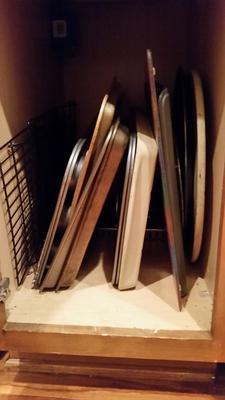 Rated

1

out of

5
 by
JenC1037
Does NOT stand on the side (horizontally)
I bought this item and returned it. I could not get the organizer to stand sideways (horizontally) despite what the description says. There is no support at the side to keep it from falling over. Just adding the shelving/dividers (not even pots and pans) made it tip over, and the rubber bumpers did not help keep it balanced. If it is going to be advertised as something you can use horizontally they need to add some sort of support base. I liked that the dividers were adjustable but I could not get this thing to stand on its own.
October 1, 2016
Rated

5

out of

5
 by
ShayHawk
Just what we needed!
I have a huge cupboard where my two roommates and I all keep our full collections of cookware. It was a mess and made cooking unpleasant. A few of these corralled it all! I love that they don't need to be attached to anything (we're renters), and that the dividers can be adjusted or removed as needed. They're also good quality at a very reasonable price.
April 7, 2016
Rated

5

out of

5
 by
ambrwaves
Good product
This product is affordable, easy to use, and functional.
February 28, 2016
Rated

5

out of

5
 by
ShoppingSue
Not just for the kitchen.
I use this for my long jewelry storage cases. I put the rack upright so the racks are horizontal. The rubber feet need to be put on the front to prevent racks from slopping. Also make sure the one rack with the slight curve is on the bottom. This prevents the cases from sliding. It is easier for me to take the jewelry case out I need. I also label my cases. Beats having the cases stacked on top of each other.
June 1, 2014
Rated

3

out of

5
 by
amywynn
Just Ok
I have not used this product horizontally so I don't know the sturdiness of it, but vertical it is not as sturdy as I thought it would be. One caveat to be aware of is that your pots and pans will slide around because there is no traction on the actual shelves of the product. Also, even though it includes a smaller shelf, most small pots, skillets that I have fall through the cracks.
May 4, 2014
Rated

5

out of

5
 by
Angie527
Great Kitchen Organizer
Very sturdy and stable. I use mine in a drawer with sections for 3 sauté pans and a section for cutting boards. Before this, all of my pans were stacked on top of each other, which was bad for the pans and annoying when cooking and cleaning up. Now everything is just a little bit easier, so I dread cooking dinner a little bit less...
May 1, 2014
Rated

4

out of

5
 by
Azukipie
If you've invested in nice pans, invest in this.
As with many purchases here, I am kicking myself for waiting so long. When I first saw this product I knew it was the best for my needs but I thought the price was a little much for just an adjustable organizer. After a year of trying to use curtain rods (lifehack) and banging up my pots and pans I decided to cave and buy it on my shopping spree for my birthday. Why did I wait? This keeps my pans in perfect alignment, it doesn't move when I remove them, and yet it is still easy to move when full to get at anything in the back. (You can see I can't put it parallel to my cabinet because of a shelf, renting.) Note that the base adds to the height of the product and as a result your pots and pans. Also note that if you want to use it vertically you will have to attach it to the cabinet in some fashion.
April 29, 2014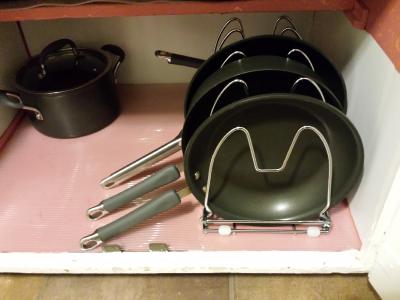 Rated

2

out of

5
 by
Dgward
Difficult
Very hard to put together and determine spacing for lids/pans you want to store. Returned it for one that was all one piece.
March 19, 2014
Rated

4

out of

5
 by
Pam5001
Did the trick!
I had a small storage space and several large cutting boards and other heavy items. This fit perfectly and did the trick. No more shifting heavy stuff around in order to get to the one thing I need!
March 4, 2014
Rated

5

out of

5
 by
Sckinne
Good Product
This item is really well made and holds up to 5 items really well.
March 3, 2014
Rated

5

out of

5
 by
tnw75
great-no tools needed
If you use this to store items horizontally you do not need to mount it to the cabinet. I was concerned when I saw no instructions or any additional hardware besides the gripper feet but you don't need anything else. There is a small diagram on the box with what you need to do to make it work horizontally. I have had no issues and it hasn't tipped over.
February 26, 2014
Rated

5

out of

5
 by
lha726
Vey functional
Purchased this to keep baking pans, cutting boards and the like organized. Very easy to "install". Used the clips the store had at the register to secure to the bottom of the cupboard. Works like a charm!
January 16, 2014
Rated

4

out of

5
 by
ninou
very useful
to have an easy access to your lids or pans this is great. I appreciate this cookware organizer.
November 27, 2013
Rated

5

out of

5
 by
Tomka
Does it's job, simple design
The product is very sturdy, easy to assembly & select your own division sizes.
April 5, 2013
Rated

4

out of

5
 by
froofroodude
Happy to buy this
This is a great product, It holds all our pans very easiy and keeps from scratching each other. 3 problems I have so far is that i worry the metal on metal contact will scratch the edges, This isnt that big of a deal but just didnt realize it when i bought it. The second is that I wish it was longer. I have more than 4 pans and i had to buy 2 of them. The third is that i wish it could be attached to a roll out shelf. I have to reach under and back to pull one out. I'm tall so this is kind of annoying. I had to buy a seperate roll out shelf to attached to fix this issue. other than that its still a great product.
March 28, 2013
Rated

5

out of

5
 by
Topmom
No More Pan Clutter!!
Are you tired of pans slipping everytime you grab one or taking up space in your already small storage space?? Well try this cookware organizer. It completely made my pans and lids stand up in and easy to grab position and they are nicely and neatly stored away, allowing extra space for other cookware in my cabinet. Also, the fact thats its made of nice sturdy chrome will make it last forever!! Well worth the money!!!
March 15, 2013
Rated

5

out of

5
 by
Veet
Great product...made even better
This is nice product. Sturdy, flexible, very functional and good looking. It fits nicely in our cabinets and holds 4 of our frying pans in various sizes. It adjusts to hold varying sizes and this is the only pan holder we found that was sturdy enough to hold larger pans securely such that they don't wobble all over the place or roll out. The only concern we had was the possibility of the metal pan holder scratching or chipping the edge of our non-stick frying pans. As many may have experienced, the non-stick coating on some frying pans can be damaged by coming into contact with metal. The edges of the non-stick coating on the pans seems to be particularly vulnerable to chipping. This problem was easily solved by putting 3/4" foam pipe wrap (inexpensive and available in any hardware store) on the bottom support brackets of this holder. The best explanation is to view the photo. which shows the pipe wrap applied to the holder. The pipe wrap comes pre-slit and all you have to do is cut the pipe wrap to the length of the holder with a scissor. Ridiculously easy solution to chipping and it makes putting away the frying pans much less noisy. The manufacturer should consider adding this foam to the product. as it makes this great pan holder even better.
March 11, 2013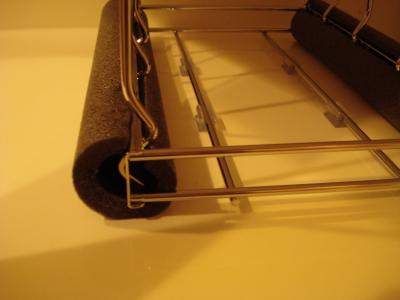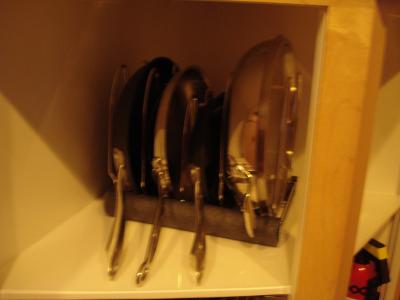 Rated

5

out of

5
 by
stell1968
Simple and Useful
Bought two of these new products to organize a kitchen cookware cabinet. Used one for pans and one for lids. Very easy to use and adjust. Durable and strong enough to handle even the heavier pans/lids. Increased cabinet space and made it easier to select specific pans/lids. My only con is minor - but it does take some work to snap on the plastic footings....
March 6, 2013
Rated

5

out of

5
 by
JenO
Love
I'm so in love with this organizer! It's about time!
March 3, 2013
Rated

5

out of

5
 by
Jozyp
Better than I thought!
This organizer holds far more than I thought it would. The adjustable racks make it easy to store anything from pans to cutting boards to muffin tins. I plan to go back and purchase some for my Pyrex so that it isn't nesting.
February 28, 2013
Rated

4

out of

5
 by
Starrarts
Awesome organizer
This item works really great in either a standard base cabinet OR a drawer base cabinet. I used them for the lids, making them more accessbile. I plan to get another for bakewear in another drawer. It is nice to have things accessible!
February 23, 2013
Rated

5

out of

5
 by
DRCD2013
I'm so glad I bought this!
This is a great pan organizer! It is well made and versatile! I'm getting another one for my lids!
February 18, 2013
Rated

2

out of

5
 by
kweigl
Flimsy product
The organizer works well for saute pans stored horizontally, but the dividers are flimsy. When the organizer is standing vertically, the dividers slant down, and pans slide off, so the product is not useful used this way.
February 17, 2013