Rated

5

out of

5
 by
Krankin
Great purchase!
Bought several of these to sit on the counter next to my blender. Perfect to hold my chia and flaxseed for making daily smoothies! The seal is an airtight fit and the hinged lid is snug yet easy to open.
December 11, 2016
Rated

5

out of

5
 by
Okgirl
Best jars ever for pantry
I love these jars so much. They made my pantry look so impressive and organized. I used them for choc chips, rice, tea bags, coconut, candies and I'm just getting started. I ordered another set for all of my pasta. So great that you can write on the label and then just wipe it off when you use the jar for something else. You will not be disappointed.
January 30, 2016
Rated

5

out of

5
 by
BeachBunny
Love these jars
I have 30+ of these jars in my pantry. I use them for pasta, dry baking goods, and snacks. The labels make identifying easy and the look makes my pantry look organized and posh with zero effort on my part. I now have an ongoing request for these jars to gift to family and friends. You can't have just one!
March 16, 2015
Rated

4

out of

5
 by
sandyvon
hermetic jars with chalk labels
These are great little jars- however they say 16oz. and when I tried to get 16oz. of ground coffee in it- it didn't even come close to all fitting in the jar.
December 28, 2014
Rated

5

out of

5
 by
marv88
Great jars
In my recent attempt to change over from plastic to glass food storage, i did a lot of looking. These are great jars, several sizes to choose from and they seal well, so the food stays fresh!
November 25, 2014
Rated

5

out of

5
 by
TopangaSongbird
Best seal, easy to label
I purchased a few of these and a few of the Kilner. When I needed more, it was these chalk label jars I came back for. The wire is stronger and the lid's hinge more stable than the Kilner. The jar shape is very attractive. And, so far, I'm very happy with the chalk label. It erased easily with water. I do wish that there was an even finer tip chalk ink pen available than the 1MM, but I still managed to make tidy labels with just a little practice.
August 28, 2014
Rated

5

out of

5
 by
agoodsort
Awesome jars with seals that work!
We love these jars as they actually seal and they look good too! Super Chalk labels allowed us to name and rename them with ease!
August 21, 2014
Rated

5

out of

5
 by
PittPenguinFan
Great jars and so pretty!
I purchased these chalk jars in all sizes to organize my dried goods in my pantry. I love the chalk label that can easily be cleaned off and changed. They are so pretty too! I also purchased some plastic scoops and will keep these in the jar for certain items such as sugar, coffee, flour, etc. One thing to note - be sure to call the Container Store 1-800 number to find out how much each jar size will hold. The ounces listed don't represent the volume the jar will actually hold.
May 4, 2014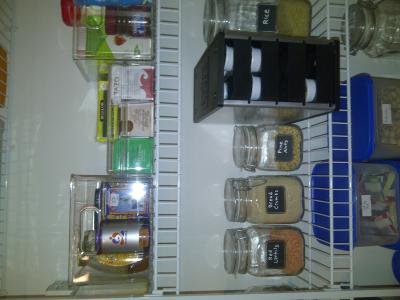 Rated

5

out of

5
 by
JodiW
Perfect
They look great on my counter and and can be used for anything and keep changing tje label
May 1, 2014
Rated

5

out of

5
 by
Containerized
Looks great on the kitchen counter
I purchased these to store salt, sugar, and flour. Obviously it can get messy if you throw the wrong one in the mix, so it's great having the labels and different sizes to help tell the difference. Plus, they look great on the counter.
May 1, 2014
Rated

4

out of

5
 by
Talia303
Perfect!
I bought a few of these jars to stash my seeds and nuts in. Since I'm always buying and rotating new seeds, I wanted a label system that would be easy to change. These are perfect for that! My only complaint is that they didn't come with chalk and the store didn't sell any. When I eventually got around the buying some chalk, it was a little too "fat", making the small label a little tough to write it. Other than that, I love these jars!
February 20, 2014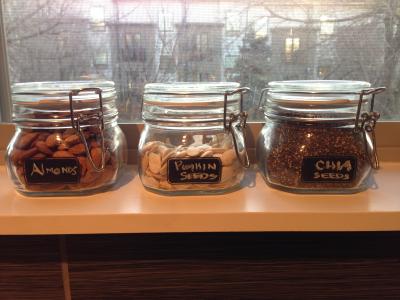 Rated

5

out of

5
 by
CDOTexasGirl
Great Jars
I love the chalk feature on the front. It is really easy to clean off, and if you ever change what goes in the jars you can just change the label. The jars are also air tight and very decoratively cute, so they are excellent ones to put on the counter and store sugar, flour, brown sugar, coffee, tea, etc.
February 18, 2014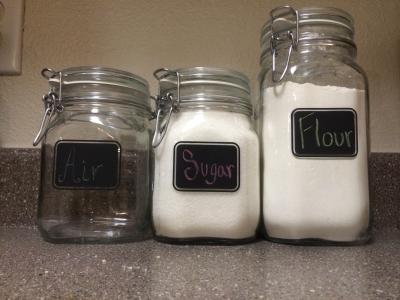 Rated

5

out of

5
 by
brooklynshelver
Love these jars!
These jars are so gorgeous and durable! I bought four 16 oz ones and loved them so much, I bought more! I also got some of the larger jars for things like oatmeal and couscous. The 16 oz are great for nuts and seeds and dog treats. I also have dropped them more than once and they don't break OR open. Plus, they look awesome in my kitchen! When I have more shelf space, I'm buying more!
February 17, 2014