Rated

5

out of

5
 by
Kwrealtor
Water bottle organizer
I use this to wrangle all our re-fillable water bottles. They fit neatly in the dividers. I can stack 2 under my kitchen sink. Perfect.
January 8, 2017
Rated

5

out of

5
 by
Zagy
Great wine rack
I purchased 2 wine racks, 1 for me and 1 for my sister-in-law. I loved mine and my sister-in-law thought that it would be really useful when buying wine as a carrier and then great as a wine rack. Really great for the price.
June 20, 2016
Rated

4

out of

5
 by
organizingourfamily
Wine and more...
I bought this wine rack to help organize our travel coffee mug and bottle problem. We have a lot, apparently.
August 27, 2015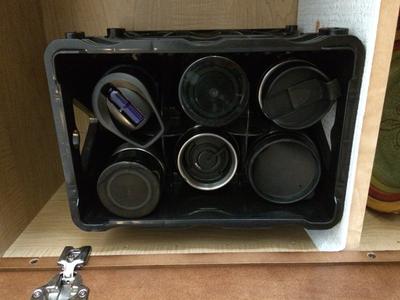 Rated

4

out of

5
 by
HilaryCable
Functionality at its best
These crate-style, stackable wine bottle racks are simple and functional. They fit together perefectly and securely. They hold the bottles snugly and protect them from light. The bottles lie flat, so the wine is always in touch with the cork. The crates can be stacked and added to as your collection grows, and their price is reasonable. If you are turning a closet into a cellar, this might be a good solution. The only reason I give them a "4" is because they are not suitable for display, at least in my home. But to each, his own, I always say. In the right urban loft, for instance, they could be out where people can see them and they would fit right in. Mine are hiding in the pantry. But if you want to protect your wine in a solid, light minimizing way, try these--you'll like them.
May 26, 2014
Rated

5

out of

5
 by
scd68
Fit perfectly
Re-doing a sideboard buffet and this wine storage fit perfectly into one of the cabinets. Sturdy and holds all my wine.
May 9, 2014
Rated

5

out of

5
 by
SeattleCat
Sturdy and NIce
So far so good. These are a sturdy nice looking option. Even if I decide to change how I store my wine in the future these can be used for other things.
April 28, 2014
Rated

5

out of

5
 by
Annabell
Great Product
These stack easily and securely hold the bottles of wine. I was not able to fit a cork through the opening, but the crates are still secure.
February 24, 2014
Rated

5

out of

5
 by
benagainwa
Great Way to Store Your Wine
These crates are great for storing your wine. Solid, yet small enough to fit anywhere. Also great for traveling with wine.
January 14, 2014
Rated

3

out of

5
 by
Miriam
good purchase
It is a light plastic but very strong and sturdy and it stacks very nicely.
May 10, 2013
Rated

5

out of

5
 by
Legalgem
So smart
These wine crates are terrific for indoor and outdoor wine storage, but they are particularly useful to take along when purchasing several bottles of wine. Lifting 6 bottles from cart to checkout is so easy, and the trip home and then to the kitchen is worry-free!
March 19, 2013
Rated

5

out of

5
 by
CathyK
Great item
Great item for use nside your pantry--secures all your wine bottles and can be placed horizontally or vertically--easy to pull out and look at all of yoru wine assortment. Very sturdy!
September 10, 2012
Rated

5

out of

5
 by
Cindalla
Great for your RV
With limited storage in our Fifth Wheel, we have struggled how to store our wine so we could have a supply on hand during our travels. The Storvino Wine Crates were the perfect answer. The size is perfect to fit in one of our lower cabinets and keeps our wine safe while on the road as it protects the bottles. We plan to buy several more, as they will stack in the cupboards.
April 29, 2012
Rated

5

out of

5
 by
Abby8
Terrific!
This product is not especially attractive, but is terrific for storing bottles of wine out of sight. We have several on shelves in our basement and think they are great for storing wine when we stock up. Very sturdy, stack well on either end. Also useful for transporting several bottles of wine at a time - by hand or in the car. Highly recommend!
March 19, 2012
Rated

5

out of

5
 by
doozie
Best wine holder!
I now have 4 of these, and love them for my red wine. I keep my white wine & champagne in my wine refrigerator. I keep these in my pantry, and love the way they stack on top of each other. The size is great, not taking up a lot of space, yet holding plenty.
November 4, 2011
Rated

5

out of

5
 by
HiDesertGirl
Just What I Was Looking For!!
I have quite a large wine collection, and having several coolers break down on me, I now keep my wines in a relatively cool closet. Problem was storage. These crates are perfect. Nice & compact, yet strong and versatile. Can turn them whatever direction I want to get them to fit on my shelves. Plan to buy more!
August 29, 2011
Rated

5

out of

5
 by
VinoLover
Excellent Wine Carriers
Great for transporting wine. Sturdy and easy to carry.
January 19, 2011
Rated

5

out of

5
 by
mountainmama
sturdy and functional
This crate is exactly what I expected. It is not pretty (after all it is a plastic crate) but it is perfect for a closet or a garage pantry. Exactly what I wanted. Six bottles of wine is the perfect number to store, in my opinion, so I intend to keep it stocked!
June 1, 2010
Rated

5

out of

5
 by
Tink
Great product!
This works great for storing wine bottles. The bottles are very secure in the holder.
May 21, 2010
Rated

5

out of

5
 by
Craftygranny
Awesome Wine Crate
I bought one for a try and went back for 2 more and still need to get 2 more. These are the best wine crates you will ever want or need! They can be so diversely used. You need a couple yourself one won't do!
May 19, 2010