Rated

5

out of

5
 by
savyshopper9
Smart under the sink organizer
Bought this to use under the bathroom sink. It works great! Now I can find every thing - and I have room to spare. And - I didn't have to screw the fixture in to place - so it is moveable if need be.
April 15, 2016
Rated

5

out of

5
 by
GCGM
mesh organizer
This works very well.The drawers go in and out great.Would like to have one for my kitchen.
April 11, 2015
Rated

5

out of

5
 by
teacherfellow
Great Organizer for the bathroom!
I live in a apartment so this 2-drawer organizer works great in my bathroom! I LOVE how I can slide the drawers out to be able to reach things all the way in the back!
March 19, 2015
Rated

5

out of

5
 by
ContainMe1313
Compact storage
2 of these fit under my bathroom sink. They are slim, but can corral a lot of products and the drawers slide out easily. They come with screws to install fully but I haven't used those yet--the drawers still slide out with no problem.
September 2, 2014
Rated

5

out of

5
 by
Huahine
Works great.
Organizing is the key to home survival. This item is so helpful.
August 8, 2014
Rated

5

out of

5
 by
shopper36
Good size, nice design.
Bought this for under my bathroom sink. I like having all of my daily personal care products in one handy place -- contact lens solution, moisturizer, makeup, etc. and the removable basket feature makes it very functional, so easy to get out and put away. Nice to have another basket for storing other things, too. Very sturdy. This is a great way to use the otherwise wasted vertical space under my sink. Keeps everything handy and organized... may end up buying another.
July 27, 2014
Rated

5

out of

5
 by
Dutchie
Just installed one
Wasn't to bad to do myself at 72 years old!! Was very easy! There not the quality I like for my home, but figured no one but me goes in the master bath!! :-) I'm still looking at the chrome one for the other cabinet in my bathroom! They look like quality!
May 10, 2014
Rated

5

out of

5
 by
gettingthere123
Nice Product. I bought 2
I bought one mesh organizer for the bathroom for all my hand soaps and various containers of moisturizers (I'm a moisturizer freak) sunscreen and aloe. For the kitchen I now have a place to put all my sponges and brushes. It gave me a lot more room under my sink and keeps everything corralled so that I'm not looking for the small items that get lost. I may buy another for all my travel size items, it is nice to pull out the drawer and be able to see everything in the basket.
May 5, 2014
Rated

5

out of

5
 by
Boondoggle
Perfect fit
After organizing my pantry I was left with a narrow space. This fit the bill perfectly using all the available space, both height and width.
May 4, 2014
Rated

5

out of

5
 by
JO90025
Very Handy
Great to organize bathroom vanity. Could only fit one in the cabinet because of the drain. I wish they made a similar one 1.5" shorter.
May 2, 2014
Rated

5

out of

5
 by
orgnzme
More room than appears
We have several large cabinets in the in the bathrooms and this gives us better usability of the space. The baskets sit further apart than they appear and have lots of room. They are a great addition.
April 28, 2014
Rated

5

out of

5
 by
TraciM
Under cabinet Clear
I was able to clean up under my bathroom counter and these fit perfectly next to all the plumbing. I'm not knocking stuff around anymore.
April 27, 2014
Rated

5

out of

5
 by
CANYC
Great Addition!
This is a great addition to my bathroom! Looks great and works really well to collect all of the random things under my sink!
April 23, 2014
Rated

4

out of

5
 by
Livvy
Total Space Saver
I had so many items cluttering the cabinet beneath my sink that I simply couldn't find anything. The mesh organizer lets you organize and stack your stuff, and the drawers open easily. It completely transformed my cabinet area into something neat and tidy. Such a dufference!
April 17, 2014
Rated

5

out of

5
 by
Aimsley
Doubled my storage space
After our recent move I was having trouble finding a home for all of our kitchen and bathroom items. Purchased several of these drawer sets and voila - everything found a home. Drawers pull out easily, the height is perfect for standard cabinets and things like shampoo bottles fit even on the bottom shelf. Very happy with this purchase!
April 17, 2014
Rated

5

out of

5
 by
organizertothemax
very nice product
This is a very nice organizer product. It fits well under my bathroom sink, and the drawers are a very practical size.
April 14, 2014
Rated

5

out of

5
 by
Magdelena
Keeps it all together!
This handy organizer is under my sink in our bathroom. Holds a LOT of little bottles and trial sized cosmetics as well as compacts, nail polish, etc. Saves so much room and keeps it neat and organized!
April 13, 2014
Rated

5

out of

5
 by
Jannie
White 2-Drawer Mesh Organizer. Best purchase ever!
I have placed my perfumes in the top drawer and my body ;options in the bottle drawer and placed it on my counter top in my bathroom. This keeps everything organized and I love it!
April 11, 2014
Rated

4

out of

5
 by
jojomoho
a little small
i like it. fits under my bathroom sink. but it is a bit small. will need two, one for each side.
April 8, 2014
Rated

5

out of

5
 by
MSSHOPPERGIRL
Great Purchase!
I love this product! Drawers hold more then I thought they would and they slide all the way out for easy access! Great in my pantry!
March 24, 2014
Rated

5

out of

5
 by
sillycatgrl
Oh so handy!
I am using this on the counter in my bathroom. It frees up so much space and looks great, too. I use it to hold my washcloths in the short basket, and in the taller, my hair care products along with my taller items. A great purchase all around.
March 18, 2014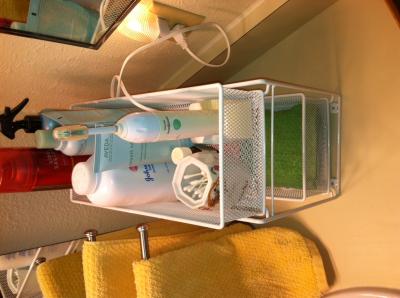 Rated

5

out of

5
 by
SarahO
Perfect for Sippy Cups
We are a family of four that temporarily moved to an apartment with a tiny kitchen. The biggest challenge was plastics. This fit in the cabinet perfectly. The streamlined shape does not take up any extra space, allowing me to maximize the cabinet. I store sippy cups in the bottom and the lids and valves in the top. The mesh allows for air circulation so if I have to put things away slightly damp, they still dry without growing mildew or getting a sour smell.
March 8, 2014
Rated

5

out of

5
 by
Portia2014
Just What I Needed
I purchased this organizer to store medium-size items under my bathroom sink. Installation was easy & the organizer works perfectly.
February 16, 2014
Rated

5

out of

5
 by
needspace
Great Storage
This gives me awesome storage under my small vanity. Having the second tier really adds a ton of storage space. I will be buying another for under my kitchen sink.
February 15, 2014
Rated

4

out of

5
 by
SamanthaP
Good when XNarrow Elfa Doesnt fit
I have cabinets under my sink that have two doors. The XNarrow Elfa fit perfectly on one side, but on the other side the piping in the back didn't allow enough space for the depth. I settled on this product as an alternative. I do like it, I just wish there was some kind of mechanism that kept the shelves from sliding through the back like on the Elfa. Other than that, its great.
February 13, 2014
Rated

5

out of

5
 by
lindy3
2-drawer mesh organizer
My new home has many storage challenges. I purchased this organizer to go under my kitchen sink. It was easy to install and is perfect for my cleanling items. The drawers glide easily and give full access to the items in it. It is just what I needed for the job.
February 7, 2014
Rated

5

out of

5
 by
sewnsew
So Easy To Use
This organizer is perfect under my kitchen sink. It takes up little room and seems sturdy without fastening it to the bottom of the cabinet. I keep my liquid dish soap, dishwasher soap pods, scouring powder, sponge and granite polish in it. Love it.
January 14, 2014
Rated

5

out of

5
 by
whoopie
2 drawer mesh organizer
It fits perfectly in my cupboard and holds everything I need for cleaning my kitchen
September 30, 2013
Rated

5

out of

5
 by
CLS2013
bathroom 2013
love them; it works well to store/organize/removable to carry or use all around the house if necessary; thank you!
September 18, 2013
Rated

5

out of

5
 by
Ommie
Great Purchase
Perfect for under the sink storage in small bathroom! I remove the basket I need and place it on the counter, and then slide it back in when I'm finished! No more cluttered countertops!
August 11, 2013