Rated

2

out of

5
 by
MamaBee
Pretty But...
I purchased this towel holder because it was the only bronze one that I could find that could be mounted under the cabinet. While it looks really good, it doesn't work all that well. The screw on end comes off at least twice per roll of paper towels. Some towels are too tight on it to be able to roll easily and some brands are so loose that you try to grab one towel and half the roll comes off. Did not return since I could not find another bronze so I decided to glue the end in place and glue the roller on to the other end. With both ends stationary it works much better with the brand of towels I buy. So I just made it work but would not recommend it.
May 3, 2014
Rated

5

out of

5
 by
MagnoliaBelle
Pretty and Helpful
I installed this vertically on my bathroom wall to save space. It looks good and works very well. I'm able to make great use of those select-a-size paper towels without touching the paper towels. I highly recommend this, especially installing it vertically.
January 28, 2014
Rated

3

out of

5
 by
kw527
Looks Can Be Deceiving
While this paper towel holder looks very nice and would seem to be the perfect product, it lacks the ability to keep the roll of paper towels on the rod. One good tug on the paper towel roll can pull the roll right off of the rod. I will say, however, that The Container Store stands behind their products 100% with one of the best customer service departments out there, so don't be afraid to try any of their products.
August 7, 2013
Rated

5

out of

5
 by
JMOT
Best wall mount paper towel holder
This holder compliments all my hardware, and I like it's sleek design--very rich looking. For a few dollars more,it was well worth the price. Dispenses towel without roll unraveling.
April 8, 2013
Rated

1

out of

5
 by
tenfairytoes
Pulled right out of my wall
Nice color. I use Viva paper towels it doesn't roll nicely and the paper towel holder has grips. This pulled out of my wall and it's not anchored on both sides. It should be there is a good weight to this item. Then I would give it 5 stars. But this design is terrible, the screws that come with it are not good, which is the norm on anything these days. I was so excited, and after paying shipping to get it to me it was $30 something NOT worth it! The paper towels are back on the counter driving me crazy.
March 25, 2013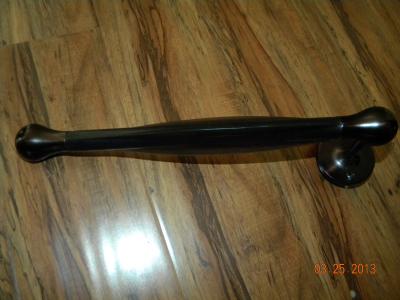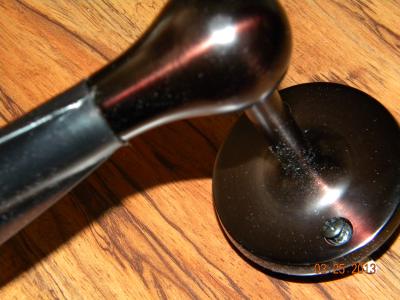 Rated

4

out of

5
 by
gmjeanne
Anyone attach it upright?
Can't wait to install this! Check the package before you leave store, I had no hardware in mine.... ugg.
February 4, 2013
Rated

5

out of

5
 by
CalAl
Best Paper Towel Holder
This is the best paper towel holder I've had! It really does require only one hand to pull a towel, whereas others I've had were advertised as such but never worked that way. Its color is darker than the photo shows so it matches my old world bronze (e.g. black w/ some copper showing through) fixtures and faucet perfectly. It is so great, my son just ordered one for their house.
May 8, 2012
Rated

5

out of

5
 by
oldhousefixup
not available locally
I saw this product in my big box store but only in brushed nickle- I was updating my kitchen to bronze and so needed bronze - there it was - arrived quickly and is working great and looks great
January 23, 2012
Rated

5

out of

5
 by
windycitygirl
Knew what I wanted - couldn't find it anywhere!
I was thrilled to find this paper towel holder. I knew the style and finish I wanted, but couldn't find it anywhere, until I found The Container Store! The product is perfect. It has clean lines, the bronze finish goes perfectly in my kitchen. No hassles with order or delivery. BRAVO!
October 3, 2011
Rated

5

out of

5
 by
DebTX
Great product... Very stylish and would highly recommend to anyone looking for one..
August 16, 2011
Rated

5

out of

5
 by
Fastfingers
Could not find elsewhere
We were happy to find at last a bronze finish paper towel holder to match our new bathroom faucets. We installed it on the side of our wall cabinet to keep it off the counter. A nice simple design and easy to slip paper rolls off and on.
May 18, 2011
Rated

5

out of

5
 by
Fidget357
Great!
I searched & searched for a paper towel holder to match my newly remodeled kitchen. I love this one & it didn't cost much! I've only had it for about a week but it's great! Stop searching, just get it already!
May 16, 2011
Rated

5

out of

5
 by
Phoenix
I would give this 5+ stars it arrived promptly and I love it. The paper towel holder is beautiful and matched my new oiled rubbed faucets perfectly.
April 14, 2011
Rated

5

out of

5
 by
Nowski
Bronze Tug Wall-Mount Paper Towel Holder by Umbra®
The only bronze wall-mount that seems to be found. I love it! I use it in the bathroom and mounted it to the side of the vanity. Works real well, used little space and looks beautiful! It deserves and A+. And the price is right!
March 26, 2011
Rated

5

out of

5
 by
Linz
Great product!
This looks great in my kitchen and matches well with all of the bronze hardware. I also love that I only have to use one hand to get a paper towel. I'm so glad I found this product!
May 17, 2010
Rated

5

out of

5
 by
Jules55
Beautiful piece
We have not hung the paper towel holder but it is a very nice looking piece! We have two rubbed bronze hooks that I wanted to match and it looks great with them. The design is very modern also.
March 26, 2010
Rated

4

out of

5
 by
TXgal
cute paper towel holder
I love the look of this product. Many paper towel holders are an eye sore but not this! Plus the fact that it will mount on the wall (as shown in photo) or you can turn it and mount it under your cabinets to free up your conter space. Some paper towel brands are to tight of a fit and won't spin on this but that is a small price to pay in my opinion.
March 5, 2010