Rated

5

out of

5
 by
Schnazziemom
Perfect Solution
My husband works out of town during the week and stays in a 450 sq ft efficiency apt. He has no room at all. The drainer is very sturdy and fits perfectly in the sink.
November 24, 2016
Rated

5

out of

5
 by
Chameli
Great looking avoids clutter
I bought this together with the sink caddy to get rid of the clutter on my counter. I love the clean and uncluttered space. I have a stainless steel industrial sink and all three look great together. I wanted to add a picture of the caddy after I posted the review but the system would not let me. This picture has both. The price was right, too.
August 13, 2016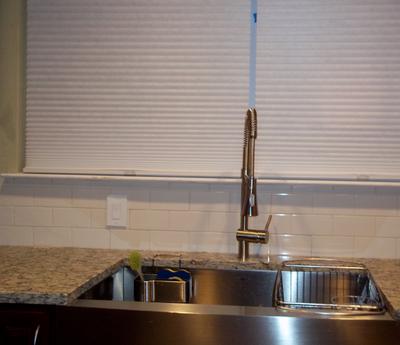 Rated

5

out of

5
 by
Babstoo
Many purchases great
THE STAINLESS STEEL ADJUSTABLE DISH DRAIN IS PERFECT AS IT HAS SPACE ON THE SIDE TO DROP PEELS TO THE DISPOSAL.
July 31, 2016
Rated

5

out of

5
 by
HIthere
finally found a good one
Looking a long time for stainless strainer for sink. This strainer has handles that sit on sink and keep strainer from touching bottom of sink. Perfect.
April 28, 2016
Rated

5

out of

5
 by
jimpooky
Love it!
I love this drainer. Great quality, protects sink with covered handles. Love that it clears up counter space too.
June 26, 2015
Rated

5

out of

5
 by
cruisegirl
good buy
I highly recommend this stainless steel dish drainer to all. I love that it sits in the sink and I don't have to sit it on the sink. The dishes dry faster .I bought one for my niece when she moved into her newhome and really compliments her sink accessories. Now it's my turn.
January 25, 2015
Rated

5

out of

5
 by
shortcake1955
Looks great in my new sink
I have been looking for a stainless steel in sink drainer for my odd sized kitchen sink. This is perfect for the "standard" size sink found in most manufatured homes which is smaller than site build homes. It looks good and is very sturdy.
May 16, 2014
Rated

4

out of

5
 by
gugifreeman
Good quality for a good price
After moving into our new house, I did not want to have dishes that needed to be handwashed drying all over the counter. We do not have backsplash and our paint is very sensitive to water. This in-sink dish drainer matches all of our stainless steel appliances and is expandable to fit many sink sizes. I only wish the metal part of the drainer was a little more sturdy/thick. Otherwise, perfect product!
April 25, 2014
Rated

5

out of

5
 by
lolafalana
great dry rack
It looks so much nicer than the old plastic one we had, fits perfectly in the sink, and holds more than you would think.
April 11, 2014
Rated

5

out of

5
 by
abrown
nice prod
Leaves more counter space & fits perfectly in sink.
April 5, 2014
Rated

5

out of

5
 by
Sufema
Small Drainer
This is just a clean drainer for a standar kitchen, it is adjustable to different sink sizes. Just what I have been looking for.
March 30, 2014
Rated

5

out of

5
 by
beth22
pleased
Our kitchen has about as much counter space as an RV. We were wasting half of it with a dish drainer. This fits perfectly over the sink. Although it takes up half of my sink space, I find that is not such a bad thing since it is an incentive not to leave many dishes in the sink. Have not had long enough to know if it rusts, but if it does, the price is cheap enough that I don't mind replacing. This has done wonders for our kitchen with the counter top real estate we got back.
March 14, 2014
Rated

4

out of

5
 by
talk2trish
Perfect NYC apt solution
With a small NYC apartment kitchen, this in sink dish drainer kept the counter space free. It is the perfect solution.
February 22, 2014
Rated

3

out of

5
 by
organizeandfindmore
good fit for double sink but rusts easily
This is the only dish drainer I found that would fit the width of my double sink and was adjustable for length. I've purchased this product before and it rusted badly under the vinyl padding where water easily seeps in. The main basket also rusted at the cross joints. I purchased again because of the fit. For this price, I'm willing to purchase a new one annually as I have not found a substitute any where else.
December 9, 2013
Rated

5

out of

5
 by
Jenber
Great Space Saver
We are a family of three living in a small condo. We are placing it up for sale and I was looking for something to show off all of the counter space. This fits perfectly in our double sink. and we have so much more room now.
July 29, 2013
Rated

4

out of

5
 by
Special1K1
Perfect for small kitchens!
I purchased this product because Of the lack of counter space in my studio apartment kitchen. It fits on one side of the sink, so I can still wash dishes or use the other half of the sink while dishes are drying :) I like that the expandable part is covered in rubber so I don't have a problem with it slipping. I am very happy with it.
July 10, 2013
Rated

5

out of

5
 by
Verified Reviewer
Just Right ~ Stainless steel in-sink Dish Drainer
Soon I will be the only person living here. My dishwasher "died" and I elected not to replace it, hoping to save on electric and water bills. My Dish Drainer is just the right size, I wash the few things I have immediately, and never have dirty dishes. Problem solved !
June 24, 2013
Rated

5

out of

5
 by
jennrule
excellent product for your buck well spend
GREAT !! I LOVE IT!! all the other reviews were right on the money... well design I have a small apartment kitchen and this fits perfect, its sturdy and goes great with the sink...
May 20, 2013
Rated

5

out of

5
 by
paulcat52
great size
I had a hard time finding a drainer that was small enough to fit our mobile home sink and yet big enough to hold pots and pans. This does and even has a silverware holder!!! Just what we needed.
April 21, 2013
Rated

4

out of

5
 by
ursarahdee
For $15 I am a pretty happy camper.
We recently got a new sink installed and it has curved sides and one side is on the smaller side but is ~7" deep, so it was very hard to find a dish drainer that would fit. This one didn't end up fitting down into the sink base but the rubber extended handles hold onto the sides and look like they wont damage our granite. For $15 I am a pretty happy camper.
April 9, 2013
Rated

5

out of

5
 by
ritaf
exactly what was needed
Chat with container store sealed my decision to buy
April 3, 2013
Rated

4

out of

5
 by
CamperSue
Perfect for the RV
Good quality and arrived quickly. I am using it in a RV sink and it fits nicely
February 23, 2013
Rated

5

out of

5
 by
Chum
Expandable Stainless-Steel In-Sink Dish Drainer
We previously had purchased several different style dish drainers from Department Stores and we were completely dissatisfied with them. We actually wanted stainless-steel drainers but both the Department Store and on-line company prices were ridiculous. As an afterthought, I added this dish-drainer to an order for other products I was purchasing from The Container Store. We were completely satisfied with the quality and compatibility of this Stainless-Steel Dish Drainer and the price was the very best found at both Department Stores AND on-line website stores! This was our first experience with The Container Store and we're 100% satisfied with their pricing, service and product quality on everything ordered!
February 18, 2013
Rated

5

out of

5
 by
Deb58
I love my new sink drainer
it fits perfect in my sink and keeps my dishes clean and organized. I wish I had bought it sooner love it!!!! deb58
January 12, 2013
Rated

2

out of

5
 by
Shay71
Not A Space Saver At All
Because apartments are very small in NYC and some don't have counter space, I thought this would solve my problem. This is not a space-saver. It's about 1/2 inch too long into the sink and about 1 inch too wide. There is no room to wash your dishes at the same time the drain is in your sink. Also the adjustable extender is not a good idea, the drain moves too easily.
August 27, 2012
Rated

5

out of

5
 by
IrishKarenK
BUY THIS!
I wasn't sure about this when I bought it. I read the reviews, but just wasn't convinced it was going to be big enough, or fit my sick, etc. This thing is AWESOME. I have a double sink, so it's convenient to have this on one side. It's adjustable, deep enough, holds A LOT more than it looks like it will. It has freed up my counter space. If you're on the fence about this, get off, and run to your local Container Store. This product is well made and looks classy in the kitchen!
August 21, 2012
Rated

5

out of

5
 by
cyberthrift
Works Great!
Fits my kitchen sink well and keeps drying dish clutter tidy. So far no issues with rust or moldy plastic tubing.
July 18, 2012
Rated

4

out of

5
 by
Eduardo
counter drain
This product is good and easy to use but I wish it had come with a counter top drain into the sink so that it would not be in the way while dishes are drying. Most of the time, this is not a problem. There are times when it would be nice to move this onto the counter.
April 27, 2012
Rated

3

out of

5
 by
ChicagoVeggie
Good, but...
We've had this dish drainer for about three years. It works fine and gets the job done. My only complaint is that over time, water has seeped into the plastic tubing that covers the arms, and the metal has started to corrode underneath it. There's now green and black crud in there, which is not what you want to see in your kitchen! I like the drainer, so my next move will probably be to cut off the tubing and try to replace it.
April 27, 2012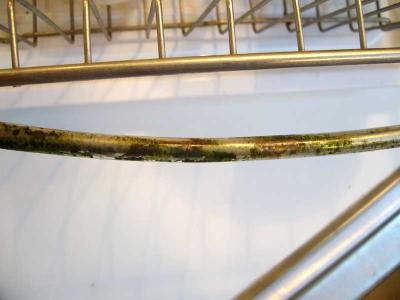 Rated

4

out of

5
 by
cmalliegro
Clean and sleek
Well made, fits just about any sink, and the size is perfect for our family of 2. The plate slots are spaced perfectly but the other wires could be closer together, hence 4 instead of 5 stars.
April 11, 2012