Rated

5

out of

5
 by
DonnaWB
8 gal.
This 8 gallon trash can works beautifully and is the only white one we could find anywhere.The lid has great functions and it is easy to put the bag in. this trash can
February 12, 2016
Rated

5

out of

5
 by
InnerGardener
I have NEVER loved a trash can before...
I have to sing the praises of the blue version of this terrific can! Just like several other reviewers, this trash can "called my husband's name" one day while we were in the store. He liked the style as well as the unique blue as a pop of color for our neutral setting. We bought the can that day and the three of us been living happily ever after. We'd just downsized from a large formal home to a two-bedroom city apartment and needed a can that could sit on the edge of our galley kitchen, which transitions into the dining area. This can is stylish enough to pull it off beautifully! Yes, it's pricey for a mere trash can, but we justified it as our "home-warming splurge" and it's been worth every penny. It holds quite a lot of trash (without being at all smelly) and, while I was really bummed to get it home and discover it needs custom trash bags, it came with a couple of starter bags, which got me completely hooked. I had a chance to compare the simplehuman branded bags with my basic grocery store ones from Glad and there really is no comparison in quality. The simplehuman bags fit the can perfectly and the bags themselves are incredibly sturdy. Weird as it sounds, even after six months, it simply makes me happy to use this can and even to take out the trash!
July 5, 2014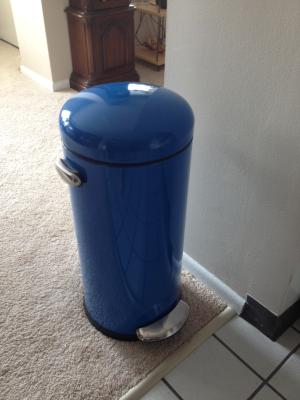 Rated

5

out of

5
 by
gpat
Red, Hot and Functional
I love the Container Store, and I often resist going into in because I always come out with something. My daughter is a TCS addict. She has an Elfa shelf system in her bedroom closet, an Elfa Shelf system in her office, and Elfa Shelves in her kitchen. So I know going in to the store with her is a huge mistake. I needed a new trash can. Desperately. On a recent visit, I looked at the cans on display and saw several space age cans that opened with movement. That was too much for my old school soul. Then I saw it. THE CAN! It looked like the can my mother used to have back in the day. I stepped on the foot lever and it opened. I could hear a faint whisper, "buy me. take me home." And so I placed it in my cart. I love it. The red color complements my décor and it takes whatever I give it without give me a big "stink" about it. That's important. Most visitors who see it, think that it's "decoration." It was a great find and a super investment.
April 25, 2014
Rated

5

out of

5
 by
isit4u
Great bags!
We have tried many bags and these bags are the only ones that go easily into the can. There is no static cling to make install a struggle. Easy in-easy out!
January 26, 2014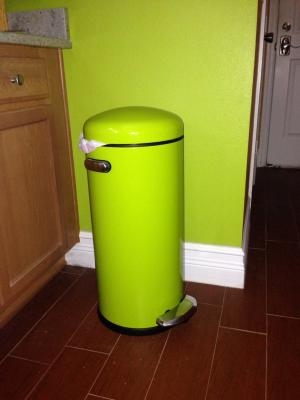 Rated

5

out of

5
 by
JimTex
Wanted This Since I Saw It
Wonderful step can. The blue color beckoned me over when I first saw it at the Container Store. I had hoped the can would go on sale, but that didn't happen, at least when I happened to be in the store.
October 29, 2013
Rated

5

out of

5
 by
GoDiva1922
Best Trashcan I've owned, but why the high price?
First of all, I love this trashcan. However, I feel it is overpriced. It is unique in design, and this was the only place that had a trashcan in red that suited my needs in terms of design. Overall, great trashcan but pricy.
September 12, 2013
Rated

5

out of

5
 by
ROGER01
EASY TRANSACTION!!
ALL WENT AS SCHEDULED AND PRODUCT. IS GREAT AND AS DESCRIBED
June 11, 2013
Rated

5

out of

5
 by
abasketnut
Love my RED trash can
I too was concerned at first with the price. But now after having it for a couple of years I do not miss the other one that I had, which had also been pricey from Container Store. Works well,looks nice by the edge of the cabinets. An unexpected pop of color. I've had a couple of women who wanted to take it home with them.
April 27, 2013
Rated

5

out of

5
 by
Marly51
Great Product!
I've had my red retro garbage can for a year now and I love it! The bags that go into it fit very snug so you don't have to worry about them slipping downwards. The warranty on this can is wonderful too!
April 15, 2013
Rated

5

out of

5
 by
angorraterrier
A trash can that's a thing of beauty!
I hesitated to buy this trash can because of the price. I could find other trash cans that fit the dimensions of this trash can for less money. But when I looked over the Retro Step Can, I could tell that it was very sturdy, the step and lid were solid--but the design and perfect red color won me over. I have used this trash can in my kitchen now for several months and am so glad I spent the extra money. I have a few other red accents that tie into the trash can color and overall, it works just as I anticipated it would: well! I have just been buying 13 gallon tall kitchen trash bags (not the special ones that are designed for this trash can) and using a large rubber band to keep the bag secure as I slide the liner into the trash can and it works fine. That saves money that I can justify on such a cute trash can!
March 18, 2013
Rated

4

out of

5
 by
LAinNewton
good kitchen trashcan
With our previous trashcan, when you released the foot pedal, the lid came down with a loud bang. This trash can closes slowly and quietly. Very cute design also!
March 8, 2013
Rated

4

out of

5
 by
RedSkye
I can't believe I spent $100 on a trash can!
I've been resisting this for months, but every time I went into the store, I heard it calling my name from across the room. Jaaaaccclyn..... So, I decided what the heck. Since I didn't have anyone to buy Christmas gifts for, I'll buy one for myself. Isn't that pathetic--buy a trash can for a self gift. Anyway, I LOVE IT! I gave it only 4 stars because the liner is so tight, it's hard to put the plastic bag around the edge--it tends to bunch up, but I can live with it. It still closes perfectly. I bought the red one because my home has all primary colors in it and it looks great. I have several other SimpleHuman products in my home, and they all work flawlessly, so I'm expecting this one to last me a long time. It has this really cool "bucket park" near the bottom so you can rest the liner on it to change the bag rather than having to lift the liner out entirely.
December 28, 2012
Rated

4

out of

5
 by
Gretta
Great Step Can
This trash can looks great in my kitchen. Because of the garbage disposal under the sink I can no longer hide my trash can. so now it is out in the open. It looks great, seals in the garbage smell great. The special trash bags are nice, but a generic 13 gal trash bag works fine too. (Just have a little extra bag in back.) The bag lock is a great feature. The quiet closing lid feature is great too. The only con I have is that it can not be too close to the wall, because when the lid opens in bangs into the wall.
December 4, 2012
Rated

5

out of

5
 by
TeaJae
Perfect
Perfect. Just. Perfect. The can closes silently, it looks cute, and it holds enough to make the trip to the garbage can worthwhile. I am more than pleased with my purchase.
July 8, 2012
Rated

5

out of

5
 by
MiniApple
Worth the cost
I own the red version of this trash can and keep it in my kitchen, which is probably the most used room in my house. As a result, I see and use this trash can all the time and am glad I spent the money every time I do. Seeing the happy cherry red brightens my day and the silent, hands free open and close action makes me feel pampered. Also, it comes with a 10 year warranty, so I should get many years of use from it. I haven't noticed that using the specially sized bags makes much of a difference, I now just use regular 13 gallon bags.
April 28, 2012
Rated

5

out of

5
 by
Efrat
Great retro can with modern features!
The garbage can is adorable and makes the kitchen look great, I would recommend the bright red color to add some color to the home. Can closes nicely and the size is perfect
March 19, 2012
Rated

5

out of

5
 by
Ceili66
Love this trash can for my laundry room!
I love this trash can in white for my laundry room. My dog usually gets in any garbage can without a lid. In the laundry room, my hands are usually full, so it is convenient that I can just step on the pedal to open this one and throw the lint away amongst other things when I am going through pockets doing laundry. I love the SimpleHuman products!
February 28, 2012
Rated

5

out of

5
 by
gulliversgirl
Great Slim Trashcan, but a little pricey
I recently purchased the red version of this trashcan. My boyfriend picked it out and so we got it and brought it home. It's a great slim trashcan and the lid closes slowly so there's no crashing and clanging when you open and close the lid. They also make trash bags that fit specifically into this so that its very easy to get them in there and have them fit so they aren't constantly falling inwards... which is nice. Overall, we both really like it, however I honestly do think that the price is a little steep for a trashcan, but there were other ones in the store that go as high $180... whoa. I think this trash can will last a long time though so that's how we justified the cost for it.
February 24, 2012
Rated

4

out of

5
 by
Aquickrecon
Great trash can & bag
I really like this trash can. I live alone with a dog. I also cook a lot for myself and for dinner guests maybe twice a week (I don't have a garbage disposal/insinkerator so food trash is trash until I someday attempt to compost). I change the trash bag about twice a week, which is perfect for me. It has great capacity. Too bad no Container Store in my area so I have to order the trash bags when I run out and the uniquely shaped bags are a little more expensive than standard trash bags.
February 22, 2012
Rated

4

out of

5
 by
MomoflotsOfingers
Bought because of Sale
I origionally bought this product because it was on sale, but I have not regreted it at all. I have owned it for 1 month, and have yet to see any fingerprints...AMAZING! I also like the slow closing lid, less incidents of little fingers getting caught, or lids slamming. If/when we wear this can out I will definately be getting a new one.
January 10, 2012