Rated

5

out of

5
 by
MadzMushroom87
Economical Little Cart!
Would recommend for tiny apartment bathrooms, dorms; anywhere you need to make the MOST of your space! This little cart gave me some precious drawer and counter space in my bathroom. EASY assembly! It's not very high, especially if you're tall and already reach way downward to grab things constantly, but for less than $20 it saved me SO much room! Made in Italy. Pretty cool!
July 17, 2016
Rated

4

out of

5
 by
sesatx
I keep this cart in the bathroom, under the vanity counter for makeup and hair products that I use every day. It fits perfectly under the counter and is so handy I wish I could think of a use for a second cart! I don't love the open wire design since I keep small items in the cart, they tend to tip over. I wish there was a clear liner for the baskets. The wheels are adequate but the cart does not roll smoothly. This is still an excellent solution for what I need.
September 14, 2016
Rated

4

out of

5
 by
LBchicago
good cart for the price
bought for linencloset organization- mostly cleaning supplies. Assembles easily. The wheels dont really work well, they basically slide across my hardwood floor but dont turn or pivot as they should. The height of the shelves makes it a little hard to put certain supplies (eg Lysol wipes height) on the bottom two shelves. But it still serves my needs quite well and gives me the organization I needed.
January 1, 2015
Rated

5

out of

5
 by
Selma
I like this item
I am using this to put all my breads that I buy And it is working out just fine
June 24, 2014
Rated

4

out of

5
 by
LifeIsShortsoForgive
Wobbly, but does the job
in our laundry closet. It holds our detergent, etc. It's wobbly, but holds up. If you roll it around it would need more reinforcement to last. Since it's stationery in our use of it, it should last. fits in our tight space and is a great height allowing me not to need to bend to get the heavy detergent. Also, it's made in Italy!
May 5, 2014
Rated

4

out of

5
 by
PantryOrganizer709
Pretty good
I love the look of the cart and the size and function is perfect to have 2 on the floor of my pantry to store food. But the quality isn't great. The wheels aren't big or sturdy enough and they don't move very well.
April 12, 2014
Rated

2

out of

5
 by
Melli
No very sturdy...wheels get stuck. Not happy with my purchase.
April 8, 2014
Rated

3

out of

5
 by
chikafreska
A little expensive for what you get..
Bought this to be able to store pet food and supplies... for the most part I was satisfied with it and it served its purpose. I must say the wheels don't work as smooth as they should. I think for the material and unsatisfactory wheels it should be priced a little lower than I paid.
January 16, 2014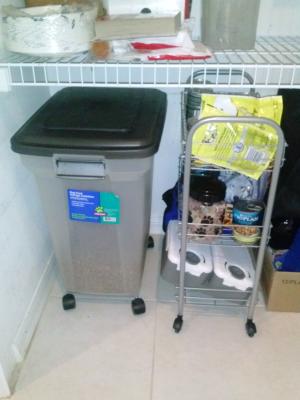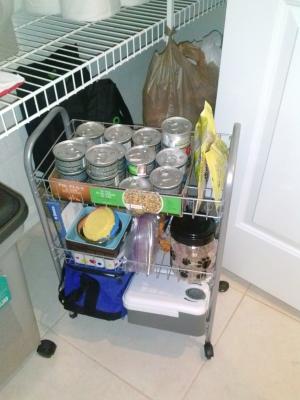 Rated

4

out of

5
 by
Affia
Happy
with the size of the rolling cart to use it as a kids art cart but not so happy with the wheels. They do not really turn if something is in the cart (and I did not put too many items in it).
July 14, 2013
Rated

4

out of

5
 by
cuddlebug
This rolling cart was perfect for my laundry area. Just the right size to hold detergent and dryer sheets while not taking up too much space in a small room.
April 6, 2013
Rated

4

out of

5
 by
Aimless
Just Right
This was perfect for a tall and narrow built-in broom closet in our 1920s house. I needed to organize and make better use of the floor space in the closet and this does the trick. Very easy to assemble. I don't plan to put any heavy items on it, but I can see how it may not withstand carrying more than 10 lbs or so per shelf long-term.
September 11, 2012
Rated

4

out of

5
 by
lms537
I love this store!
This cart is a little less sturdy than one I already own, but for the price I am happy with it. It holds a good amount of weight with stability. I am glad I found your store! Thank you!
July 13, 2012
Rated

4

out of

5
 by
shrimp
Just what I needed
I required a cart that could fit into a 27 inch space and almost all carts are 30 inches high. This cart was perfect for my space and with the three baskets I had plenty of storage area. It moves easily on the attached wheels and feels sturdy.
April 27, 2012
Rated

4

out of

5
 by
Paisley
I bought this cart to organize all my makeup. It pretty much does it's job, so I am happy with it. Wish it was sold in a black!! If you are purchasing this unit for lightweight items than you will probably be happy with it as well. I don't move it alot so I have no issues with it. It pretty much sits in my closet. The price is right that is for sure.
March 29, 2012
Rated

4

out of

5
 by
cdub
extra bathroom storage
great for extrax bathroom storage for cleaning supplies, tissues, etc that can be rolled into closet when company comes
March 21, 2012
Rated

4

out of

5
 by
wmajor2
good enough for its use
its not the sturdiest product in the world, but its only being used in the laundry room for a little extra organization, so it's great for me
March 9, 2012
Rated

3

out of

5
 by
pwhitty
Smaller than I thought
Smaller than I thought and not all that sturdy, but good for storing some products and towels.
July 25, 2011
Rated

4

out of

5
 by
skirk94
Lightweight Sturdiness
I purchased this small cart for storage in the laundry room. I originally wanted to store special laundry products like scented softeners and delicate cycle detergents. Over time, I started storing our extra iron, steamer, extra buttons (placed in a box) and other misc. items. I have been very happy with this cart for the last six years. It cleans easily, looks nice, doesn't fall apart and the wheels never stick. I sometimes wish it was a bit bigger, but at least the size helps me scale down the clutter.
June 23, 2011
Rated

4

out of

5
 by
Verified Reviewer
Good but lightweight
This is fine for our purposes, but I wouldn't use it to store anything that weighed much. It was very easy to assemble. I thought this item would be easy to find, but only found it at the Container Store.
February 21, 2011
Rated

4

out of

5
 by
clear
good enough
This was inexpensive and exactly what I needed for a quick fix in my small apartment. I'm using is as a shelf for towels in the bathroom since the apartment has very little storage options and it's perfect for it's use. The wheels were a bit difficult to put on but after finding a 'real man' we managed it together.
January 31, 2011
Rated

3

out of

5
 by
Stretch1
Okay for the money
I bought this for additional storage in my pantry. It works fine as long as you don't put anything too heavy on it. I move it in and aout to get to other items and it seems a little flimsy and tends to shake when you roll it. Good purchase for the price though.
May 25, 2010
Rated

4

out of

5
 by
coco
Ten years old and going strong
This little rack has been with me for a decade. It's survived three state-to-state moves. I've used it in the bathroom, office and now garage. For the low-price, I'm surprised how well it's held up.
March 31, 2010
Rated

3

out of

5
 by
amacord
You get what you pay for...
This is a cheap cart. In price and construction. But a cheap works with what I needed, so I'm happy.
March 18, 2010
Rated

3

out of

5
 by
windyemerald
Flimsy, but it will work.
This piece wasnt expensive, but I was hoping it would seem sturdier and more reliable than it does. The wheels get into the groove of the floor and are too small to roll themselves out. I find that I must lift the handle to get it rolling and then the whole thing shimmies. It will likely last for a few months, and it fits where I need it to...I was just hoping it would feel more secure and stable once assembled. It feels as though at any moment it may just collapse. But for the money, its not bad.
February 13, 2010