Rated

4

out of

5
 by
Julia
Great addition to side by side freezer/fridge
These bins are a great way to maximize the use of the cubic feet in your side by side freezer. It seems like I'm always juggling items falling out of the freezer when I'm looking for something. These bins make it easier to store vacuum seal bags and boxes on end rather than stacking. I only bought two to "test" them but plan to buy more the next time I'm in the Container Store!
May 1, 2012
Rated

5

out of

5
 by
PAshopper
Great for access and organization
I'll definitely be purchasing more of these Fridge Binz in various sizes. They have helped organize my jumbled freezer and make things easily accessible - which has led to actually using the frozen food up instead of wasting it because I couldn't deal with digging through piles of frozen food to find what I wanted. They also help keep things from getting pushed to the back of the fridge and forgotten. I love that all the different sizes can be easily stacked in various combinations.
April 10, 2016
Rated

5

out of

5
 by
COKGB
Narrow Fridge Binz Tray
I have ordered several of this line in various sizes, but this narrow specifically works well for storing full-size Distress ink pads.
March 26, 2016
Rated

3

out of

5
 by
skyblue
Didn't find containers too practical
I purchased a few in different sizes. They are just a bit too deep for my counter depth fridge and moveable shelves. Didn't find them very useful. However I bought some other cheaper bins from container store, and I ended up using a couple of these to hold veggies and some other lose items. For things in boxes, cartons and bottles, I can't fit them nicely so end up wasting spaces. Perhaps if you have a large fridge, you can be more organized using these containers. They do look pleasing and sturdy. I haven't tried them in the freezer, not sure if they will hold up.
May 3, 2015
Rated

5

out of

5
 by
MavisJ
Wish I had Bought These Initially
Fridge Binz are wonderful for organizing a side by side refrigerator. I've had a side by side for the past 10 years (inherited when I purchased the house) and have always hated the thing due to storage issues, etc, I initially got the fridge side organized with handled baskets and still use some of them in the fridge but the Fridge Binz is so much better. They hold more, they are stackable, and are clear / see through. I just love them! I now am finally getting around to organizing the freezer side using Fridge Binzes.
April 19, 2015
Rated

3

out of

5
 by
HotelCharlie
Good but too long for a German refrigerator
These are definite space savers but the trays as listed in the pictures don't stack up on top of each other. The medium bin is the exact same size as the larger divided tray and they do not stack.The handles at the end would be convenient but it is then difficult to close the refrigerator door without the refrigerator door coming open. So you have to be sure that the bin is not in front of the drawers that are included on the inside door of refrigerators. To be effective for Europe, they have to be about 1/2 inch to one inch shorter in length. Also, you have to order through a third party so then they are not returnable
September 28, 2014
Rated

5

out of

5
 by
melodygirl
Binz Are the Greatest
The Fridge Binz make everything conveniently accessible in my new Refr/Freez which has less shelf space than my previous one since it's designed and constructed to enhance the cool air circulation everywhere. They're also great on cabinet shelves for spices (instead of 'step shelves') and I haven't discovered all the uses yet!
September 5, 2014
Rated

5

out of

5
 by
PerrosMom
Great size
Perfect length for my fridge, and wide enough to hold yogurt cups or soda cans or condiments. Easy to pull out so things don't get lost in the "way back"
August 31, 2014
Rated

1

out of

5
 by
tilkiair
Not useful
First, these are NOT made in USA. Second, they are billed as stackable. While they do stack, it's very hard to pull them apart, so it's not at all useful for storing things that you ever want to get out. Third, at least in my fridge, the little feet at the bottom get stuck on the back of the shelf, so they don't slide in and out. Seemed like a good idea, but these are going back.
August 26, 2014
Rated

5

out of

5
 by
Cindylou
No more expired food containers!
Fridge Binz are great for organizing and keeping your fridge clean. I have a smaller refrigerator and it's difficult to reach the back of the bottom shelf. The shelf is plastic and the fridge binz slide in and out easily. I no longer buy duplicates and can keep track of what I do need!
May 22, 2014
Rated

4

out of

5
 by
LWG120
Exactly what I expected
This is just what I expected. Nothing more, nothing less. It helps keep my fridge organized, however it's too big for my freezer which was the original intent, but that's on me since it was kind of an impulse purchase so I didn't have measurements.
May 22, 2014
Rated

4

out of

5
 by
storagelvr
bottom feet catch
I really like these bins. I would have given a 5 star rating if not for the bottom "Legs." Underneath each bin are 4 small corner legs that catch on the shelves of the refrigerator. This makes it cumbersome each time I need to pull out a bin. This may be a necessity so the bins do not freeze to the bottom of the freezer. I'd love to know how I could even out the bottom of my 9 bins. Then they would be perfect! Easy to clean. Stay sparkling clear. Organized refrigerator beautifully.
May 20, 2014
Rated

5

out of

5
 by
suburbancaroline
finally my fridge looks organized
These are awesome for helping to organize the fridge. I wish they had one that was 6" wide - the narrow ones are really narrow. But these are nice and study and fit well in my small side-by-side fridge.
May 12, 2014
Rated

5

out of

5
 by
Ajae
Tidy Medicine Cabinet
I was not sure if these would fit in my medicine cabinet but I have the most organized cabinet ever! My friend, who I shop with all the time, got the WOW factor when she saw the neat and easy to find cabinet. Guess we will be back for more! Additionally I bought the organizers for my refrigerator and my frig is just as organized as my bathroom cabinet. Great Job CS!
May 9, 2014
Rated

5

out of

5
 by
shop77
How did I ever do without these?
So glad I purchased these frig bins . I can easily find what I'm looking for in seconds without pulling everything out of my frig.
May 6, 2014
Rated

5

out of

5
 by
Nat2014
Roommate Must
I live with three other girls and finding a way to organize our fridge was quite the challenge, until we saw the Fridge Binz. Now we each have our designated fridge space to avoid confusion and reduce food spoiling at the very back of the fridge!
May 4, 2014
Rated

5

out of

5
 by
MimiKay
Such versitile storage
I actually got these bins for storing my rubber stamps and dies for my crafting passion. They were highly recommended by other crafters. They are perfect for that, but when I saw how sturdy and perfect they are for their intended use - refridge and freezer, I plan to buy more. A super high-quality product!
May 3, 2014
Rated

5

out of

5
 by
jmo4osu
fridge clutter buster
This tray does exactly what it's made to do: keep my fridge contents tidy.
May 2, 2014
Rated

5

out of

5
 by
Gldn
Bigger fridge
Our refrigerator has always been cramped, no matter how many times I tried to organize it, and food had gotten "lost" and wasted when it got old and had to be discarded. But with these simple organizers it has seemed to grow more room and things are easier to spot too. Magic.
May 1, 2014
Rated

5

out of

5
 by
NeedCleanSpace
Kids Treats in one easy space
I have theNarrow Deep Fridge Binzâ¿¢ Tray which is great for the juice bags and fruit squeeze bags. I always keep some cold in the fridge as a treat and now I don't have to dig. I just pull the tray out and pull out the item. No standing holding the door open digging through the fridge. Yeah!
May 1, 2014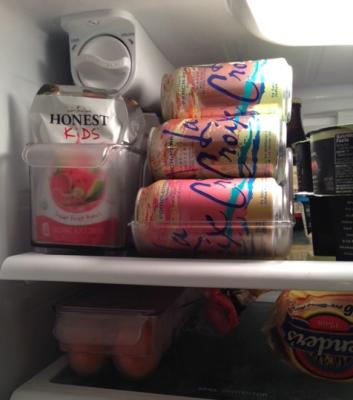 Rated

5

out of

5
 by
stazia
very well made
This is so needed in refrigerators. I keep the foods stored in small containers in it, and just have to pull out the tray to locate all. I will buy more for the freezer. Organizes the refrigerator and saves space. This company also has a Fridge Binz lazy-susan that really saves space, also. The sides are high enough. Works great!
April 29, 2014
Rated

5

out of

5
 by
baseballfan11
excellent frig holder
I bought several of these bins for my new refrigerator and they work terrific for holding salad dressings, hot sauces, etc. They cleaned up a messy unorganized refrigerator and make it easy to see where the condiments are.
April 29, 2014
Rated

5

out of

5
 by
bevtexas
unbelievable
I couldn't believe how many containers, bottles and jars actually fit in these! Great for easily organizing my yogurt/dairy by expiration dates. Easily slide right out and are easy to carry to the counter tops...esp with my arthritic hands
April 28, 2014
Rated

5

out of

5
 by
RAHay
Awesome
Great product for organizing your refrigerator. Love that they are clear and can see though them!
April 27, 2014
Rated

5

out of

5
 by
shopper78
Keeps it together!
Has been great for yogurts, single drinks; whatever you don't want sliding all over in the fridge!
April 27, 2014
Rated

5

out of

5
 by
shermor
Fridge Binz are GREAT
I love these binzs are awesome. I have several of them & use them for fruits, meats, to contain yogurt containers, salsa jars, etc. It keeps my refrigerator well organized & easy to see what's in there.
April 26, 2014
Rated

5

out of

5
 by
Agape
Genius
I love the new design of these binz. The front easy pull handle is great. I am able to use my container store label maker to identify what each bin will contain. So with a family of four the Fridge will stay organized because we all know where to find the items we are looking for. Also we all know where to put items back.
April 26, 2014
Rated

5

out of

5
 by
Tlynn1985
Great Product
I bought several sizes of this product and really liked the large divided bin to use in the freezer, it keeps frozen veggies organized nicely. I also used the 4x14.5x4 as an organizer in my sock drawer. Would recommend and plan to purchase more!
April 26, 2014
Rated

5

out of

5
 by
MamaCioccolata
Refrigerator Bins
We purchased a couple of different sizes of these Fridge Binz including 2 of the egg containers. I was a little skeptical at first that they would really help corral the contents of our fridge. These products are high quality and really helped in our organization efforts. I am going to purchase 3 or 4 more bins and that should get everything together and under control. My fridge looks quite clean and smart. If something spills, all I have to do is clean out the one bin instead of an entire shelf.
April 25, 2014
Rated

5

out of

5
 by
Deluce
A new way of looking at your old fridge
These items are the best. I have purchased these trays in various sizes for my fridge and I love the ability to organize my fridge. It's like having a new fridge. Wasted space is now completely utilized.
April 25, 2014