Rated

5

out of

5
 by
Melmac
Saves money!
I love this product. It has saved us a lot of money and potentially avoided illness. I label our leftover containers with the date the food was made. This prevents me from throwing away food when I can't recall when I made it. It also means I don't serve leftovers that are too old. Bonus, the label usually survives the dishwasher (mine is lousy though). I just rub off the old date and write the new one. I keep the labels and pen in a magnetic note holder stuck to the fridge, such as http://www.containerstore.com/s/silver-magnetic-mesh-bins/d?productId=10002578&q=magnetic%20bin.
November 19, 2015
Rated

5

out of

5
 by
DianeQ
Love these labels!
I do a lot of "planned leftovers". These labels tell me what is in the containers in the freezer. I not only put the name of the item, I also put the date I made it on the label. Love them!!
July 27, 2015
Rated

5

out of

5
 by
OkeeChick
Great Product
Awesome product - I use these labels for labeling items in plastic storage boxes so I don't have to write on boxes - don't use for freezer - I'm sure they would be great there as well! Love the erasable labels!
March 30, 2015
Rated

1

out of

5
 by
monicabr
The pen never worked.
I live far from the store and ordered online to pick it up on the weekend. It was sold out/backordered so I had to wait, which I did, gladly. I cannot tell how disappointed I was when I got home - and the pen did not work. The labels seem good...I did not save the receipt, so will not be able to exchange it... Please test the pen at the store.
March 16, 2015
Rated

1

out of

5
 by
mechanicaljen
Disappointed
Opened the package this morning, time to organize my life! Except, the pen is totally dried out and will not write. Wasted purchase :(
January 31, 2015
Rated

5

out of

5
 by
kena
Great Product
I bought the labels for my daughters meals. She is on a special diet that requires food content, date meal created and expiration date. They are great for adding instructions on her lunch box for the teacher to follow. I can freeze the containers and microwave them without the label coming off. I have even removed them and reused them in another container. Works on both plastic and glass. Like the product description says you can even wash the containers in the dishwasher without them coming off. Would highly recommend them.
April 25, 2014
Rated

4

out of

5
 by
AxelBird
They really stick!
I bought these for my daughter's preschool lunch box. I've tried many ways of dated her lunch box with tape and stickers. THESE ACTUALLY STICK. I did not get them because they were erasable (added bonus...I did not notice this was a refill set and it was the only one available at my Container Store, new item acc'd to clerk) so I did not get the pen. Many regular pens do smear.
February 27, 2014
Rated

5

out of

5
 by
pabeck
Love them
These are great if you like to label things and hate to waste labels. I was using post-its, that didn't stay on. Or writing with permanent marker and then you can't change it when you re-use a container. I don't have a dishwasher, so I can't say how well they withstand going through that wear and tear, but so far so good, with what I use them for. I bought some to give away as gifts.
December 27, 2013
Rated

4

out of

5
 by
Ayecee
Does what it says
I read & followed the instructions on applying the labels. I applied some on a few food containers & the labels have held up to numerous washes. As long as you follow the instructions, there shouldn't be any peeling. The downside is that I haven't been labeling my food as much as I had hoped. Also, you have to erase any writing before washing to avoid residue or smearing. If you're consistent at labeling your food, this is a great product!
December 15, 2013
Rated

5

out of

5
 by
Judyp
Great product
I have been using these labels for many years. They are great for everything. They even go in the dishwasher without the writing coming off.
September 20, 2013
Rated

5

out of

5
 by
Rocket
Great purchase
Very handy. Nice to not have labels that come half off when washing and leave a sticky layer behind.
July 7, 2013
Rated

5

out of

5
 by
MEfromDUBAI
Fabulous!
These are the best invention! Especially being able to erase and reuse. Works fabulous!
April 4, 2013
Rated

5

out of

5
 by
Felicia
Money Saver
Labeling left overs has saved so much money! Usually, the food sits in containers in the fridge and is forgotten about. By labeling, anyone can go in the fridge, know exactly what's in the containers. No food thrown out = no money wasted!
March 25, 2013
Rated

5

out of

5
 by
Verified Reviewer
Love these labels
When The Container Store came to my town, the first thing I thought was, "Now I can get some more food labels." I really love this product. It so beats out masking tape, my previous labeling medium. It really does stick; it really does erase. If I have to explain why food should be labeled, then I don't know why you are reading this review. If you don't want to open every container to see what's inside and don't remember when you actually put it in there, then this is the product you need. It's simple, it works, and it doesn't cost much. And The Container Store sells it.
March 24, 2013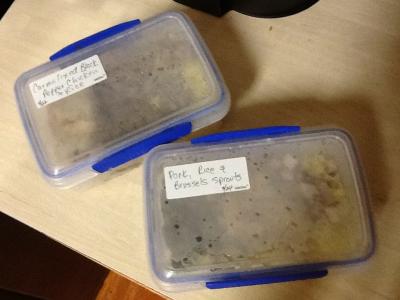 Rated

5

out of

5
 by
ehk7
One of the most useful tools in the kitchen
My family struggled with leftovers -- what's in that container? How long has it been there? Is this the cheese we're saving for the party or for general consumption? With the erasable labels, that all changed. Can't say enough about them: easy to use, easy to read, washes in the dishwasher. In addition to general food in the fridge, we also needed to label our daughter's bottles for daycare with "today's date." This was the easiest, most efficient and eco-friendly way to go.
March 18, 2013
Rated

5

out of

5
 by
PattyL
Great idea!
These little stickers are great. Easily removed and reused, they have allowed me to stop reusing plastic baggies and trying to neatly take off the old labels which were written on cello tape.
February 15, 2013
Rated

4

out of

5
 by
mystery
Re-useable labels
These are very handy to identify leftovers in the fridge. Previously, I used post it notes. I was disappointed to read that the labels will not withstand heating on the stovetop. Sometimes I put a pan with a meal in the refrigerator, later to reheat the contents. Otherwise, this is a very efficient item.
February 6, 2013
Rated

5

out of

5
 by
perky
Erasable food storage Labels
I have used thes this past year and then ordered more. I do a lot of freezing and these are great as I know what is in each container. I also use them to remind me that a container is going to a friend for their dessert or whole supper. Not having to guess makes my life a lot easier. I purchased large labels this time also to mark all my Christmas containers
October 2, 2012
Rated

5

out of

5
 by
OrganizedGal50
Excellent Labels for the Kitchen
In my opinion, these labels are a great addition to an organized kitchen. I never heard of these labels prior to seeing them demonstrated by a Professional Organizer online. Now that I have them in my house, I see their usefulness and feel they are a must-have for me. In fact, I used 2 labels this morning to label plastic cereal containers in my pantry. Even though the contents of the containers are visible, 2 of the cereals look quite similar, so I marked the containers with the contents using my erasable labels. Since cereal choices change, I can just erase the labels without having to make a new label each time. I will also use these to date leftover containers in the fridge. Just a brilliant idea.
August 6, 2012
Rated

5

out of

5
 by
Sophia
I absolutely love these labels
I purchased these labels to mark food in my kitchen pantry. These labels are absolutely great. I love how they are erasable and if I change what type of pasta I store in a container I can just erase the recommended cooking time and write the new cooking time on the container. I've also used the labels on herb jars. I purchased my starter kit about 2 years ago and I still have a ton labels left. I even used some of these labels in my office to mark the contents of storage drawers. And in my storage closet to mark the contents of storage bins!
April 22, 2012
Rated

5

out of

5
 by
jjamison3
The permanent marker was dry and did not write
But, I did use another permanent marker and it seems to work fine. I love the idea of keeping track of the date items entered into the dark domain of the refrig. world. Sometimes things stay there for weeks because I have no idea what it is or remember how long it has been there. Now I know and it get's tossed at the right time; if it has not been eaten. It also helps make sure I eat the oldest things first, for left overs. I will just have to wait and see how long they last. Right now I am very happy and will contact the container store and let them know that they owe me a permanent marker. They are great there so I am sure a replacement will be no issue.
April 12, 2012
Rated

5

out of

5
 by
MomNeedsOrder
More than meets the eye
Great product. Reusable and works with other laminated surfaces too. I like to color code with sharpies and the eraser works great on them. The labels are high quality and stay put. Helps me kept track of leftovers and waste less food.
March 26, 2012
Rated

5

out of

5
 by
charlottesmom
LOVE these labels!
These labels are fantastic. I used to use masking tape and a Sharpie to put labels on my plastic food storage containers, and then discovered these...and have never looked back! They're dishwasher safe and I have sent them through MANY a dishwashing cycle with no problems. The set comes with an eraser and a fine-point Sharpie, so you can just leave the labels on your containers once you've stuck them on, erase what you wrote before, and rewrite. Easy peasy!
March 22, 2012
Rated

3

out of

5
 by
AdamS
Decent product
The labels do stay on as described. I have not tried them in a dishwasher. However, be sure the corners are well adhered otherwise the label will look bad, but not come off. The ink washes off with a dish sponge, so you don't need an eraser.
March 19, 2012
Rated

4

out of

5
 by
floridagrandmommie
Erasable food storage labels
I have been looking for this item in stores but have been unable to find. Glad container store carries these, but I find the prices a bit high. I havent used them yet, but think they will work well. Usually use a marker/on freezer bags.....this doesnt work very well so excited to find something that is more esthetic and practical.
September 29, 2011
Rated

5

out of

5
 by
momjoy6
Love labels
I found these erasable labels yrs ago in a store but then couldn't find them again. I finally started looking online & was able to purchase them from you. I have even ordered several pkgs at a time to re-sell in my home party business that involves kitchen storage items. They have been very well received. I'm very impressed w/how well these labels stay on a product through the dishwasher, microwave, freezer & oven even. LOVE, LOVE, LOVE THESE LABELS!!!!!
September 19, 2011
Rated

5

out of

5
 by
SYVA
Great product !
I bought my first set about 7 years ago. This year I bought my second set. I still have them on my canisters and in some plastic containers that I had put through the dishwasher,freezer and microwave a lot of times. They still work. They are great!
August 10, 2011
Rated

5

out of

5
 by
Jeanio
The Best!
I love these stickers....the fact that they are reusable means that they are always ready for "the next thing". No more wondering when and what I put in the fridge!
March 29, 2011
Rated

4

out of

5
 by
TJinSF
So useful but
I've attached these labels to most of my storage containers and generally recommend them. I love opening the fridge or freezer and not having to guess at the liquid contents inside. The ink stays put until washed or erased, but my only complaint is that the labels don't really stay firmly fixed after several rounds in the dishwasher. I suppose that's too much to expect, notwithstanding the claims by the manufacturer.
February 15, 2011
Rated

5

out of

5
 by
LilaJ
Super Useful
Works exactly as promised - just follow instructions. I use these labels for dating refrigerated foods. Works with any permanent marker and the eraser actually takes all the ink off. The labels do not peel off in the dishwasher - even on high heat! Highly recommended!
May 30, 2010